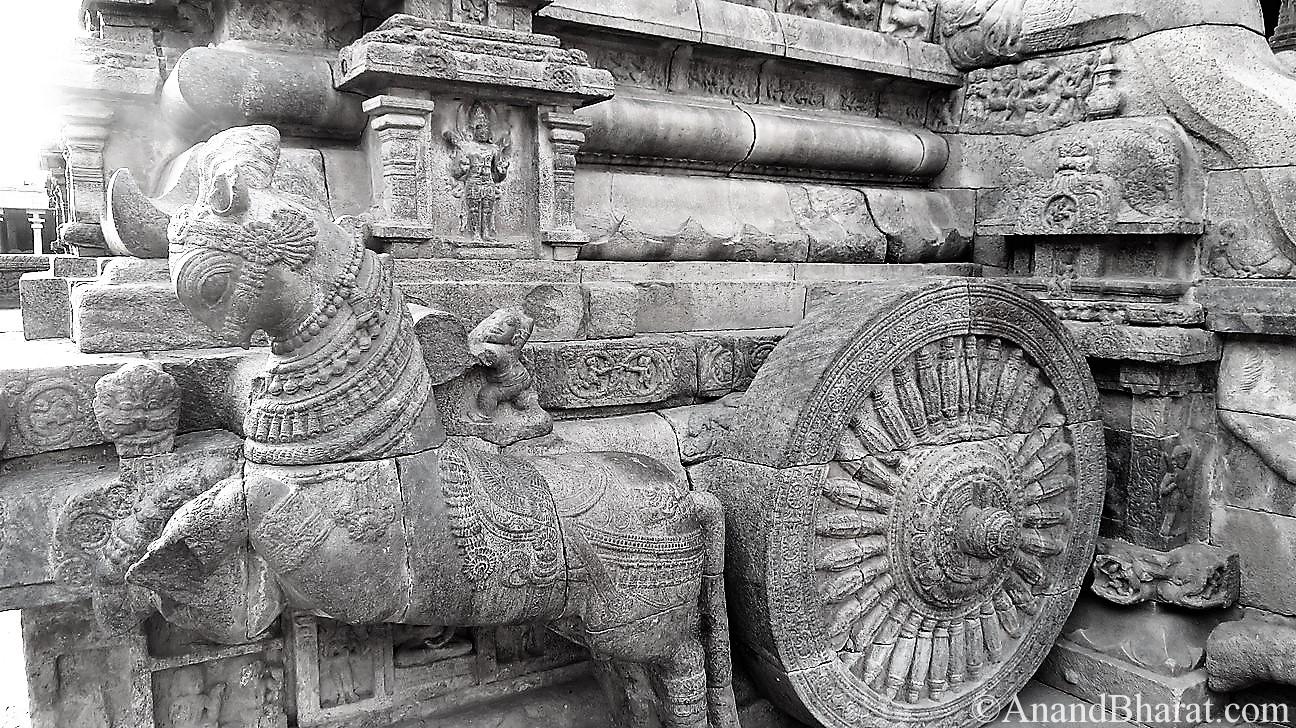 Visit to Airateshwar Temple
The Airavatesvara temple, a UNESCO World Heritage at Darasuram, 6 KM from Kumbakonam railway station was built by Raja Raja II (1150 A.D.).
Airavat  was name of elephant chariot of Lord Indra. As per legend there was some skin discolor to Indra and to recover his master elephant worshiped Shiva here until Lord Indra recovered.
A different design was followed by Rajaraja Chola-II than the other two Brihdishwar temples at  Thanjavur and Gangaikonda Cholapuram. Airavatesvara temple at Darasuram stands out for its more intricate, finer and beautiful sculptures. The temple in the form of a chariot being pulled by an elephant and horse with a fleet of steps is no doubt a repository of our art and culture. This part of chariot of horse and elephants and Valli is called Mukha mandapa.
Itinerary
Location
Located in Kumbakonam, Thanjavur district, Tamilnadu, India. It is 40 KM from Thanjavur,  90 KM from Tiruchirapalli. Bounded by two rivers Kaveri and Arasalar. This town is well connected by train from all major cities. Nearest airport is Tiruchirapalli (Trichy). The buses are also available but frequency may not be high so better reserve in advance.
There are sculptures depicting the life history of Nayanmars. Due to heavy rush I could not get any guide here though there were several guides here. It is really not possible to understand this temple without guide.
Nayanmars is the group of 63 Tamilnadu saints from 6-8 century AD who were shaivas and His poet. Their contemporary were Alwars who were Vaishnavas.
The Mahadwara, which was in ruins, was reassembled by Archaeological Survey of India.
The Palipeeda and Nandhi come next. Fleet of steps made of stone in the palipeeda are said to produce musical notes.
It is followed by the second Rajagopuram.
It is said that there are sculptures of 108 devtas incarnations but I could not locate it in absence of guide. Yamuna, Cauvery, Godavari and Narmada are also shown as Goddess..
There are a few paintings in this temple which are actually done by Nayaka dynasty in 12th -13th century.
Epilogue
Definitely this temple has much much more carvings than its two counterpart Chola temples, Brihdishwar temple at Thanjavur and Gangaikonda Cholapuram. There was lot of devotees and regular daily rituals and drums are played daily here. Therefore there is slight gradual damage to the temple is possible. There is side by "Parvati" temple which is not part of Airateshwar temple  and is not maintained properly. Rain water has collected inside this temple.
Hits: 148