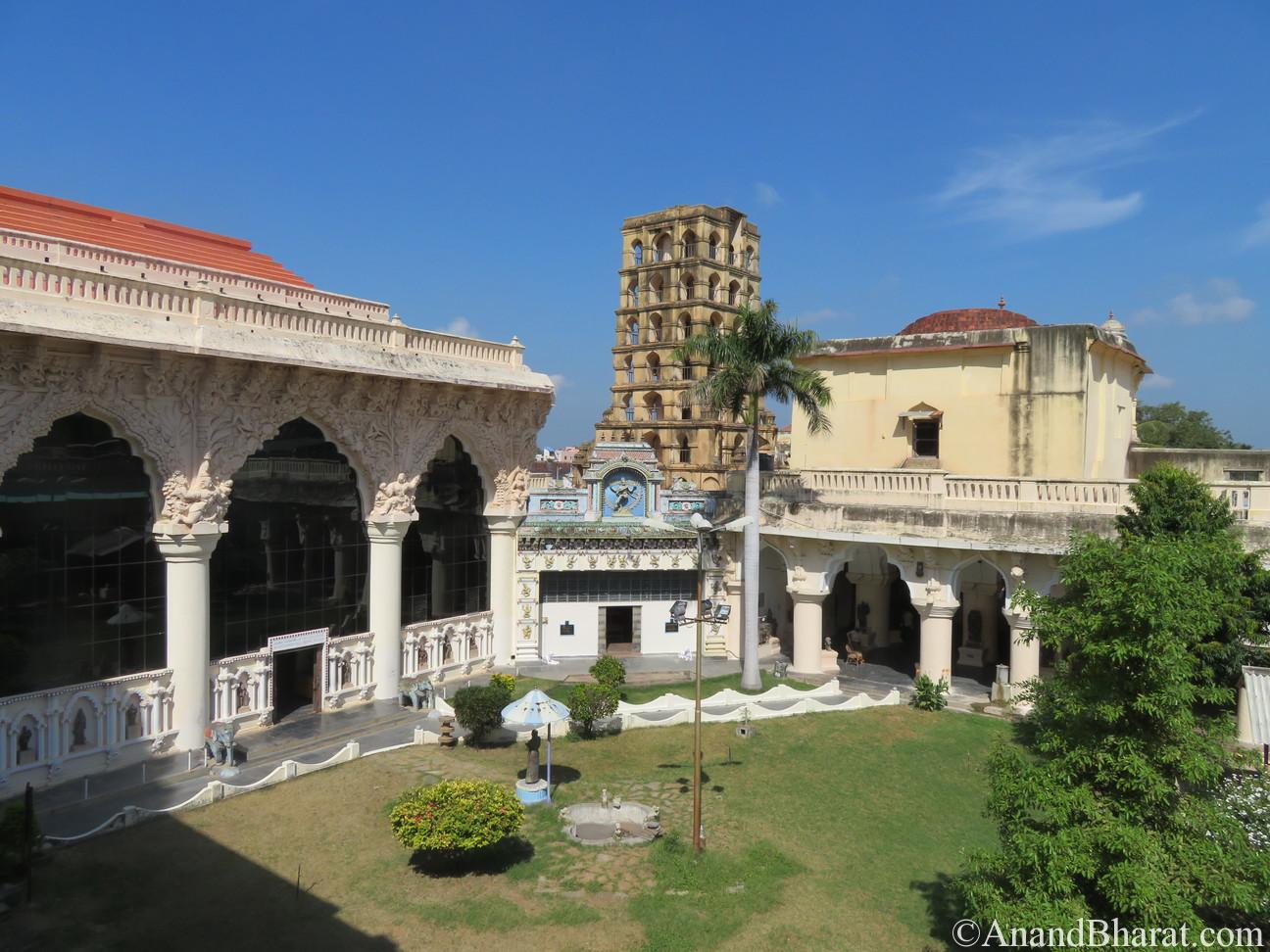 Maratha Royal Palace -Thanjavur
Nayakas (shevappa Nayak) were actual builders of this palace. Though the palace is ordinary compared to Mysore or any other royal palaces yet contains a rich museum of 9th-15th century sculptures and Maratha kingdom artifacts. This palace was captured from Nayakas by Venkoji (Half brother of Veer Shivaji). Maratha general Venkoji was sent by Nawab of Bijapur to resolve the internal dispute of Nayakas but in turn Venkoji captured the Thanjavur region. Even after British captured Thanjavur in 1799 AD, Marathas continued to live in this palace officially till 1855.
Educational institutes should take students here to introduce to our history and heritage. It is biggest museum of manuscripts I have seen so far. Though many manuscripts are content copy of originals.
We planned the below itinerary in order to visit the Chola's UNESCO World heritage temples and we also visited the Maratha royal palace which is just 1 KM from Brihdeshwara temple.
Time
Day 1
Stay at Thanjavur (Night stay)
Visit Brihdeshwara temple, Maratha palace. Both are near to each other and 2 KM from Railway Junction station.
2 hours for Brihdeshwara temple and 1.5 hrs for Palace premises
Day 2
Take taxi 8 AM to go to Gangai Konda Cholapiram (65 KM)
Visit the Gangai Konda Brihdeshwara temple and palace ruins and small museum adjacent.
2 hours
Move to kumba Konam by same taxi (34 KM)
Visit Airateshwara temple at Dharasuram, 6 KM from Kumbkonam new bus stand
3 hours to see this UNESCO world heritage site
Day 3
Visit Kumbkonam temples
5-6 hours

If interested visit navgraha. ( start at 5.30 AM and tour will end by 10.30 PM taking you to all nav grahas. Total distance covered is 280 KM.

You can mainly visit Kumbaleshwar temple, Sarangpani temple, Kashi Vishwanath temple, Mahamanam tank and Maths genius Ramajujam house. I think it is enough as there are 188 temples in Kumbkonam. All temples are similar type.
About Thanjavur
Well connected by train and state and private buses. Nearest airport is Trichy (Tiruchirappalli International Airport (TRZ).
This city was capital of Cholas between 10th to 14th century AD. Later it was ruled by Marathas and Nayakas and at last British. Thanjavur is world famous for it Brihadishvara temple and is one of the most magnificent piece of architecture and is declared UNESCO World heritage.in 2004. Today also Thanjavur is famous for silk, brass utensils and decorative metal lamps.
Where to stay
I had already booked Tamilnadu State Tourism Development Corporation state guest hose. I recommend this hotel for stay. It is at waking distance of 7 minutes from Railway junction. Staff is very good but food if not good then not bad also. You get normally South Indian dishes only. All rooms are 20 feetX10 Feet.
You can book online http://www.ttdconline.com/
About Thanjavur Maratha Royal palace history
After Cholas in middle of 13th century Vijaynagar Empire ruled Thanjavur. They had appointed Nayakas ( Shevappa Nayaka)  as governors. Subsequently it was captured by Nayakas. There were some internal conflicts and one of Nayaka invited Nawab of Bijapur to intervene. Nawab sent Maratha General Venkoji (Ekoji-I) Bhonsle (Half
brother of Chhatrapati Shivaji) to settle the issue. Venkoji (Ekoji-I) defeated Nayakas in 1674 and declared himself king of Thanjavur and captured this palace. Since then Marathas ruled Thanjavur from 1674 to 1799 (125 years). In 1799 Britishers annexed it but still Marathas continued to rule till 1855 under British suzerainty.
About the Palace
Bell Tower
Sarasvati Mahal Library
 Photography is strictly.not allowed inside  It has about 40,000 manuscripts most of them in palm leaf. About 200 years old bible, theory of evolution book, dictionary and ancient maps  and so on so forth. I think nowhere in India we can see such huge collection of manuscripts.
Serfoji Memorial Hall
 This  hall on first floor which is private museum of existing Maratha descendants. It has a very good collection of personal items such as turbans, spears, utensils, clothes, gift given by foreign visitors, old fotos etc. These belonged to Maratha kingdom only from 18th century on wards.
Royal Palace Museum
This is one of the richest museums as far as old statues collection is concerned. It is one of the best. Huge huge collection and maintained very well. Photography is allowed inside and I suggest that schools should take students to this museum for educating about our culture and heritage.
Durbar Hall
Here coronation and VIP gatherings used to take place. Now a part of it runs museum of statues and bronze images.
Epilogue
Though not grand yet it carries history of 600 years behind it. It has a huge collection of statues and bronze images since 9th Century. Schools should conduct here education tours as the Serfoji museum, Royal Palace museum and Sarasvati mahal library carry here our long heritage.
Hits: 110