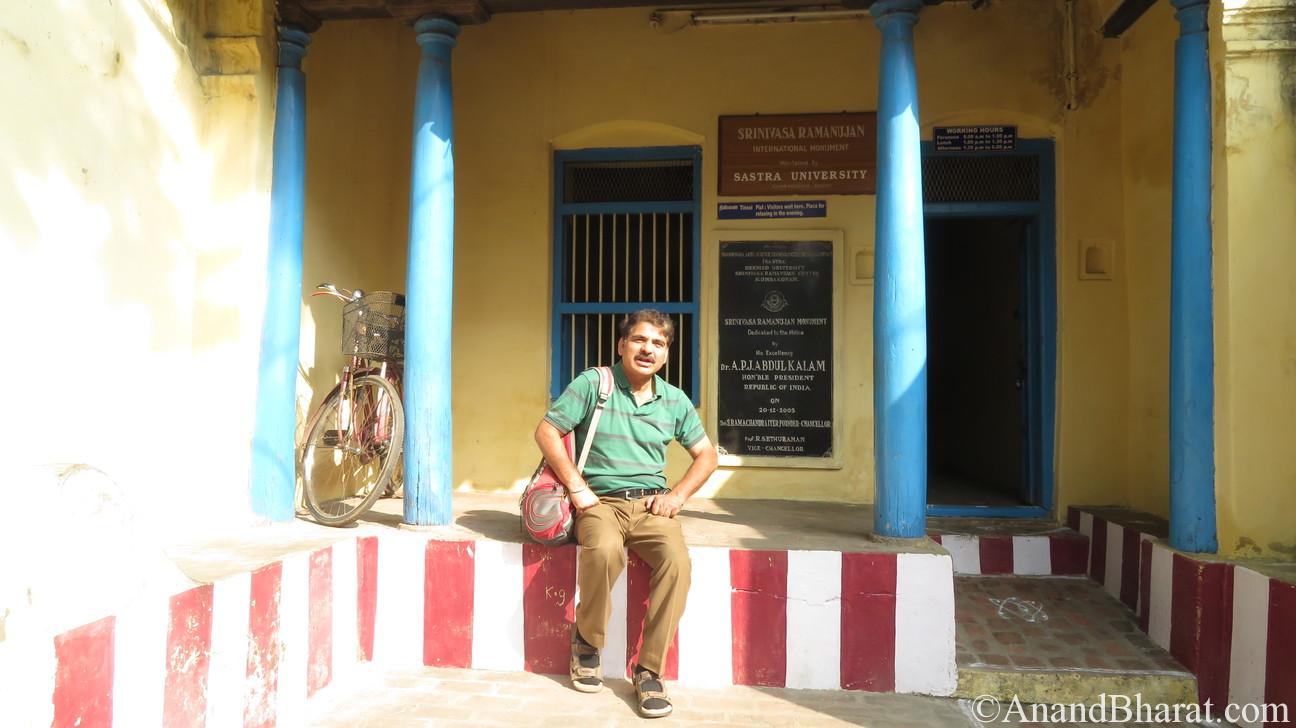 Ramanujam, Mathematics genius – Visit to his abode
                                                                  Ramanujam – An Indian Mathematics genius
"An equation for me has no meaning, unless it expresses a thought of God." – He is Ramanujam.
I had a deep desire to see Ramanujam's house and that was the prime reason of my visit to Kumbakonam. I planned my itinerary in order to cover a few UNESCO World Heritake Chola famous temples in Tanjavur and around Kumbakonam and on top see Ramanujam's house.
On day 3 morning we visited Kumbleshwar temple and took an auto to take us to Ramanujam's house. Just about 2 KM he entered a narrow lane facing Sarangpani temple and stopped in front of a very small hut type house.
There was a board in front wall of house that former president AJP Abdul Kalam visisted this place and declared it a place of national importance. I took a foto hurriedly and entered the house.
It had 1 bed room 10X10 feet (here Ramajuma made his maths theorems) in  front facing street, one small hall (10X10 feet), a small store 7X6 feet and a small kitchen with a dosa grinding stone. Backside was open courtyard with a well which still had water in it, a cloth washing stand.
In the hall are kept the fotos of his accolades and achievement, his parents fotos, his high school and academic accolades, some news paper cuttings, his wife Jankai fotos who died in 1994 at age of 94.
There was a neat register where we had to enter our details as visitor. As register says everyday 4-5 persons visit this place to express their love to this genius. My wife though poor at Maths yet was overwhelmed and sentimental to see this great man's house.
This is all he had as ancestral property when he left for London to associate with Maths guru Hardy in Cambridge University.
Ramanujam House location
Sarangapani Sannidhi Street,Kumbkonam, Tamilnadu.. Land mark is Sarangpani temple (200 meters). Ask any auto he will take you here happily. Direct trains from major cities on South India and nearest airport is Trichy.
Itinerary
 
 
 
Time
Day 1
Stay at Thanjavur (Night stay)
Visit Brihdeshwara temple, Maratha palace. Both are near to each other and 2 KM from Railway Junction station.
2 hours for Brihdeshwara temple (UNESCO world heritage) and 1.5 hrs for Palace premises
Day 2
Take taxi 8 AM to go to Gangai Konda Cholapuram (65 KM)
Visit the Brihdeshwara temple and palace ruins and small museum adjacent.
2 hours (UNESCO world heritage). Replica of Thanjavur Brihdeshwara temple
Move to kumba Konam by same taxi (34 KM)
Visit Airateshwara temple at Dharasuram, 6 KM from new bus stand
3 hours to see this UNESCO world heritage site
Day 3
Visit Kumbkonam temples
5-6 hours

If interested visit navgraha. ( start at 5.30 AM and tour will end by 10.30 PM taking you to all nav grahas. Total distance covered is 280 KM.

You can mainly visit Kumbaleshwar temple, Sarangpani temple, Kashi Vishwanath temple, Mahamanam tank and Maths genius Ramajujam house. I think it is enough as there are 188 temples in Kumbkonam. All temples are similar type.
Early life
Born on Dec,22,1887 in Erode, Tamilnadu. His schooling happened in Kumbkonam. His father was a clerk in sari shop and just only means to meet. His lived up to almost higher secondary in this house at kumbkonam, Sarangapani Sannidhi Street in the town of Kumbakonam, Tamilnadu.
Entered Town Higher Secondary School  where he encountered formal mathematics for the first time. The other alumini of the school are Shiv Nadar, founder of HCL technology, T Krishnamachari, former finance minister of India.
So intent on mathematicswas so much that he could not focus on any other subjects and could not pass Fine Arts degree. I am not giving more details as much is available in internet.
Accomplishments 
Made substantial contributions to mathematical analysis, number theory, infinite series, and continued fractions,
Youngest Fellows of the Royal Society and only the second Indian member, and the first Indian to be elected a Fellow of Trinity College, Cambridge,
Landau–Ramanujan constant
Mock theta functions
Ramanujan conjecture
Ramanujan prime
Ramanujan–Soldner constant
Ramanujan theta function
Ramanujan's sum
Rogers–Ramanujan identities
Ramanujan's master theorem
Reference 
https://en.wikipedia.org/wiki/Srinivasa_Ramanujan
Epilogue
In 2011, on the 125th anniversary of his birth, the Indian Government declared that 22 December will be celebrated every year as National Mathematics Day. This is Hindu paper extract whuch states that how British acknowledge the prodigy of Ramanujam.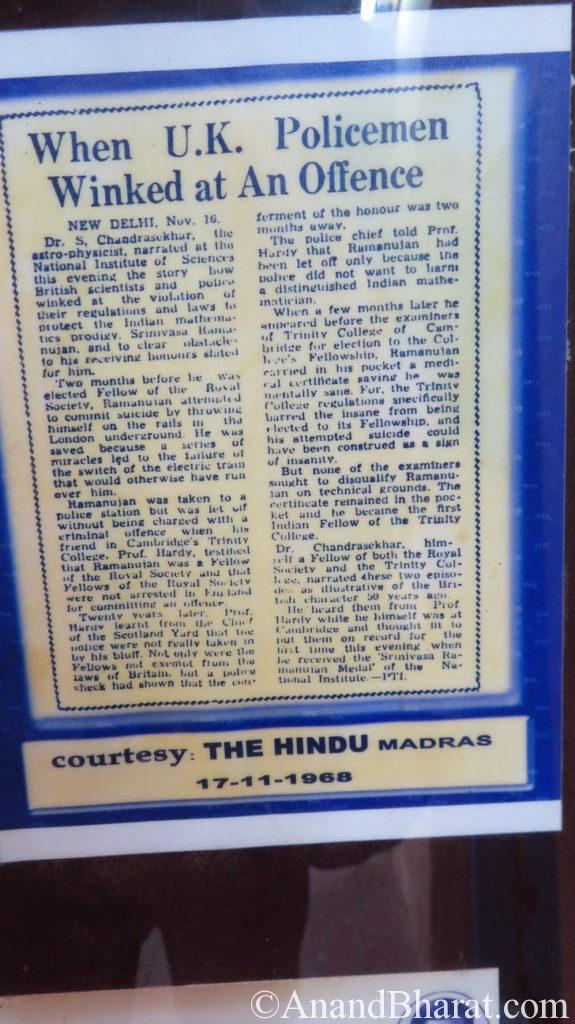 Those interested in film can find a school, 200 meters away from Ramanujam house where MGR started his schooling.
Hits: 187