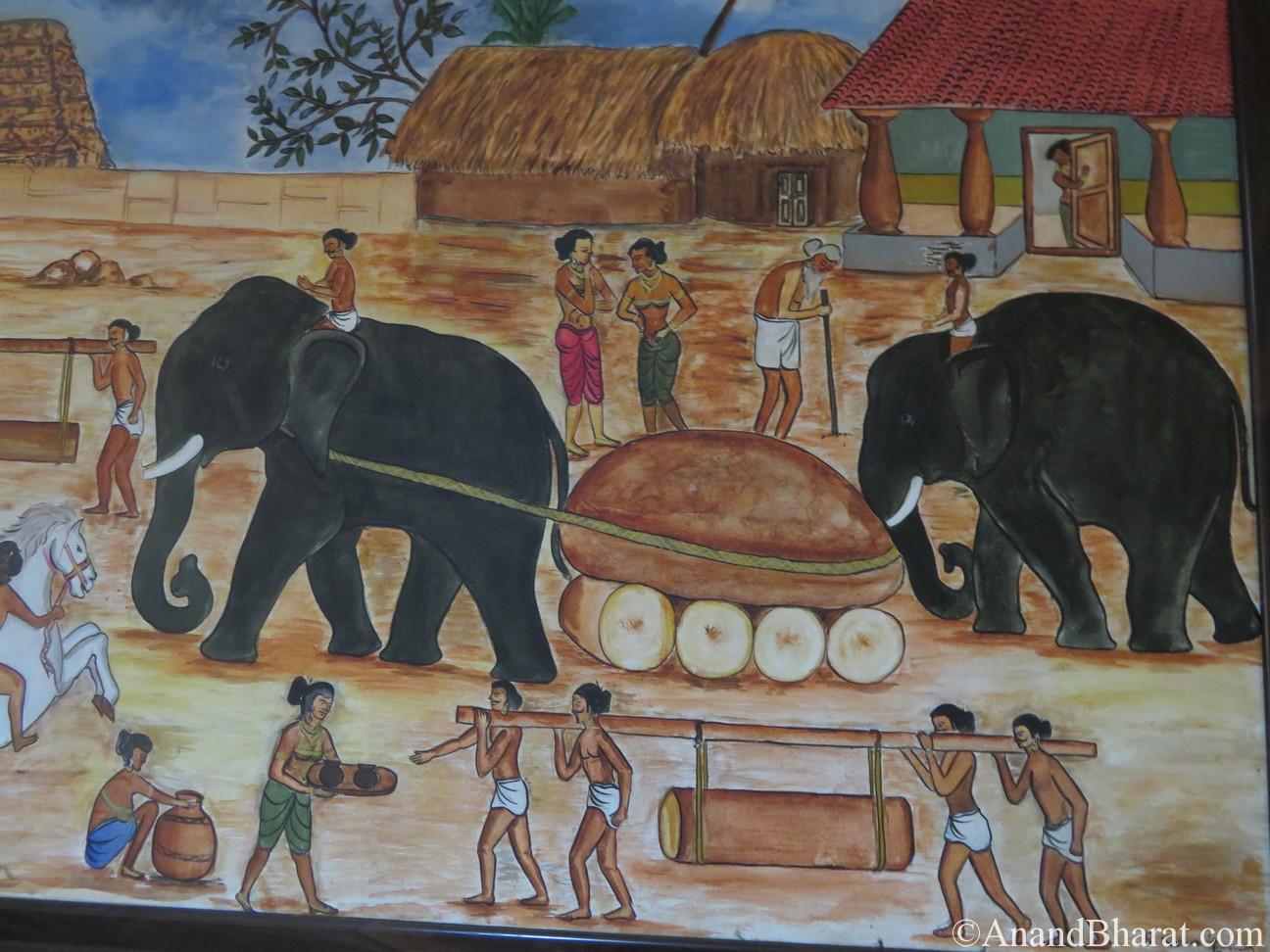 Brihadishvara Temple, Thanjavur – A pearl of the World
Three Chola temples are declared UNESCO World heritage, the Brihadishvara Temple at Thanjavur, the Brihadishvara Temple at Gangaikonda Cholapuram and the Airavatesvara Temple at Darasuram. I saw all these 3 in this trip. The temples confirm to the brilliant achievement of the Chola in architecture, engineering and sculpture.
This travel experience is about Brihadishvara temple of Thanjavur. Note that there are two Brihadishvara temples one is at Thanjavur and another 70 Kilometer away at Gangaikonda Cholapuram.
Our Journey
Started from Bangalore by train and reached Thanjavur at 5.30 AM. I had already booked Tamilnadu State Tourism Development Corporation state guest hose. I recommend this hotel for stay. It is at waking distance of 7 minutes from Railway junction. Staff is very good but food if not good then not bad also. You get normally South Indian dishes only. All rooms are 20 feetX10 Feet.
You can book online http://www.ttdconline.com/
After refresh and breakfast we moved on foot to see Brihadishvara temple which is about 1 KM from this guest house. Auto riksha are troublesome in all Tamilnadu and there is monopolist attitude. If you do not settle with the first auto second auto driver will not come near to you.
So you have to accept first auto at his own rates. There is no meter system at least in places which I saw in Tamilnadu.
Itinerary
Time
Day 1
Stay at Thanjavur (Night stay)
Visit

Brihdeshwara templ

e, Maratha palace. Both are near to each other and 2 KM from Railway Junction station.
2 hours for Brihdeshwara temple and 1.5 hrs for Palace premises
Day 2
Take taxi 8 AM to go to Gangai Konda Cholapiram (65 KM)
Visit the Gangai Konda Brihdeshwara temple and palace ruins and small museum adjacent.
2 hours
Move to kumba Konam by same taxi (34 KM)
Visit Airateshwara temple at Dharasuram, 6 KM from new bus stand
3 hours to see this UNESCO world heritage site
Day 3
Visit Kumbkonam temples
5-6 hours

If interested visit navgraha. ( start at 5.30 AM and tour will end by 10.30 PM taking you to all nav grahas. Total distance covered is 280 KM.

You can mainly visit Kumbaleshwar temple, Sarangpani temple, Kashi Vishwanath temple, Mahamanam tank and Maths genius Ramajujam house. I think it is enough as there are 188 temples in Kumbkonam. All temples are similar type.
About Thanjavur
Well connected by train and state and private buses. Nearest airport is Trichy (Tiruchirappalli International Airport (TRZ).
This city was capital of Cholas between 10th to 14th century AD. Later it was ruled by Marathas and Nayakas and at last British.Thanjavur is world famous for it Brihadishvara temple and is one of the most magnificent piece of architecture and is declared UNESCO World heritage.in 2004. Today also Thanjavur is famous for silk, brass utensils and decorative metal lamps.
About temple
Built by : Rajraja-I
When : 1003 and finished in 1010 AD
Name : Brihadishvara means Brihad means big ishvara means God. This temple is also known as "big temple" by locals and historically also called RajaRajeshwara temple, RajaRajeshwaram and Peruvudayar temple.
Why it was built : To celebrate win of Rajaraja-!
Deity : Lord Shiva Other shrines : Nandi(17th century), Parvati (17th century), Kartikeya (17th century), and Ganesha. Sabhapati, Dakshinmurty(after 17th century), Chandeshwara and Varahi.
Stone used : Granite. Interlocking system is used to connect granite.
Damages to temple : Inflicted by Pallavas, Pandyas, Muslim kingdoms and British. Repairs were done by subsequent Nayakas and Marathas.
History of Cholas
Nothing much is mentioned about origin of Cholas except a mention of Cholas in Ashoka inscription in 300 BC and Sangam literature period (3 century BC to 3rd century AD), Greek- Roman astrologer and mathematician Ptolemy, Huen Sang in 6th century. Also Between 3rd century AD to end of 7th century, not much is known about Cholas until they rose again in beginning of 8th century for next 250 years.
By 8th century powerful Rastrakutas was on fall and I am mentioning a few Chola kings as per a few history books I came across and as per my knowledge and understanding.
Karikal : Beginning of 8th century AD. He defeated Cheras, Pandyas and Lanka kings and established his capital around Kaveri basin called Kaveripattinam.
Aditya-I : Defeated Pallava and Rastrakuta and married the daughter of Rastrkuta king Krishna-II. He worshipped Shiva.
Parantak-I :  He is said to be founder of later Cholas regime. He defeated Pandyas and Pallavas completely but was defeated by Rastrkuta king Krishna-III.
Rajaraja-I : 985AD to 1014 AD. He defeated Cheras, Chalukyas, Kalinga, Pandya and king Mahendra-V of Lanka and mad Chola capital in Lanka named as 'Polonnuruv' and constructed a Lord Shiva temple there. He is said to be merciless in defeating Western Chalukyas.
He also defeated Gang, Nolambas in 991 who remained with Chola for next 125 years.
His regime started from south of Tungbhadra river to all South, Maldives, few parts of Lanka. Andhra was subordinate friend with Cholas.
That time Rajaraja was most powerful king in South of India. He constructed Brihdeshwar temple in Tanjavur in 1010 AD.
Rajendra-I : 1012-1044 AD: In history he is said to be great son of great father. He captured full Lanka and his regime was in Indonesia, Cambodia, Lanka, Malaya, Maldives, Andman Nicobar, Kadram (Burma). He was first king to send his navy and army to foreign countries war missions.
He was also merciless against Chalukyas and historians have condemned his these acts.
Next kings: Rajadhiraja-I, Rajendra-II, Veer Rajendra, Adhirajendra, Kulottunga-I, Vikram Chola, Kulottunga-II.
Rajaraja-II: 1143-1173AD.The Airavatesvara temple at Kumbakonam was built by the him.
 Fall of Cholas : Pandyas and Pallavas, Kaktiyas and Hoyasalas  declared themselves free by around 1143 AD and thus Chola empire fell.
Temple Description
There are three gopurams in this gigantic temple. First one is known as Keralantak tiruvasal which means sacred gate of Keralantakan. The word Keralantakan was surname of its byukder Chola king Rajaraja-I. Just 330 feet ahead is second gate is Rajarajan tiruvasal. This gate is more decorated than first gate. These depict scenes from Puranas and Hindu texts.
Just see the beauty of most talked about cap of this temple.
The temple is made of sandstone and granite.
How did they cut the hardest stone granite so precisely?
There is theory that they drilled holes using chisel and then put wooden pegs in the hole. They poured water at intervals which eventually expanded and broke the granite. Egyptians also used this technique. Even today our masons use this technique in cutting sandstones.The granite were connected by interlocking techniques and no binding material was used. This temple has already borne 6 earthquakes.
How cap stone of 80 tonnes was lifted?
Firstly this huge round structure was used so that the prayer energies from inside the linga pooja should travel to top and again return using circular path so that the energy remains inside the temple.But then how it was lifted?
It is said that this job was done by fleet of elephants as shown in figure below.
There is another theory that Vedic mantra was an assisting force is doing so. Old Vedic gurus knew many secret vedic mantras to perform such impossible tasks.
Epilogue
It is said that visiting this Thanjavur temple brings misfortune as the deity image inside the temple could not be consecrated by king Rajaraja. That is why his son Rajendra Chola hurriedly constructed another replica at place called Gangaikonda Cholapuram 70 KM off this temple.
Long live our traditions.
Travelers
Hits: 243