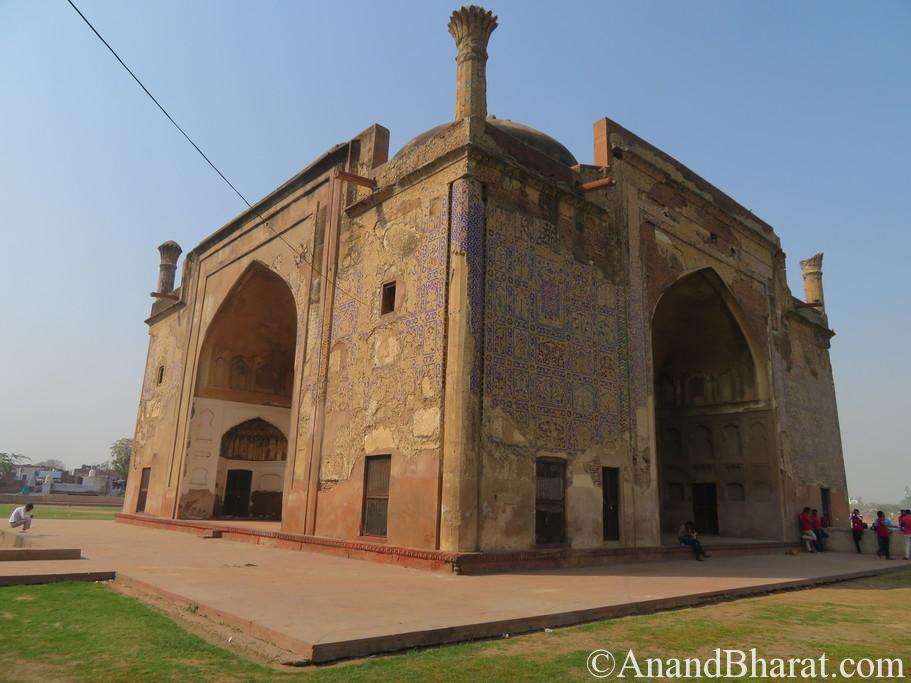 Chini Ka Rauzah, Agra – deserted and dilapidated
There are "two unique things about this building". One is that this building has no lintels, no chhajjas, no jharokha, no pillars, no jaalis, no carving etc. It was designed by brother of Afzhal Khan who was one of the architects of Taj Mahal and Agra fort. Second unique thing is that it used the indigenous Iranian technique of glazed  tile (chini) work which does not loose its luster even for thousands of years.
Coming to my itinerary..
Two days are a must at Agra if you want to see all its monuments and Fatehpur Sikri. First day at Agra I spent seeing Agra Fort and Taj mahal. My second day at Agra started at 7 AM by taking an auto for Sikandra (Akbar's tomb), Mariam's Tomb (Jodha Bai, mother of Jahangir) and "Chini Ka Rauza" and Etimad-Ud-Daulah Tomb (Father of Nurjahan, Prime minister of Jahangir). We settled in Rs.500. I finished all these monuments by 10.30 and he dropped me at bus station at 10.30 AM to catch government bus to Fatehpur Sikri.
After seeing Sikandra, the Akbar Tomb, auto started for "Chini ka Rauzah". He passed through narrow roads, poor dwellings and  in 10 minutes he stopped. From here I had to walk a green and good looking path for about 300 meters.
After seeing gorgeous Sikandra this building "looked deserted and dilapidated". The monument is left it seems on its fate to fade. There were still 4-5 indian tourists trying to find out the speciality of this building but not finding either started looking around and taking pictures of surrounding.
Actually it is true that this tomb does not belong to some famous figure and the way this building is left on its fate confirms this fact. This is tomb of Afzhal Khan.
Note that this is not that Afzhal Khan who Shivaji, in a famous incident, killed in Pratapgarh Fort in Maharashtra. This  is different Afzhal Khan of this tomb of Chini Ka Rauza who was Prime Minister of Shahjahan. He was given "Afzhal Khan" title by him. He died at Lahore and his body was brought here to be buried in 1628 AD.
.
Epilogue
This tomb is really not impressive and not of a very famous man still it is famous for some reasons of unique tile work technology used by Persians (Iran). Uniquely this building has no lintels, no pillars, no chhajja, no jaali and no carvings. There was no guide here as very few tourists will come here I guess. I just visited as I heard many times about this tomb.
Hits: 118