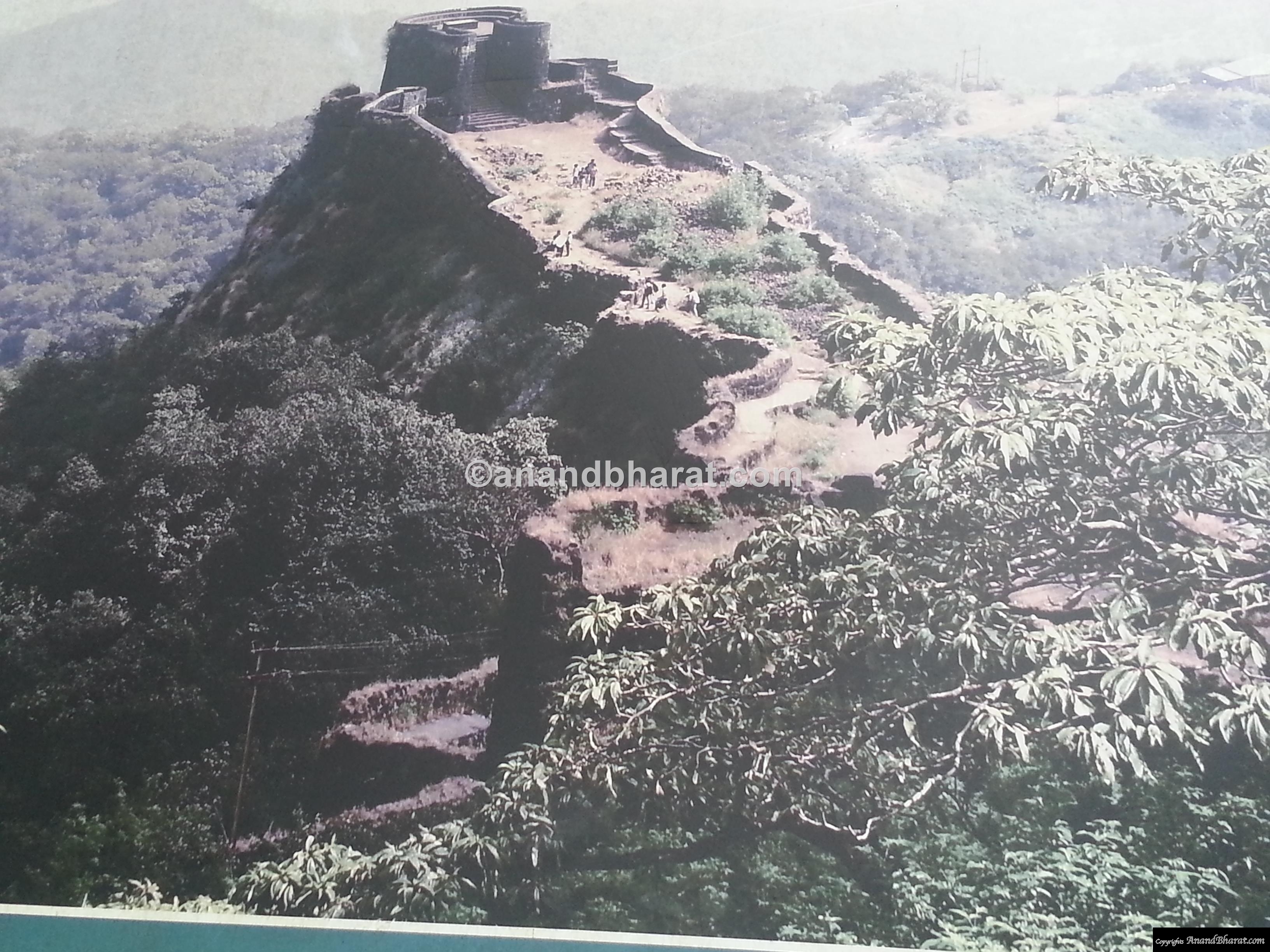 Pratapgad Fort- Pride of Maratha Empire
                              Pratapgad Fort- pride of Maratha Empire
शहीदों की चिताओं पर जुड़ेंगे हर बरस मेले
वतन पर मरनेवालों का यही बाक़ी निशाँ होगा
I had a plan to visit the Ozar Temple, Lenyadri caves, Shivneri fort ( birth of Shivaji) and Chakan Fort in one stretch in a single day. The plan proved to be well feasible as all these fall in one line.
My entire itinerary ( 4 days) was

Hideout CaveReaching Pratapgad Fort
As per above plan I  visited Pratapgad fort while staying in Mahabaleshwar.
I had planned to visit it on last day of my trip. Taxi charged me Rs.1000 for entire trip from Mahabaleshwar to Pratapgad too and fro. It started at 9.30 AM and returned back at 2.30 PM
Since this is 25 KM from Mahabaleshwar I could have a feel of outer Mahabaleshwar, Koyna and Savitri river flowing by the road, several water falls and frequent drizzling, cloud over the hills and in front of car, green forests and what not.
Location and history
25 KM from Mahabaleshwar, 105 KM from Pune, Maharastra. It is in Satara Distt.
Pratapgad fort is currently private property of Shivaji current generation Sri Uday Rao Bhonsale.
The construction started in 1656 and just finished in 2 years. Total area of fort is 52 acres and wall length is 5 KM. 13th generation , 20 families of Shivaji army soldiers familiies stay here.
The fort was constructed by Shivaji for temple of Tulja Bhavani ( family Goddess of Shivaji). Shivaji used to come here mostly on Monday and Friday.
My catch
Do not miss this place when you are visiting Mahabaleshwar and Panchgani.. Trip to this fort will give you chance to see beautiful around Mahabaleshwar In rainy season you can no see some points around fort. Better take Take government guide availableon ticket counter for Rs.300.
Total 450 steps to be covered to reach the top of fort.
Just before the main entry gate ,on left side we see a cave type structure. It seems 40 soldiers used to hide here to attack any enemy. Now this cave is partially destroyed for road construction. So more of less we are not able to see this soldiers hideout cave.
This is the only entry and exit to fort. The gate is intentionally made small so that elephants can not enter the fort. There is a cannon kept in the gate which is 650 KG and range was 1.5 KM. On side of door there are holes made to pour hot oil and  for firing cannon balls. This door used to open at 6 AM and close at 9 PM. Even today the same tradition is followed.
Raj Marg gate
Just as we traverse through main gate , on left side we see another gate passage called Raj Marg gate. From this gate Shivaji, his ministers and royal soldiers used to pass through.
Watch Tower
Walk a little and turn right to reach Watch towers. This is a beautiful part of fort. The towers are quite big and all round observation can be done all the time. It also has cannon balls fire attack holes.
You can just go to highest tower and you can see Torna fort and Madhukaran fort from this tower.But due to monsoon the clouds were covering the view  so I could not see.
Renovation work is going on now for this tower. I noticed and was told that in renovation they are using the same old material to find the fort which was used that time. No cement is being used.
Shiva Kalin Talaab (Pond)
Return back from tower area and climb further ahead.On right side we can see this artificial big water storage(big pond). For construction of the fort the rocks from this fort only were used and these were excavated from the area where some water falls were meeting and this in turn created a big pond structure. As told to me in summer also water remains.This 30 feet deep.
Tulja Bhavani Temple
We climb further a few steps on left side
This temple houses Tulja Bhavani in black Shaligram stone brought from Nepal. This is Asht Bhuja ( eight armed) Bhavani and is family Goddess of Shivaji. There is a crystal Shivling of about half a foot height. Shivaji used to pray this Shiv ling before starting for any warring operations. There is a sword of Shivaji's general Kanhoji in front of the  statue. This sword as 6 stars marked on this. One star were awarded if sword kills 100 enemies.
One silver throne ( 150 KG) is installed in 2015 by Sri Uday Rao Bhonsle. Just in front wall of the Tulja Bhavani temple an original Ganesh statue is carved. As per priest this is natural statue of Ganesh and is carved out of the wall rock. Priest also told how the old temple building was made but first erecting a soil hillock and then covering it by rocks.Joining the rocks and finally excavating the soil from the joined rocks.
Hanuman Temple
Turn 180 degree back from the temple and walk further. We see a Hanuman temple which is South facing. This statue of Hanuman is of 1661 as guide told me.
Bal Quila ( Child Fort)
This was called upper fort. But you can not see any structure here. Just Shivaji one statue is kept here which was installed here when Prime Minister Nehru came on Nov,30,1957. This statue is made of 5 metals and 4.5 tons. Shivaji sword stolen by British from this fort now can be found in British Museum as guide told me.
Punishment Point
Walk left side. You will see a small round point. Below this is 1800 feet valley. From here trecherous were thrown directly.
Secret tunnel:
Walk furthe and you will come across a tunnel.This opens outside the fort.
Royal Court
This was Divane Khas to have a meeting of 8 ministers of Shivaji. Now it is just a flat ground on about 100 feet by 40 feet.
Ichha Purti ( Wish fulfill ) Shiva Temple
In front of royal court is a shiva temple. It seems when Shivaji started to kill Afzal Khan he prayed in front of this temple to be successful in his mission.Since he was successful, this temple is called Ichha purti temple.
Here ended the Pratapgad fort tour.
Famous 5 Trekking destination of Maratha Forts
If interested in trekking you should experience Chavaand, Hadsar, Shivneri, Naneghat and Jivdhan forts.
Epilogue
Shivaji was born in 1630 ( some claim 1627) in Shivneri fort,Maharastra,India. Maloji was his grandfather and Shahaji was father. Maloji belonged to a village near Daultabad (near Aurangabad,in Maharastra).He was an employee under Nizam Shahi. Later he rose to new powers due to his valour and got Pune and Javali talukas as gift from Nizams. So Shivaji got Pune and Javali area of Maharastra in ancestory. Shiva ji left Shivneri fort in 1636. He won the first fort "Torna" in 1645 when he was 15 years. This fort is 80 KM from Raigad. List of  several forts won by him are North Konkan, Pratapgad fort, Raigad fort, Panhala, Mahuli, Lohgad, Chakan, Janjeera Fort and Purander fort etc etc.
There were continuous wars between Moguls ( Aurangjeb ) , Nizams and Adil Shahis and British. Shivaji and his father were respected by all these four kingoms that time. They were experts of proxy wars of their time. Some times even all four forces combined could not defeat Marathas.
Later after death of Shivaji in 1680 the powers came to very capable Peshawas( appointed Prime Ministers of Maratha Empire) and they expanded the Maratha empire almost entire India. Last Maratha war was with British in 1818. From then on Maratha empire collapsed.
I just visited a few forts to understand the life of 17th century great Marathas who defended Hinduism and spread a slogan of "Swarajya".
कभी वह दिन भी आएगा जब अपना राज देखेंगे
जब अपनी ही ज़मीं होगी और अपना आसमाँ होगा
Hits: 261