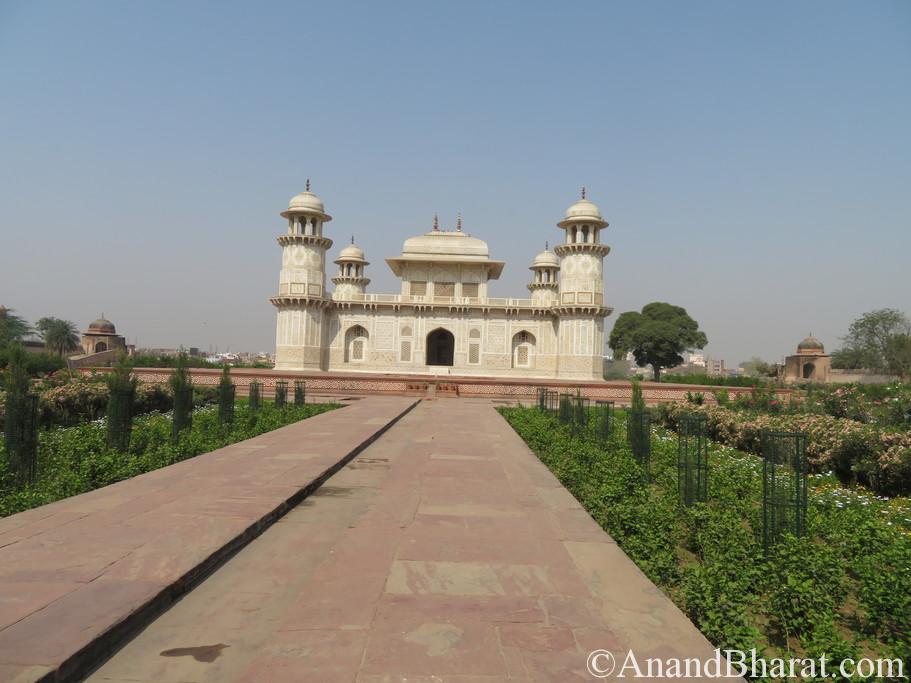 E'timad-Ud-Daulah Tomb- Father and mother of Nurjahan
I had two full days of stay at Agra. On day one I visited Agra Fort and Taj Mahal full day from 9.30 to 5.30 PM. I came to hotel and took rest. In hotel I enquired about the best mode to go from Agra to Fatehpur Sikri. Sikri is 40 KM from Agra. Hotel staff suggested me to take bus (1 hr 20 mins journey). They also suggested me to take auto for seeing Sikandra (Akbar Tomb) which is 15 KM from city.
My second day at Agra started at 7 AM by taking an auto for Sikandra (Akbar's tomb), Mariam's Tomb (Jodha Bai, mother of Jahangir) and Chini Ka Rauza and "Etimad-Ud-Daulah Tomb" (Father of Nurjahan, Prime minister of Jahangir). We settled in Rs.500. I finished all these monuments by 10.30 and he dropped me at bus station at 10.30 AM to catch government bus to Fatehpur Sikri.
There are a "few unique things about this place". Firstly, it is tomb of father 'Etimad-Ud-Daulah' and mother  'Asmat Begum' of Nurjahan. Mumtaj Mahal was their grand daughter. Secondly they were originally from Iran, third thing is that this was the first building which used white marble which was later followed by Shahjahan in Agra fort, Red fort, Sikandra etc. and fourth thing that it is domeless and fifth is that it marked a transition from stone carving to Persion style of floral decoration.
Unique story from rag to riches
This is the story I read in Hindi novel " Lal quila" by famous writer Acharya Chatursen.
Ghiyas was a very poor merchant in Persia (Iran). He wanted to abandon her only daughter Meharunnisa (Later names as Nurjahan) as he had no money to feed her. By luck of the little girl this man got into a Caravan from Persia to India and there to court of Akbar. Gradually he rose to high post and was named Etimad-Ud-Daulah. One day in an army function Prince Jahangir, son of Akbar saw his daughter and fell in love with her. But since Nurjahan was married, he tricked and murdered her husband and managed to marry Noorjahan.
Later time Noorjahan personally supervised from Lahore and constructed this tomb for her parents in 1628.
The premises are flanked by "four huge gates". These gates are in four directions and are similar but not identical.
Main tomb  of father 'Etimad-Ud-Daulah' and mother  'Asmat Begum' of Nurjaha are in center of fourwalls and is completely in marble.
When we enter the main tomb , we see two small but very beautiful interconnected rooms of tombs.
The artwork in these walas of tomb room marked the firt building to use persian floral designs in Mughal buildings.
Some more tombs are also there and are of Nurjahan's relatives.
Matchless of its time are the Persian floral designs on the walls of rooms of the tombs.
Epilogue
This is the tomb of parents of world famous Nurjahan. It is unbelievable that this was the building which was majorly infuluenced by Persion style of floral design, use of marble in building which were copied later by Shahjan time for post additions in Red fort, Agra Taj Mahal, Sikandra..
Hits: 219