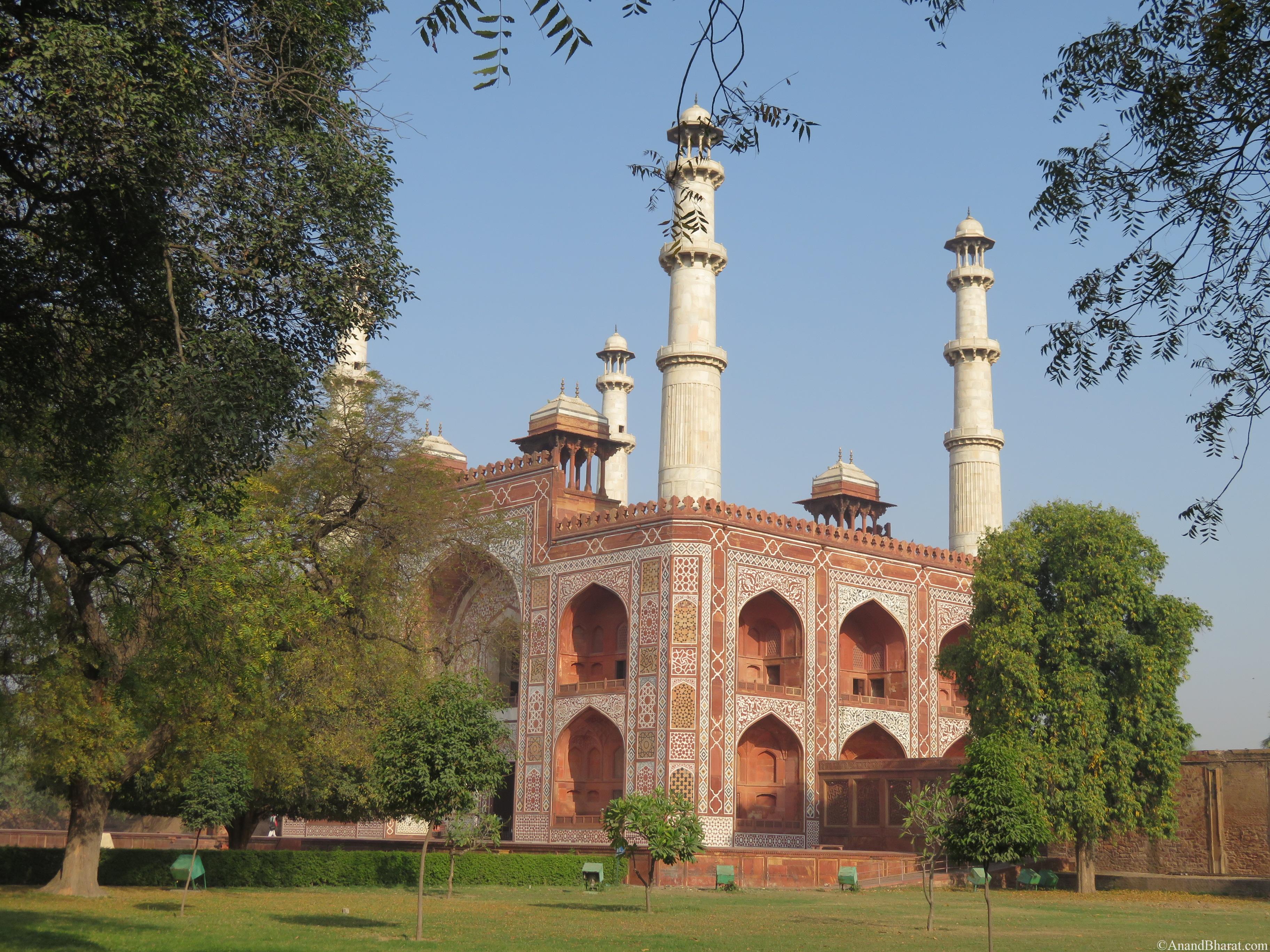 Sikandara – Where Akbar sleeps
I had two full days of stay at Agra. On day one I visited Agra Fort and Taj Mahal full day from 9.30 to 5.30 PM. I came to hotel and took rest. In hotel I enquired about the best mode to go from Agra to Fatehpur Sikri. Sikri is 40 KM from Agra. Hotel staff suggested me to take bus (1 hr 20 mins journey). They also suggested me to take auto for seeing Sikandra (Akbar Tomb) which is 15 KM from city.
Next day started at 7 AM by taking an auto for Sikandra (Akbar's tomb), Mariam's Tomb  (Daughter of  Hindu Raja Bharmal of Amer, mother of Jahangir) and Chini Ka Rauza and E'timad-Ud-DaulahTomb ( Father of Nurjahan, Prime minister of Jahangir). We settled in Rs.500. I finished all these monuments by 10.30 and he dropped me at bus station at 10.30 AM to catch government bus to Fatehpur Sikri.
Here is narration of my visit to Akbar Tomb.
I took the entry ticket at counter and just standing that some guide will come to me. In 2-3 minutes a person looking miserable came and very gently and obligingly asked me for his guide service. I checked his bit knowledge and  settled him quickly for Rs.200. He looked satisfied.
"Akbar's tomb" started by Akbar, completed by Jahangir in 1613 in Agra, Uttar Pradesh, India. This is relatively over shadowed under fame of Taj Mahal and Agra Fort. But this is the tomb of a person who changed the Hindu Muslim relations to new equations and that had an everlasting effect on history of India. Once his body was exhumed and insulted by Jat ruler Rajaram but again buried by Jahangir. This place is in 123 Acres and very beautifully maintained.
As per guide the four minarets are inclined in such a way that even in case of earth quake they will not fall on each other. Unlike Humayun Tomb where it is not possible to identify the tombs inside by name, here it is confirmed that Akbar body was really buried. This tomb is as beautiful as was Humayun Tomb in Delhi.
When we  enter fore courtyard, there is a small gate known as "Salami Gate". One has to bow down to enter the fore courtyard. This is made so as to give respect to tomb as was in Humayun tomb. The bigger gate above is known as "Jahangiri Gate".  There are four gates all around the premises.
There are about a hundred  "black Bucks" tamed and roaming in all compound. These were brought by Lord Curzon in 1905.
There are two "water fountains" in the "fore court yard".
The architecture on the "wall of Tomb" is beautiful and meticulous combination of  the art of Hindu, Muslim and Persian style.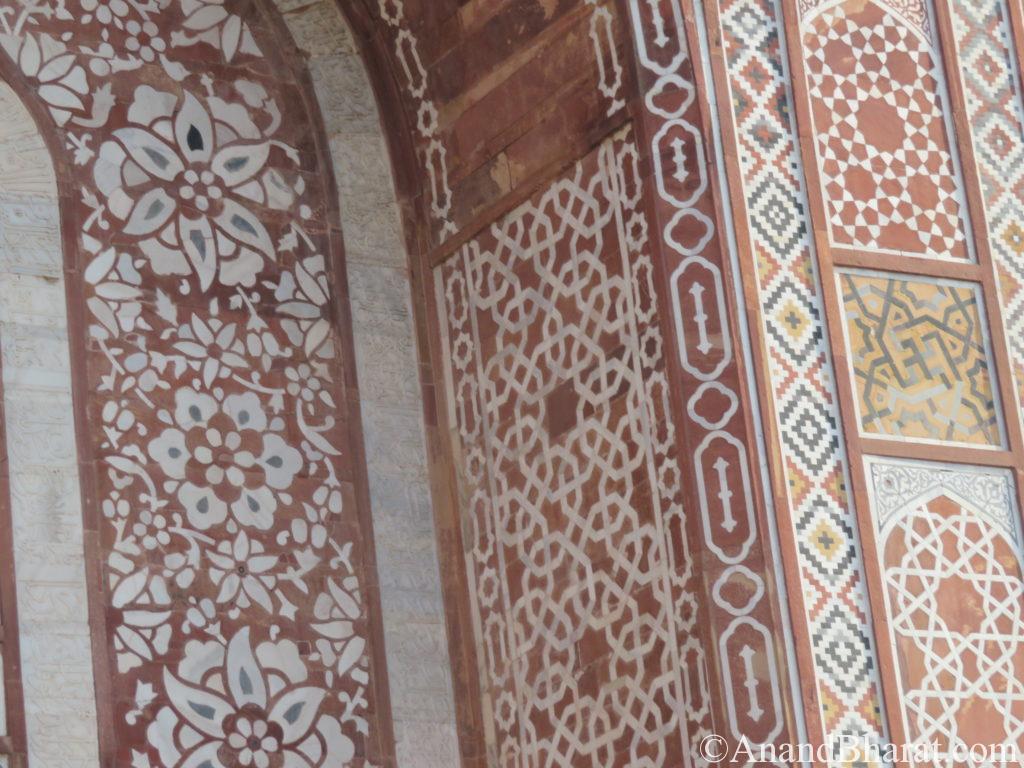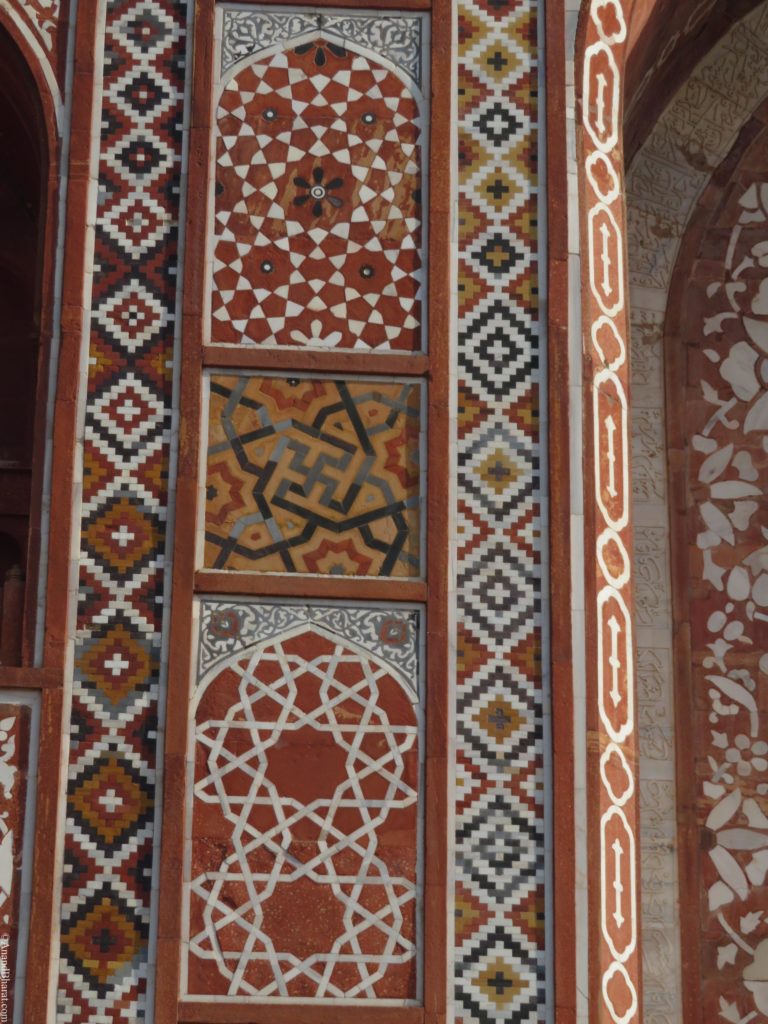 These above "pieces of artwork" in no way look to me anyway inferior to Taj Mahal.
Now I entered the Tomb building and I see a the front round hall with beautiful coloured painting. As per guide this portion was having some gold artwork which was looted by Jat ruler Rajaram to settle old enemity.
By seeing the drawings in below walls and dome we can imagine the artwork of Persian carpets those days.
I saw "Akbar's Tomb" and taking foto was strictly not allowed for Akbar's Tomb. It was a simple tomb in a huge round domed hall and is 7 feet below ground in basement.
Next guide showed me a tomb known as " Lodi Tomb". This is not yet known it belongs to which Lodi ruler. it existed before Akbar's tomb. This is some what looks much deserted  and poor in ornamental architecture and artwork. Guide told me that it is Sikandar Lodi Tomb. But ASI has not assigned it any name. I think  it might be either Bahlul Lodi or Sikandar Lodi who established Sikandra in early 15th century. There is one more Sikandar Lodi Tomb in Lodi Garden in New Delhi. It was built by Sikandar Lodi's  son Ibrahim Lodi.
Next in same compound I saw "Kaanch Mahal". This was built by Jahangir in 1605 and was used by him and next kings as ladies Harem or as aaramgah for hunting in forest in this area.
The below are designs on wall on front side. You can see "wine Jars" as Jahangir was very fond of wines.
And finally when I entered the Kaanch Mahal guide showed me the seat where Jahangir and Nurjahan used to sit. The statment of guide looked really very logic to me and I also sat for some time on this seat.
Epilogue
I am fortunate not to miss this place during my visit to Agra. I rate this place in same rating as Agra fort as far as beauty and architecture and artwork is visible here. This place is of utmost historical importance as here lies the person who founded a new era in Hindu and Muslim relation and which has a deep impact even in 21st century.
Hits: 193