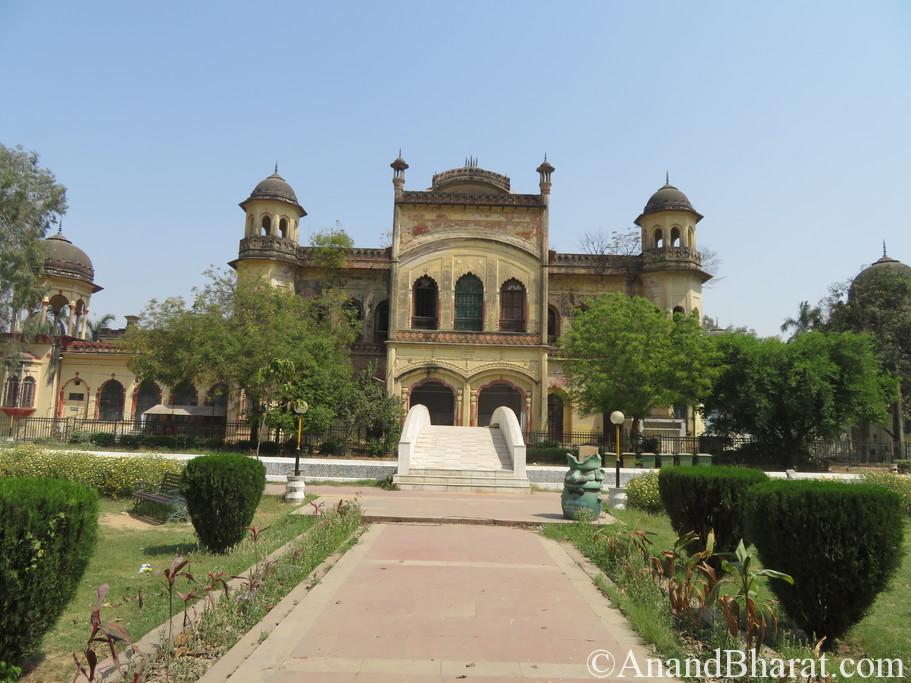 Kaiserbagh Palace, Chhatar Manzil, Safed Baradari, Sikandarbagh- A yesterday of Lucknow
गुजरेंगे जाने वाले, मंजिल यूँही रहेगी
अफ़सोस हम न होंगे, महफ़िल यूँही रहेगी
While i was visiting some of the monuments I felt that these monuments are now merged and embedded into the population of city, many are being used as colleges, schools or for prayer that these have almost lost the class and status of being old or monument. Also many of these buildings are just 200 years old. But I appreciate that all these buildings (above 150 in number) which are protected by centre and few by states are being maintained really well. The gardens are nursed properly and we feel refreshed when we visit these on holidays.
It is worth mention about recent history of Lucknow.
Akbar divided his Mughal kingdom in 12 provinces. One of the "subah" was Awadh (area between Ganges and Yamuna). The subah was further divided in 5 divisions. So Awadh was divided into five sarkars, Awadh, Lucknow,  Bahraich, Khairabad and Gorakhpur. Saadat Khan (Note it is NOT Saadat Ali Khan) was appointed first Nawab of Awadh in 1722. He appointed Nawabs (Naib in persian which means "assistant").He laid foundation of Awadh under suzerainty of Mughals. Later followed by Shuja-ud-daula who lost to British in Battle of Buxar in 1774. His son Asaf-ud-daula was 4th Nawab, built  "Asafi (bara) Imambara" and "Rumi Darwaza". After battle of Buxar British made Saadat Ali khan as first "puppet Nawab" of Awadh. After him his son Ghazi-ud-Din Haidar and in few successions Muhammad Ali Shah became nawab from (1837-42) who built Chhota Imambara. All these Nawabs were of Persian (Iranian) origin. Wajid Ali Shah (1842-1856)  was exiled to Kolkata and this ignited  fury among locals of Awadh which reflected in fierce battle of 1857 in Awadh which we can see in "Residency" in Lucknow. During his time all Lucknow was prevailing with "Afeem", Chess, luxurious life, luxurious art, dance. It is said that even rikshawala would buy Afeem instead of loaf from his hard earned money.  Built Alambagh gate. Constructed Sikandar Bagh gate in memory of Begum Sikandar Mahal, Chhatar Manzil etc.
Where to stay in Lucknow
I normally stay at state tourism guest houses and my experience has been good at all guest  houses in entire India.  For Uttar Pradesh you can book online using  https://online.up-tourism.com/booking
It was around 2 PM when we reached Kaiser Bagh palace. The guide entered Eastern Lakkhi gate and  the Kaiser Bagh palace had 2 gates called Lakkhi gates.
Single contribution of Wajid Ali Shah is Kaiser Bagh Palace built in 1850. He could not enjoy here as he was shifted to Calcutta soon by British on account of "bad performance".
The Kaiser Bagh palace incorporates columns, minarets, Rajput style umbrellas, lanterns and corridors. There were two markets inside for shopping for royal ladies. There are the three yellow buildings flanking . These buildings housed the royal ladies. It was closed for renovation when I visited.
At the center of the palace is the white stone structure named Safed Baradari. Initially this structure was entirely covered with silver.
After visiting Kaiserbagh palace I moved to Chhatar Manzil along with the guide. This is about 3 KM from Kaiser Bagh I guess.
Now I am returning from Chhatar Manzil towards Residency and guide stopped the bike for 2 minutes and shows me a Kothi named as General Wali Kothi.
I was staying in Hazrat Ganj and actually this was the first monument of the day showed to me by guide. A large (almost all) portion of this tomb and premises were damaged in 1857 war of Independence.
Epilogue
After Mughal Empire weakened in Delhi, the golden period of Lucknow started with construction of buildings from 1774 to 1850. Thereafter was end of Nawabs of Lucknow and then few more buildings were constructed by British. On banks of Gomti today this is beautiful city. In Uttar pradesh this is second historical city after Agra. I took two days to visit the few important monuments. It will take about 10 days to visit all 150 monuments in Lucknow.
Hits: 288