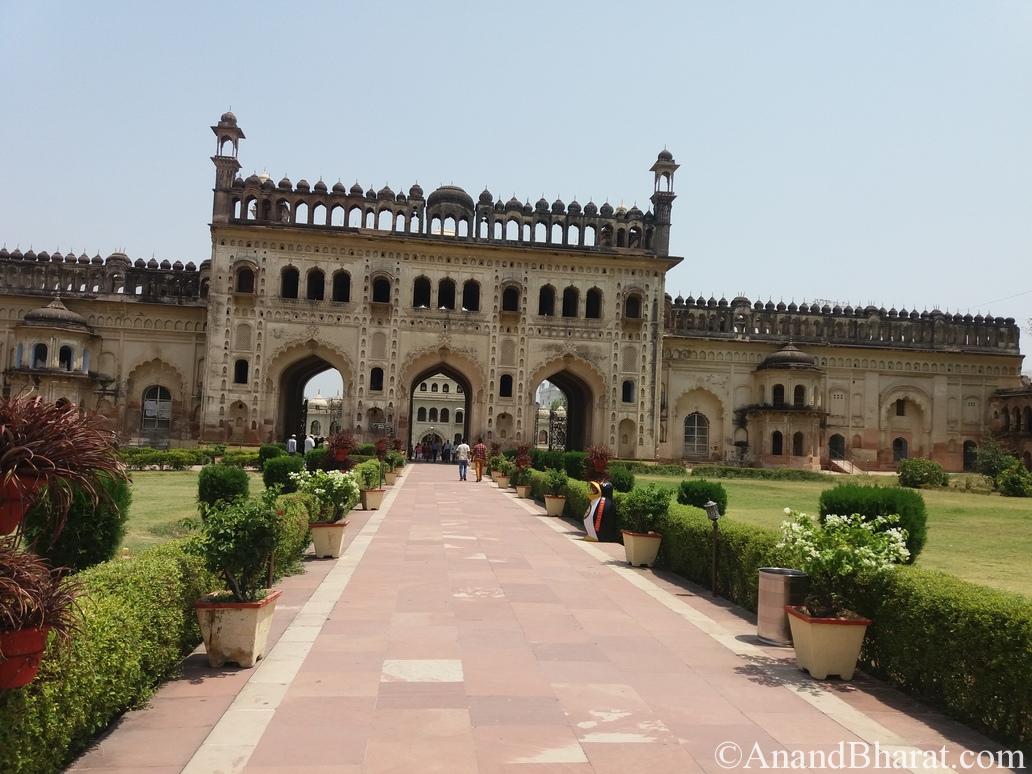 Bara Imambara – A yesterday of Lucknow
हम भी बीते हुए को जी लेते हैं.
और एक दिन हम न होंगे … पर हमारा निशां होगा.
Lucknow inhabited on banks of river Gomti has seen the emergence of almost all North India important dynasties.  Though since last three decades there is enormous expansion in residential concrete Lucknow is still able to retain marks of past history specially from 2nd half of 18th century.
It was heavily devastated by British after 1857 war of independence but few monuments were left out. Along with Awadh regime buildings this city also has several beautiful kothis erected by British.
It has about 82  Archaeological Survey of India  listed monuments which still exist in form of schools, offices or just preserved monuments.
Important monuments to visit in 1 day
Location
Capital of  state Uttar Pradesh, India. Well connected by road, rail and air from all major cities of India. Has international airport for Dubai, Mumbai, Jeddah, Riyadh and Muscat.
History of Awadh
There is no meaning of visiting Lucknow monuments until we know its history from Mughal period.
Akbar divided his Mughal kingdom in 12 provinces. One province was Awadh (area between Ganges and Yamuna). Later under weakening Mughals in beginning of 18th century Saadat Khan (NOT Saadat Ali Khan) was appointed first Nawab (Naib in Persian means "assistant") of Awadh. He was followed by Shuja-ud-daula who lost to British in Battle of Buxar in 1774. His son Asaf-ud-daula was 4th Nawab, built  "Asafi (bara) Imambara" and "Rumi Darwaza". After battle of Buxar British made Saadat Ali khan as first "puppet Nawab" of Awadh. After him his son Ghazi-ud-Din Haidar and in few successions Muhammad Ali Shah became nawab from (1837-42) who built Chhota Imambara. All these Nawabs were of Persian (Iranian) origin. Wajid Ali Shah (1842-1856)  was exiled to Kolkata and this ignited  fury among locals of Awadh which reflected in fierce battle of 1857 in Awadh which we can see in "Residency" in Lucknow. During his time all Lucknow was prevailing with "Afeem", Chess, luxurious life, luxurious art, dance. It is said that even rikshawala would buy Afeem instead of loaf from his hard earned money.
About Bara Imambara
The Imambara complex is approached by three fore courts each with two lofty gateways and the mail court containing Asafi Masjid, Shahi Baoli and the bhul-bhulaiya (the labyrinth).
First gate :The entrance gateway is famous for its rectangular plan and tri-arched façade similar to Mughal gateways.
Bold cusped arches, double set of fishes facing each other provide decorum. The raised parapets are composed of miniature domed arches with turrets at the end. Three biasons are crowned with chhatris.
Imambara faces north with mosque faces east.
The main imambara building is on raised platform and gate 2. It is 3 storyed building from inside, outside looks single storyed.
Inside is divided in 3 parts. The beauty from inside is speaks the story of luxurious piece of artwork by designer Kifayat Ulla Khan.
The walls inside are very thick and well ventilated enabling them to be warm in winter and cool in summer. There are a series of arched openings and chhatries like parapet.
The central hall called Persian Hall is in shape of tray.  From first floor it is possible to see main hall and places are there for ladies to sit and see Majlis. The roof looks very heavy.
The main hall of imambara is one of the largest in world which is without pillars and without use of iron which is 49.7 m 16.16 m breadth and 14.95 m height.There is no reinforcement.
There was a guide who showed us the noise of matchstick lit in first floor in spite of noise in ground floor (acoustical property).
The rear part of imambara consists of Tazia and alams. The ceiling is beautifully decorated with motifs below and small projecting balconies continuing architecture of Mughals.
In center is tomb of Asaf-ud- daula and next to it is grave of his wife Shamsunnisa Begum.
All halls are decorated with costly chandeliers , old mirrors and other religious objects.
Outside on left side is bhul-bhulaiya, a unique labyrinth of intricate balconies and passages with 489 identical doorways which gives visitors a feeling of being lost.
Since the roof of this Imambara is without pillars , the architect laid his bed under the roof and slept for 7 days to show his confidence on design.
The imambara has elaborate gardens with grass and flowers.
Asifi Mosque
Constructed by Asaf-ud-daula.
Musafir Khana
This existed between Naubat khana and Rumi Darwaza but does not exist now as was razed by British in 1957.
Naqqar Khana
For announcing the arrival and departure of nawabs, important members of family by playing music and drums. It is a 3 storeyed building. The parapet wall is decorated with kangaroos, small burzis, and flanked by 2 chhatries.
Rumi Darwaza
This also created by architect Kifayat Ulla Khan. It looks 3 storeyed from front and one storey from behind and looks like Mexican hat. It was built one year before the construction of bada Imambara started.
Shahi Baoli
Means stepped well. When you enter the gate of baoli you can see that it is 7 storeyed. There are multi chamberd passage in interior all along all round the stepped well which keeps the building cool.
Guide showed the reflection of in comers in the baoli water while from outside no one can see.
Also gunmen can target incomers while he can not see the gunmen.
Epiogue
By the way when i came to Lucknow I thought who were these nawabs and their origin and I thought it is very complex. But more or less this story is very simple and very interesting. Akbar had divided his regime in 12 provinces and Province of Awadh was one.
He gave Awadh to one Noble man Abdur Rahim from Bijnaur as jagir. Later few sheikh jadas were its subedar. Finally it came to shia Shuja-ud daula. In 1764 he lost  battle of Buxer which sealed awadh kings as british puppets.From 1775 till 1856 some structures like bada and chhota imambara and residency were erected. Last nawab was Wajid Ali sah and in 1856 he was exiled to kolkata which ignited fury in awadh and reflected in Residency in 1857.
Sharanj ke khiladi film was portrayed on Wajid Ali Shah regime. Also interesting is that treaty after battle of Buxer was signed in Akbar fort at Allahabad on bank of river Ganga.
Hits: 313