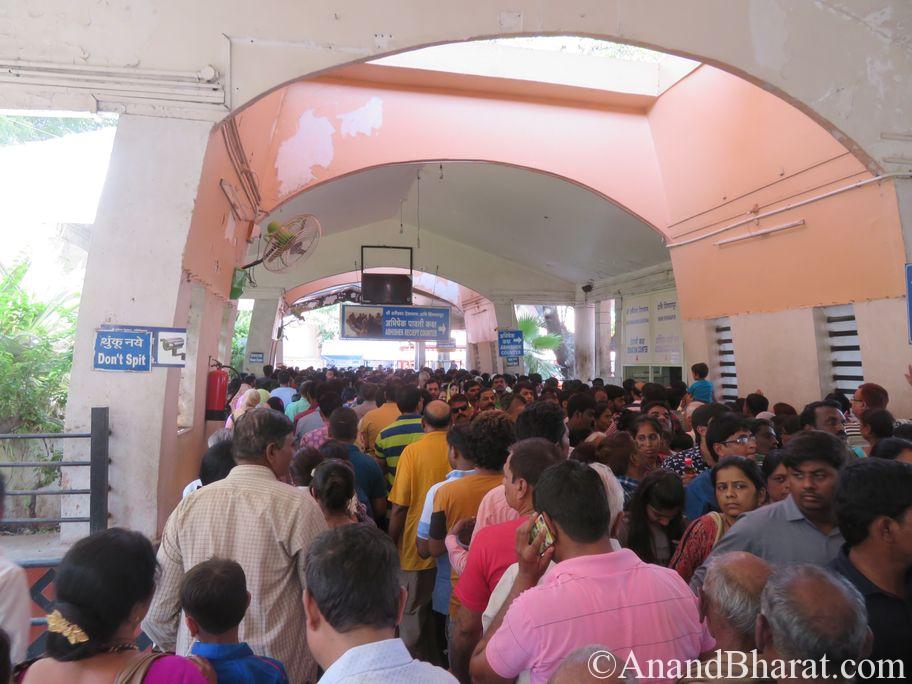 Shani Shignapur – Since kaliyug
The devotees who visit Shirdi Sai temple also visit Shani Shignapur which is 73 KM from Shirdi. It is believed that swayambhu Shani exists here in form of five and half feet idol.
Our Itinerary
Our first stop in this itinerary was Shirdi. We took darshan and stayed here for a night to enjoy the evening of Shirdi. Next day we took breakfast. Note that at Shirdi we can get very good south Indian breakfast. After breakfast at 11 AM we started for Shani Shignapur by taxi  to reach there at 1.30 PM. On way we saw interesting sugarcane juice shops
How to reach
Shani Shignapur is located in Nevasa district of Maharastra, India and nearest railway station is Ahmed Nagar (35 KM), 84 KM from Aurangabad, Nearest airport is Shirdi (77 KM).Temple is open 24 hours. There is no closure. The auspicious day of pooja is day of Amavasya (no moon day) when 300,000 devotees gather here. Otherwise about 10,000 to 25,000 visitors daily visit.
Where to stay
There are many hotels near to Shani Shignapur temple. I had stayed at Shirdi in Sterling resort. But it was an ordinary hotel though a bit costly. I think no need to stay at Shignapur until you have some special 2 days pooja to perform.
We finished the darshan by 4 PM in spite of regular crowd of may be 15,000. After darshan we took an auto to Ghodagram and from there caught bus to go to Aurangabad (84 KM).
There are door less houses in Shani Shignapur within radius of 1 KM. It is said that a govt. bank here has lock less locker though I had no time to see that branch. But it is said that special care is taken by police to safeguard open lockers.
History from Wikipaedia – "The story of the swayambhu statue handed down from generations through word of mouth, goes something like this: When the Shepherd touched the stone with a pointed rod, the stone started bleeding. The shepherds were astounded. Soon the whole village gathered around to watch the miracle. On that night Lord Shanaishwara appeared in the dream of the most devoted and pious of the shepherds.
He told the shepherd that he is "Shaneeshwara". He also told that the unique looking black stone is his swayambhu form. The shepherd prayed and asked the lord whether he should construct a temple for him. To this, Lord Shani Mahatma said there is no need for a roof as the whole sky is his roof and he preferred to be under open sky. He asked the shephered to do daily pooja and 'Tailabhisheka' every Saturday without fail. He also promised the whole hamlet will have no fear of dacoits or burglars or thieves.
So, Lord Shanaishwara can be seen even today, in the open yard without any roof above."
Epilogue
In my 60 years of life I have seen people were successfully able to face the hardest realities and travesty of life just because they had belief in God. It was proud to visit this place which instills into us the traditions which we follow in our life. One more thought this temple reveals is that Hindus are ready to accept change with time as we can see the entry of women to this temple after 400 years.
Come to Shani Shignapur and strengthen your belief.
Hits: 41