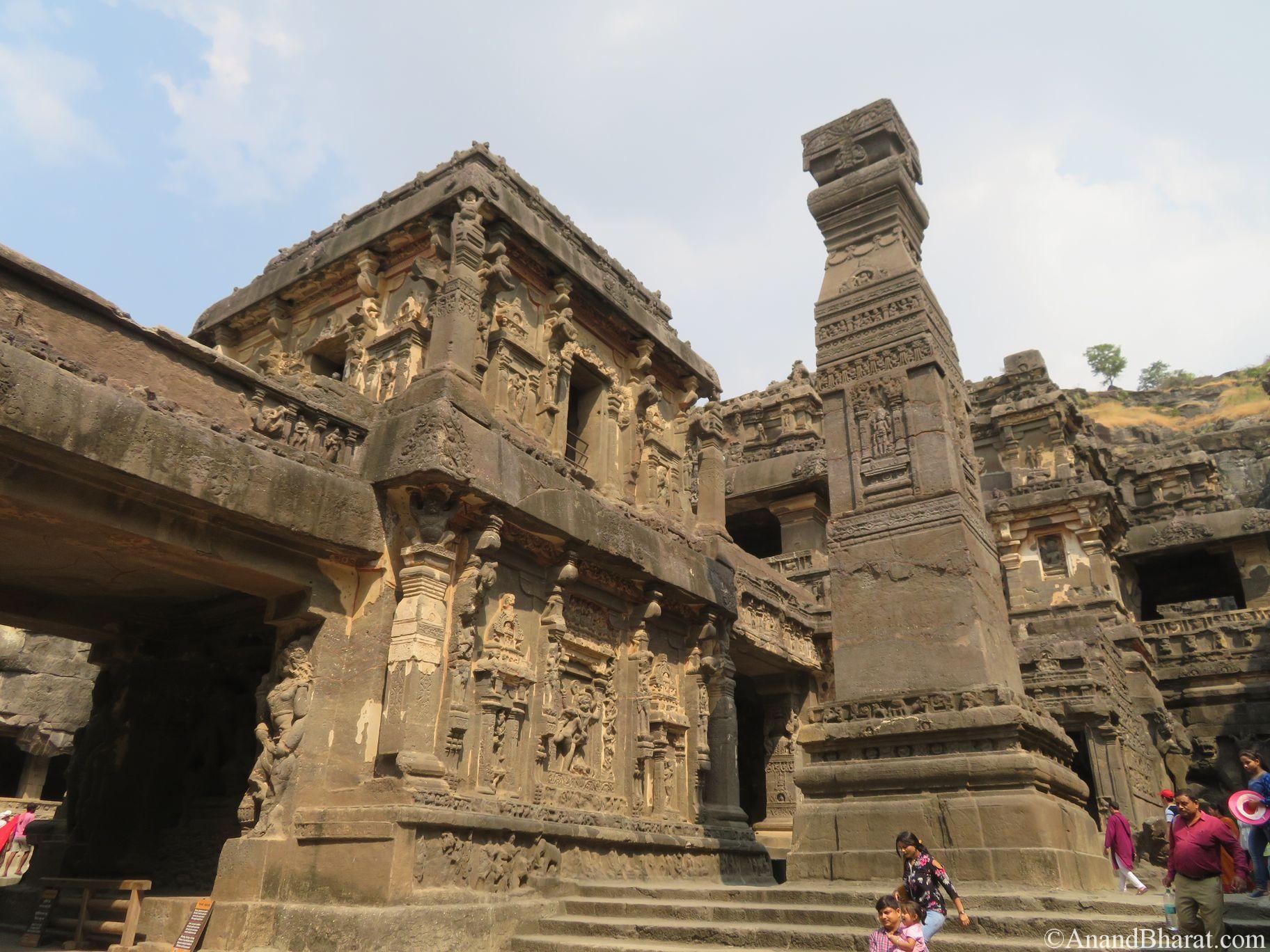 Ellora Cave Temples – A Gift to World
We land at gate of Ellora in front of sprawling green and beautiful huge gardens in front. I think these gardens are surrounding all Ellora cave. It was entry gate of Ellora. We took entry ticket and entered the cafeteria as we were feeling hungry. MTDC canteen in the premises served us mouth watering paneer pakoda and tea.
First cave we see is cave#16 which is cut perpendicular from top to bottom (excavation) on a single rock. This rock is out of volcanic eruption and chemically called basalt.
The total span of construction activity of Ellora from cave 1 to 30 is of 200 years with 10 generations.
Our Itinerary
It is our day 4 of stay in this trip. We are staying at MTDC Govt. guest house which I had booked online. To visit Ellora you can stay at Ellora or Aurangabad (20 KM). Aurangabad is a big industrial city of Maharatstra State of India and well connected by trains. It has an airport and connected with Delhi and Mumbai.
Alien connection of Kailash temple? Some archaeologists claim that Kailash temple (cave#16) was built in 18 years and on average 5 tons of rock per hour has to be excavated per hour which is not possible by human beings (7000 labor with 12 hours working). Also there is a cross made on top of temple and it is said that aliens made this mark to identify the place from space. Also there is belief that aliens civilization lives under Ellora caves. BTW  Archaeology dept says  it took 150-200 years to build Kailash temple cave# 16.
It is necessary to know  Rashtrkuta kingdom who constructed these cave temples and monasteries. Rashtrakuta were vassals of Chalukya kingdom and some say their origin was from north Rathods. When Chalukya became weak , Rashtrakuta vassal Dantidurg defeated Chalukya. His heir Krishna -I (758 AD – 773 AD) was very powerful and from here the tradition of defeating Chalukyas, Pallavas and Gang of Mysore started and gradually Rashtrakuta became a great kingdom and ruled almost entire central, south and part of north central area.
They worshiped Lord Vishnu and Shiva and later Rashtrakuta after Krishna -I also were attracted to Jainism and Buddhism.
By 11 AM we enter the first cave known as Kailash temple (Lord Shiva).
Cave 15
This cave is dedicated to Lord Vishnu and is known as Dashavatara (Ten incarnations) cave. There is a rock inscription which tells the Rashtrakutas kings names. Here are the sculptures of Lord Shiva and Vishnu, Varaha, Parwati,  Kartikeya, Ravana moving Kailash etc.
Cave 14
Local name of this cave is Ravana. But has no relation to the sculptures in this cave. Here  there are 16 pillars. All Hindu God and goddesses are depicted in this like Mahisasur mardini, Shiva-Parwati, Vishnu- Lakshmi, Ganesh, Kaali. This cave is worth seeing.
Cave 13 
This cave might be used by sculpture to stay. It is empty cave.
Cave 12 
Built in 8th Century AD. This is called teen-tal as it is three floors. Inside of ground and 2nd floor there are
different rich sculptures in different postures. Buddha is shown with lotus, Panch dhyan, Sujata offering kheer to begger Buddha. In 2nd floor are big veranda and cells. So this cave might be used for monastery. Top floor has huge figure of Buddha.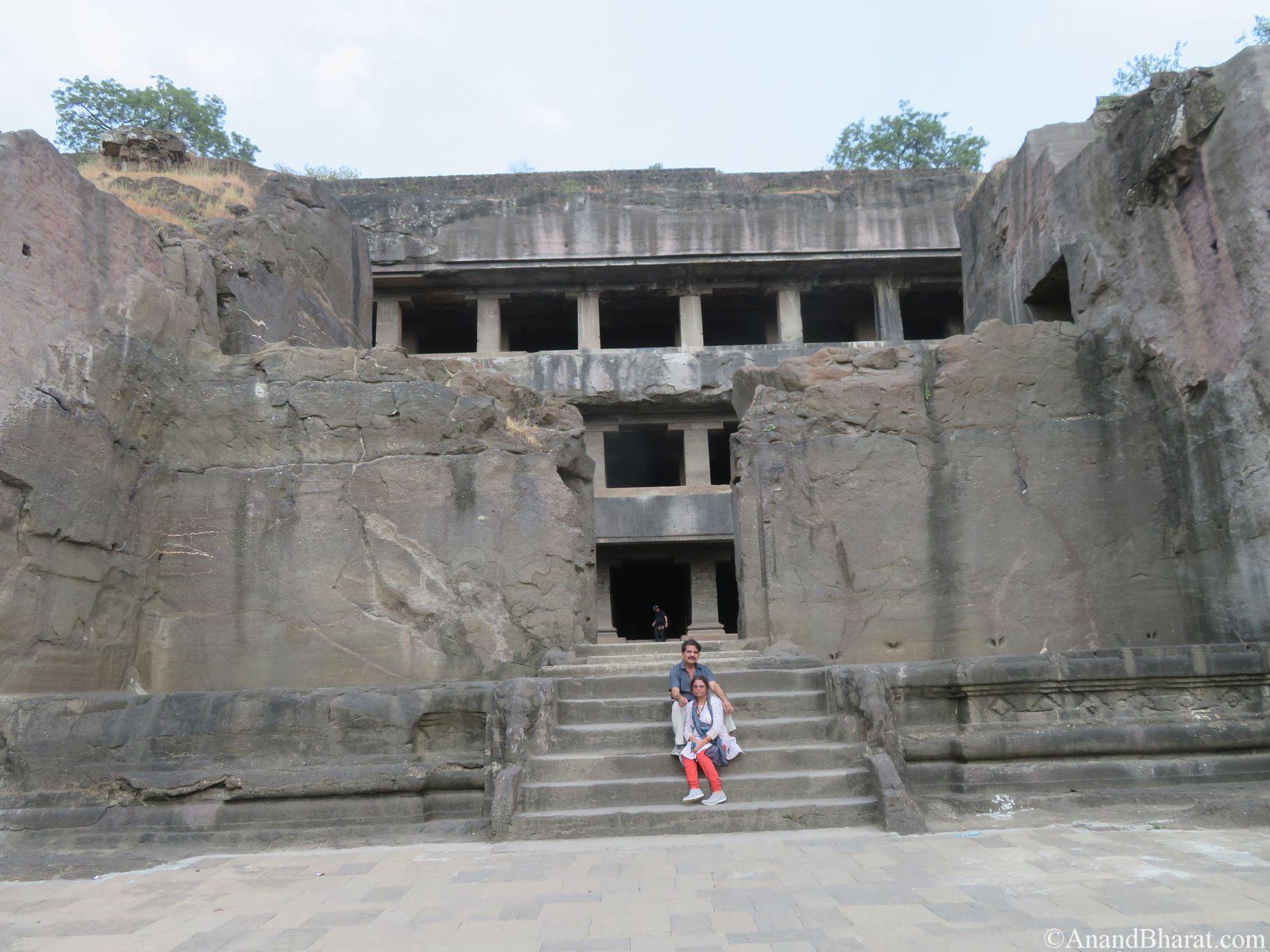 Cave 11 
Its local name is "Do Tal". Actually it is 3 floored but ground floor was found very later. 2nd and 3rd floors are vacant.
Cave 10
This is the only 2 floors cave in Ellora. It was used as Chitanya Grah. A guide with a Bengali tourist group showed here how echo sounds here.
Cave 7
Has Vajrapani and padmpaani Budhha sculptures.
Cave 8
This is vacant monastery.
Cave 5
It is 125X60 feet monastery. Some tourists told that it was meant for banquet to monks on some occasions.
Cave 1- Here Hinayana Buddhist monks used to live.There are some small cells in this for meditation.
Epilogue
1300 years old cave temples with rich sculptures of the Hindu God and Goddesses, Buddhist and Jain temples. Buit by Rashtrakuta kings who ruled almost all south, central and central-north of India for about 225 years from 735 AD. Tourists from all over world visit here entire year. I feel and untold happiness to see this great creation of human beings. It is such amazing temple that it is believed to have been built by aliens.
Hits: 84