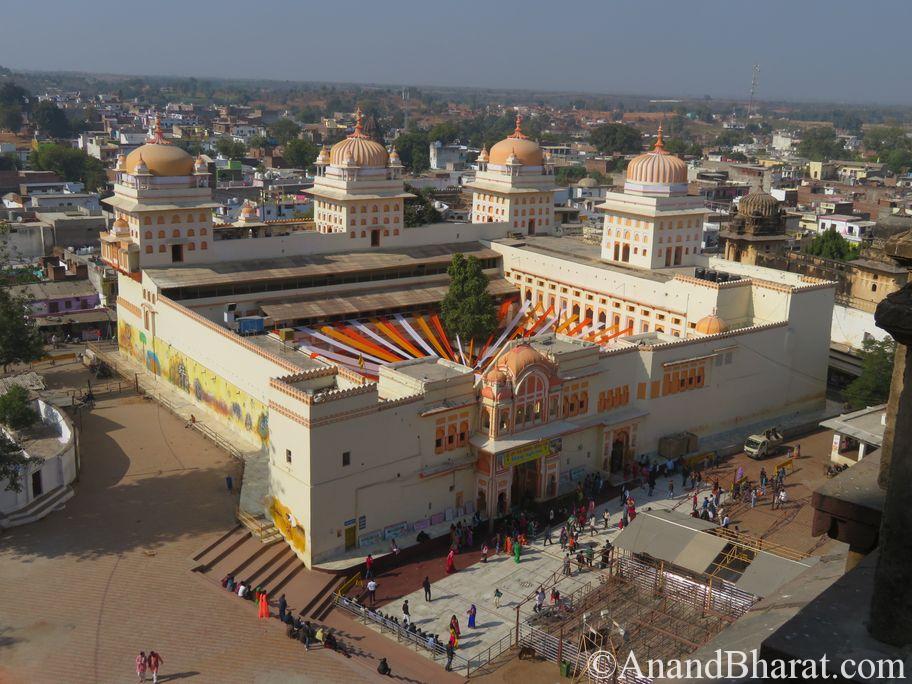 Comparatively today lesser known among Indians, this place was once the capital of Bundela Rajput kingdom from 1531 to 1783 CE. I was just thinking why this place is lesser known – the name itself indicates "Orchha" – means hidden.  But the reason might be that Orchha was a small kingdom and had a bit of peaceful life as they got themselves accustomed to Mughal and almost accepted their suzerainty maintaining their dignity and valor at the same time.
It is said that about 600 thousand tourists visit Orchha annually. I think this is the only fort (like Chittorgarh fort) where stories are associated with each and every palace and each temple. These is no other such place so far seen by me.
Time to spend
Minimum 4 hours. But if want to raft in Betwa and see Datia, Orchha Bird Century then 1 Night 2 Days will be fine.
How to reach Orchha
Located in Madhya Pradesh, a state of Central India. Nearest railway station is Jhansi (20 KM), nearest airport Gwalior (150 KM). World heritage Khajurao is 180 KM.
Where to stay 
There are 2 hotels run by MPSTC – One is Betwa Retreat and another is Hotel Sheesh Mahal. Sheesh Mahal is part of palace and mostly foreigners stay here. The rates are reasonable. You can book online at http://www.mptourism.com/tourism-hotels-resorts.html . Or you can stay at Jhansi.
Mythologically they are believed to be clan of Vihagaraja, seventh son of Lord Bramha of solar dynasty. Jagdas was son of Vihagaraja. He was deprived of throne and so he went to Vindhyachal Devi to sacrifice himself. Devi being glad to see his devotion named him "Bundela" – drop of blood. Hereafter  kingdom started.
Rudra Pratap Singh, grandson of Bundela Jagdas established Bundela kingdom in current region of Panna, Ajaigarh, Datia, Bijawar and Charkhari state. In 1531 he established Orchha as capital.
As we traveled from Jhansi in car with my cousin we come across several giant gates which give us the
There are many interesting stories associated with all monuments of Orchha which I would like to narrate here in brief.
Once Jahangir wanted to kill the Abul Fazal and instigated Bir Singh Dev (1605-27) who killed Abul Fazal. And for that Akbar destroyed Orchha.
But once Jahangir became Mughal emperor the relations improved between Bundela and Mughals. To welcome Jahangir as Mughal king, Bir Singh Dev constructed Jahangir Mahal with 36 rooms to invite rulers of 36 states to welcome Jahangir as per guide. Such was friendship of Bundelas with Mughals.
There is a famous woman character name Rai Praveen is associated with Orchha. She was extremely beautiful, a fine poet and a dancer. She was concubine of Raja Inderjit Singh, grand son of Bir Singh Dev. Since she could not be given status of queen he constructed a palace for her.
The popularity of Parveen crossed the borders of Orchha and reached Akbar who called Parveen Bai. Inderjit Singh could not deny the request. Parveen appeared before Akbar and she recited a doha for Akbar-
"Viniti Rai Praveen ki, suniye Shah Sujan, juthi patar (platter) bhakat hain, bari (person from lower caste), bayas (barbar), swan(dog)."  means Rai Praveen said that partially consumed plate is given to dog. Intelligently Parveen expressed her loyalty to Inderjit Singh. Akbar was highly impressed and he sent back Rai Praveen to Bundela.
She also had rejected the offer of marriage from Jahangir. So Rai Praveen Palace is symbol of faithful romance as Indian tradition.
There is a big and famous live temple of Lord Ram Chandra Sarkar (Original Idol from Ayodhya), known as Raja Ram temple.
Legend is that once Orchha king Madhukar Shah was devotee of Lord Krishna and his wife Ganesh Kunwari was devotee of Lord Rama. Note that those days Bhakti cult wave was prevailing in India with two sects – Ram Bhakti and Krishna Bhakti. Once king challenged his queen to bring Rama to Orchha if she prays Ram so much. Queen went to Ayodhya and at same ordered construction of Chaturbhuj temple so that idol of Rama could be installed. After a month of tapasya she brought idol of child Rama. By chance she kept the idol in her palace and then idol could not be lifted. This was the place Raja Ram temple. But as per ASI the idol could not be installed as temple was not completed due to Mughal invastion and death of Hardol Sinh ( son of Inderjit Singh). Hardol had consumed poison to prove his innocency to the accusation of of affair with his elder brother's wife. Even today Hardol Aalha is popular in Orchha. I could not see Hardol memorial temple as it was far from palace.
The below view if of Raja Ram temple which actually was Rani Mahal kitchen as told by guide. I saw here famous guard of Honor at 1 PM. It was by just one MP Police member. Earlier the guard of honor used to be by 11 police men during Arjun Singh time. Later it was reduced to 5 persons and after Diggy Babu was CM it was reduced to 1 member only. All the Rajas of Orchha kingdom considered themselves as Prime Minister of Raja Ram. It is said that the Lord Ram's idol kept here was hidden in Saryu river to save it from Babur.
There is Chaturbhuj temple adjacent to Ram Raja temple. It is about 500 years which was supposed to be for Lord Rama but as said above Rama could not be  installed here. So here Lord Vishnu, form of Rama is installed. This is 5 storied temple. A guide carried me through this temple. It is difficult for ladies to go beyond 1 floor as stair steps are 1 feet high.
Just near to the temple is Dauji ki Haveli, a mini palace which was center of business activities of Bundela.
There is another palace known as Raja Mahal in vicinity of Jahangir Mahal. It was built in 1531 CE by Raja Rudrapratap Singh (1503-1531) and later completed in reign of Bharti Chandra and Madhukar Shah (1592CE).
Epilogue
The Orchha had deep association with Mughals but if you see the construction of the building of Mughal time forts and this fort, there is a lot of difference. Rajputs had adopted Mughal architecture in thei palaces but vice versa is not true. The Mughals made strong red stone buildings while Rajputs used sand stones and lime.
The city of Orchha gives a very typical feeling as compared to other historical cities seen by me as this city is blend of religious, wars and romance. Betwa river flows all in city and palaces are actually islands.
Hits: 100