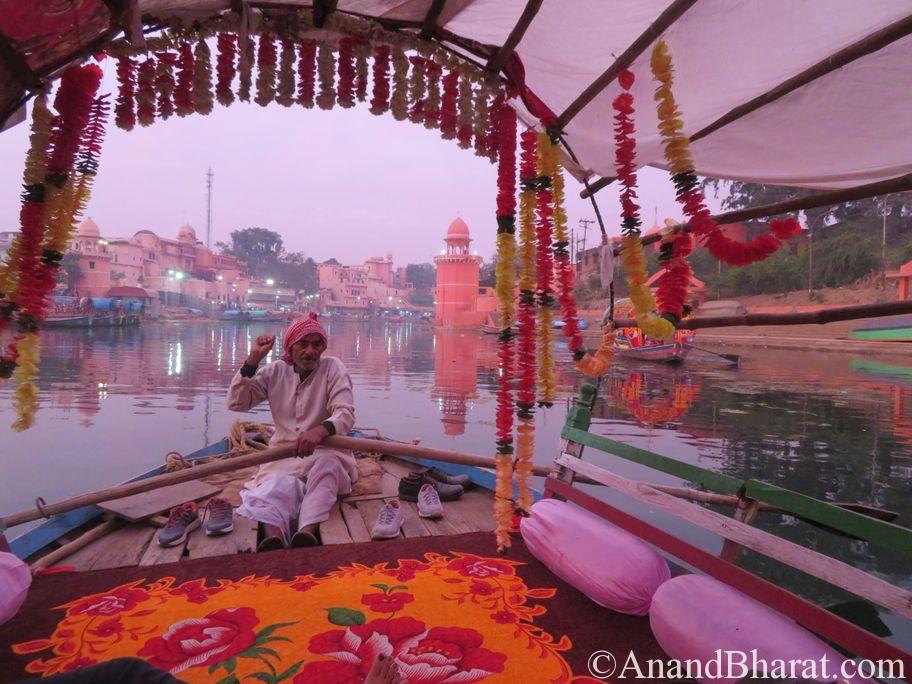 Chitrakoot – A spiritual legacy
Chitrakoot is one of the star places on Hindu pilgrim's map. There was lot of road construction work going on the time I visited. But the roads being designed seem to be very wide.The place looks a bit backward with no ola-Uber we have to totally depend on local conveyances. The experience with local people was really good and they seem to be reasonable and cordial. I congratulate Government for doing a lot to improve this place and make it beautiful. 
Ram, Sita and Lakshman spent considerable time of exile here and so it became a sacred place for Hindus. It is also a land of great Hindu saints like Atri, Sati Ansuya, Markandeya and Dattatreya. River Mandakini flows here which has reference in Ramayana. Tulasi Das was born in a village nearby (37 KM) and wrote Ram Charit Manas and Hanuman Chalisa here.
Mostly almost at all points I saw tourists were local population from adjoining places.
Some tips for the people who are new to this region.
Plenty of shared autos are available at railway station.
No risk in night but prefer shared autos. in case you reach late night at Chitrakoot.
If it is short stay of a day then prefer the hotels near to station.
Though local buses, autos  are available, hire a taxi for local sight seeing. They may charge reasonable.
There is no Ola-Uber there.
The local people are good and reasonable. No need to fear. They will help you in need.
Minimum full day is needed to visit Ansuiya temple- Gupt Godavari-Sphatik shila- Kamadgiri Parikrama- Ram Ghat boating and seeing the 6 PM aarti.
If stay for 2 days full then add Hanuman dhara(3KM) – Ganesh Bagh (11 KM from chitrakoot)- Rajapur (37 KM) – Marpha, a Chandel Fort (4 KM fro Gupt Godavari). I stayed for only 1 day so I missed these places.
There are MPSTDC and UPSTDC hotels in Chitrakoot. I suggest to book online for these. Staff on these hotels are very good and service is also fine. These hotels have good surroundings and campus but are slightly away from railway station. For example I stayed in UPSTDC hotel which was 15 KM from railway station.
Our itinerary
Located in Satna Distt of Madhya Pradesh, India. Well connected by train and bus from major cities on UP and MP. Roads are good. Season is throughout the year. Nearest airport Khajuraho (150 KM).
Where to stay
It was winter of December and we reached by train to Chtitrakoot at 1.30 AM (night). We were feeling hungry as in Chitrakoot express there was no pantry. Getting down  we took dinner at kumsoon at Chitrakoot station. Came outside the  station. The transport facility looked poor in night with no Ola -Uber operation. Since our hotel Rahi Tourist Bungalow of UPSTDC was 15 KM we thought it better to use shared auto to be safe. Knocked at guest house gate at 2.30 AM. Chaukidar came and took us to room. He prepared coffee for us in night of 2.30 AM. I could not believe this.
Let us come to Chitrakoot and let me share my feelings – feelings of a person who is not too religious but due to my internal fear I start believing when I am in trouble. We all enjoyed the sensational, serene and PIOUS air of Chitrakoot and even now after 2 months its freshness surrounds me.                                                                                                                             We booked a gypsy for sightseeing in Chitrakoot.
Our first point was Mata Ansuia temple which is beside a river.
Next we headed for Gupt Godavari which has 5-6 ponts such as Ram Darbar, Seeta Kund, Gupt Godavari, Khatkhata Chor, Dhanush Kund (source of Godavari).
I am just pasting the pictures of this unique place.
This ended our Gupt Godavir tour which is 20 KM from Chitrakoot and is in M.P state.
Next we come to Sphatik Shila- It is believed that foot prints of Ram and sita are here. I could see the giant marks of the footprints. It is just faith. It is said that Sita and Rama were relaxing here and a crow pecked the feet of goddess Sita which agitated lord Ram and he took off one eye of the crow. Crow was actually Jayant, son of Lord Indra.
Next driver drops us for Kamadgiri parikrama. Whenever you discuss your Chitrakoot plan with your friends or relatives, they will always suggest to perform this 4 KM long parikrama. I did not find any spectacular temple on this route except one hill call Bharat Milap hill. It takes 2 hours to complete this parikrama. It is plain route no steeps anywhere. For old or special you can also avail wheel chair at nominal rates with attendant.
In evening at 5.30 PM the driver dropped us at Bharat Ghat. Some boats were available and he took us to Ram ghat where every evening at 6 PM , Tulasi aarti is performed.
Epilogue
Basically I want to emphasize that no human made structure can exist, even if they existed millions of years ago, must be buried somewhere hundreds of feel below earth. So whatever temples we see today above earth in places like, Gangotri, Jamnotri, Ujjain, Chitrakoot and so on so forth all are symbolic existence based on the widely accepted epic stories, verbal stories which are ages old.  So whenever I go to these sacred places I just take these temples as structures imbibed with our ancestors age old faith, sanctity, aura, strengthened by epic incidents to corroborate this belief.
Hits: 70