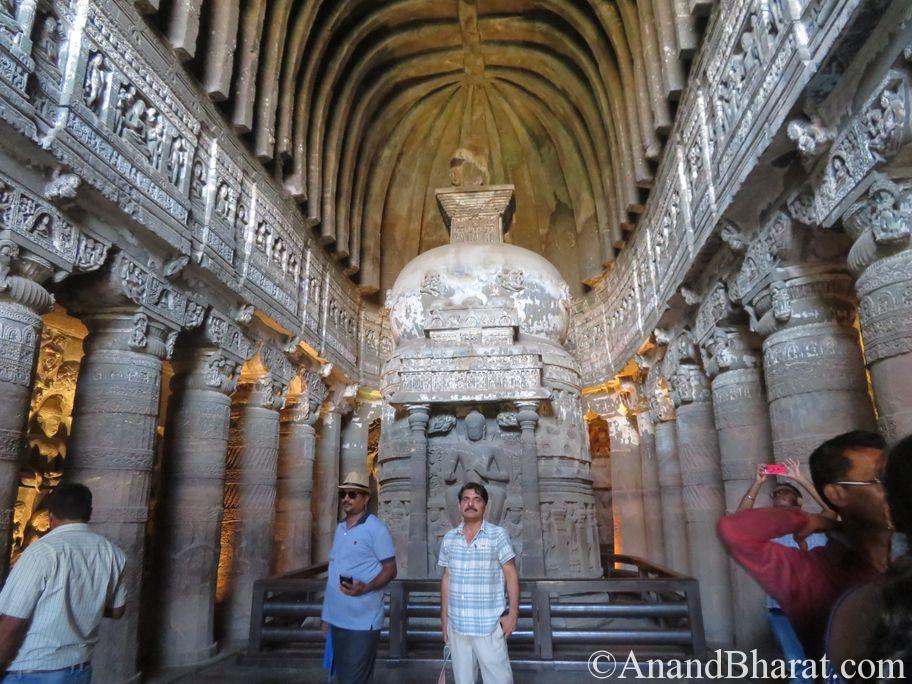 Ajanta – An ancient imprint to take away
खुदा भी आसमाँ से जब जमीं पर देखता होगा,
मेरे मेहबूब को किसने बनाया होगा सोचता होगा !
फ़रिश्ते भी यहां रातों में आ कर घूमते होंगे,
जहाँ रखती हो तुम पाँव जगह वो चूमते होंगे !
This is Ajanta. God also will be jealous of the beauty of this place thinking why He missed to make such naturally. We must once caress this place where such great artists worked.
As per below plan we reached Aurangabad on  Day 2 and visited Bibi Ka Maqbara same day. We came back to Maharashtra State Tourism guest house and next day morning started for Ajanta.
We missed the MSTDC volvo bus pickup at MTDC guest house where we were staying  and hurriedly caught the same bus at 8.30 AM at central bus stand. We reached Ajanta at 11 AM. The bus stopped at a place surrounded by green hills and it was a very good weather. We got down and since we had missed breakfast, we took the Poori- Sabji at the MTDC restaurant within the premises of Ajanta caves. After breakfast we started our climb to Ajanta caves. The guide met us on the way. The initial route to the caves is a bit steep. But "Dolis" are available at cost of Rs.2000.
To be simple these caves belong to period 2nd century BC to 6th Century BC. Started after the fall of Maurya's dynasty and during the rise of Kushans and Gupta dynasty specially in time of Samudragupta. After 8th century it lost the attraction of people and Hinduism began to rise, Buddhism started falling in India.
The selection arrangement of caves in the valley looks so amazing with river flowing along the caves.
Basically Ajanta is known for its paintings but the sculpture of Ajanta is also very elegant though it lacks the luminosity of Sarnath which dates back than this. Of course if we compare the 3-4 centuries later sculpture in South, the sculpture here is a bit crude but paintings are matchless in entire world. But basically these caves were used as monasteries and not for display. So that way Ajanta holds an invaluable wealth. The inscription in cave 26 shows that these caves were inhabited by Buddhist monks even in eighth-ninth century.
I really have no words to describe Ajanta. If there are many man made structures in the world and Ajanta and Ellora are one of them. These are marvels and most precious gem which our ancestors.
Tips to see the caves at Ajanta :
Minimum 4 hours are good for Ajanta. If you are in hurry you can see Cave – 1, 2, 9 (stupas), 10 (stupas), 16, 17, 19 (stupas), 26 (stupas). This will take 2 hours. Mind it there are no less than 200 steps.
 There is no stay facility at Ajanta in radius of 2 KM. There are two MSTDC Tourist guest houses in Fardapur which you can book online. Govt. Drop service is available from Ajanta to Fardapur. From there you can walk to guest house (5 minutes).
From Fardapur you will get plenty of state and private buses to Aurangabad which is 2.5 hours journey.
There are no direct bus service from Ajanta to Ellora. Better option is to come to Aurangabad. Stay in night and next day visit Daultabad, Aurangzeb Tomb, Ellora and Grineshwar (one of the 12 Jyotirlingas) and come back to Aurangabad.
DO NOT cover Ajanta and Ellora same day. It will too too too hectic.
If you are in group you can avail taxi but DO NOT try to cover both Ajanta and Ellora same day.
Lot of Volvo bus service is available from Aurangabad bus stand. The buses are very good, safe and swift.
In the GPS map shared above is the good option to cover these places.
Better not take guide for entire Ajanta. That will be too costly. Just take the guide at cave 1, 2, 9, 10, 11 and 17. They are available in front of particular caves.
Maharashtra is hot throughout year. Better season is November to March.
For old people "Dolis" are available at government rates of Rs.1900.
These caves excavated for use by the monks, with the amazing beauty of adjacent river Waghora ravine in front, completely shutout from the distractions of mundane world. It looks so beautiful, serene and green mountains as protectors of the caves.
The length of entire caves stretch is 550 m. The entire arrangement was not pre-planned as some caves belong to different periods and their levels are also different. Lowest level cave is cave 8 while at highest level is cave 29.
Layout of caves
The caves in Ajanta cab be categorized in 2 types – Monasteries and Chaitanya-grihas (pooja grih). Chaitanya- grihas are categorized in 2 types – Hinayana (icon less) and Mahayana (Icon of Buddha). On top of all is that you can not cover Ajanta by photos. This is the unique feeling your eyes and mind carry back home to prove that your birth to this earth was fruitful by seeing this ornamented piece of art.
Cave 1 – This is 5 to 6th century AD Monastery. This is finest cave of Ajanta. Every inch of cave is painted even the pillars. The ceiling paintings give the feeling of fluttering Shamiyana while wall painting are full of Jataka tales.
The world famous painting "Padamapani" and "Vajrapani" are in this cave. Do not miss to take guide in this cave.
Cave 2
This 5 to 6th century AD Monastery cave is famous for ceiling paintings. the Monasteries consists of a hall, and cells on 3 sides. Cells were dwellings of the monks.
Cave 3
None. Incomplete
Cave 4
See the gigantic pillars and huge statues.
Cave 5 
Another monastery.
Cave 9 – This is 2nd Century BC Hinayana chaitanya grih (Stupa). This is one of the oldest stupas in India. It is Hinayana as in Stupa there is no Buddha though in pillars, walls and ceiling we can see paintings of Buddha and floral designs.
Cave 10 – This is 2nd Century BC chaitanya grih (Stupa)
This is also Hinayana cave. In inscription the names of devotees is marked who excavated this cave. The paintings here belong to 2 periods one of 2nd century BC while the others of 5-6 century AD.
Cave 13 – This is 2nd Century BC monastery
Cave 15
Cave 16
This cave portrays the events of life of Buddha.
Cave 17 – 5th to 6th century AD Mahayana monastery.
Cave 19
Cave 21 – 5th to 6th century AD monastery
Mainly in this Lord Buddha's preaching are depicted in paintings.
Cave 24 – 5th to 6th century AD monastery
Also the knowledgeable guide told us that the the work of quarrying, dressing and finishing went hand in hand. This notion is derived from the fact that unfinished caves bear traces of paintings.
Cave 26
Epilogue
India is known in world for Ajanta and Ellora. Travel to India is incomplete if tourists do not visit Ajanta and Ellora. The day I saw these caves was a working day and not less than 5000 people were present at this place to applause the smiling beauty on earth. In one sentence we can say
मुस्सविर खुद परेशां हैं की ये तस्वीर किसकी है. God also will be jealous of beauty of this place.
Hits: 51