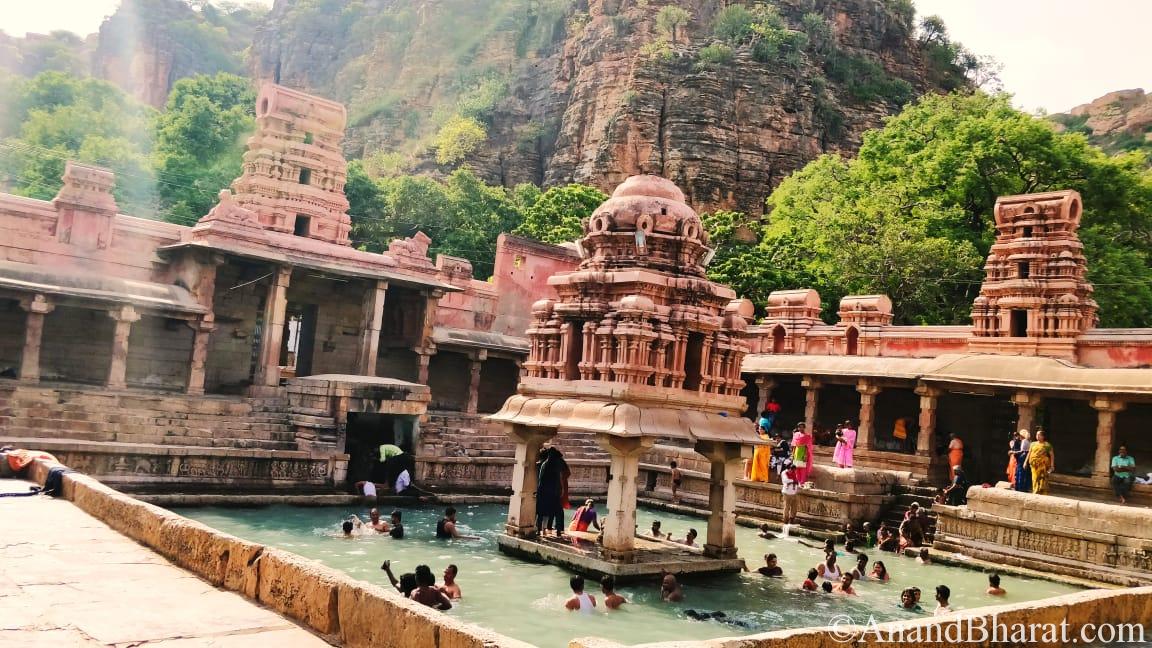 Yaganti- Future Tirupati Balaji?
Recommended Duration : 2 hours
This temple has the high historical importance as it was built by Harihar Bukka Raya who was founder of Vijaynagar Empire. Every year on day of Maha Shivratri large number of devotees visit from all over Andhra Pradesh. Lord Shiva, Parvati and Nandi are main deities in this temple.
Location of temple
Yaganti temple is in Kurnool District(96 KM) in the state of Andhra Pradesh, India and is 45 KM from historic Belum caves. Nearest railway station (30 KM) is famous pilgrimage Tadipatri. From there you can take public transport or taxi to Yaganti.

Our Itinerary
We followed the below itinerary bt car.
Pushkarini
This small pond is in temple premises. . No one knows how the water reaches the pond all year round and this temple architecture in terms of its sculpture shows the skills of ancient Vishwakarma Sathapathis. Devotees find that a holy bath in Pushkarini is highly beneficial. After taking a bath in Pushkarini, devotees pay tribute to Lord Shiva.
There are several caves around temple but we need time to explore.
Agastya Cave
This is the cave where Agastya performed penance for Lord Shiva. One can enter the cave by climbing 120 steep steps. An idol to a goddess is installed and may be worshiped here.
Venkateswara Cave
The damaged idol of Lord Venkateswara is present in this cave. Compared to Agastya cave it is easy to climb though the steps are steep. According to the story this idol was present in this cave before the Tirumala Balaji Temple was constructed. But as the idol is damaged near the foot, it could not be worshiped.
Sri Sri Potuluri Veera Brahmendra Swami tells us in his Kala Gynanam that this place can stand as an alternative to Tirupati.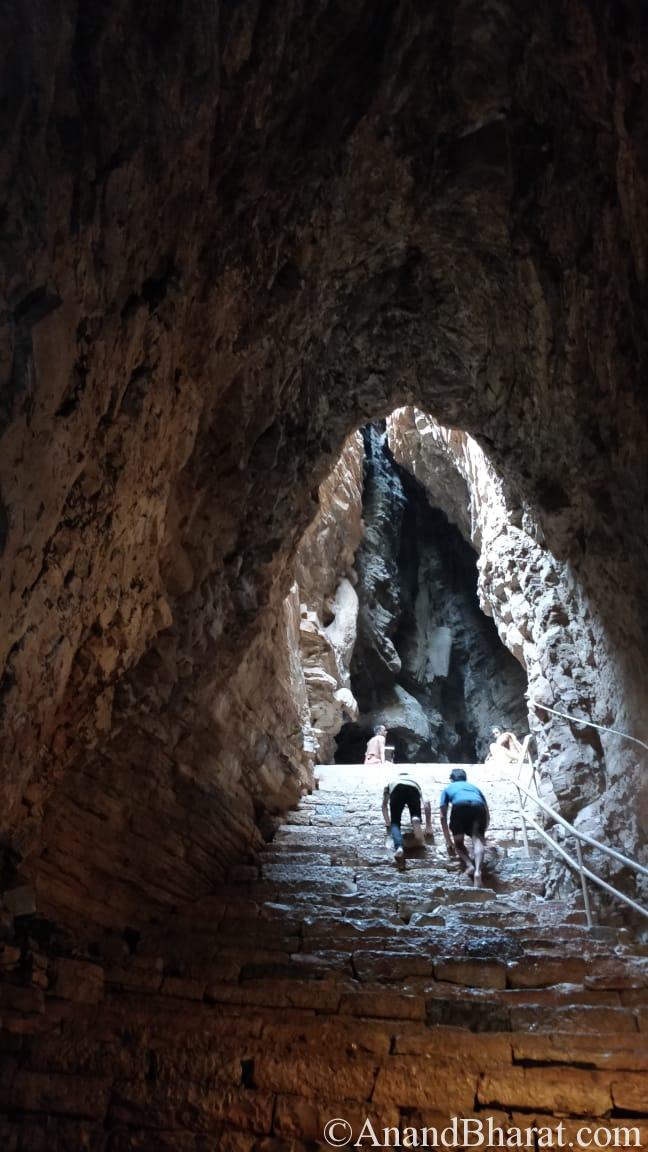 Venkateswara cave
Veera Brahmam Cave
This is the cave where saint Sree Potuluri Veera Brahmendra swamy wrote some of his Kala Gnaanam (prophecy). The height of the cave is less and one needs to bend half over to enter it.

Growing Nandi
Photo is not allowed here. The Yaganti Nandi Statue is believed to be growing in size by 1 inch in 20 years. The devotees believe that the Nandi idol in front of the temple is continuously increasing its size. The locals say that the idol was initially much smaller than its present size. They say that certain experimentation was carried out on this idol and it was said that the type of rock out of which the idol is carved has a growing or enlarging nature associated with it. Archaeological Survey of India has confirmed that the idol increases by 1 inch in every 20 years. Experiment suggests that the rock used to make the idol exhibits a growing nature.
It is said that people used to do Pradakshinas (rounds) around it in the past. The temple staff has already removed one pillar as the size of the Nandi has increased.
According to Potuluri Veera Brahmendra swamy, the Basavanna (stone nandi) of Yaganti will come alive and shout when Kali Yuga ends.
Absence of crows
Legend has it that while the Sage Agastya was performing his penance, crows disturbed him and he cursed that the crows cannot enter the place. As the crow is the Vahana for Lord Shani, it is believed that Shani cannot enter this place.
Epilogue
To me this temple was of high importance as it was built by Harihar and Bukka brothers who were founder of Vijay nagar Emipire. Just 48 KM away is Nandyal abode of Lord Shiva's Nandi, the place visited by all eminent personalities of India from Nehru to Modi.
Hits: 115