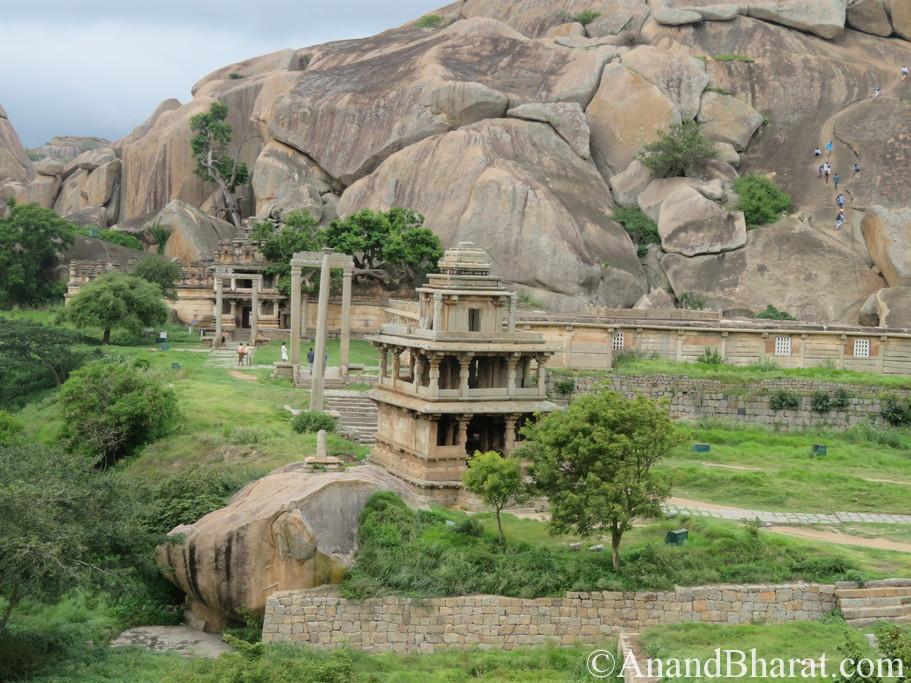 Chitradurga Fort- An anthology of travel experience
Recommended duration : 3.5 hours. I suggest to stay here for a day at KSTDC Mayura Yatri Niwas and try hands on fort treking next day morning. The fort opens at 6 AM.
Seens many forts but this is a unique fort.
If you are interested in long drive and trekking,
Staying in a cool resort,
Have an evening walk in lonely place at a place which is very close to history,
Feel the past of culture of Karnataka (Nayakas),
Drench is rain,
Sit in place in a jungle,
Or sit on a rock for hours and see silent mountains,
Feel the cool gust of wind,
Light showering of rain,
Sit is a temple and pray or soothe your heart,
Think about history and feel the time 500 years back,Ssit along the fresh flowing water stream among rock,
Then this is place you are looking for and that is Chitradurga Fort.
Information for tourists 
Chitradurga is a small town and it lacks proper hotels and even restaurants. There is only one good Govt. hotel run by Karnataka Tourism dept. Hotel name is Mayuri Yatri Niwas. Only online booking is accepted here. The service and staff are fantastic and even they co-operate with your timings of check in and check out. Very delicious breakfast and lunch they serve. A small canteen is available on top of fort for water, cool drinks and snacks. Better visit this for in rainy season to make your experience life long.  This is the biggest fort in Karnataka and 2nd biggest of South India after Gingee Fort in Tamilnadu. Spread in 2500 acres, Be ready to walk through about 400 steps and 3 KM steep walk in this fort.The place may be very hot in summer so take umbrella. Enough toilets in this fort.
.
I was one day video of the film Zehreela Insaan  I decided I must visit this fort. I further explored and found that many movies are shot Chitradurga fort I wonder I never saw this fort in map of Karnataka Tourism where they talk about Halebeedu, Pattadakkal, Badami and Hampi but miss Chitradurga Fort. We planned the travel for Friday evening by passenger train and return back from Chitradurg by KSRTC bus on Sunday afternoon. The journey by passenger train was an experience in itself but train had comfortable berths.
Gate 1 (Rangayana Baglu) and Gate 2 (Gare Baglu) are  outside the fort premises. Gate 3 to  7 gates inside the fort premises. All doors have stone hinges against what we see in all other forts as iron hinges. The gates have firm wall in front so that logs can not be used to break doors.
Gate 3 – Kamanna Baglu
Yennekola – Oil for burning lamps,  stock , daily use.
Next we come to BOMBE Mantapa. It signifies the memorial of martyrs in war.3 KM from here is Chandravalli caves which has an ancient lake by Kadamba dynasty in 4th century.
After crossing yenne Konda oils storage and Bombe Mantapa we reach Gate 4.called  Veerbhadra Baglu. also called Poison knife gate. Not sure why it is called Poison gate.
Gate 5 (Senadhish Baglu). here is normally on Saturday and Sunday we can see feat of India spiderman Jyoti Raj. Next we come to Senadhish gate.  Here is normally on Saturday and Sunday we can see feat of India spiderman Jyoti Raj.
Gate 6 (Kasturi Rangappa Baglu). This gate depicts Persian style of design. In front of this gate only we had seen the wall climbing without rope and helmet show of Jypti Raj. This show is demonstrated every Saturday and Sunday whole day
Next we come to Cutting edge technology which was used those days. In this technology first small holes using iron rod were made and then wet wood was inserted. After swelling of wood the rock will break under pressure.
Next we continue on steps to Ganesh temple. It is small temple in which monolithic statue of Ganesha is carved out of the rock. Behind of the rock looks of elephant shape.
Different shapes of rocks– We look around and guide shows us many more rocks whic are in shape of boat, penguin, frog, elephant and crocodile.
After This we reah somewhat plane land which has monolithic rock jhoola( cradle) which was used as cradle for God on festival occasions. In front of it are40 feet Deep stambh and Eknatheshwar temple. We saw the priest here preparing for Pooja. This temple was bult by Thimanna Nayak in 1568.
Chitradurga fort existed in time of Vijaynagar empire also but after Nayakas declared themselves independent, Thimanna Nayaka was first ruler here. Upto 1779 ( Last Nayaka Raj Veer Madkari) total od 13 rulers ruled here. Hyder Ali attacked this fort 3 times.
Next in front of Eknatheshwar temple we can see Hidimbaeshwari Temple on  high rock
Further the guide shows us
Hawa Mahal
In this area there are some more deep stambh (lamp tower) and jhoola (tall cradle for God) on way to Sampige temple.
Sampige Siddhershwara Temple – Temple is in dilapidated  state but has imprints of 700 years old history which is glory of this fort.
Ancient Murugha Matha
Mint and Palayegar Kacheri
Akka Tangyyara Honda
Gopalswamy Honda and Gopalswamy temple –  While standing on Akka Tangyyara Honda, far on top of a small hillock I can see the Gopalswamy (Lord Krishna) temple. I am seeing tens and tens of youngerstes climbing there to see this temple and pond. It looks so pleasing to see the interest and curiosity of these youngsters in exploring our heritage,
Onake Obavva Kindi– This is a very famous lady of Chitradurga area and may be in history of Nayaka dynasty. She was wife of a watchman and during lunch time Hyder Ali army men tried to enter the fort through a small hole and this lady one by one killed 10-15 Hyder Ali soldiers with help of kindi ( wooden log)/
Bateri – Bateri in local language is watchmen tower or guard tower. There are any bateris in this fort.
Jail – It is inside fort and one of the best jails I have seen so far in forts.
Travelers
The feat of climbing wall of fort  is performed by Jyoti Raj's nephew, Madan a 14 year old boy trained by Jyoti Raj. The boy will climb 40 feet high fort vertical wall without any helmet or rope.. He carries a bag of lime so that he can dry the sweat of his hand. It seems ASI has permitted them to stay in fort and show feat to visitors every Saturday and Sunday.. They just do for entertainment and do not ask for any donations.
Epilogue
A unique fort. I saw many forts but this fort will full fill all what you want as a traveler – such as long drive of 200 KM from Bangalore, calm place, trekking as much as you want, all fort is full of historical though simple and without too much of sculpture artwork, rocks, jungle, adventure, temples, fresh water streams, beautiful resort (KSTDC) at walking distance from fort, A very good breakfast, tea at your beck and call,  Stroll around the Chitradurga town and fell how is the life of people away from Bangalore. It is not to miss place. I recommend going to this place in RAINY season.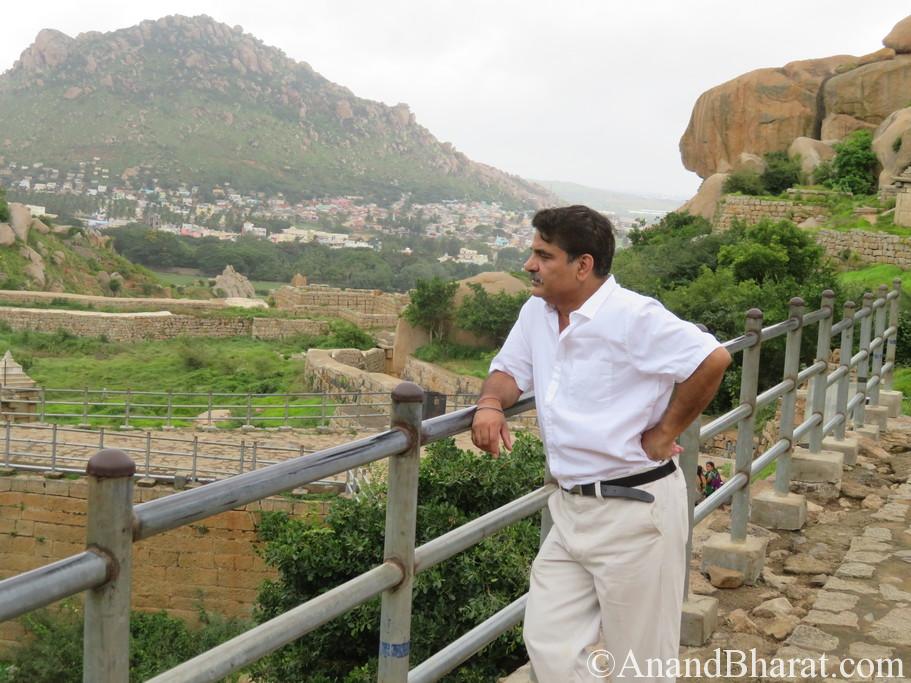 Hits: 302