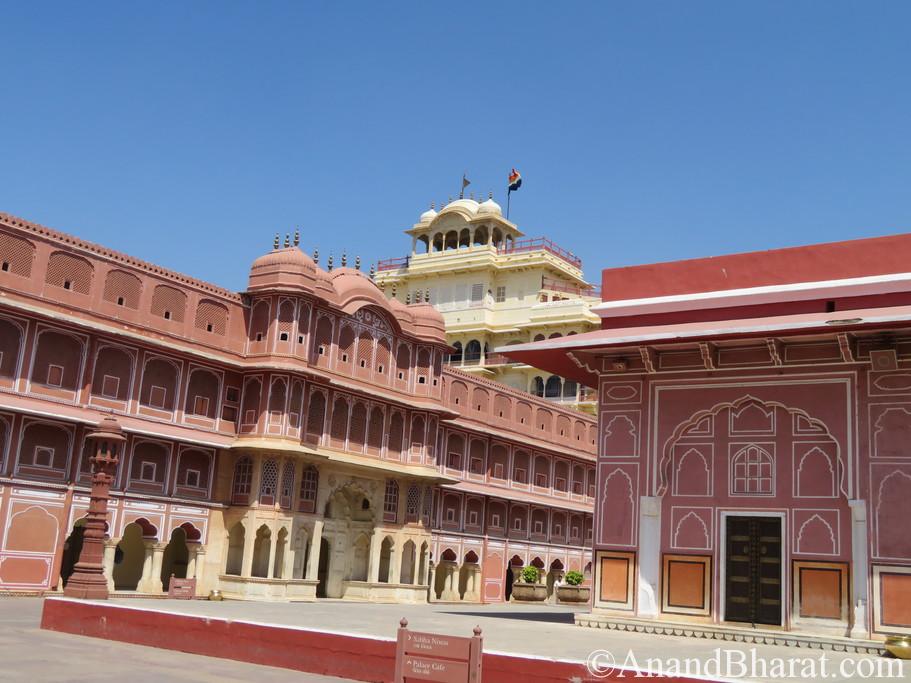 City palace, Jaipur, India
The city palace was initiated in 1729 by Sawai Jai Singh-II (founder of modern Jaipur and all Jantar Mantars) and later additions were done by successors till 19th century. By seeing it seems a fusion of Rajput and Mughal architecture.
There were a few figures which made an impact on history of india were Maharaja Man Singh-I, Jai Singh-I  and Jai Singh-II . Maharaja Man Singh-I (1589-1664) helped  Akbar in order to defeat Maharana Pratap and here also lived Sawai Jai Singh-I (1621-1667) who  wholeheartedly helped Aurangzeb against Maratha great Shivaji.
In fact if Jai Singh-I had not helped Aurangzeb history of India might be a little bit different in favour of Marathas. This is proved with fact that Shivaji was in much relief only after death of Jai Singh-I, Marathas rose to greater height. Also it is strange to say that "pink city" was colored in pink by Maharaja Ram Singh to give special respect to Prince of Wales.
Guide told me that when Amer Fort was already there why City palace was built? He told that the due to  shortage of water and increase of population they had to come down and settle in plain.
In the museum we can find the clothes, weapons. utensils, gift items, royal chairs, cannons and paintings  of different Maharajas like
Raja Bhagwan Das (1574-1589 AD)
Man Singh I (1589-1614 AD) – Fought against Maharana Pratap to help Akbar
Jai Singh I(1621-67 AD) – Fought against Shivaji to help Aurangzeb
Jai Singh II (1688-1743 AD)
Ishwari Singh (1743-1750 AD)
Madho Singh I (1751-1768 AD)
Madho Singh II(1880-1922 AD)
Man Singh II (1911-1970 AD)
Bhawani Singh (1931 – 2011 AD)- He was awarded Mahavir Chakra during Pakistan war 1971. His wife was Gayatri Singh.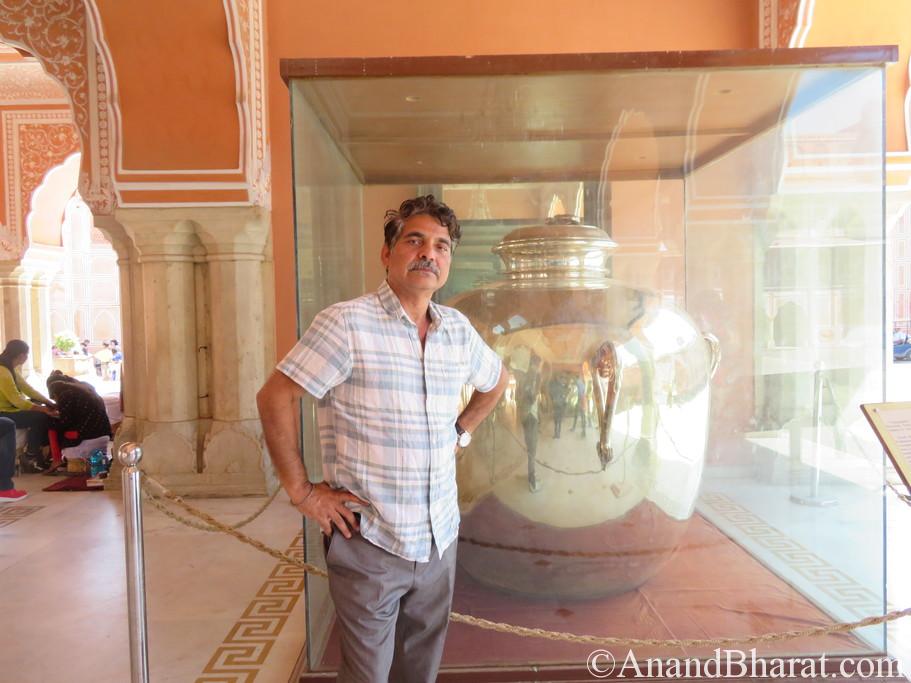 These "Gangajali" silver pots are largest silver pots recorded in Guinness Book of Records. These are kept in City Palace, Jaipur. These were made by two mistri Govind Ram and Madhav in 1894. The 14000 coins  for each pot issued from treasury of Jaipur State is recorded. These were ready after 2 years of efforts. Each weighs 345 KG. Height 5′ 3″ and circumference 14 feet 10 inches.
Interestingly to note that Maharaja Madho Singh-II (1880-1922 AD) took these 2 jars filled with water of Ganges to England to attend coronation of King Edward-VII in 1902.
Epilogue
This was part of itinerary of my March,2018 trip and stay at Jaipur. Again I will say foreigners throng like bees in Rajasthan specially at Amer Fort, Jaipur, Agra and Taj Mahal. They come like bee. Regarding City palace, earlier the Rajput maharajas used to live in Amer Fort but due to shortage of water and increase in population they felt need to build their palace at Amer Fort foot hill. IT WILL NOT BE WRONG to say that during Mughal empire, the maharajas worked as if they were were part of Mughal empire right from Shahjahan to Aurangzeb's son.
Now part of City palace is converted in Maharajas museum which contains earlier maharaja's clothes, gifts, arms, paintings, furniture and cannons etc (16th to 19th century)which foreigners look so amazingly. I personally believe British are more attracted to see these things as they earlier ruled this country. It will take about 1 hour 15 mins to see whole palace. The present prince also lives in this palace which guide told me that he has gone for higher studies in London.
Hits: 469