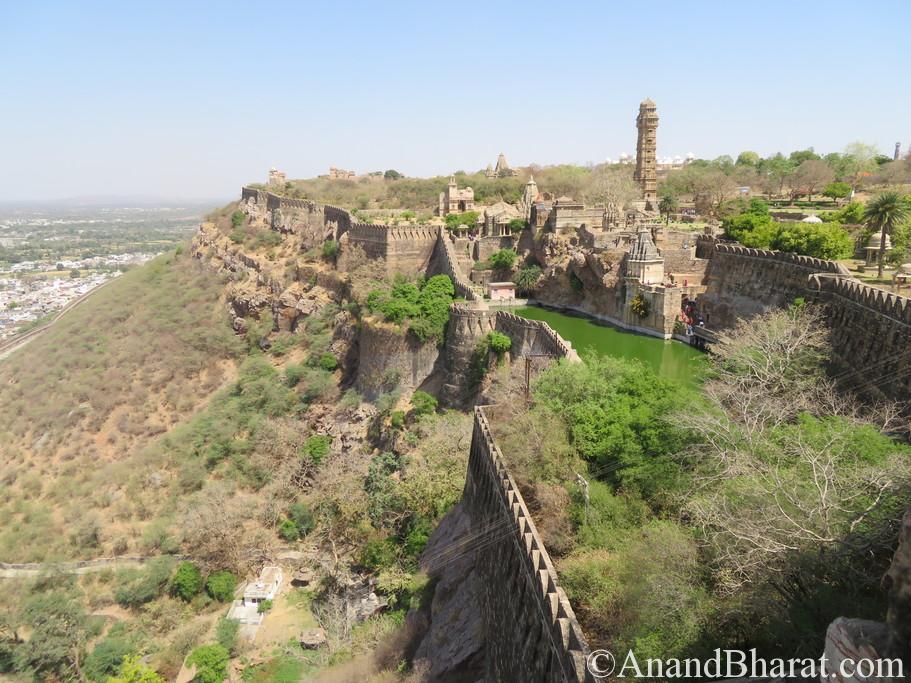 Chittorgarh Fort – One Thousand year old UNESCO World Heritage
This fort construction ranges from 8th century AD to 16th century. The fort is worth seeing. Really speaking it is the best forts I saw of its period if we compare with Kalinjar or Ranthambore. Amer fort was built much later.
I reached Chittorgarh on March 24th 11 AM. Took rest after check in. In evening  I visited this fort without any guide I felt there is not much see in this fort. But next day I started at 9 AM from Chittorgarh city and took an auto to reach to Subhash Chowk for Rs.10. From there I took another auto which dropped me at ticket counter office of Chittorgarh fort for Rs.20. I think total time taken to reach the fort was 40 minutes.
Quick tips in brief for this fort – About 2.5 hrs will sufficient to visit this fort by auto or your own transport. Better option is to visit all fort (covering 6 KM) on foot will take 4 hours. There are no steps, all road is plain. Even old people can visit this fort without tire.
My Itinerary
This fort was last point of my Itinerary.
I just discussed with a guide and settled for Rs.500 (justified) to show the fort and he told me that there are about 35 points in fort. Some people visit by hiring auto and complete the visit in 2 hours. But my plan was to see the fort on foot. This visit took about 4 hrs and all was on foot. I am jotting down in sequence how he covered the points of the Fort.
First we entered in "Kumbha Palace" which is in front of ticket office.
He told that Rajputs in Mewar region was founded by Bappa Rawal. Since this clan called themselves as Sun dynasty, at the entrance of fort is place known as "Ghode ka rakha-House of 7 horses" to house 7 horses which represents 7 horses of Sun Chariot.
Next we see "Suraj Gokhada- Sun Balcony".  Here was 50 KG God Sun statue which is now kept at City Palace museum in Jaipur.
Opposite of this is a temple where on 1st floor Veena and drums were played.
Next the guide showed me the Tripolia gate. Named so as these are 3 gated. The domes on these gates were constructed later by Muslim emperors. Below the rightmost dome Rajput king Rana Sanga kept a Rhinoceros.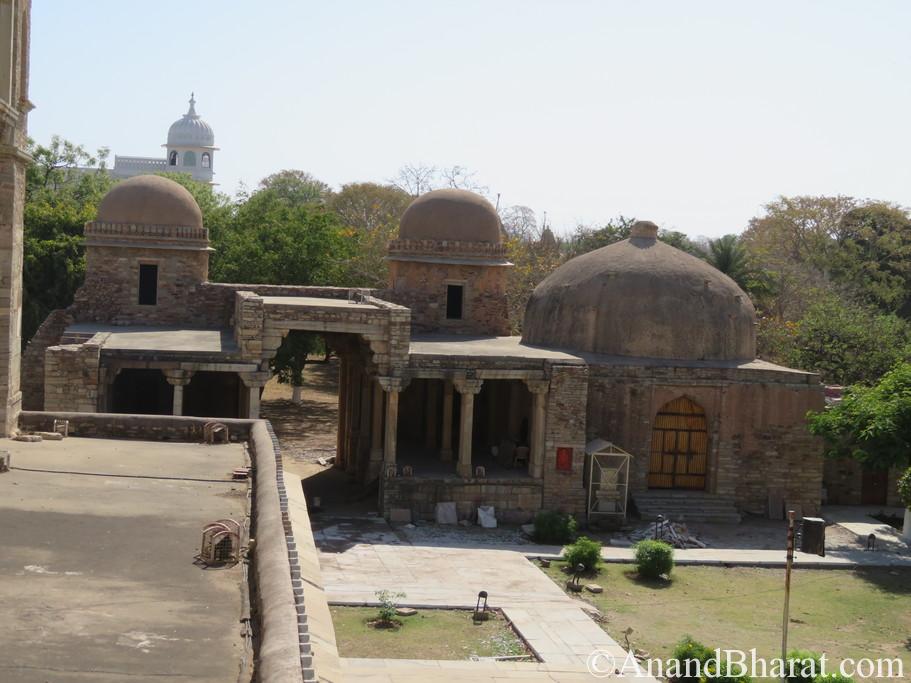 Tripolia Gate-Rana Sanga kept rhinoceros here. Later domes were constructed by muslim invaders.Next moved forward and we see that on right side of fort queens used to live and on left side the kings.
Let us first visit kings side.
We first see the Grains storage house.
Next we come to see the small house in this palace where Pannan dai sacrificed her son to save the next infant king Uday Singh from revoltee Balbir singh. Udaya Singh later gave birth to Maharana Pratap.
Next we come to "Meerabai palace" and "Meerabai Temple". This temple was constructed by Rana Sanga just adjacent to Meerabai palace so that Meerabai need not go out for Krishna worship and dance.
There is a "mass gathering place" inside the fort in case of any functions or in emergency.
As said above that one portion of Kumbha palace was for Queens to live. I am just giving two photos of one of the Queens room and balcony.
Vijay Stambh  is still entact unharmed. It was constructed by …. to celebrate the victory over Gujrat and Malwa regions. As per guide it contains the engraved sculptures of all Hindu God and Godesses and their names are engraved. So it is dictionary of Hindu gods.
There are 2 queens and maids self immolation places inside the fort. As per guide 3 times Sati ceremony took place. First time in 1303AD on Allauddin Khilji invasion ( under command of Rani Padmini), 2nd time when Bahadur Shah of Gujrat attacked in 1534AD (under command of Rani Karnavati,wife of Rana Sanga)and third time when Akbar invaded in 1563AD ( under command of Rani Phool Kunvar who had sent Rakhi to Humayun).
2nd Self Immolation place- Sati place inside the fort. This is one entry gate to enter into self immolation ground.
There were 113 temples inside this fort premises. I saw 2-3 temples.
Below is the pond where Ghee used tio be stored in such big amount. Similar there is one morre pond which was used to store oil.
In the fort population I observed that there is lot of respect for Feteh Singh. He was a commander in ……. There is Kankali devi temple inside.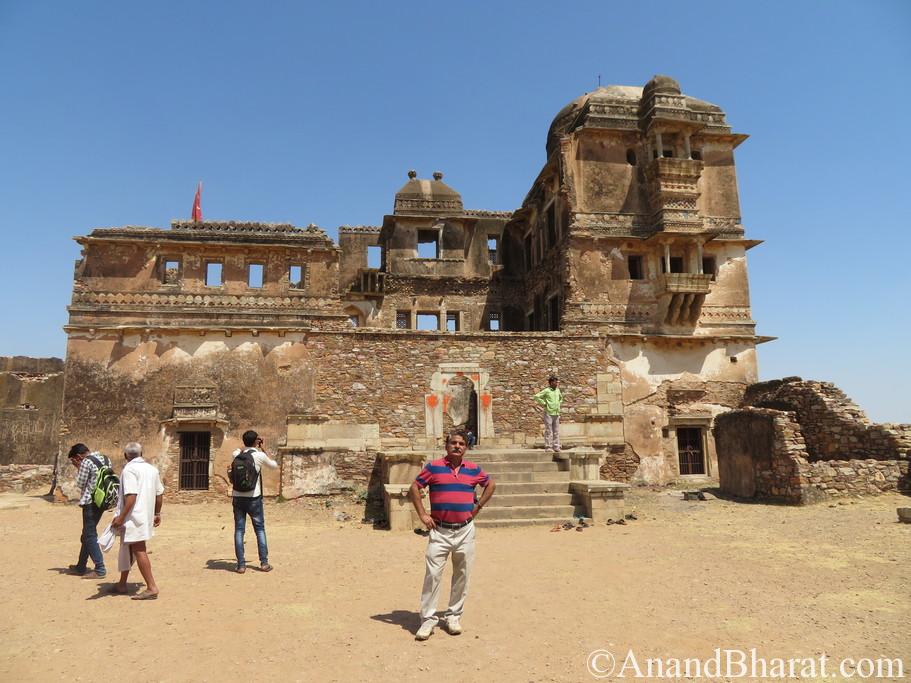 Fatah Singh Mahal
The below pond is known as "Gomukh". The water in this pond is always full and as per guide no one knows from where the water comes. Locals of Chittorgarh when visit four pilgrimage then finally they have to take dip in this pond also. This water is also supplied to locals.
Further we came on main road and came to Rani Padmini palace. As per guide and locals it was summer palace of Rani Padmini. The palace has one main building and other building is surrounded by water.
As is prevalent in locals that Padmini face was shown to Khilji from this first floor window and Rani Padmini was sitting in summer palace.
There is famous temple among all Chittorgarh and specially on occasion of Navratri. Hundreds of people visit this temple and fortunately I visited this temple on last day of Navratri and was caught in traffic jam.
I further went ahead with the guide to see Kirti Stambh. This was built by a Jain pilgrim to commemorate and spread Jainism.
And last thing seen by me was "Suraj Pol". It is said this was the first gate built to enter the fort.
There were 84 ponds inside this fort and now many have dried up.
One such pond is called Bheem laat . It is said that once Pandavas came to Chittorgarh and their mother Kunti felt thirst and Bheem hit the ground with his foot and it turned into a pond.
Epilogue
This fort stands UNIQUE among many other forts. I'm surprised the large population lives inside the fort and so we can imagine LIVE 8th-15th century. This is the only fort which I saw which had all hall marks of our school text book heroes like Rana Kumbha, Meera Bai, Panna Daai, Temple of Meera and her Palace, Johar Maidan (Self Immolation ground of Rasputin women) and Rani Padmini Palace.
I reached Chittorgarh from Jaipur on 25th March 15, 11 AM. Took rest at RTDC hotel Panna. An average hotel but with huge lush green garden. Next day –
It will take about 5 hours if you go round by walk or 2.5 hrs if you take your own vehicle. I went all ON FOOT. This fort is one of the biggest forts (700 acres) I ever saw. It has no less than 30 points to show. I described here all important points. There are 5 UNESCO World Heritage forts in Rajasthan. It is one of the. I covered 3 such forts in my this March trip.
Without guide it is difficult to see this big fort. There are atleast 50 points which once can see. For example I could see only from far the "Gora Badal Mahal", "Rao Ratan Singh Palace" and " Bhama Shah" mahal.
Hits: 188