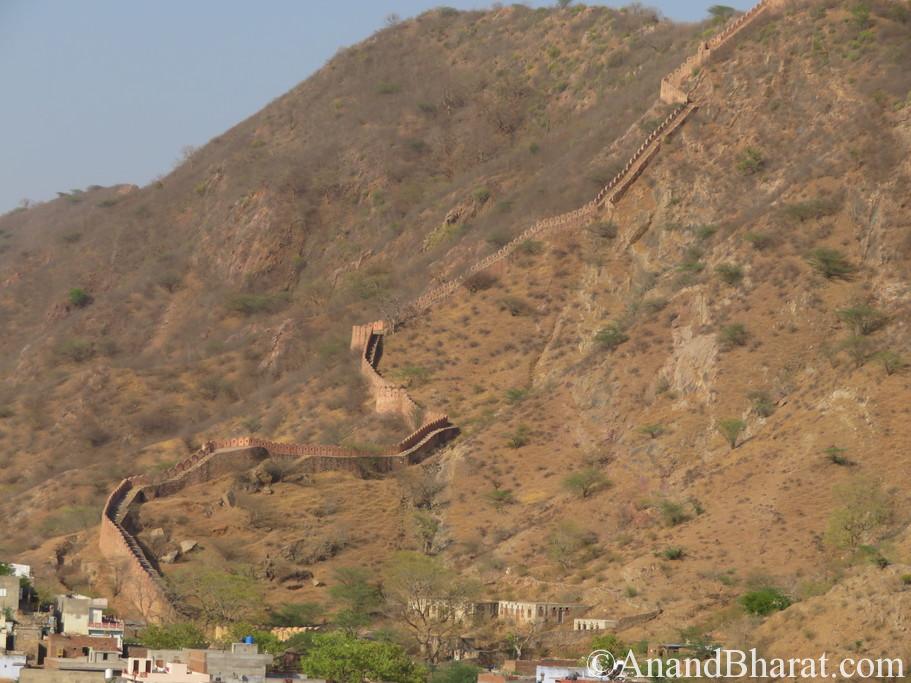 Amer Fort, Jaipur, India- UNESCO World Heritage
I am standing in front of Amer Fort and  thinking if Rajput Maharajas who fought with Rana Pratap and Shivaji also lived in Amer Fort ? Yes.  Maharaja Man Singh-I (1589-1664) helped  Akbar in order to defeat Maharana Pratap and here also lived Sawai Jai Singh-I (1621-1667) who  wholeheartedly helped Aurangzeb against Maratha great Shivaji.
In fact if Jai Singh-I had not helped Aurangzeb history of India might be a little bit different in favour of Marathas. This is proved with fact that Shivaji was in much relief only after death of Jai Singh-I, Marathas rose to greater height. Also it is strange to say that "pink city" was colored in pink by Maharaja Ram Singh to give special respect to Prince of Wales.
Here is the list of Maharajas who lived in this fort.
Raja Bhagwan Das (1574-1589 AD)
Man Singh I (1589-1614 AD) – Fought against Maharana Pratap to help Akbar
Jai Singh I(1621-67 AD) – Fought against Shivaji to help Aurangzeb
Jai Singh II (1688-1743 AD)
Ishwari Singh (1743-1750 AD)
Madho Singh I (1751-1768 AD)
Madho Singh II (1880-1922 AD)
Man Singh II (1911-1970 AD)
Bhawani Singh (1931 – 2011 AD)- He was awarded Mahavir Chakra during Pakistan war 1971. His wife was Gayatri Singh.
The points covered by RTDC tour were as
Anyway as soon as we enter the Ganesh Pol (entry gate) we come across "Rasoda- The Royal Kitchen". This was used for cooking food for royal family. There was one more kitchen nearby which was used for staff living in fort.
In front of Rasoda is " Diwan-i-Aam". Here king (Sawai) used to give judgements on public hearings and side by there is window in "Suhag Mandir" where  the Queen could see the proceedings.
From Sugag Mandir queen would drop flowers on king when he will go for war or return from war. This is the reason that it is called Suhag Mandir as queen prayed God when he used to go on war.
Further adjacent to Diwan-i-Aam is "27 kutchery" which contained the records and official sitting place of clerks of administration 27 departments."
After seeing the Rasoda, Diwan-i-aam and Suhag mandir and 27 Kutchery we moved on with guide. He further showed us "Hammam" . Here the guide showed us the storage of hot and cold water and how it would mix up and fall into a common small pool for queen to take bath. He also showed us the change room and massage room of the queen which are part of same hammam.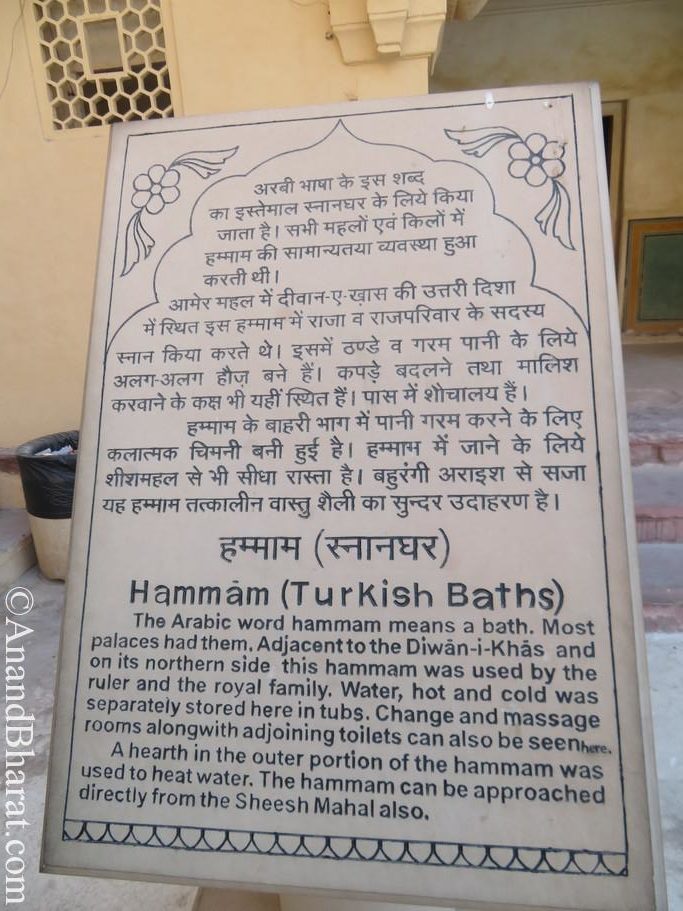 There were 99 tolets in this fort of Amer and now a days some are being used by visitors of palace.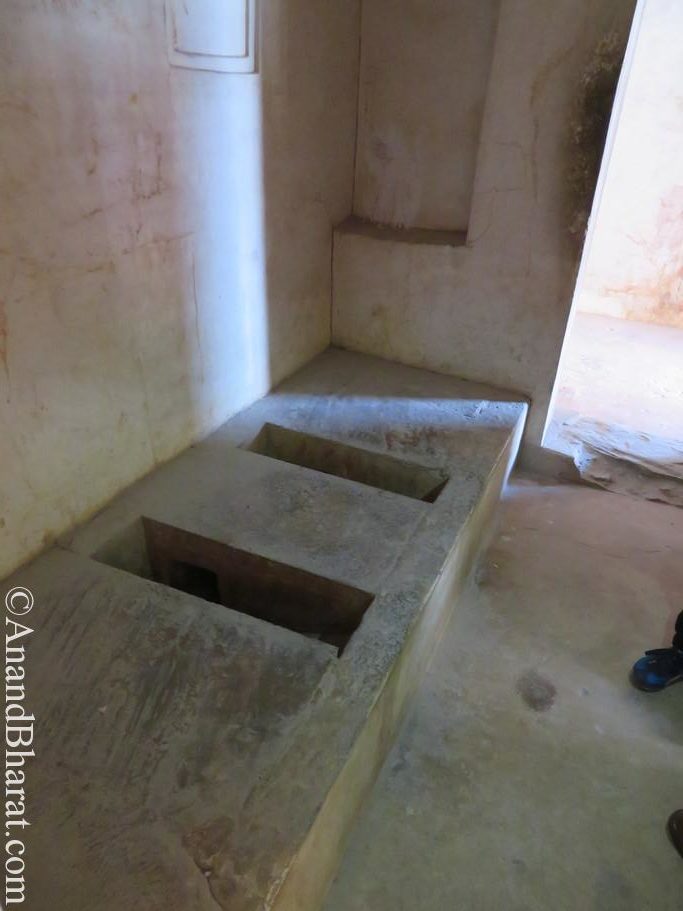 Next we saw beautiful "Sheesh Mahal – the mirror palace". This was also called " Diwan-i-Khas". This is the most beautiful building of place and every inch of wall and roof were decorated by imported valuable coloured glasses, silver and gold as well. Later as guide told British looted the valuables of this building. Here is the place where film shooting " Mugle Azam" song " Pyar kiya to darna kya" was filmed.
In front of " Diwan-i-Khas" (Sheesh Mahal) is "Sukh Mahal". This is a beautiful part of palace where Raja and Rani would enjoy cold natural air conditioned winds when air would pass through water.
Even today we can see the "swing" hooks on roof where King and queen would sit, queen will put her foot in running water and enjoy.
On top of Diwan-i-Khas or Sheesh mahal is "Rain Palace" where royal family will stay during rainy season to enjoy rain.
We can see a few "corridors" inside the palace as above which leads us to Man Singh -II palace from Diwan-i-Khas and Sukh Mahal.
Further on we saw "Man Singh-II palace". Here the apartment of 12 queens are seen which Mansingh will choose at a time one. Choosing of queen was a secret process.
Above the queens apartment there lived 100 female attendents. We can see their rooms in first floor. This palace is also called "Bhool Bhullaiya- Hide and seek" as after choosing a queen for night she will pass through the bhool bhullaiyya so that others can not know about selection.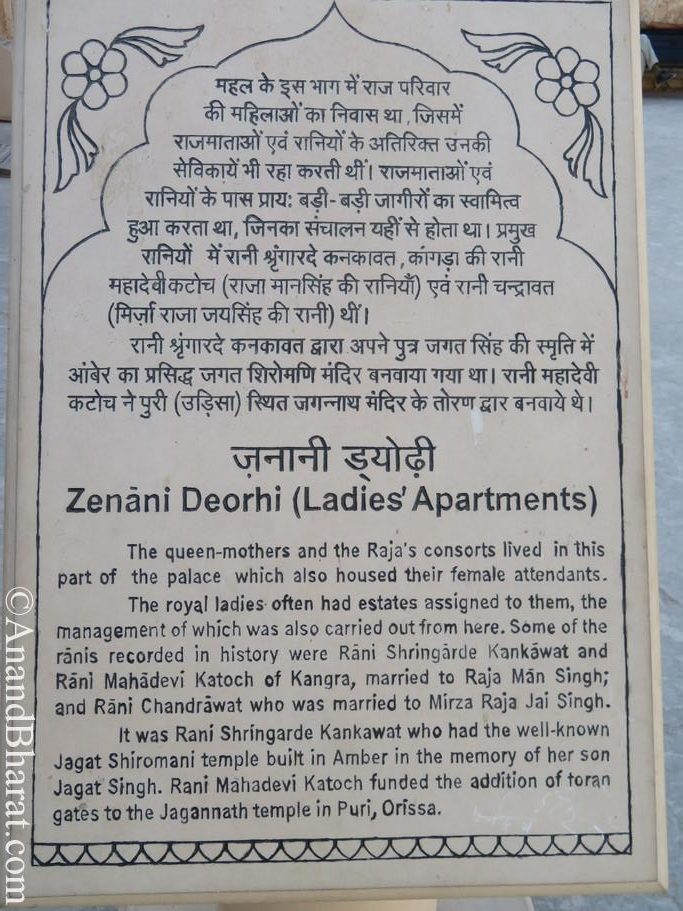 From the roof we could see some old buildings which are inside the four walls of the palace. One of the buildings was birth place of "Jodha Bai" and so may be said as "Akbar's father-in-law house". These are the buildings where Man Singh-II, Bharmal lived and supervised the construction of this Amer fort.
Seeing all these structures about two hours passed and we came out of the Man Singh Palace" and saw the secret tunnel which connects Amer fort to Nahargarh and Jaigarh fort and Diwan-i-aam, Diwan-i-khas and queen's palace.
Epilogue
Amer Fort is world's third largest wall after China Wall and Kumbhalgarh. The rush of foreigners (official data average 5000 visitors every day) I saw in Agra Fort, Red Fort, Fatehpur Sikri, it was no less here. There was huge excitement among tourists for photos. We should be grateful to our ancestors who have left such precious legacy for their next generations of the whole world. This fort is architecturally so fine that we gasp with "wow!!". There are so many points inside the fort such as Royal Kitchen, Diwan-i-Aam,  Suhaag Mandir, 27 kutchery, Hammam, Diwan-i-Aam (Sheesh Mahal), Sukh Mandir, Rail palace, Man Singh-II palace, corridors, Zenani Deorhi and tunnel entry.
Hits: 128