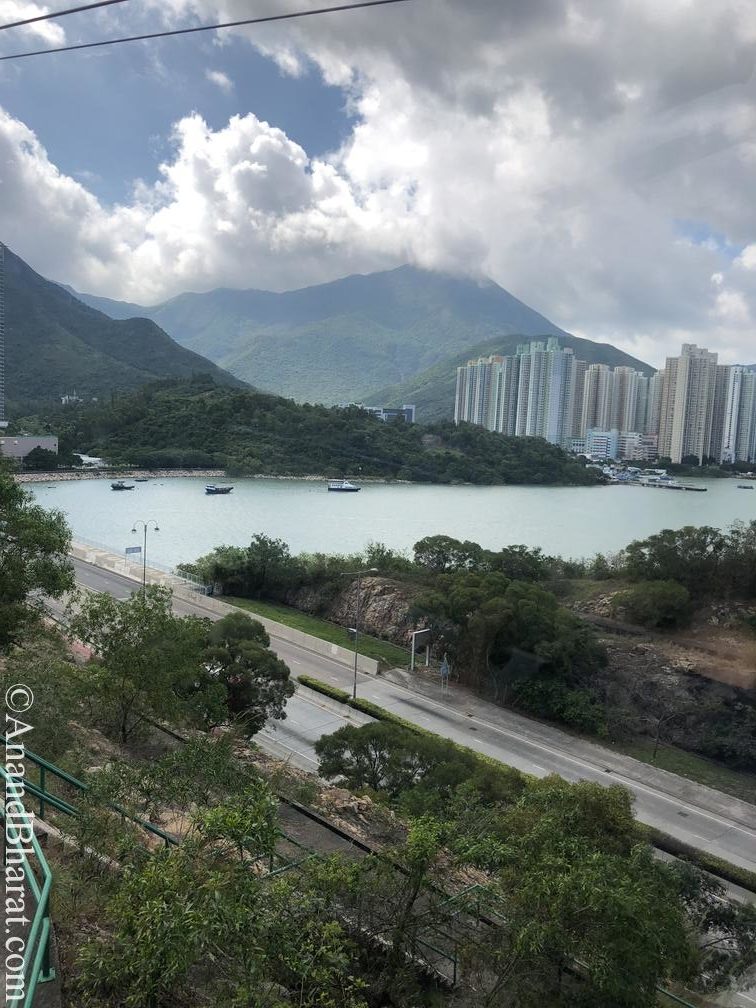 Sky-Land-Sea Lantau Island Adventure – Hong Kong
 Before sharing the experience of Hong Kong travel it is interesting to know how Hong Kong was born. In 17th and 18th century trade balance (silk, porcelain, tea) between China and Europe was very high. In order to balance out Britain started exporting Opium drug from India to China and there was much increase of opium addicts in China. All this resulted in war between Britain and Quing dynasty and after defeat in 1842 Hong Kong was ceded to Britain and handed over back to China in July 1997 after 156 years. Till 2050 it will be treated as autonomous state. Area of Hong Kong is 2755 Sq. KM about 1/16th of Kerala, state of India.. The land is full of steep hills all over with sea in between.
Population – 68-70 Lakh, Almost all are service oriented. All eatables and grainary is imported. Main religion is Buddhism, Confucian, taoism (traditional chinese) with mixed western culture. Even though Britain rules over 150 years English is not popular here. Mainly people speak Cantone7se. People follow Buddha in their religion. Family is patriarchal, family values, family name pride. They think brown or tan colored people are labor class. 40% of work force is women. Population growth rate is very less. Polygamy and gay are taboo in Hong Kong. Large numbers remain unmarried for getting themselves economically established. There is much gap between rich and poor. For same type of work women are paid a little bit less than men. Earlier we cound see some ads like "prettly women preferred". Crime rate is very low. Saying thankyou is less common in Hong Kong like "sorry" in Korea.
We reached at Hong Kong at 6 AM from USA. Our next flight to India was planned at 9 PM deliberately so that we can have a one day trip to Lantau Island of Hong Kong. My son had already taken electronic Visa from USA itself. This visa is one time entry only and is valid for 6 months.
It was quite early so we went to a restaurant in airport to kill some time. No Indian restaurant here. But there is a pure vegetarian restaurant. We took some chouw-ming kind of this. We came out of airport and taxi was already booked by us.
In 10 minutes we reached at the cable car point. O' My God. It was extreme hot weather. So hot that blisters appeared on our skin. There was que of about 150 that time at 9.30. The counter opens at 10 AM. Since we had already taken online ticket in USA, our queue was separate. We were given colored ribbons on hand to distinguish the batches (10-12 in each). and guide is allotted for each batch. We entered the cable car (6 seater). It has glass floor. It was about 25 minute
ride and we could see series of mountains and seas from top. It was an adventurous experience to travel to Lantau island by transparent glass floored cable car. There were 2 intermediate stations in between this journey when cable wires were exchanged.
When we neared the island we could see Giant Buddha from far. We got down from the cable car and guide took our batch to some tea shops and showed us how chinese prepare tea. Some people purchased tea.
Then we sat in an AC bus and reached boating point in 10 minutes. On way saw some good scenery of sea mountain with lot of whirling roads. We saw agriculture fields, grazing cows etc.
We got down the bus and passed through Chinese village where mainly fishermen live. It was traditional Chinese village who are not yet influenced by western and city culture. But it was unbearable hot in March. Due to heat we developed blisters in hand and foot.
There were 25-30 boats here waiting for tourists. Some people purchased here some typical fried fish. We just had Coca- cola.
It was about 30 minutes of boat ride and guide showed us dancing dolphins in sea. The boat and guide left us at Buddha square.
Finally we reached Great Buddha tall statue. We were really on top hill and there was a good view of surroundings – sea, green mountains, roads houses, villages  etc. It is really memorable to touch this point in Hong Kong. So many foreigners here.
There was a Indian Punjabi dhaba near monastery where we took Indian food and departed back and we met the guide again who saw us until the bus to cable station.
Epilogue
Boasts world's busiest ports is a manufacturing based country. It is a typical mixture of British and Chinese culture. Since the visa is easy we could manage to see one part of Hong Kong. There are about 10 points out of which we visited Lintau where we saw – Po Lin Monastery, The Big Buddha (triple the height of Shravanabelagola Lord Bahubali statue). Pnong Ping traditional village, Kwan Tai temple. Did boating and cable car riding. It was a good trip when one has 8 hours at his disposal. I wonder Buddha was against idol worship but we see only Buddha Idols in any country.
Hits: 197