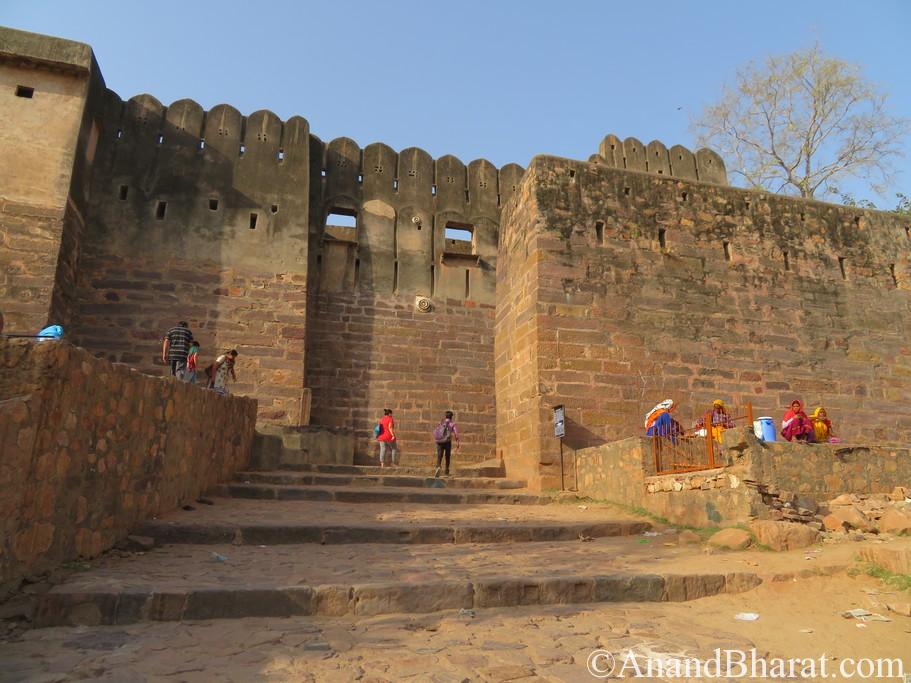 Ranthambore Fort – One Thousand year old UNESCO World Heritage
March, 2018. First of all II would like to share some queries which I had but could not get answers till I visited Ranthambore. My basic reason for visiting Ranthambore actually was to visit Fort but Safari impressed me and gave me life long experience.
Location of Fort :  Ranthambore in Distt. Sawai Madhopur, Rajasthan, India. Nearest Airport is Jaipur, 140 KM. Nearest Railway station Sawai Madhopur
About place :  City is about 19 KM from nearest Sawai Madhopur railway station. You should choose the hotel better within 5 KM from National park as in that case fort and safari access will be easier. Ranthambore there is only very small market and all you have too depend on your hotel only for lunch and dinner. Lot of Taxis and shared autos are available from Sawai Madhopur to Ranthambore. You have to bargain for taxi. My hotel was 7 KM from station and he charged Rs.600 till my hotel Castle Jhoomar Baori.
Time required to see Ranthambore Fort .  4 hours. Jeeps are available Shared jeeps are available to take you bottom of fort from Ranthambore market. I suggest to take guide.
Time required for Safari : One full day.  Total safari time is 4 hours including waiting time and tourist pickup and drop at hotel  time. They will drop all passengers at their hotels. In this process you will see some more of Ranthambore.
Which one to see first Fort or Safari? :  I reached at my hotel at Ranthambore at 11 AM. I immediately booked for Safari and I got Safari same day and Canter came to pick up me at 2 PM at hotel. I came back after Safari at 7 PM. Next day I started for fort at 7 AM and finished seeing fort by 11 AM. Took direct shared jeep to reach Sawai Madhopur train at 11.30 and reached station at 12.30. I caught train for Jaipur at 1 PM.
My complete Itinerary
History of Fort
Built in middle of 10th century AD by Rajput Chauhan king Sapaldaksha. It attracted Prithviraj Chauhan-III (Famous prithviraj Chauhan), Khiljis, Iltutmish (1226), Hammir Dev, Allauddin Khilji, Mewar rulers such as Rana Hamir Singh(1326-64), Rana Kumbha(1433-1468). Under Hadas Rana Udai Singh (1468-73), father of Rana Pratap and then Akbar in 1569, Kachwaha Maharajas of Jaipur in the 17th century till union of Jaipur state in India in 1947.
I had already booked Rajasthan Tourism Dev Corporation RTDC  Hotel "Castle Jhoomar Baori" at Ranthambore for one night stay.
As planned I completed safari on day one and today on day two I started at 7 AM to Fort.  I had booked for taxi (Rs.1000) for fort visit and drop at railway station. But taxi was delaying so hotel staff dropped me on his motor cycle up to base of Ranthambore palace. I appreciate his goodness and goodwill and rewarded him as my gratitude.
I am sharing my actual experience about Ranthambore fort.
On reaching fort I came to know guide charge was Rs.500 but he does not show full fort as the points inside fort are a bit far flung and scattered. So I dropped the idea of guide. It could be my mistake later I felt. Still one Panditji agreed to take me up to Ganesh temple..
We started with Navlakha pole. The first gate of this fort.
In order to worship God Trinetra Ganesha Normally large number of local public turns up at this gate called Ganesh Pol. While some enthusiasts who like historical monuments and foreigners go beyond this point. Below are pictures after Ganesh Pol. There is one more gate Delhi Gate which are far (but are part of this fort) I did not venture to visit. One more gate we will see when we further go ahead in this tour.
Found a good guide to traverse through the Fort.
At Ganesh Pol I luckily meet a grass cutter named Raj Inder who is an uneducated labor here in this fort and born and brought up in Ranthambore. He tells that he can take me to entire fort and I offer him Rs.300 and he happily agrees. Without guide it is very difficult to go around places in the fort as we can see in below pictures the paths inside the fort. The points which my respected guide takes me to are in sequence as Dargah, Badal Mahal and Hammir Kutchery, Chhoti kutchery, Jain temple, Annapurna temple, dilapidated queens palace, jauhar point, war point, Padam Talao, Ganesh Temple, Bara Khamba and Hammir dev palace.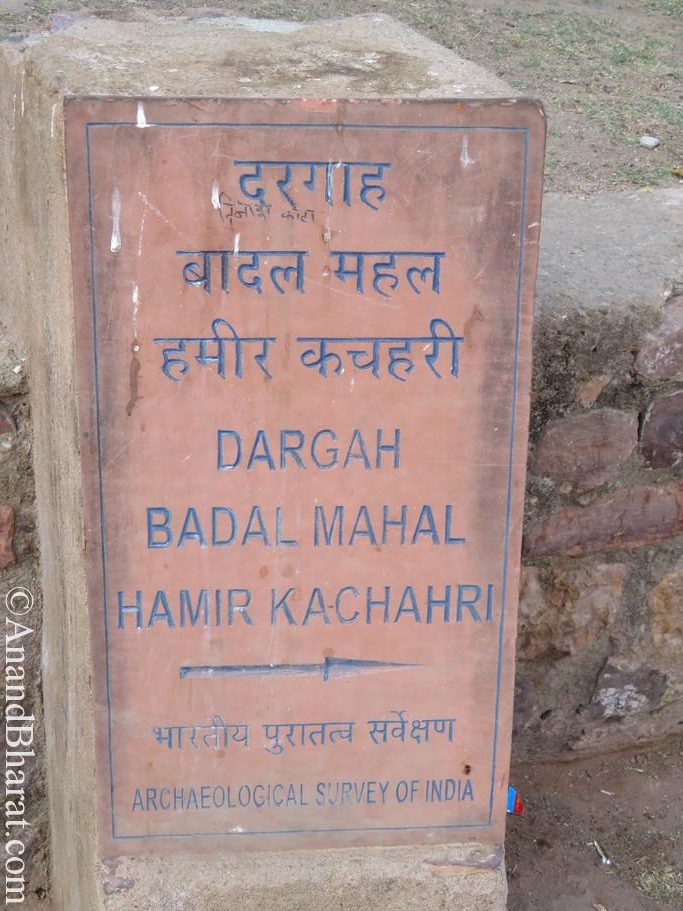 Below are few fotos of Badal Mahal.
Ahead of this is Delhi Pol gate but is far so guide told me go back and change the route to visit remaining points such as
Epilogue
Being one thousand year old fort it is in real dilapidated state and  time is superseding almost all monuments  into this fort to earth. The importance of this fort is that it is a UNESCO World heritage declared in 2013, and carries the print of almost all dynasties who ruled in North India since 1000 years. It was queen of forts and can be compared with Kalinjar Fort of Chandel Rajputs in this era. That is why Prithviraj Chauhan ruled here and also he attacked Kalinjar fort. If you have come to Ranthambore you must see this fort. It is not difficult to go round the whole fort even with family. Time takes 3 hours to visit fort points. Shared jeeps are available from Fort to Sawai madhopur railway station at frequent intervals.
Hits: 91