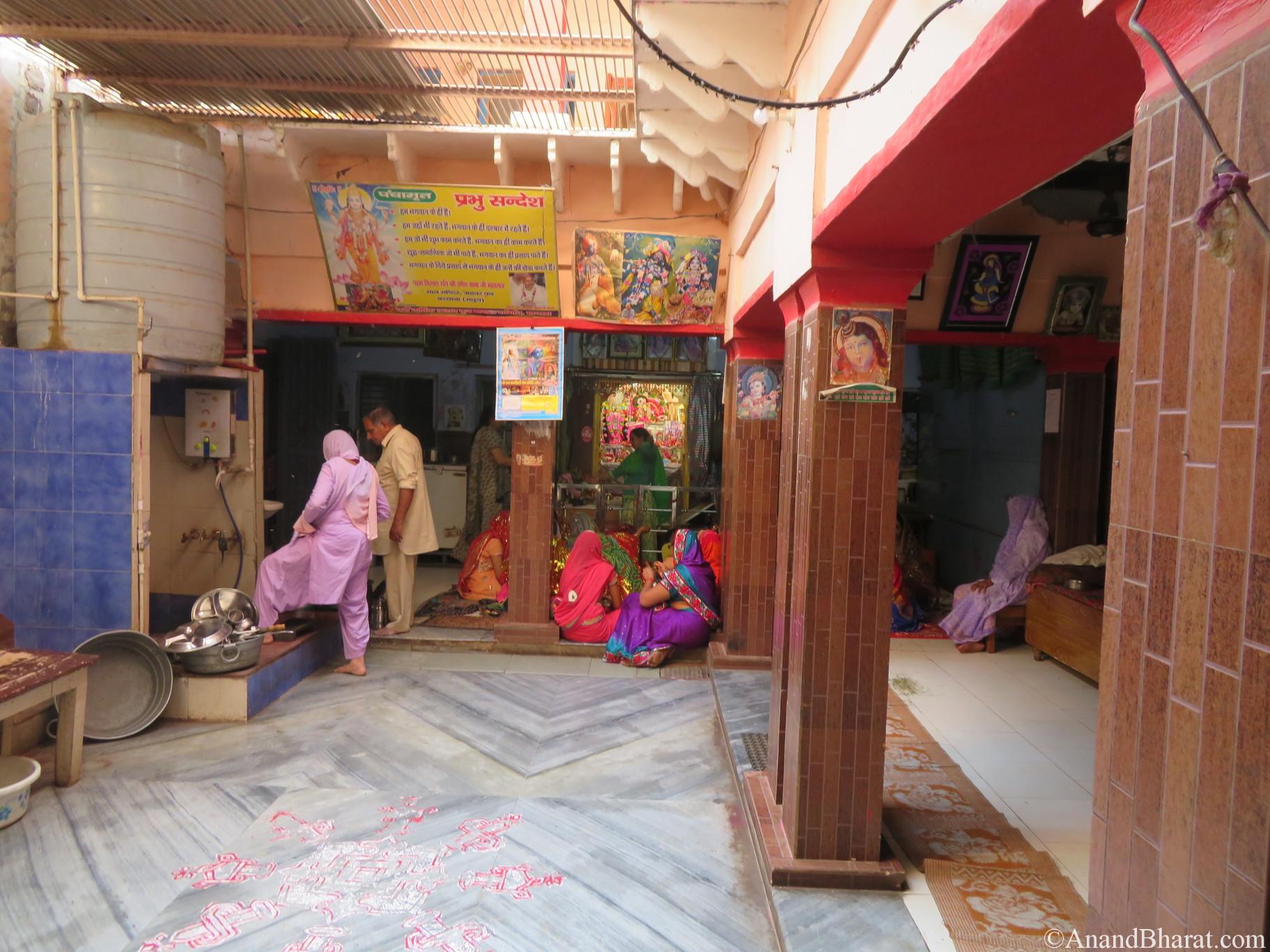 Mathura, India- My experience
अजीब सी पहेलियाँ हैं मेरे हाथों की लकीरों में,
लिखा तो है सफ़र मगर मंज़िल का निशान नहीं। – I think probably I did not understand Mathura.
March,20, 2018. This was the feeling after I completed my visit to Mathura. In fact it was so difficult to even find feature photo of Mathura. It was very confusing for me as almost all temples are of Krishna only and Barsana did not look intersting to me though I saw there a few Whites and Africans singing on streets of Barsana..
My train from Agra to Mathura is 5 hours late. So I quickly check in  to platform No.1 at Agra railway station and take an unreserved ticket Rs.20 for other train  about to leave for Mathura. Luckily there is not much crowd in this train. I reach Mathura morning 10 AM.  Agra to Mathura is just 40 KM. I personally do not prefer travel by taxis for longer distances.
My stay – I had already booked for UP State Tourism Dev Corp Guest House "Rahi Tourist Bungalow". Surprisingly no one knows Ola or Uber in Mathura. This guest house is in Civil Lines area. It is difficult to get taxis from here after 9 PM and even in morning. Rooms are big but I do not recommend to book here.
I come out of Mathura railway station and see lot of transport available. I prefer not to checkin in hotel to save time and so settled one auto for Rs.800 to go Barsana  and show me Nand gram and drop me at Vrindavan. Since I had one day I could not visit Mathura proper and Gokul.
I really speaking did not enjoy in Mathura. There are many temples in mathura and I personally felt that seeing 3-4 temples in enough. I did not see more temples as they belonged to same Lord Krishna (personal choice). The temples are in congested lanes. Autos invariably  charge more. Only Madhuban was my interest as I heard some stories of dancing gopis and lord Krishna.
My overall feeling was that there are many temples in Mathura and none of them is 5000 years old but these are recently constructed and symbolic of history related to Krishna as Gokul, Nand Gaon, Sri Krishna Birth Place, Vrindaban, Madhuban. It is obvious as in 5000 to 10000 years everything gets buried hundreds of feet below earth.  All these temples locations and importance is based on  as per our legends Mahabharata, Chandogya Upanishad, Narayana Upanishad and janshrutis mention about Krishna.
In 45 minutes auto stopped at Govardhan Parvat. I was shocked to know that it was not any hillock but a temple as shown below. It seems this is a modern temple and represents Govardhan Mountain as a symbol. I think it is assumed that Govardhan Parvat was here 5000 years ago. Is it right to believe this?
Anyway I reached Barsana Village. I visited More Bihari temple, maan Temple, Saankri Khoh, Ras mandir and Paawan Sarovar. Since as per legend Krishna existed 5000 years ago , it is natural that all the places where Krishna lived might be buried. So what I see now are just symbolic temples and ponds.
Epilogue
I could really not make my plan using internet information. It was very confusing. So sharing my experience. Have a thorough plan when you visit Mathura. If you want to see Mathura, Gokul, Nandgaon, Barsana and Vrindavan you should have at least 2 full  days at your disposal. These all places are in different directions if Mathura is in centre. hink the temples and places  I listed in map are enough to see. It will take 2 days for sure. If you are not so much interested and just want o see Mathura and traverse around these places then 8 hours are needed. Since my stay was only one day I missed seeing Mathura and really  I did not have much enthu as whatever I saw so far belonged to one and same Krishna. I am not sure how my Chinese companion would feel here as he was heading for Mathura from Fatehpur Sikri the next day.
Hits: 117