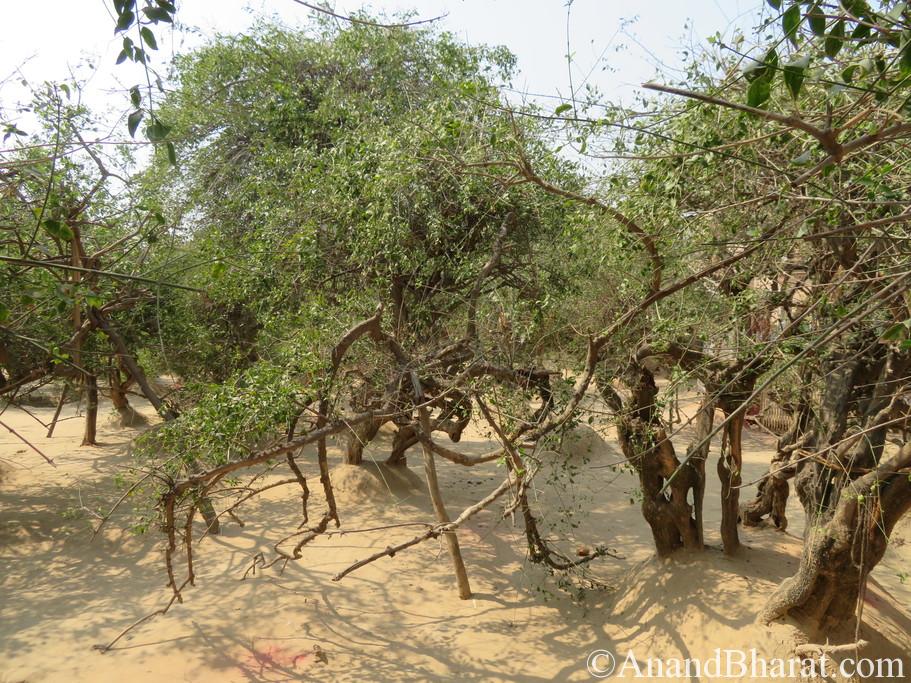 Madhuban, Mathura, India- My experience
March,20, 2018. I had seen a programme on TV about an year on Madhuban of Mathura. it was about dancing gopis in Madhuban in night. Since then I wanted to see this place in Mathura.
My train from Agra to Mathura is 5 hours late. So I quickly check in  to platform No.1 at Agra railway station and take an unreserved ticket Rs.20 for other train  about to leave for Mathura. Luckily there is not much crowd in this train. I reach Mathura morning 10 AM.  Agra to Mathura is just 40 KM. I personally do not prefer travel by taxis for longer distances.
My stay – I had already booked for UP State Tourism Dev Corp Guest House "Rahi Tourist Bungalow". This guest house is in Civil Lines area. It is difficult to get taxis from here after 9 PM and even in morning. Surprisingly no one knows Ola or Uber in Mathura though sparsely available. Rooms are big and staff caring but I do not recommend to book here.
I come out of Mathura railway station and see lot of transport available. I prefer not to checkin in hotel to save time and so settled one auto for Rs.800 to go Barsana  and show me Gokul, Nand gram and drop me at Vrindavan.
I am describing here Madhuban which is in Vrindaban of Mathura.
You have to go through narrow lanes to reach Madhuban from the main road. Monkeys are too many so do not keep any eatables, any spec and camera while in Vrindavan. Monkeys will definitely attack you. They had snatched my spec but with help of locals I got it back by offering banana to them.
Note that only few photos could  be taken due to monkey menace.
I really speaking did not enjoy in Mathura. There are many temples in mathura and I personally felt that seeing 3-4 temples in enough. I did not see more temples as they belonged to same Lord Krishna (personal choice). The temples are in congested lanes. Autos invariably  charge more. Only Madhuban was my interest as I heard some stories of dancing gopis and lord Krishna.
Enumerating the place as said by guide exactly – There is no addition from my side.
There are 10108 trees here. It is said that gopis are in form of trees and therefore these trees are 5000 years old. After 9 PM this temple is closed and no one is allowed to stay here. It is said that Lord Krishna still come here and play with Gopis.
Also as pass through in this garden guide shows us a pond called "Lalita-Vishakha kund". It is said that there were two gopies named Lalita and Vishakha who felt thirsty. Krishna dug a pond for water by his flute.
it is said that famous saint Swami Haridas was Lalita gopi. As we further go we see anotheher temple where it is believed that Swami haridas did penance and Lord Krishna showed his presence top him in form of a statue. The same statue is kept here.
There is a Rang Mahal here which is a small temple. here daily beetle leaves, nut, sweet laddu and teeth cleaning wood is kept inside the rang Mahal and morning 6 AM after aarti the doors of temple are opened. you will see some tempering with these as if someone has used these.
i took a round of the garden and come across a bigger temple called "Raas Mandal". There is a round platform in front of it. It is said that krishna and gopis daily dance here.
Epilogue
Whoso ever visits Mathura also visits Madhuban. This  micro forest is located in crowded residential area. It gives strength if sometimes you believe on mystery because it will give you a hope when you are in dire situation that a mystery will happen and you will be saved. These thoughts sometimes save you.
Hits: 177