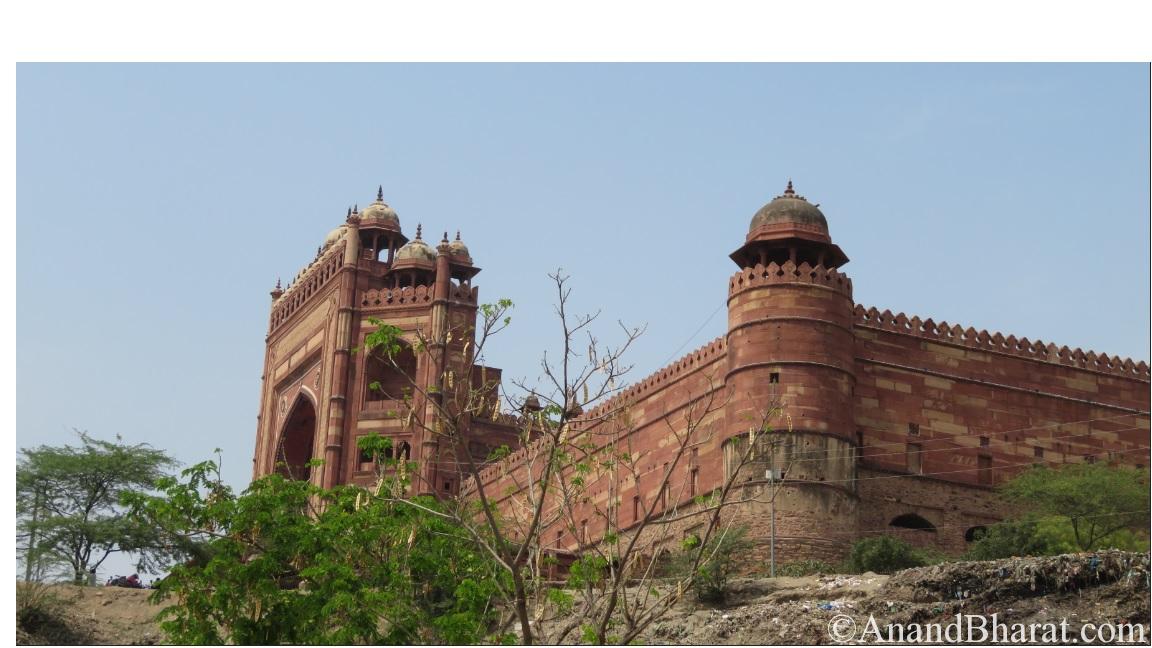 Fatehpur Sikri Fort, Agra, India
It was my second day of stay at Agra. I started at 7.30 by auto to see Sikandra (Akbar's Tomb), Mariam's Tomb (Jodha Bai), Chini Ka Rauza and Etima-ud-daulah Tomb. After this auto dropped me at 10.30 AM at bus stand to go to Fatehpur Sikri. I reached Sikri in 1 hour and 20 mins (40 KM) by bus. Bus is better option to travel. Spent 3 hours at this fort.
My Itinerary
In this trip I planned to visit five UNESCO World Heritage forts, a Safari and few tombs which were of great stalwarts of history but comparatively less popular tombs.
Bus stops near to Buland Darwaza gate. I walk about 100 meters of steep and about 40 tough steps to reach Buland Darwaza.  It is March,18 today and it seems the summer has not set in still and so it is not hot and no sweating.
This 11 KM long fort is UNESCO World heritage site which Akabar started as his capital in 1569. The Sikri seems to be like a village type town. Since I had started at 7.30 AM to see tombs in Agra I had no chance of breakfast, I felt hungry. There were no really clean restaurants in Sikri but luckily I get hot and fresh samosa. The taste was the best so far taken by me in North since years. Really.
By this time some unprofessional locals surround me but they are polite enough and finally I took a class X lad to just tell about Fatehpur (Points around Salim Chisti Tomb) only for just Rs.20. The Muslim lad (his father standing side by looked happy) tells me that Fatehpur and Sikri are part of same fort. One small part around Chisti Tomb is called Fatehpur while main palace is called Sikri. He notices that I am convinced.
The local lad shows me five points which comprise Fatehpur- Buland Darwaza, Jama Masjid, Salim Chisti Dargah, Islam Shah Tomb and Madrasa.
Fatehpur side of fort was much crowded due to Saint Salim Chisti Dargah. I felt as if I have come to Jama Masjid or some Gurudwara.
Now on left side wall of the Fatehpur part of we can see Jama Masjid.
From Jama Masjid part we can see best view of "Hiran Minar".
]]\View of Sikri Town from Fort.On right side of the Fatehpur fort compound we can see "King's Gate". It is called Kings gate as after praying at Salim Chisti king used to enter into Sikri part of Fort through this gate.
The complete geography of this fort is as in this "map" given by ASI on ticket counter.
I took an approved guide for Rs.450 and first we started with "Horses Astable" and "Birbal Palace". Earlier there was a wall between the two.
Just very near to Birbal palace is "Jodha Bai Summer palace". It is back side of palace as it faced river Yamuna and winds flowed across.
In Jodhabai palace was born Jahangir in 1569 AD.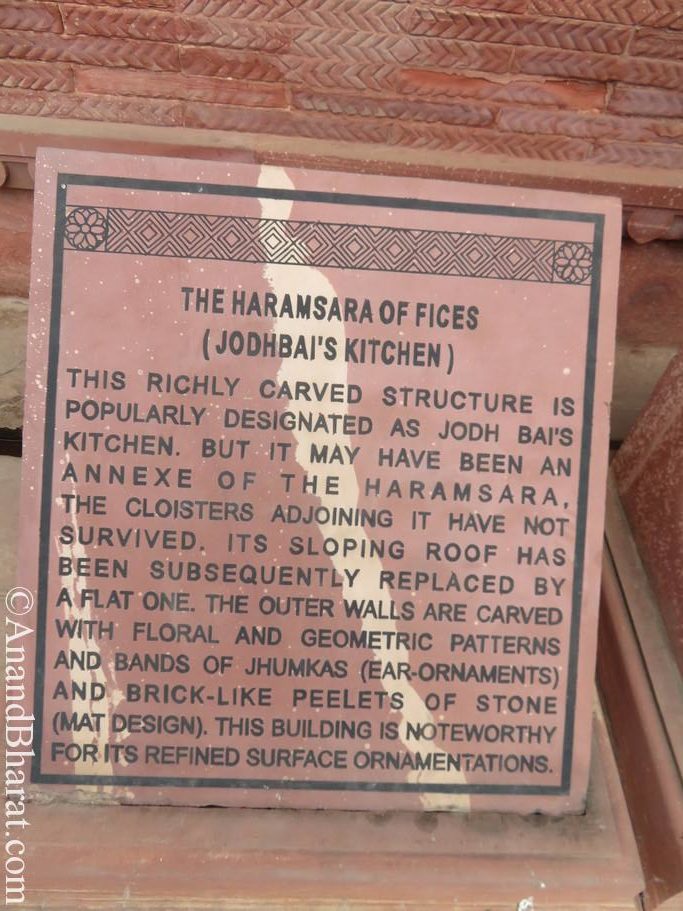 Below is Panch Mahal which was constructed by Sikarwar rajputs and it acts like "wind catcher". First storey has 56, second 20 , third 12 and fourth has 4 columns. It was used for entertainment purpose by queens and king.
Just behind and almost touching is a 3 roomed buiding called "Daulatkhana".
Below is most photographed building of Sikri Fort. This is called "Diwan-i-Khas".
"Diwan-i-Am" is the part of fort where Akbar used to hear public petitions and give his judgement.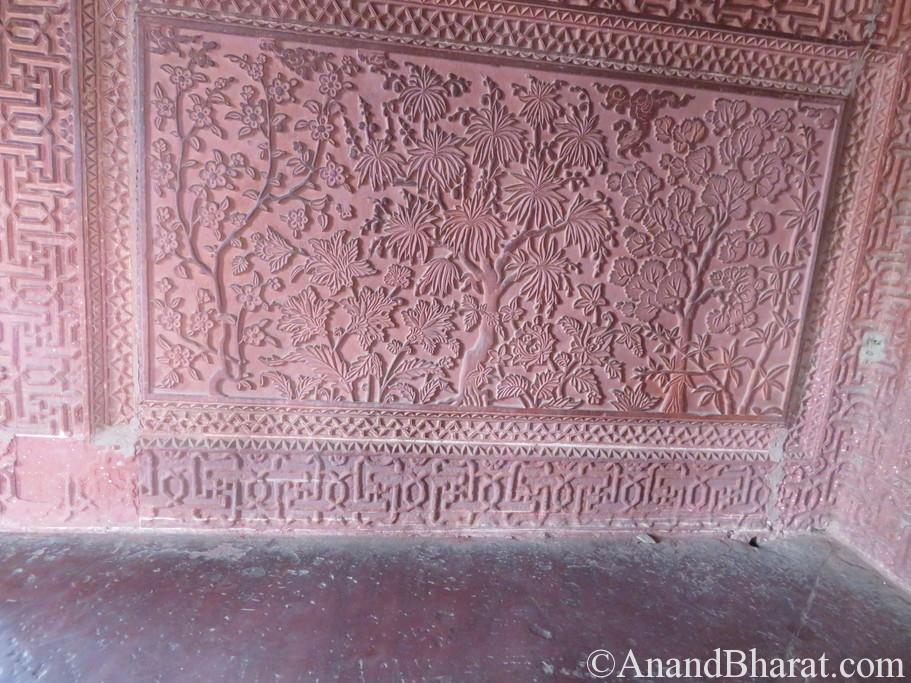 Decoration inside Kaanch Mahal ( Adjacent to Anup Talao).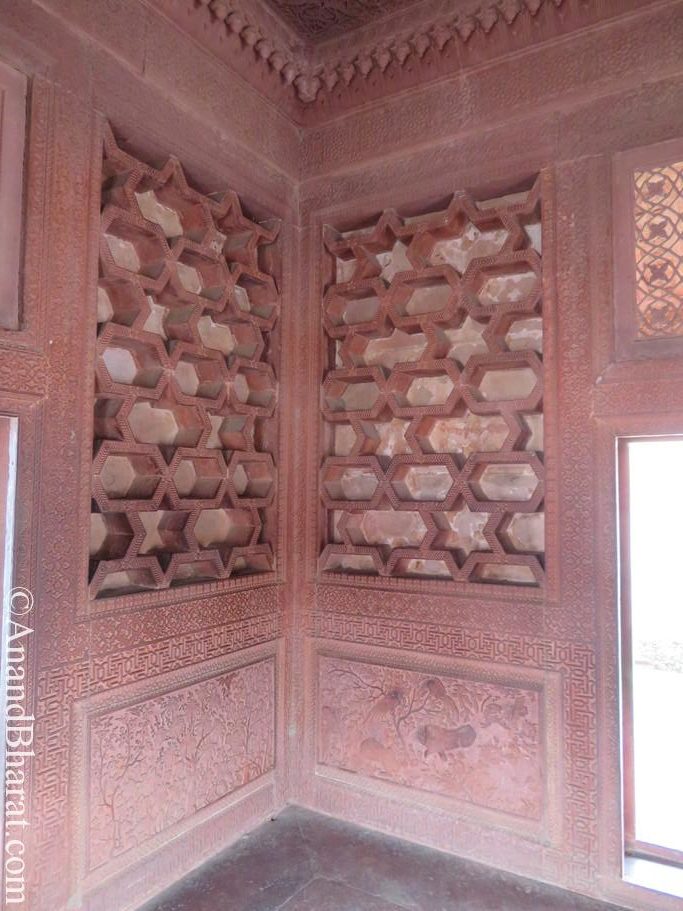 Inside Kaanch Mahal. These were filled with imported coloured glassesFinally Me and my Guide at Fatehpur Sikri Fort.
Epilogue
Most of tourists see Fatehpur Sikri as a fort like any other fort. But I see that Fatehpur Sikri is not just named "Fateh" but it has a huge meaning behind. After initial faltering Mughal Empire from 1526 to 1555  Akbar changed all Hindu Muslim equations in India and created a coffin for existing Hindu Empires by construction of Fatehpur Sikri Fort. It was like an official stamp of his supremacy on the existing Hindu Empires in India. He united Hindu Rajput Empires by nuptial relations with him one by one and ruled over almost 60% of India. Therefore Akbar proved that its name "Fateh" was justfully given by him. It proved a coffin for us.
But British followed a different policy of ruling, that is "divide and rule"  which we are religiously following even today without knowing the "consequences". We should remember "History Repeats".
Hits: 637