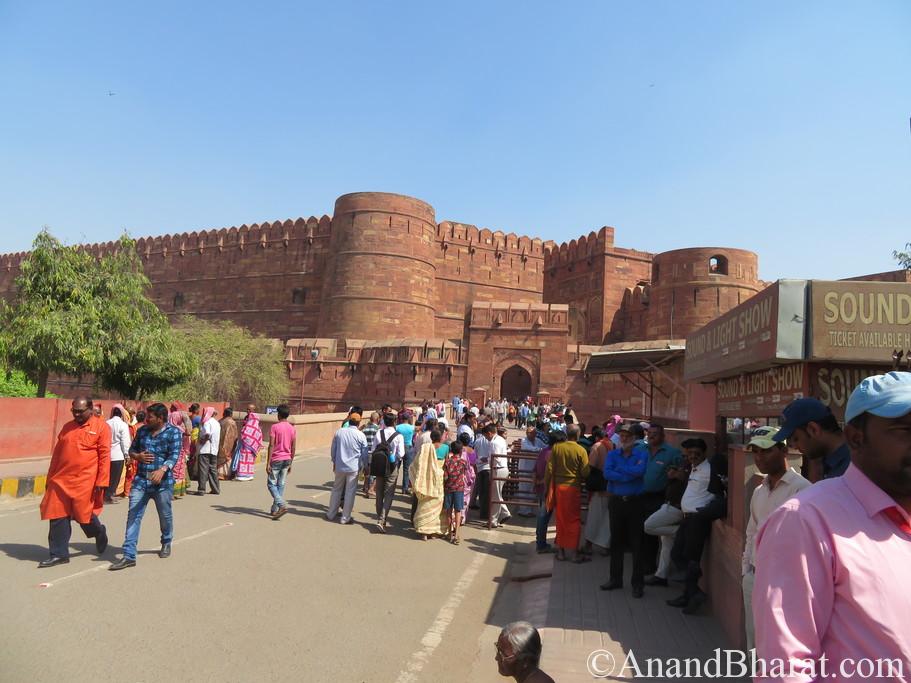 It was my first day of stay at Agra. I reached by train from Lucknow. The hotel Agra Regal Vista was 6 KM from Agra Cant and auto took Rs.150.
My Itinerary
In this trip I planned to visit five UNESCO World Heritage forts, a Safari and few tombs which were of great stalwarts of history but comparatively less popular tombs.
Where to stay
I normally stay at state tourism guest houses and my experience has been good at all guest  houses in entire India.  For Uttar Pradesh you can book online using  https://online.up-tourism.com/booking
Just I do not waste time when on travel. Checked in and had a good complimentary breakfast at hotel. I started by auto for seeing Agra Fort first and then Taj. This fort is just in heart of Agra city and very near to Taj Mahal.
Just met a few guides and settled one for Rs. 200. Definitely it is large crowd here at the entrance gate. It is sunny today of mid March but I do not feel any heat and is comfortable luckily. The fort looks very neatly maintained and a positive and happy feeling resuscitated my nerves in spite that I just 3 hours back had landed from Lucknow by train. I feel now the proud in me that I am here to see this place. Really it gives me great pleasure when I see any Forts as so many stories and foot prints of time are buried into these. We can feel those imprints when we go round it.
Guide told that this fort started by Akbar in 1565 and Mughals lived in this till 1638 until the capital was shifted from Agra to Delhi. Later in early 18th century Marathas captured and then British in 1765. It is spread in about 95 acres.
Some interesting information about this fort is that here Shivaji was brought in front of Aurangzeb by Raja Jai Singh in 1666 under "Treaty of Purandar". But Shivaji was kept behind in line with lower rank so was furious and quit the meet. Agra Fort also featured in "Habibi Dah", famous Egyptian music  album, Hindi mix in 2002,  "The sign of the four", in Sherlock Holmes drama.
We entered through a massive gate at the entrance and this is called "Amar Singh Gate", also called Lahore Gate. As per guide this was dedicated by Jahangir to one of his warriors named as Amar singh, a Rajput who won some battles for him.
The fort is surrounded by "mote" which was full of crocodiles those days. There was "chain and pulley system" which could lift an iron bridge so that if needed gate could be disconnected from the main land.
Next was "Elephant Gate". We can see the art work and openings in the gate which was used to drop flowers on the warriors when they entered or went out from the fort.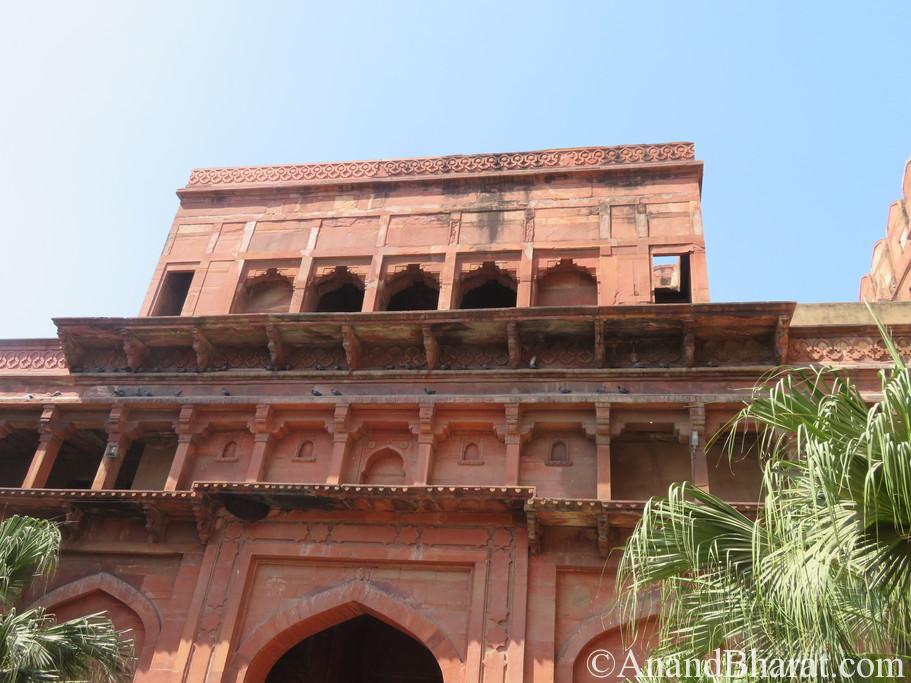 Elephant Gate. Here kings and VIP used to pass on elephants and flowers were dropped on them from the top of gate
Third gate is "Akbar Gate". This was built by Shahjahan. All three gates are in zig zag for security purpose.
On path of these gates are grooved so that either to give cogging effect to elephants and horses and also for hot oil flow.
There is a "wall" on either side of gates with holes on top for throwing hot oil and water on the enemey. Also there is long echo if we clap between the walls. This was meant for security alarm signal.
As soon as we cross the third gate " Akbar gate" these is big open space. Left side of the fort is now not open to public. While in front is "Jahangir Palace" which was
actually built by Akbar and gifterd to Jahangir. If we see the Jahangir gate we can notic the secularism adopted in Mughal period as gate has star( Parsian), inverted lotus (Hindu) and minerat (Muslim).
In front of Jahangir palace is a "big bath tub" where Shahjahan used to take bath till 13 years of age. In persian it is names as Hauze-e-Jahangir. it was first discovered in 1843 AD from Akbar Palace in this fort. Later it is shifted here by John Marshall. Due to this Bengali Mahal of this fort of Akbar is called Jahangiri Mahal.
On  right side of Jahangir palace is "Akbar Palace".  Guide did not take us to Akbar palace saying actually it is part of Jahangir palace. Basically Akbar Palace and Jahangir Mahal are same.
Just note that Jahangir had 2 wives. One was Muslim named as Nurjahan and other was Hindu name as Jagat Joi. As soon as we enter the palace on right side is Hindu Kitchen while on left is Muslim kitchen. In between is big court yard where there used to be magnificent Persian carpets.
Further we go ahead as we see a "Zakusi" where water from yamuna used to be collected and force was used to pump Yamuna water for water supply and cooling system in the palace.
On left side of this court yard is "Hawa Mahal". The design was such that due to ventilation all the time air used to flow and guide told that Nurjahan used to sit in this mahal during summer.
Just beside touching is " telephonic room". If we whisper in one wall we can hear clearly the sound in other wall of this room.
In this room there is a big ventilator and we can see sky while we are in telephonic room. If we come out of room we can not notice any big ventilator in this room.
Next we will enter into the shahjahan Palace which was built by Shahjahan and marble is used in all these buildings. We can notice that half of this palace is in Sand stone and was built by Akbar while another half is in white marble and was built by Shahjahan.
After this second half of the fort starts which was built by Shahjahan using white marble.
We now see very beautiful garden called "Angoori bagh" also called "char bagh". Here cultivation of grapes was done and soil was brought from Kashmir for good smell. Surrounding this garden is "Haram" and guide told me that 365 queens would stand in in first floor and dance while Shahjahan used to take bath. ( true?).
Facing this Angoori bagh was world's best bed room called " Khas Mahal" which was used by Shahjahan and Noorjahan. Persian curtains and carpets might be hanging here all round and even today we can see the magnificent artwork in this room.
Just of left and right side of khas mahal are the two palaces are there which are called as "Roshan Ara" and "Jahan Ara" palaces. These were built by Shahjahan for his daughters who were never married and he constructed these palaces in shape of " Doli" for that reason.
On left hand corner of Angoori Mahal is "Nageena Masjid" . A small but very beautiful structure. This was used by Shahjahan.
Also there is "Meena Masjid" which was used by Aurangjeb.
We  now leave Angoor Bagh and Khas Mahal and come across "Musamman Burj". This is the Burj where Badshah was imprisoned by Aurangzeb for 8 years.
There was a mirror planted in this from where he used to see reflection of Taj Mahal and remember Mumtaj.
Beside "Mussamman Burj" there is a "Judgement Canopy" where famous bell of judgement was there which any public could ring for Shahjahan judgement.
Beside Mussamman Burj  there is also "Sheesh Mahal" in which Mumtaj used to take bath and Shahjahan used to see her in mirrors.
After crossing this we come to a very big open courtyard and this was known as " Diwan-i-Khas". Here Shahjahan used to sit on this blue seta( original seat is missing) and his 62 ministers used to sit in front of him.
Next we come out and see huge courtyard which was called "Diwan-i-Aam". Looks similar to Diwan-i-aam of Red Fort. Here king used to appear in public occasionally.
This ends my visit to one of the most beautiful forts ever seen by me. The day I visited this fort I saw not less than 5000 tourists and most of them seemed to be from Britain.
Epilogue
At Agra Fort, March, 2018. Internationally Agra Fort is one of the most beautiful forts in world. This fort is in two parts. One is in red stone built by Akbar and Jahangir and other is in white marble built by Shah Jahan. Aurangzeb seems not added any new in this except his small mosque called Meena Masjid. Guide at Agra Fort told me about a popular Music song Egyptian "Habibi Dah – Nari Nari" filmed at this fort in 2002.
Hits: 258