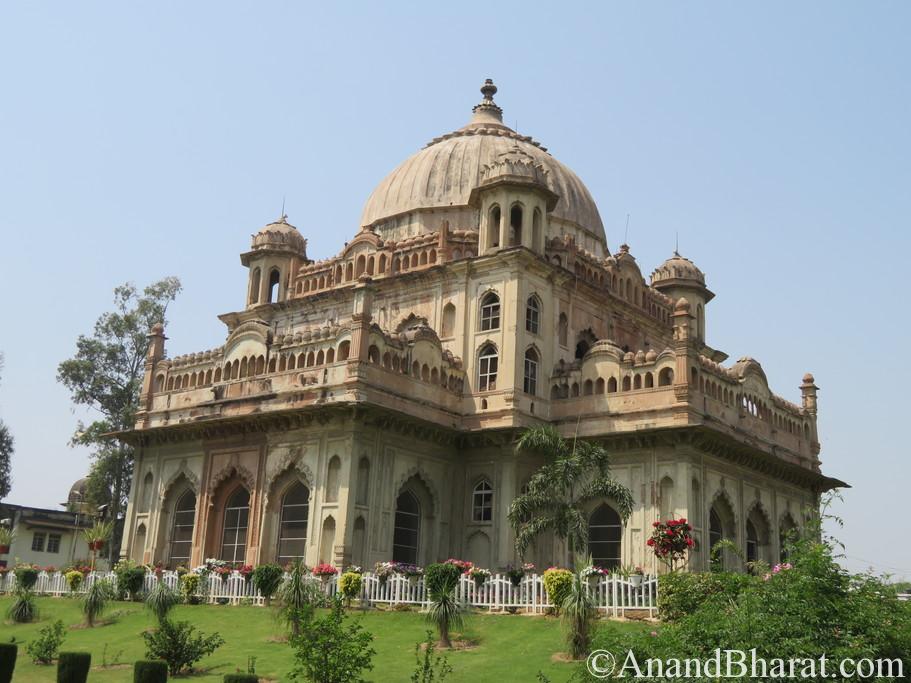 Saadat Ali Khan-II Tomb- A yesterday of Lucknow
Whenever I roam in Lucknow I feel Lucknow is new but clothe is still of Nawab days. In whatever street you get into has some or the other monument. Hazratganj is however modernised still some buildings have prints of 200 years olden days. Whichever street We can not get rid of these buildings. If we demolish these soul of Lucknow will depart for ever. This is the unignorable fact about Lucknow? Right from Charbagh railway station to Nadan Mahal, Kaiser Bagh, Lakkhi gates, Baradari, Sat Khanda, Imambaras and so many gardens on name of nawab's wives…everything of 200 plus years is embedded in Lucknow as its soul. You can still walk in Ameena Bad and see the Thursday market. You will feel you have come to 200 years old market and so much crowd.
It is relevant to know a bit of recent history of Lucknow.
Akbar divided his Mughal kingdom in 12 provinces. One of the "subah" was Awadh (area between Ganges and Yamuna). He appointed Nawabs (Naib in persian which means "assistant"). The subah was further divided in 5 divisions. So Awadh was divided into five sarkars, Awadh, Lucknow,  Bahraich, Khairabad and Gorakhpur. Saadat Khan (Note it is NOT Saadat Ali Khan) was appointed first Nawab of Awadh in 1722. He laid foundation of Awadh under suzerainty of Mughals. Later followed by Shuja-ud-daula who lost to British in Battle of Buxar in 1774. His son Asaf-ud-daula was 4th Nawab, built  "Asafi (bara) Imambara" and "Rumi Darwaza". After battle of Buxar British made Saadat Ali khan-II as first "puppet Nawab" of Awadh. After him his son Ghazi-ud-Din Haidar and in few successions Muhammad Ali Shah became nawab from (1837-42) who built Chhota Imambara. All these Nawabs were of Persian (Iranian) origin. Wajid Ali Shah (1842-1856)  was exiled to Kolkata and this ignited  fury among locals of Awadh which reflected in fierce battle of 1857 in Awadh which we can see in "Residency" in Lucknow. During his time all Lucknow was prevailing with "Afeem", Chess, luxurious life, luxurious art, dance. It is said that even rikshawala would buy Afeem instead of loaf from his hard earned money.  Built Alambagh gate. Constructed Sikandar Bagh gate in memory of Begum Sikandar Mahal, Chhatar Manzil etc. All these Nawabs were of Persian origin.
Itinerary
Lucknow is capital of state Uttar Pradesh, India.It is well connected by air and trains from all major cities of India. Below was my itinerary for visit to Lucknow monuments. Actually this is the order in which guide took the trip and covered all from 9.30 AM to 5.30 PM. on his bike.
Where to stay in Lucknow
I normally stay at state tourism guest houses and my experience has been good at all guest  houses in entire India.  For Uttar Pradesh you can book online using  https://online.up-tourism.com/booking
About Tomb
Ironically Saadat Khan was founder of Nawab system in Lucknow while Saadat Ali Khan was was first puppet Nawab for British. He started building "Residency" for British. Tombs of Saadat Ali Khan and his wife Murshid Zadi are in same campus.
Inside the Saadat Ali Khan Tomb
Begum Khursheed Tomb – It is  tomb of wife of Saadat Ali Khan known as Begum Mursheed Zadi. This tomb is in same campus of Saadat Ali Khan tomb. It was started by Saadat Ali and completed by Gazi-ud-din Hyder.
Epilogue
I think whoever visits Lucknow should also visit this tomb which is in vicinity of Kaiser Bagh Palace, Safed baradari and Lakkhi Darwaza. The campus has beautiful garden and you can pass good time sitting here for half an hour.
Hits: 231