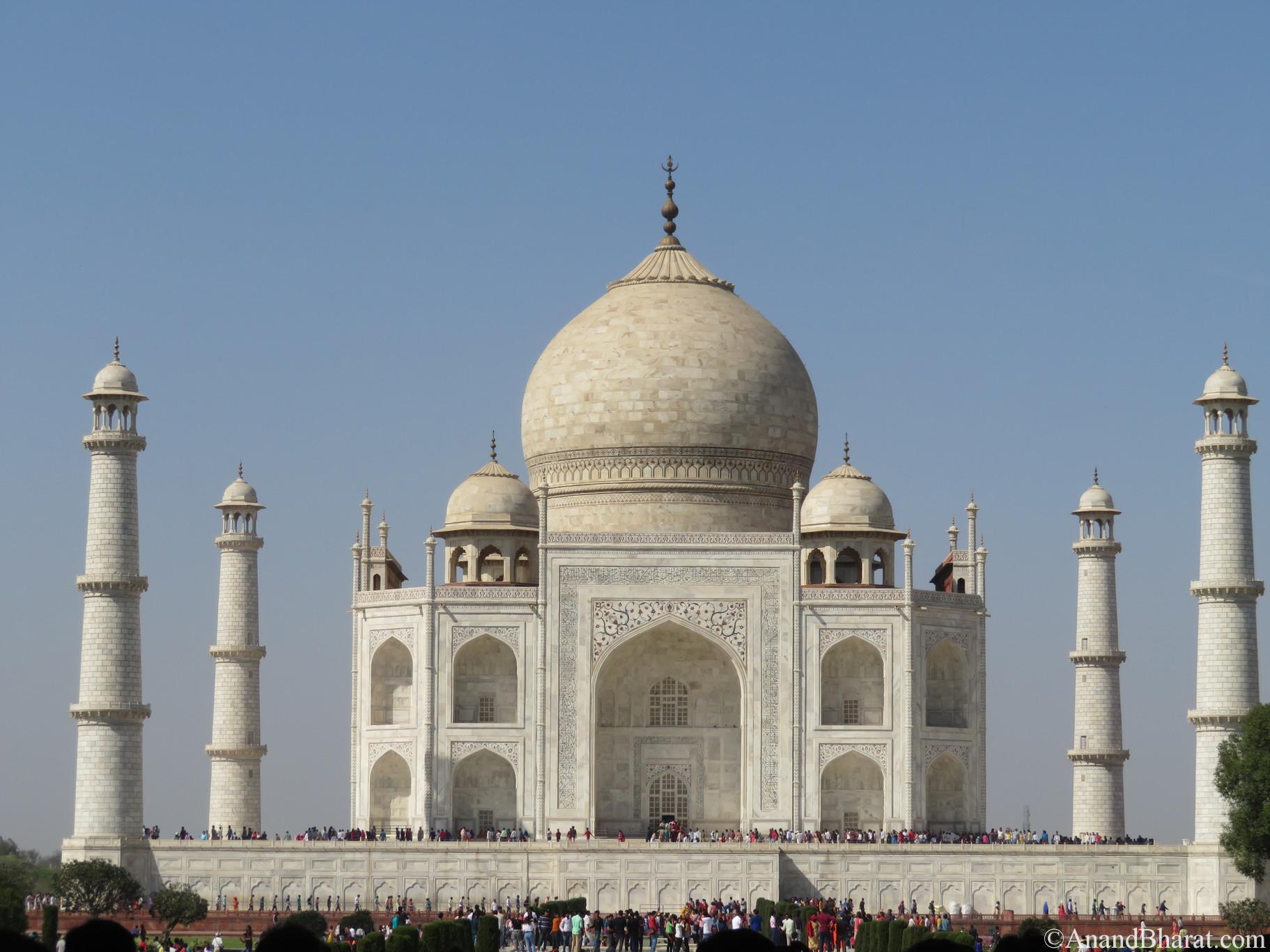 The Taj Mahal- A Metaphor of Love
---
ढूंढोगे कहाँ मुझको, मेरा पता लेते जाओ,
एक कब्र नई होगी एक जलता दिया होगा।
I was just standing in front of Taj Mahal and wondering the shine which had glowed my heart 26 years ago has conspicuously dimmed a bit when I saw Taj Mahal this time. Yes, I had that warmth of its glow for all these years which was not superseded by Leaning Tower of Pisa which I saw later. But still I can challenge no monuments in all world can compete with Taj Mahal beauty still. Swarms and swarms of foreign tourists I was seeing in the hotel where I was staying in Agra. It was looking as if they have come on pilgrimage to Mecca of monuments.
I do not know suddenly I started thinking about Mumtaz Mahal who died at young age of 38 only while giving birth to 14th child. She who became second wife to Shah Jahan just after 5 years of marriage? Did Shah Jahan really love her? But as I know it was not a love marriage (Unlike his deadly lover father Jahangir) too as Mumtaz was niece of Nur Jahan (Shah Jahan's step mother).
But truly speaking respect came to my mind for Mumtaz Mahal that she was mother of  sensational figures of Indian history, Dara Shikoh, Jahanara, Roshanara and Aurangzeb. Those who made Mughal history bloody for their own family. Was Mumtaz lucky not to live long and see her husband imprisoned for 8 years and the bloody fights for throne?
It was my first day at Agra and I first thought to see Agra Fort and then Taj. I started the day at 9.30 AM. I hired a guide at Agra Fort and I finished leisurely and took 2 rounds inside Agra fort. I finished at 2.15 PM as Agra fort is almost as big as Red Fort.
Lot of autos were available in front of Agra Fort. I took one to reach Taj Mahal which is just 3 Kilometers. In March luckily sun was not so hot.
I reached the Taj Mahal East gate ticket counter. There was a queue and you have to have some identity proof to show for ticket. After this I had to be in one more queue at the security check. It was a bit long. If you want special entry, you need to take a special ticket at counter. For foreigners there is separate queue.
While still I was standing in a corner, luckily not noticed by any guide, and then I remembered Red fort where Aurangzeb stopped the "water supply" to the section of red fort where Dara Shikoh used to live and then how he had to flee from fort. How Shah Jahan would have spent the months of revolt of Aurangzeb. How Jahabarara supported Dara and Roshanara was spying for Aurangzeb against Dara. How Dara Shikoh was murdered brutally by his own blood Aurangzeb.
Before i could recollect the novel "Lal Quila" by Acharya Chatursen where he beautifully described these bloody battles and Rajput roles in details, three four guides surrounded me. Actually I did not have much time for standing and pondering gloomingly over history,
I settled for a guide quickly. It is not really required to take guide at Taj except that he will help you in your photo session as they know the points to take photos. Before leaving guide explicitly clarified to me that " Shah Jahan had not ordered the chopping off hands of Taj Mahal masons. Actually he had promised to support their 7 generations for not working to make another Taj anywhere. As per him this metaphor has been publicised as "chopping off hands". Logically guide seems right to me.
My Itinerary
This world Heritage built in 1643 AD and one of seven wonders of world in located in Agra, India is one of the seven wonders of world in line with Great Pyramid of Giza, Great Wall of China, Petra,The Colosseum, Chichen Itza, Machu Picchu, and Christ the Redeemer
I booked hotel "Agra Regal Vista" through Sterling resort. Hotel service was satisfactory and room was really cosy.
Day 1- I had two full days of stay at Agra. On day one I visited Agra Fort and Taj Mahal full day from 9.30 to 5.30 PM. I came to hotel and took rest. In hotel I enquired about the best mode to go from Agra to Fatehpur Sikri. Sikri is 40 KM from Agra. Hotel staff suggested me to take bus (1 hr 20 mins journey). They also suggested me to take auto for seeing Sikandra (Akbar Tomb) which is 15 KM from city.
Day 2- Next day started at 7 AM by taking an auto for Sikandra (Akbar's tomb), Mariam's Tomb  (Daughter of  Hindu Raja Bharmal of Amer, mother of Jahangir) and Chini Ka Rauza and E'timad-Ud-DaulahTomb ( Father of Nurjahan, Prime minister of Jahangir). We settled in Rs.500. I finished all these monuments by 10.30 and he dropped me at bus station at 10.30 AM to catch government bus to Fatehpur Sikri.
\
River Yamuna just touching Taj Mahal. Month of March when water is less.The below are my remembrances to carry this time. Thanks to dear guide for this photo session which he finished in just 1 minute.
Epilogue
If in world there is Mecca of Monuments. then it is Agra. Of course Agra in beauty and Delhi in number of monuments. In fact Delhi will supercede Europe in number of monuments in all Europe. Though a few churches in Europe are also unparalleled yet Taj Mahal stands out in beauty. If we see Agra Fort, whose marbel part was built by Shah Jahan specially Angoori Bagh, his bed room, Sheesh Mahal and Roshanara and Jahanara mahal are great and remind some most beautiful portions of Red Fort in Delhi. Sikandra, Eti-mad-Ud-Daulah Tomb are some great tombs which stand equal to Humayun Tomb in Delhi..
मिट्टी मेरी कब्र से उठा रहा है कोई,
मरने के बाद भी याद आ रहा है कोई,
ऐ खुदा कुछ पल की मोहलत और दे दे,
उदास मेरी कब्र से जा रहा है कोई।
Hits: 338