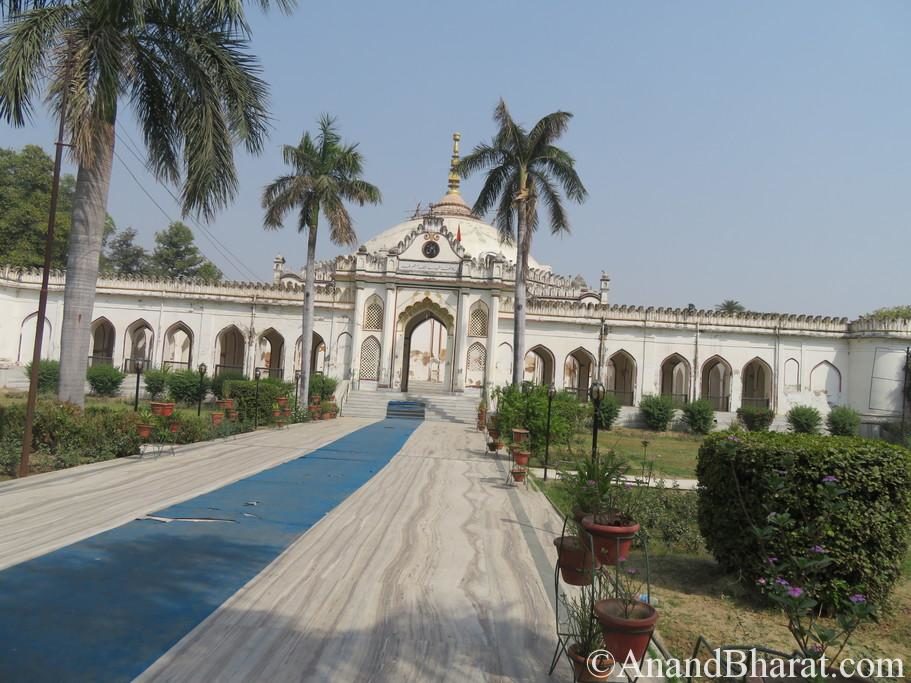 Shah Najaf Tomb- A yesterday of Lucknow
हम भी बीते हुए को जी लेते हैं.
और एक दिन हम न होंगे … पर हमारा निशां होगा.
It was my second trip to Lucknow. UPSTDC guys settled for a guide for me for Rs.700 and overwhelmingly he came in tie and in full enthu next morning in his bike. Since I was alone he offered to accompany me in bike for my convenience. It was my second point of they day after Sikandarbag. It was quite calm here. This Makbara is of Nawab Ghazi-ud-Din Haidar. He built this tomb for himself and his family members, tomb of his father Saadat Ali Khan nearby  and also Chhattar Manzil in Lucknow.
There is no meaning of visiting Lucknow monuments until we know its history at least from Mughal period.
Akbar divided his Mughal kingdom in 12 provinces. One province was Awadh (area between Ganges and Yamuna). Later under weakening Mughals in beginning of 18th century Saadat Khan (NOT Saadat Ali Khan) was appointed first Nawab (Derived from Naib in Persian means "assistant") of Awadh. He was followed by Shuja-ud-daula who lost to British in Battle of Buxar in 1774. His son Asaf-ud-daula was 4th Nawab who built  "Asafi (bara) Imambara" and "Rumi Darwaza". After battle of Buxar British made Saadat Ali khan as first "puppet Nawab" of Awadh. After him his son Ghazi-Ud-Din Haidar and in few successions Muhammad Ali Shah became nawab from (1837-42) who built Chhota Imambara and Sat Khanda. All these Nawabs were of Persian (Iranian) origin. Wajid Ali Shah (1842-1856)  was exiled to Kolkata and this ignited  fury among locals of Awadh which reflected in fierce battle of 1857 in Awadh which we can see in "Residency" in Lucknow. During his time all Lucknow was prevailing with "Afeem", Chess, luxurious life, luxurious art, dance. It is said that even rikshawala would buy Afeem instead of loaf from his hard earned money.
Ghazi-ud-Din Haidar started his own coinage with below fish and crown figure printed.
Ghazi-ud-Din-Haider (1814-1827) built Shah Najaf Imambara  in memory of Hazrat Ali, son-in-law of founder of Islam, Hazrat muhammad. It is named so as it is copy of Najaf, Iran Imambara.
As per will of Nawab he is buried here in 1827 AD. Built of Lakhuri bricks like used in Bara and chhota imambara.
The central part has zarib, almas and tazias.
Central hall has graves of the Nawab and his three queens Sarfaraz Mahal, mubarak Mahal and Mumtaz Mahal.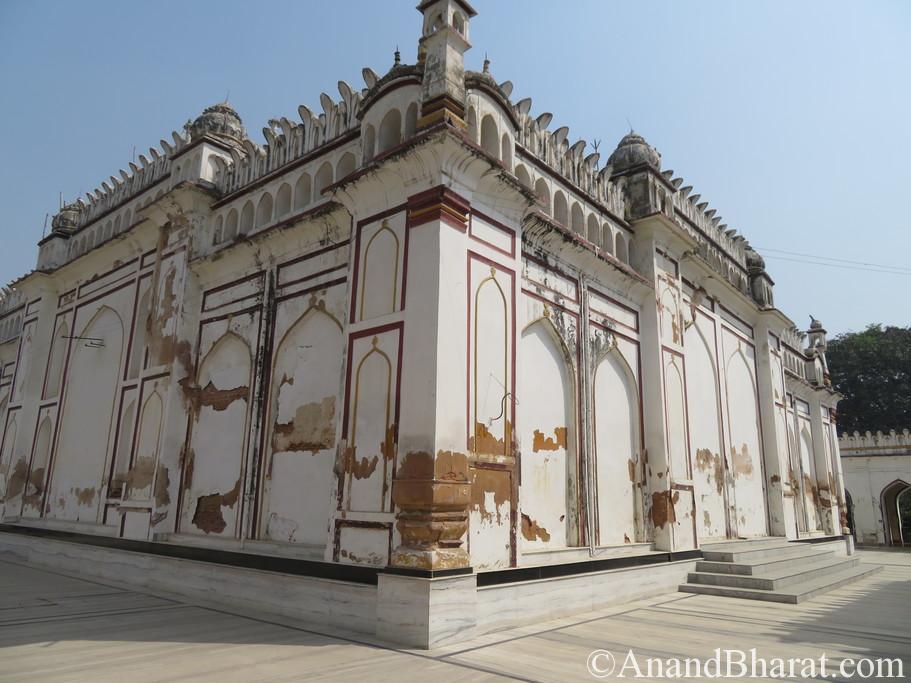 it was strong hold during 1857 revolt and British army took hold of it with fierce fighting.
Epilogue
Comparatively less visited by tourists in Lucknow. It is tomb (1838 AD) of Nawab Ghazi-Ud-Din Haider. Elaborating further he was grandson of Nawab Shuja-Ud-Daula who lost Awadh to British in 1774 in Battle of Buxar. Nothing very special about this but it is a continuation of marks left by Nawabs of Lucknow. He also built tomb of Saadat Ali Khan and Begum Khursheed  his parents in Lucknow.
Hits: 181