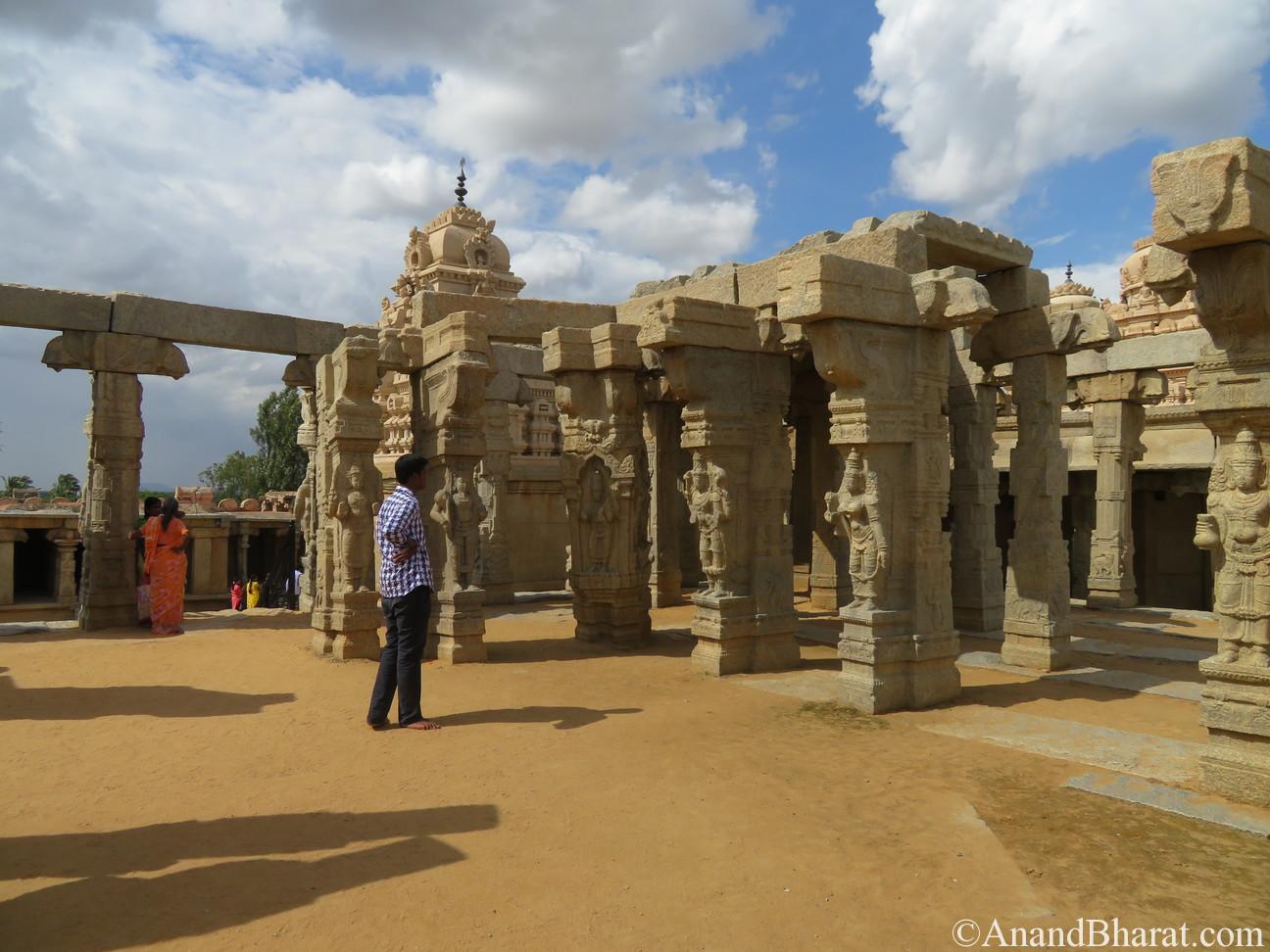 Lepakshi Temple -Not simply what we see
We had planned to start for Lepakshi on this Saturday at 7 AM but somehow due to some confusions we could only start by 10.30 AM. Our plan was to visit Bhoga Nandeeshwara and Sir Visvesvaraya birth place, Muddenahalli on way but due to lack of time we dropped seeing this on way.
We took breakfast at hotel "Udupi Swada", one of the best restaurants between Hebbal and Lepakshi on NH7 , just before where we take turn to go to Nandi Hill road.  Enough parking.
After passing Bagepalli we could see a big gate with Nandi statue indicating the deviation to Lepakshi. We reached Lepakshi, a small village  at 1 PM.  Population seems to be less and I think this temple is the only thing for which this village is famous for. There is no language problem here,  people seem to be good and there were no taxes inside and around temple, nor will any local vendors will trouble you. Car parking is available at the temple gate. Just as caution keep the eatables with you as good hotels are scarce in 50 Km radius of Lepakshi.
Where to stay in Lepakshi
State Government Andhra Pradesh Tourism Corporation runs  Haritha hotel (www.harithahotel.com) in Lepakshi.  Online booking  aptourism.gov.in ( a very good site ) and toll free number 1800-4254-5454. Rooms are good, AC and NON AC, spacious and very reasonable rate. You can get buffet South Indian meals here.
How to reach
This temple is in Anantpur distt of Andhra Pradesh. Nearest railway station is Hindupur (15 KM ). Bangalore is 110 KM via NH7. Hindupur and Anantpur are well connected by road and public transport also.
Not simply what we see here
There are a few unique illustrations about this temple unlike other temples..
No foundation                                                                                                                                                                                  Uniquely whole temple is on rock and there no foundation as such.
Hanging pillar                                                                                                                                                                                  There are 70 pillars in dancing room. One pillar in this was completely hanging but we see that now a very small bit of pillar corner touches ground after it was disturbed by British engineer Hamilton in 1902 while investigating the truth about load bearing.
Naga Shivalinga  and Nandi                                                                                                                                                          There is Naga Shivlinga which seems was constructed in one day time. There is one Nandi Bull statue        ( world's largest ) statue 200 meters away from this Naga Shivlinga. This is the only Nandi which does not have Shivalinga in front of it but its head up looking towards Naga Shivlinga.
Sita foot                                                                                                                                                                                          It is said the seeing the size of Sita Mata foot her height must be about 25 feet.  It is claimed that in treta yug the human height above 25 feet which reduced to 15 feet in dwapar yug and now in Kalyug some times we see people with 7 to 9 feet. There are reports which say this temple was built by giants of height more than 20 feet.
Another strange story is from locals that today this temple is world famous due to its uniqueness of creation still Viruppana,one of the two creators  of this temple faced wrath of Vijaynagar king, plucking his both eyes.
In total there are 890 pillars in this temple and all have some sculpture and carvings.
Location
The temple is located in Andhra Pradesh. It is 120 KM from Bangalore and 15 KM from nearest railway station Hindupur.
History
Luckily we could locate a guide named Raghu ( 9030670262 ) inside the temple.This temple was built to house the famed God Veerbhadra ( fiery form of Shiva ) and  was constructed by two ministers ( brothers Viranna and Virupanna ) of King Achut Raya ( brother of Krishna deva raya ) of Vijay Nagar Empire in 1539. Vijayanagara Kingdom  (1336–1646 ) was one of the glorious kingdoms of India in this age. Before this  temple  this hillock known as Kurma Saila, "tortoise shaped hill", five temples and Sita mata foot existed in open dedicated to Shiva and Vishnu.
The complete structure of temple consistes of 9 mandapas – Garbh grah,  Dancing hall, Temple entrance along with four mandapas, bit far apart from temple. Now the four mandapas are occupied by local population and so not visible.
Veer bhadra Temple
Veerbhadra ( fiery Shiva ) is main deity in this temple and was family God of Viranna and Virupanna. The other temples inside Veerbhadra temples are Durga temple, Navgraha temple, Ganesha, Papanashewara    ( Shiva ),  Agatasya cave, Parwati temple, Ramalingamu, Raghu Nada Swamy and Veerbhadra temple.
There are total 5 shiv lingas. Out of these 3 are inside the temple – Papa nasheshwer, Rama Lingam and Hanuman lingam.
Hanging Pillar
There are 70 pillars in dancing room. one pillar in this was completely hanging. As per guide and locals in 1902 a British engineer wanted to verify the truth and tried to disturb hanging pillar with iron rod and due to this the whole structure got disturbed and some pillars lost their vertical as shown below. Today due to that hanging pillar north west corner slightly touched the base. Guide showed me two proofs of disturbed pillar. Further investigation was stopped by British.
Dancing Hall
Sculpture of Apsara Rambha, Dattatreya, Shiva, Parwati, Surya God, Varah, Riteshwar, Nandi, Bramha, Natraj, Chandra God, Sanataneshwara rishi. are carved on 12 pillars while other 58 pillars have other mythological carvings.
Incomplete Kalyan Mandap
Some people say it is marriage hall but as per guide it is not the actual marriage venue site of Lord Shiva and Parwati but it is depiction of the same. The marriage was performed at Bhoga Nandeesh which is about 60 Km from Lepakshi on way to Bangalore and near Nandi Hills.
This mandap has the beautiful sculpture of dignitiaries who had visited during that time.
The Gods on pillars are shown with their chariots such as bull, eagle, capricon etc while the sages ( Bramh Rishis and Raj Rishis ) are on foot.
Lata Mandap ( House of creepers)
The house of creepers. Even today these 500 years old designs are used in saree borders. There are 36 pillars with 4 different designs on each pillar making it 144 different designs. Even now also sarees are sold with these designs called Lepakshi designs.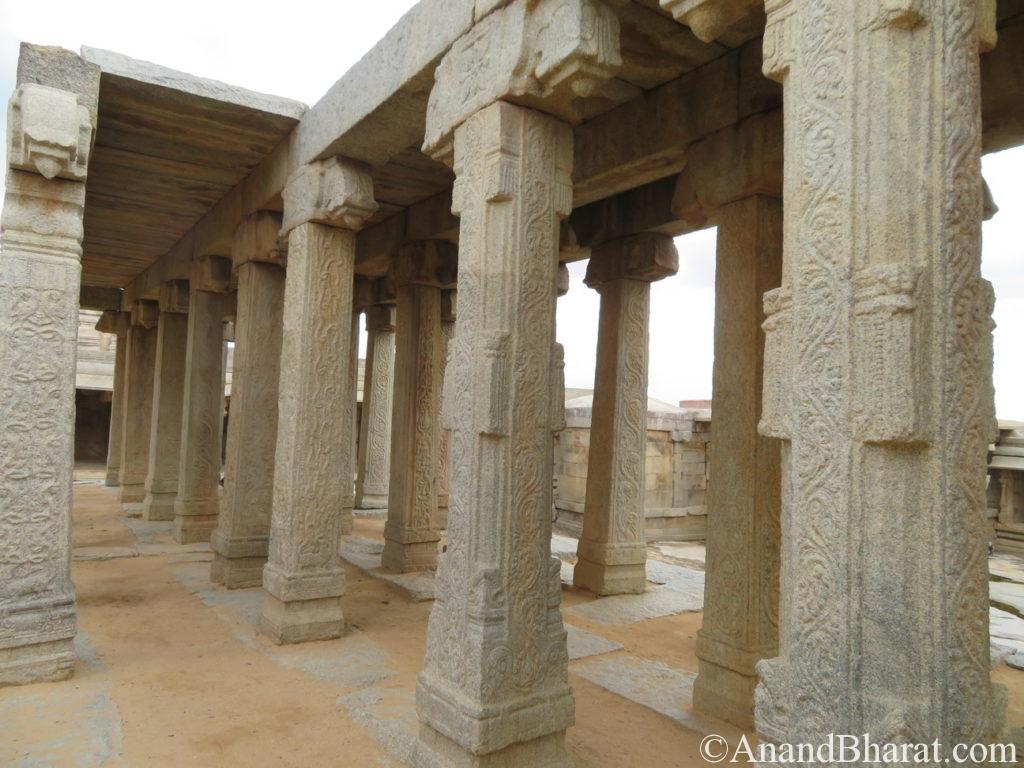 Maa Sita Foot
There is print on rock which is legendarily said to be print of Sita who descended here to bless bird king "Jatayu" who had tried to save Sita from Ravana and in the process got killed. As per guide the height of Sita must have been 25-32 feet seeing the size of foot. Mata Sita had blessed Jatayu that he will die only when Ram will reach him searching for her.
Nandi 
200 meters away from the Veerbhadra temple is located a magnificent God Nandi bull, giant statue, synonymous with Lepakshi and regarded as world's biggest Nandi. It is 4.5 meter high and 8.23 meters long and is positioned such that it faces the Shivlinga shielded by a huge seven headed serpent inside the temple..
Eyes of Viruppana
The Minister builder Virupanna was accused guilty of having taken out money from treasury without permission of king Achut Raya. So king ordered to pluck eyes of Virupanna. Thereafter this incident this mandap remained incomplete.
On one of the walls of temple we can see the stains of the plucked eyes which saddened Virupanna  himself took out and threw on the particular wall of the Gopurs. This is the story which prevails among locals since last 500 years. This wall is very popular among the tourists and I saw almost all taking photo of this wall. Strange.
Hanuman, Lord Ganesha,Dharmshala and Old trees
Dharmashala surrounds the  south and west side the temple . These are just corridors and were meant for pilgrims to stay for a night. All pillars have carvings in dharmshala. There are two very old trees which are unique and I never saw these types of trees else. These enhance the beauty of temple.
Shivalinga 
There is one more shivalinga and as per guide it was built by Chola kings 800 years ago and before thisVeerbhadra temple existed.
Havan Kund and Panchang Sravan
On the North side corner of temple there are 2 pillared structures which are known as Havan kund and and other is Panchang Sravan. In Havan kund the Yagna is conducted on day of Shivrati
There is a havan kund here and even today havan is conducted here on day of Maha Shiv Ratri. While Panchang sravan was used by locals to hear and know about the auspicious times and astrology.
Naga Linga
It seems Naga Linga is said to have been constructed in a single day before the cooking finished for workers. As soon as the mother of architect came out of kitchen she was taken by the speedy and art work and due to her evil eye ( superstition?) the crack appeared. Even today we can see the cracks as guide showed. Government body ASi has tried to fill some cracks. And as per guide in order to continue worship of Naga linga , a shivalinga is kept.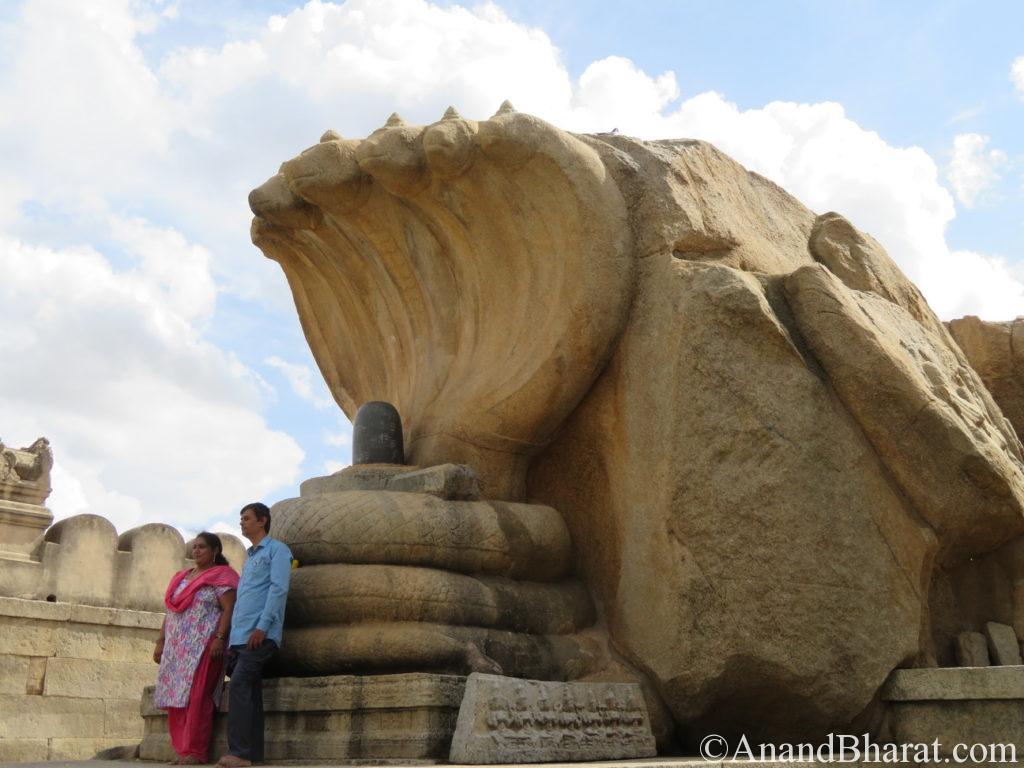 I am seeing almost all visitors taking their selfie at this legendary spot and same Naga linga is visible from  200 meters away Nandi.
SriKalaHasti
Srikalahasti temple, situated 36 km away from Tirupati and is regarded as Rahu-Ketu kshetra and Dakshina Kasi. This sculpture at Lepakshi is depiction of Srikalahasti on rock. It depicts Lord Shiva linga, Spider, elephant and snake are  on rock.
Ambiance around temple
The village is small and locals seem to be co-operative and peaceful.  There is good garden outside the temple and Andhra Pradesh Tourism Devlopment corporation runs a hotel with AC and Non AC rooms with very nominal charges. I visited the hotel which looks clean and buffet South Indian meals was available till 3 PM.
Excursions
Excursions to cover some heritage places in Anantpur Distt of Andhra Pradesh are
Gooty Fort – 52 km from Ananthapur . Built by Vijaynagar empire
Hemavathi architecture – Pallava's 1000 year old architecture – Near Hindupur
Penukonda Fort – 50 km from Ananthapur. Built by Vijaynagar empire
Epilogue
The 500 years old ( Ending era of Vijaynagar Empire ) though Kalyan mantap is incomplete yet one of the most decorated sculpture, 890 pillars around, depicts kalyan mandap, dancing hall of Shiva marriage, Veerbhadra ( fiery Shiva ) temple, Seeta foot, Naga Linga and above all world's largest God Nandi bull and hanging pillar are the main attarctions in this temple. Of course take a guide to understand this temple. This temple has something more to offer to tourists as many stories are associated with this temple unlike other temples. Temple is maintained well by ASI.
Hits: 350