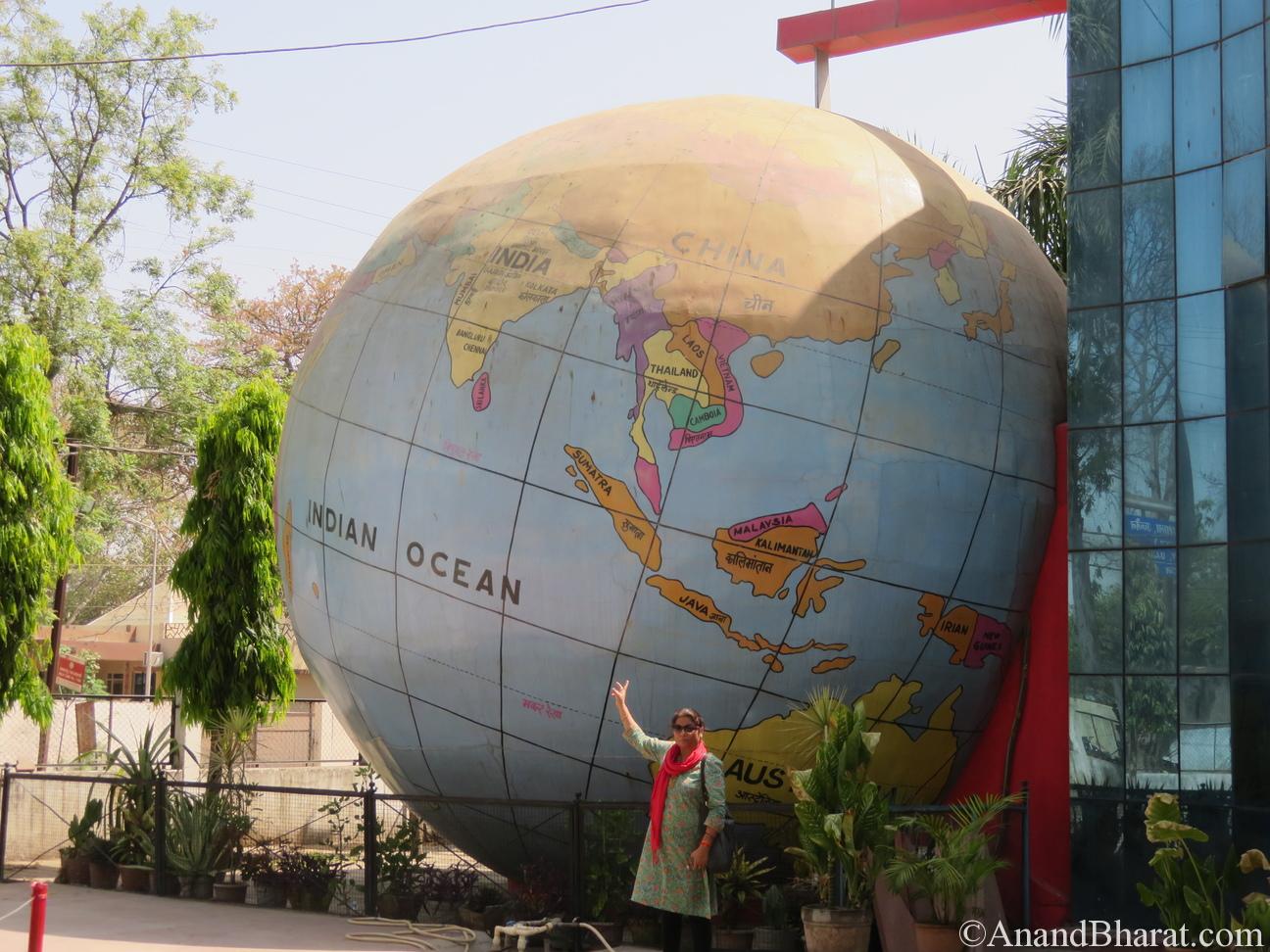 Jantar Mantar – Ujjain past glory
When I visited Ujjain in April,2017 there were 14 temples along with Jantar mantar were under our local Ujjain trip itinerary. But we had to miss Jantar mantar as by the time we finished eleven temples it grew dark. So visited Jantar Mantar, Bhrithari caves and Sinhasan Battisi the next day. If Ujjain is holy place due to its Mahakaleshwar temple then I will say the gem of past glory of Ujjain is Jantar mantar. Due to this 200 years old observatory Ujjain was called Greenwich of India.
Location
Ujjain, Madhya Padesh, India. Nearest railway station Ujjain which is well connected from all major cities as well as Bhopal and Indore. Most of the tourists who visit Madhya Pradesh first arrive at Bhopal or Indore as center point as most of the tourist points are covered via Bhopal or Indore.
Our Itinerary
Day 1: Reached Ujjain early morning 5.30 AM. Checked in hotel Avantika of MPSTDC and visited Ujjain temples (8 hrs).
Day 2 : Next day visited Jantar mantar Ujjain, Brith Hari caves, Vetaal Sinhasan and Triveni museum. Caught 1.30 PM train and checked in at Udaygiri caves hotel of MPSTDC.
Day 3 : Visited Udaygiri caves from 7.30 AM (2.5 hrs) which was at walking distance from the beautiful hotel. And headed for Sanchi by Taxi at 10.30 AM which was 18 KM from this place. Sanchi seeing takes about 2.5 hrs. Reached Bhopal by 8 PM. Checked in MPSTDC approved home stays which was not good and warm. Avoid staying MPSTDC approved home stays.
Day 4 : Started from Bhopal by taxi to see Bhojpur temple (28 KM). Takes 1 hr to see this temple. Headed for Bhimbetka (25 KM from Bhojpur temple). Reached Bhimbetka by 2 PM. Came back to Bhopal by 7 PM.
List of main tourist places in Madhya Pradesh and Chhatishgarh
Though these states are having many places to visit but just listing here a few important ones listed by Madhya Pradesh Tourist Dev Corporation.
My Itinerary
I had about a week and covered a few places as below.
Where to stay
I stayed at MPSTDC state government hotel at Ujjain. It was cheap and very big hotel and having beautiful premises. There was good restaurant and children park inside the premises.
Additionally I suggest that one should avoid staying MPSTDC approved Home stays as they may be at places where you may not find restaurants and Guest handling at home stays will be very poor as they are not trained. They may give you wrong information about their home stays. So better try to avoid booking such MSTDC home stays.
My experience at Jantar Mantar
I had about 1.5 days at my disposal at Ujjain. First day passed in Mahakaleshwar temple, Mahakaal temple visit and 12 other temples so the tourist bus could not cover this place. I visited next day. I reached there at 11 AM and only 3-4 more visitors were there. The care taker of the vedh shala came forward and offered to be guide and explained the instruments in brief 20 minutes.
About the Vedh Shala ( Jantar Mantar) Instruments
Ujjain enjoyed a position of considerable importance in the field of astronomy. Great works on astronomy such as "Surya Siddhanta" and the "Panch Siddhantha" were written in Ujjain.
According to Indian astronomers the Tropic of Cancer passes through Ujjain. It is also the first meridian of longitude of the Hindu geographers. From about 4th century BC, Ujjain enjoyed the privilege of being India Greenwich.
The observatory extant today was commissioned in 1719 by Raja Jai Singh (1686-1743) who was a great scholar. He translated the works of Ptolemy and Euclid in Sanskrit from Arabic.
Of the other observatories made by him such as Delhi, Varanasi, Jaipur, Mathura this of Ujjain is still in use today.
Astronomical studies are conducted by Department of Education and the ephemeris is published every year.
There is a small planetarium and a telescope to observe moon, Mars, Jupiter and their satellites. The telescope lens is 8 inch dia, with solar filter and is used to see sun surface and spots, see sky in night.
The observatory is also used for weather forecasts. It also has a library with 950 astronomical literature books and has panchang since 1942.
Telescope fee is Rs.20 while planetarium fee is Rs.20. A large number of shows (29) are conducted here.
Samrata Yantra ( Sun Dial Yantra)
Seems name given on name of great scholar Pandit Jaganath Samrat in assemply of Raja Sawai Jai Singh.
Most of the studies about planets can be done with this single instrument such as time, earth revolution, planet positions, Yamotra lines, marriage line etc.
The shadow sign  made on walls of the stair can help in knowing which planet is how far from North or south axis of earth. Embedded in this instrument there is a table with carries month and time to add to get IST. The guide told me exact time by this table and shadow on the circle of this instrument.
Shanku Yantra
16 feet is diameter and height is 1.5 feet. There are blue lines drawn which show as lines of capricon.
The shadow tip of gnomon roams along this lines.
The longest day ( 21 June) is displayed by the roaming shadow of the gnomon on the longest line and smallest day is recognized by the roam on smallest line. Lines in middle display the increase and decrease in days. Was also used to calculate auspicious day. By seeing the way of circumference of shadow of gnomon the circumference of earth revolution is felt.
Nadi Yantra
Used to find if the celestial body is in northern hemisphere or southern. When sun is in northern hemisphere for 6 month the northern disc is illuminated. Also this instrument is called watch of Ujjain to calculate time in Ujjain.
Transit Instrument
At the time of the transit of Celestial body, the observer has to keep his eye on the string and move it forward or
backward to determine the particular position of the string at which the center of heavenly body could be seen, through the point of the intersection of peg and the wall. The reading of quadrant at this position of the string gives the zenith distance.
Epilogue
This observatory is corroboration to the fact that this place enjoyed not only high religious status but also enjoyed a very significant role in field of astrology and astronomy. You can spend about 30-40 minutes at this place. Though commonly it is difficult to understand the instruments if we we do not know astrological terms yet this place introduces us to past scientific glory of Ujjain. Guides are available here. In fact the person who issues entry ticket can guide you about the instruments.
Hits: 98