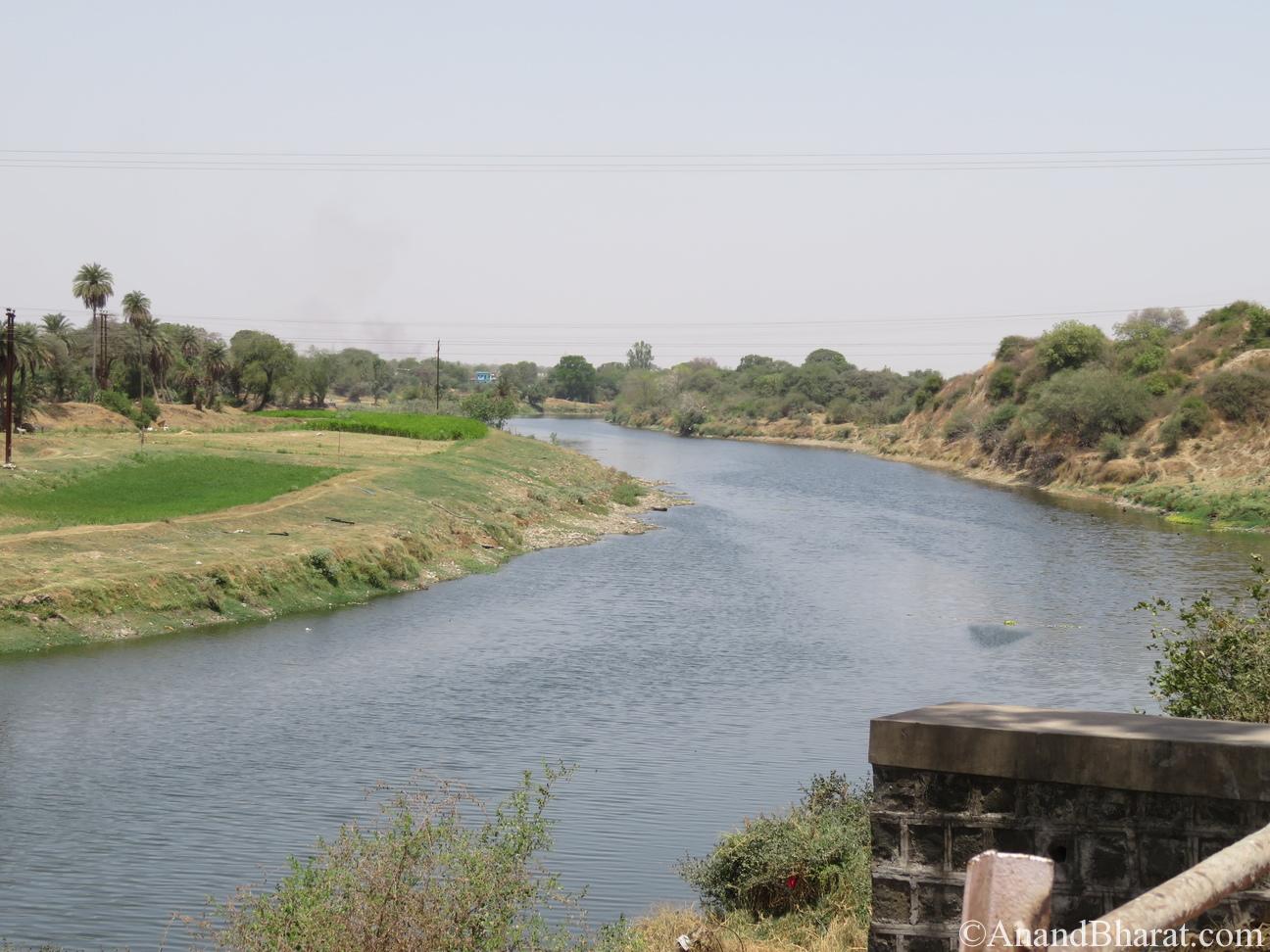 Ujjain- A passage to Holiness
I visited Ujjain once in 1997 and then in April,2017. I found that this place is mainly famous for its Mahakaleshwar and Kaal Bhairav temple, Bhrithari caves and Singhastan Battisi. Therefore it is  relevant to understand few concepts of Mahakaleshwar (Maha Kaal), Kaal Bhairav, Jyotirlinga, Vikramaditya if we are visiting Ujjain.
Who is Maha Kaal ?
There are 64 forms of Shiva. Shiva never takes incarnation. He is neither born nor dies (unlike Vishnu). As per Shiv Puran Lord Shiva had taken form of "Mahakal" to kill the Demon Dushan who used to plunder devotees of Lord Shiva in Ujjain.
Who is  Kaal Bhairav?
Once Bramha got egoistic and thought himself as powerful as Lord Shiva and started interfering in work of Shiva.
To pacify him Shiva threw his nail of his one finger which took form of Kaal Bhairav and which chopped of a head of Bramha.
So we see skull of Bramha in hands of Kaal Bhairav. Earlier Bramha had 5 heads and since then he has 4 heads.
Puranas gives different versions of Bhairava. In this version there was a war between gods and demons. To eradicate the demons, Shiva created Kala Bhairava.
Another version says that Kaal Bhairav is son of Lord Shiva.
What is Jyotirlinga? 
Once there was argument between Brahma and Vishnu as to who is supreme as creator. To test this Shiva created a pillar of light and asked them to touch top.
Brahma lied that he reached till top while Vishnu conceded defeat. Shiva cursed Brahma that he will not be part of any ceremonies while Vishnu will be worshiped eternally.
This form of pillar of light created by Shiva is called Jyotirlinga (linga) which represents no begin no end, symbolizing the infinite nature of Shiva.
Somnath in Gujarat
Mallikarjuna at Srisailam in Andhra Pradesh,
Mahakaleswar at Ujjain in Madhya Pradesh,
Omkareshwar in Madhya Pradesh,
Kedarnath in Himalayas,
Bhimashankar in Maharashtra,
Viswanath at Varanasi in Uttar Pradesh,
Triambakeshwar in Maharashtra,
Vaidyanath at Deogarh in Jharkhand or at Baijnath in Himachal Pradesh,
Nageswar at Dwarka in Gujarat,
Rameshwar at Rameswaram in Tamil Nadu and
Grishneshwar at Aurangabad in Maharashtra
Who is Raja Vikramaditya?
If we see the museum in Ujjain we can see many coins with image of legend Vikramaditya. So embedded was this legend in culture of Ujjain. As I understand king Vikramaditya is only a legendary figure in stories. Actually no such king existed. The stories related to King Vikramaditya are highly educational, with wisdom values and so much entertaining that it appear in form of comics, TV serials and story books.
Legend goes that he was son of King Gandharvsen who ruled in Dhara of Malwa region. There are two versions of series related to Vukramaditya one – Vetaal Pachisi and other
Singhastan Battisi. I will elaborate the concept and basis of these series in another article. Vetaal pachisi was written by Somdev in 12th century in Katha Sarit Sagar while writer and period of composition of Singhastan Battisi is still unknown.
Legend about Ujjain and sanctity of river Shipra
God like king Shiva of Avanti commemorated his victory over demon ruler Tripura or Tripuri on banks of Narmada by changing his capital name from Avantipur to Ujjayini (One who conquers with pride).
The sacredness of Shipra has its origin in the ancient mythological tale of churning ocean by using serpent Vasuki as rope.
The ocean first yielded fourteen gems, Laxmi and then finally a vessel of nectar (Amrit). There was fighting between gods and demon for nectar vessel and demons chased Gods. In this process some drops of nectar fell in Hardwar, Prayag, Nasik and Ujjayini. Hence is the sanctity of Shipra river.
Holy bathing rituals take place here every year from full moon day in month Chaitra (April) and end on full moon day in Vaisakh (May).
Modern name of Ujjayini is Ujjain.
Let us remember the king of poets Kalidas
It is unfair that if we visit Ujjayini and not know about Kalidas and his composition Meghdoot.
Meghdoot (Cloud messenger) is a composition of 100+ verses in Sanskrit language and describes anguish of a "yaksha" separated from his beloved due to a curse and sends messages to her through his city of Ramgiri (where he was in exile) which is identified near current Nagpur to city of Alka through a cloud. In this famous composition he describes Ujjayini and its people.
History of Ujjain
The early history of Ujjain is lost and only portions of 15th century wall surrounding the city remains today. I could not see this wall unfortunately.
In 6th century BC country Avanti as one of the Maha Janpadas along with others as Kosala, Vatsa and Magadha has capital as Ujjayini mentioned in Buddhist literature. It was a famous merchandise place with exports of gems, stones, silk, muslin, spices, scents etc. This is mentioned in "periplus of Eythrean Sea" an account by an unknown Greek merchant of first century AD.
More or less Paramara dynasty (earlier vassals of Rastrakutas) were main rulers in Avanti from 9th to 12 century AD. There were frequent wars between Paramars, Rastrakutas, Chalukyas, Kalchuries and Pratihars. From 946 AD the independent Paramara's rule began in Malwa region and king Siyaka is said to be founder of Paramars. In this time the Avanti capital was shifted to Ujjayini.
The famous temple of "Mahakal" is said to have many inscriptions  though only a few are extant today. From 9th to 12 the century AD the Parmaras were so much identified in Malawa that "tradition of Vikramaditya" converted into Paramars.
Later invasions
The last Paramar ruler was Siladitya who was captured alive by Sultan of Mandu and Ujjain passed to muslims and from here the ancient glory lost. The invasion of Sultan Iltutmish in 1234 AD triggered systematic desecration and despoiling of Hindu temples. This tide of destruction was stopped in time of Baz Bahadur of Mandu who was in order of mogul king Akbar.
Akbar stopped the atrocities and ordered the construction of wall surrounding Ujjain and several doors were constructed for entering into city of Ujjain. These doors are known as Nadi Darwaza,  Kalideh Darwaza, Sati Darwaza, Indore Darwaza,  An inscription at Sati darwaza states that a woman named Shiv was sati here.
In 1658 Aurangzeb defeated Maharaja Jaswant Singh who was fighting for his brother Dara Sikoh. The actual scen of battle was Dharmatpura which was renamed to Fatehabad by Aurangzeb. The centoph of Raja Rattan Singh of Ratlam still stands here in his memory.
It is said that Aurangzeb generously gave grants to temples and these grants are still preserved by priests ancestrally. In time of Muhammad Shah, Sawai Jai Singh was made governor of Malwa. He was great scholar in field of Astronomy.
Capture by Maratha
In beginning of 17th century many invasions from Marathas happened who gradually captured all Malwa region. Most of Ujjain temples were reconstructed during this time. There was cultural renaissance and 2 different types of paintings evolved in Ujjain one was Maratha style while other was traditional Malwa style. The Maratha style is in Kal Bharaiv, Kalpeshwar and Tilakeshwar temple etc while traditional Malwa painting is in Sandeepni Ashram.
More of wood work and carvings developed during Maratha time. Ujjain finally passed in hands of Scindias from 1750 to 1810 AD when Daulat Rao Scindia founded a new capital in Gwalior. This led to decline of Ujjain commercial value.
Location
Place is Ujjain, Madhya Padesh, India. Nearest railway station Ujjain which is well connected from all major cities as well as Bhopal and Indore and to south India. Most of the tourists who visit Madhya Pradesh first arrive at Bhopal or Indore as center point as most of the tourist points are covered via Bhopal or Indore. Nearest airport Indore (53 KM)
Where to stay
There are many dharm shalas and hotels in Ujjain and also MPSTDC state government hotels.
I had the reservation in MPSTDC hotel "Avantika Yatri Niwas" which is near the Ujjain bus stand. It is a beautiful and spread in few acres and big gardens, children play facility, spacious restaurant. If you are in group of 4 to 20 then here good AC dormitories are also available.
Our Itinerary
Day 1: Morning 8 AM visited 14 Ujjain temples (8 hrs).
Day 2 : Visited Jantar mantar Ujjain, Brith Hari caves, Vetaal Sinhasan and Triveni museum. Stay at Udaygiri.
Day 3 : Visited Uday giri caves from 7.30 AM (2.5 hrs) and headed for Sanchi by Taxi (18 KM). Spent 2.5 hrs at Sanchi. Reached Bhopal by 8 PM.
Day 4 : Started for Bhimbetka 10 AM and on way Bhojpur temple. Reached Bhimbetka. Came back to Bhopal by 7 PM.
List of main tourist places in Madhya Pradesh and Chhatishgarh
Though these states are having many places to visit but just listing here a few important ones listed by Madhya Pradesh Tourist Department.
Temples to be seen in Ujjain
Sri Mahakaleshwar Temple
The temple complex was destroyed by Iltutmish during his raid of Ujjain in 1234-35. It is acceptable fact that Mahakaleshwar Jyotirling was established in Ujjain in about 1736-39 AD by Ramchandra Shedvi Deevan of Ranoji Shinde (Sindhia).He was Saraswat Brahmin from Konkan region and was in Horse infantry division of Peshva Ranoji. Since ancient temple was destroyed by Iltutmish the new temple is established on top of old temple. Due to frequent invasions on Malwa region for long time temples could not be constructed in Ujjain. In 1720 Peshwa Bajirao-I won and gave to Ranoji to manage. Photography strictly not allowed in temple premises and we have to keep all goods and mobile in locker.
Every morning there is "Bhasm Aarti". For this you have to book one day before from a counter at Mahakaleshwar temple.
You need to take your ID proof. Next day morning you will be allowed to see Bhasm aarti by showing coupen. A holy bhasm will be given to you as "prasad".
Sri Chintamani Ganesh
Ganesh idol here is supposed to be "swayam bhu". Riddhi and Siddhi the two wives of Ganesh are seated on either side. The carved pillars in temple are dated back to Parmar Rajput kingdom.
It is famous among visitors as it is called idol which gives freedom from all worldly anxieties.
Sri Shani Shakti Peeth
Bade Ganeshji
There is huge idol of Lord Ganesh, son of Lord Shiva.Also there is idol of Panch mukhi Hanuman (5 faced Hanuman).
One can learn sanskrit and astrology in this temple.
Sri Harisiddhi Mata temple
In Shiva puran it is said that when Lord Shiva carried the body of Sati her elbow fell here.
As per legend in Skand Puran there is a story that how goddess Chandi acquired the epithet of Harsiddhi. Once when Shiva and Parwati were alone on Kailash mountain two demons Chand and Prachand tried to force in and then Shiva requested Chandi to destroy them. Goddess Chandi did so and happy Shiva bestowed upon her the epithet of one who vanquishes all (har siddhi means all powers). This temple was reconstructed during Maratha period.
There is ancient lamp pillar which is lit daily with hundreds of lamps during navratri.
Sri Char dham temple
This temple is near Har siddh temple and was established by Swamy Swarupanand and Parmanand Maharaj. In temple we see all 4 dhams.
Ramghat
It is said that Sri Ram came on this dhat for "pind daan" for his father king Dasaratha.
Bhrithari caves
These caves are located just on bank of river Shipra. This is the spot where king Bhrithari (elder brother of King Vikramaditya) lived and meditated here after renouncing the world. He was a great scholar and wrote books such as Shringarshatak, Vairagya shatak, and Niti Shatak.
Sri Garh kalika temple
Very near Bhrithari caves is this temple. It is said that poet Kalidas worshiped this goddess and it is said that he attained wisdom by this worship.
Sri Kal Bhairav Temple
The worship of 8 Bhairavaras is part of Shaivite tradition and chief among them is Kal Bhairav. This temple is believed to have been built by King Bhadrasen. There is mention of this temple in Avanti khand of Skand Puran. Aghoris and Kapaliks also worship this god. Even today liquor is offered to God in this temple.
Beautiful paintings of Maratha style can be seen still though now only in traces.
Sri Siddhwat
There is a banyan tree here which is given the same sanctity as the Akshayvat in Gaya and Prayag, vanshi vat in Vrindavan and Panchvata in Nasik. It is beleived that Parwati performed her penance here. This is a place of worship for "Natha sanct".
It is said that mughals tried to destropy the banyan tree by destroying roots and covering by iron sheet but could not.
Sri Mangalnath temple
This place is regarded as bith place of Mars according to Matsa Puran. Mahadev of Shiva deity is worshipped
in this temple. This temple is in a calm place and in arm of Shipra.
Sri Sandeepni Ashram
It was learning seat from Mahabharata period (4500 years). Sudama and Lord Krishna were taught by Guru Sandeepni here.The area near near the ashram is known as Anka pata (slate) believed to be the place where Krishna used to wash his writing tablet.The numerals from 1 to 100 found on stone here are said to be engraved by Guru Sandeepni. There is a Gomti Kunda which was source of water from mahabharata period. An image of standing Nandi is of Sunga period.
Jantar Mantar
Ujjain enjoyed a considerable importance in field of astronomy. Great works of astronomy such as Surya Siddhant,  Panch Siddhant were written in Ujjain. Tropic of cancer passes through Ujjain. It is also first meridian of longitude of Hindu geographers. From about 4th century Ujjain enjoyed the reputation of being India.s greenwich. The observatory extant today was built by Sawai Raja Jai Singh (1686-1743). Ujjain is one which is still in use even today. There is a small telescope here to observe Mars, moon, Jupiter and their satellites.
Tourist places near Ujjain
Dewas : 37 KM
Omkareshwar : 152 KM
Maheshwar : 146 KM from Ujjain and 62 KM from Omkareshwar
Mandsaur : 191 KM
Mandu : 146 KM
Indore : 56 KM
Epilogue
Today Ujjain abounds in temples and traditions and legends are still even today attached to each of them. But it is true that mostly (almost all) are built upon sites of antiquity and none have survived in original now. Desecration and despoiling time and time again , the structures that stand today are more of recent dates, renovated or rebuilt.
Yet these temples are integral part of city of Ujjain, propagate the Hindu faith, culture and contribute to Hindu Sanaatan religion continuity.
Note
1. For Bhasm Aarti you need to book one day in advance so that you can attend the same next day at 5 AM. For booking you need to have your ID proof for each member. I think you can book for Bhasm aarti  on line also but I have no experience on this.
2. I was not happy with the attitude of priests here who are just behind money. They neither gave me any receipt and took exhorbitant mony for Rudrabhishek. There is no management to look into these acts of priestd also.
3. I also heard that you can get the rudrabhishel done by sending a fee to priest here. But my one relative told that even if you send fee priests do not post "prasad".
Overall I was sad to see the management and priests attitude in Mahakaleshwar temple.
Reference 
Historical reference from Guide issued to tourists by Madhya Pradesh Tourist Development corporation. Adopted from text from Chandra Chari.
Hits: 301