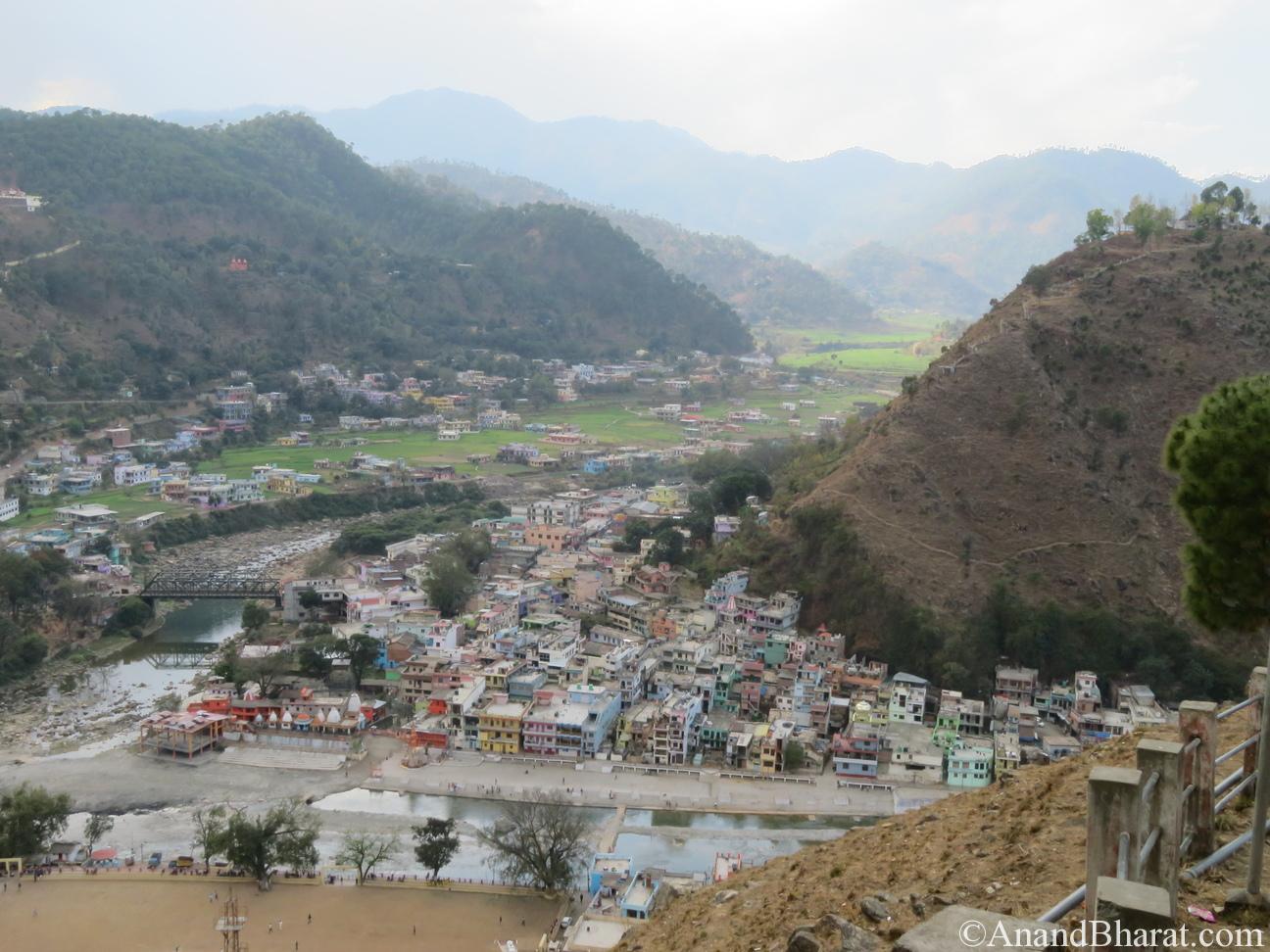 Bagheshwar- Uttarakhand's Kumayun Travel Part -1
March,2017
Bageshwar located at junction of Saryu and Gomti river is an important tourist place indicated on Uttarakhand tourist map. As per legends Lord Shiva roamed here in form of a tiger.
You can visit this place when you are on way to see 1000 years Baijnath Dham temple complex which is just 20 KM from here.
As per this State Archaeological board, The Shiva Ling inside Baghnath temple is recent idol. In this temple complex the idols from 7th to 16th century are present and government has added temples on top of it. Every 14th January a fair is conducted here.
History of Bageshawar and Kumayun region
Since 7th century Katyuri kingdom ruled here and Kartikeypura was their capital which was adjacent to Bageshwar.
Later in late 12th century ( 1191) Nepali ruler Kranchaldev won this and left his chieftens here.
The chieftens weaked and Chand kingdom ruler Kalyan Chand won this region in 1568 and made Champawat as capital.
In 1791 Gorkhas tried to win Almora-Bageshar region but were defeated by East India Company in Anglo-Nepalese War in 1814 and were forced to cede Kumaon to the British as part of the Treaty of Sugauli in 1816. So it came under British rule.
Location
Located in state Uttarakhand, India. Best way to reach Mukteshwar is by air to Delhi, Several trains are available to take you to last railway station Kathgodam. From there it is 153 KM. Lot of taxis and government buses are available from Kathgodam.
My 11 Days Itinerary to visit part of Kumaun Hills
Temples in Bagheshwar
Bagnath Temple
At the junction of the rivers, Gomti and Saryu stands a large temple with its conical tower. Here is the shrine of Bageswar or Vyagreswar, the, "Tiger Lord", an epithet of Lord Siva. This temple was erected by the Kumaun king, Laxmi Chand, about 1450 A.D., but there is an interesting Sanskrit inscription there of a far earlier date.
The temple is flooded with devotees on the annual occasion of Shivratri. This place has a cluster of temples. Prominent among these temples are the Bairav temple, Dattatrey Maharaj, Ganga Mai temple, Hanuman temple, Durga temple, Kalika temple, Thingal Bhirav temple, Panchnam Junakhara and Vaneshwar temple.
Chandika Temple
A beautiful temple dedicated to Goddess Chandika stands at a distance of about half a KM from Bageshwar. Every year, the temple bustles with activity as the devout congregate here to offer pujas to the deity during the Navratri.
Below temples were not seen by me but just mentioning for readers.
Sriharu Temple
Another important temple, the Sriharu temple, is situated at a distance of about 5 km from Bageshwer. The devotees believe that prayers for wish fulfilment here never go in vein. Every year, a large fair is organised on the Vijya Dashmi day following the Navratras.
Gauri Udiyar
This is situated 8 km from Bageshwer. A large cave, measuring 20 X 95 sq mts is situated here which houses the idols of Lord Shiva.
Epilogue
Bageshwar is an important tourist place indicated on Uttarakhand tourist map. As per mythology Lord Shiva roamed here in form of a tiger in this region so named as Bagheshwar a name changed eventually from "Vaghyaeshwar".
Located at the junction of the rivers, Gomti and Saryu stands. In my opinion it is better to visit the place and all Kumayun and Garhwal region during rainy season as you can experience the real beauty of the places. One famous pilgrimage ancient Baijnath Dham temple complex is just 20 KM from here.
Hits: 54