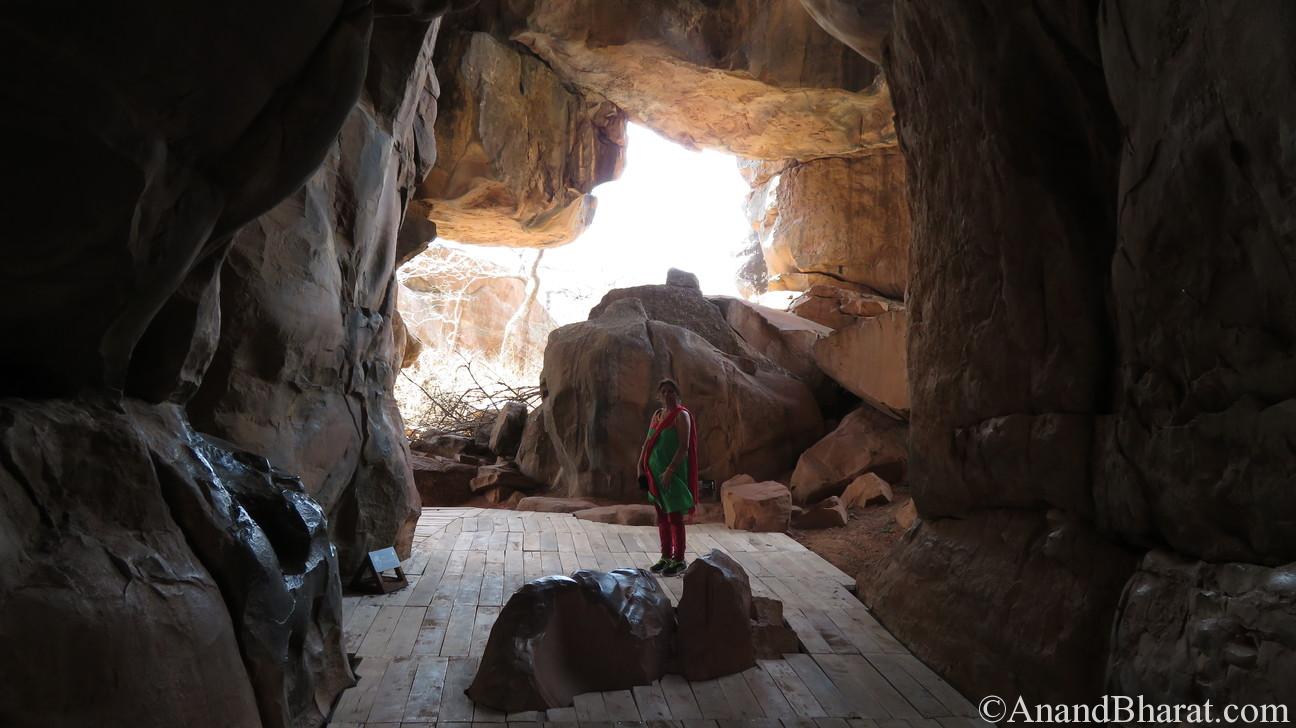 Bhimbetka- The Timeless Caves
April,2017
वक्त की हो धूप या तेज़ हो आँधियाँ,
कुछ क़दमों के निशाँ कभी नहीँ खोते
Bhimbetka is a group of rock shelters part of scattered sandstone formation in Vindhyachal range of mountains near Bhopal, central India.
It is in middle of Ratapani wildlife sanctuary. This area is rich in heritage with 700 rock shelters. Of these 400 are scattered among five hills
Bineka
Bhonrawali
Bhimbetka
Lakha Juar East
Lakha Juar West
Muni Baba ki Padahi
Bhimbetka shelters which we visited here has 243 rock shelters of which only 133 have paintings and only a very few are open to public to see. The painted rock shelters spread East to West for about 8 KM.
Location
It is 45 kilometes from Bhopal, the capital of state Madhya Pradesh,India. Bhopal is well connected by train and air from all important cities of India.
How to reach
You can reach Delhi or Bhopal by air. From Bhopal taxies are available to take you to Bhimbetka in 2 hours time. On way you can visit Bhojpur Shiva temple.
Our Itinerary
Day 1: Morning 8 AM visited 14 Ujjain temples (8 hrs).
Day 2 : Visited Jantar mantar Ujjain, Brith Hari caves, Vetaal Sinhasan and Triveni museum. Stay at Udaygiri caves hotel of MPSTDC.
Day 3 : Visited Uday giri caves from 7.30 AM (2.5 hrs) and headed for Sanchi by Taxi (18 KM). Spent 2.5 hrs at Sanchi. Reached Bhopal by 8 PM.
Day 4 : Started for Bhimbetka 10 AM and on way Bhojpur temple. Reached Bhimbetka. Came back to Bhopal by 7 PM.
List of main tourist places in Madhya Pradesh and Chhatishgarh
Though these states are having many places to visit but just listing here a few important ones listed by Madhya Pradesh Tourist Department.
Before getting into the details of Bhimbetka let us know about the classification of ages of human civilization evolution.
Historical classification of Ages of Civilization
The longest phase of Stone Age culture – known as the Paleolithic period – is a hunter-gatherer culture which is usually divided into three parts:
(1) Lower Paleolithic (2,500,000-200,000 BCE)
(2) Middle Paleolithic (200,000-40,000 BCE)
(3) Upper Paleolithic (40,000-10,000 BCE).
After this comes a transitional phase called the Mesolithic period (sometimes known as epipaleolithic), ending with the spread of agriculture, followed by the Neolithic period (the New Stone Age) which witnessed the establishment of permanent settlements. The Stone Age ends as stone tools become superseded by the new products of bronze and iron metallurgy, and is followed by the Bronze Age and Iron Age.
History as per research scholars
As per the ASI boards and MPSTDC published booklets  Bhimbetka was occupied since Lower Paleolithic to Medieval. This is based on excavations since 1957 and recovery of stone tools, pottery, burial, battle scenes, culture scenes, dancing and using carbon dating techniques. Due to ages old paintings and rock shelters it was listed in UNESCO's World Heritage list in 2003. UNESCO declares it 10,000 years old paintings.
The criterion to declare it as world heritage was that Bhimbetka depicts a long interaction between humans and landscape, hunting and gathering economy.
Classification of Paintings
The Bhimbetka cave "shail chitra"  (rock paintings) are believed to age from Upper Paleolithic (40,000-10,000 BCE) to medieval times.
The paintings are divided by research scholars as
Period I (Upper Paleolithic) :  green and dark red color, huge figures of animals (no human figures).
Period II (Mesolithic) : In addition to animals , human figures are added, hunting scenes, barbed spears,community dances, birds, musical instruments,mother child, pregnant woman, drinking and burial.
Period III (Chalcolithic) : Paintings show that cave dwellers here came in contact with agriculture communities in this region of Malwa plains and started exchanges.
Period IV and V  (Early historic) : Paintings of religious symbols, dresses, Brahmi script, tree gods paintings, Yakshas, decorative paintings, added yellow color usage.
Period VI and VII (Medieval) : Geometric, linear and more schematic.
Material used in paintings
Fat of animals, extract of leaves,soft red stone, wooden coal, hematite and manganese.
Epilogue
This is absolutely greatest place I have seen so far. We can not compare this place with any monuments in AD era. I saw the pottery in purana Quila museum claimed to be 5000 years old but these paintings are unparalleled as claim to be 30K to 5K years old. Declared world heritage by UNESCO in 2003.
We can imagine what resources humans had and why they created these paintings, what motivated them and who made the paint solution. The idea itself must be a foundation of modern man thinking. Just imagine when first writing graphical script was about 2500 BC in Sumerian civilization. These paintings are much older than these. There are superimposition of images as with time next generations overwrote it so I call it timeless caves.
Tip : Take a guide to get more information. Also summer will be very hot here and keep water bottle with you. No water facility inside. Also if you do not have car you will have to about 2 KM on foot.
मैं रहूँ या न रहूँ, मेरा पता रह जाएगा
शाख़ पर यदि एक भी पत्ता हरा रह जाएगा
Hits: 173