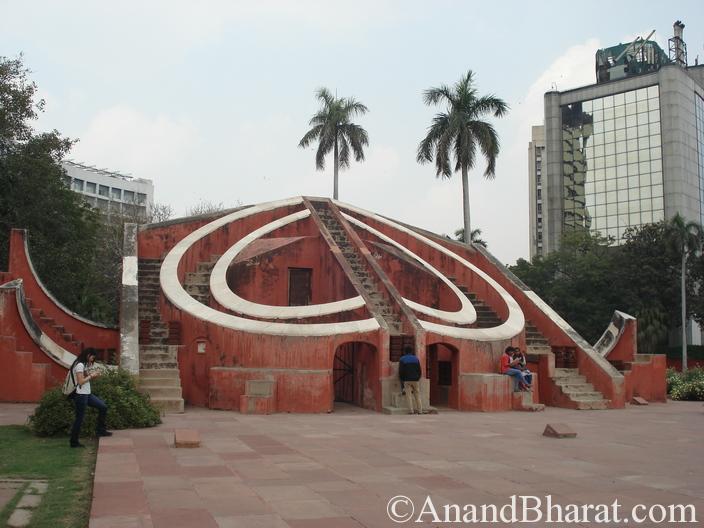 Jantar Mantar – Day 3 at Delhi
It was my day 3 of travel into Delhi. I was on way back from Uttarakhand and landed at old Delhi Railway station in morning. My flight to Bangalore was at 9 PM so I had full day at my disposal. I planned to visit Purana Quila, Kotla Feruz Shah, Khooni Darwaza and Jantar Mantar today.
It took about 2 hours to go through details. Most of the people looked like came for picnic may be that since this place is adjacent to famous Connaught place more people come to Jantar mantar to enjoy park as well as another enjoyment of being near to our heritage.
Location
New Delhi, India. Adjacent to Connaught place and also at walking distance from Shivaji Stadium Metro station.
First observatory setup in 1724 by Raja Jaisingh II.  Later also similar setup in Ujjain, Jaipur, Varanasi and Mathura.
The primary purpose of the observatory was to compile astronomical tables, and to predict the times and movements of the sun, moon and planets.
Actually in spite of good guide I could not understand much of these instruments as I am not aware of sun's meridian, lattitude, Capricon, heavenly bodies and its importance in making calendar, zenith distance, Azimuth etc etc. Something I understood also I forgot now as I am writing this log after a month
It was used to tell the sun rise of Japan (inner semi arch)and Ireland (outer arch) while sunset time of .England and Switzerland.
Misra (mix)Yantra: The Misra Yantra was designed as a tool to determine the shortest and longest days of the year. It could also be used to indicate the exact moment of noon in various cities and locations regardless of their distance from Delhi.
There are 5 different instruments in this structure
Samrat Yantra : Smaller version of Samrat yantra. The guide showed me exact time as 1.45 PM by just shadow.
Periodic Cycle insrrunment : Heart shaped. Time of four cities Notkey city in Japan,Sartichew in PICS Island, Zurich in Switserland, Grrenwhich in England can be calculated.
Amplitude Instrument : To find local sun rise time and used only n cae of sun rise. On 21 March and Sep23 shadow of samrat yantra falls exactly at 6 'O'Clock indicating equal day and time.
Meridian Wall Instrument : To find zenith distance of sun.
The Zodiac cancer instrument : For finding longitude of planets. During day time the longitude of sun can be found by shadow of iron rod on semi circle. By dividing longitude of sun by 30 we can know in which zodiac the sun is passing. On 21st june at mid
Day the shadow of iron touches 90 degrees and entirely falls on ground. At this moment the shadow of Misr yantra does not fall on ground. Exactly on this day the buildings in cities which are just on tropic ofcancer do not have shadow on ground such as in Nagda city in Madhya Pradesh,India, Krishan nagar in W. Bengal, Komilla in Bangladesh. Likewise buildings in citiy falling in Tropic of capricon do not have shadow on Dec,22 such as Sao Pals in Brazil, Rock Hempton in Australia etc.
Ram Yantra
It was beyond my reach to understand and I just could understand that one (for making sun calendar) of Ram Yantra is complementary of other Ram yantra (for making moon calendar).
Jai Prakash yantra
Used for local time and IST, Meridian Pass time, Zenith distance, Azimuth and altitude of sun, One more instrument is there in Jayprakash yantra. It shows when sun is exactly at equator( 21 March , 23 Dec).
Samrat Yantra
The Samrat Yantra, or Supreme Instrument, is a giant triangle that is basically an equal hour sundial. It is 70 feet high, 114 feet long at the base, and 10 feet thick. It has a 128-foot-long (39 m) hypotenuse that is parallel to the Earth's axis and points toward the North Pole. On either side of the triangle is a quadrant with graduations indicating hours, minutes, and seconds. At the time of the Samrat Yantra's construction, sundials already existed, but the Samrat Yantra turned the basic sundial into a precision tool for measuring declination and other related coordinates of various heavenly bodies, local time and IST,Meridian Pass time, duration of day and night, location of pole star, Local time, declination of sun.
Other Buildings inside
There is no name for longest and shortest day instrument shown above. When it is shortest day shadow of bigger pillar covers fully the smaller pillar while on longest day there will be no shadow visible for bigger pillar.
Epilogue
These are the only structures left out as our proud heritage.In order to understand functionality of these instruments we should have knowledge of heavenly bodies motion yet it gives a pleasant feeling to visit this place.
Hits: 137