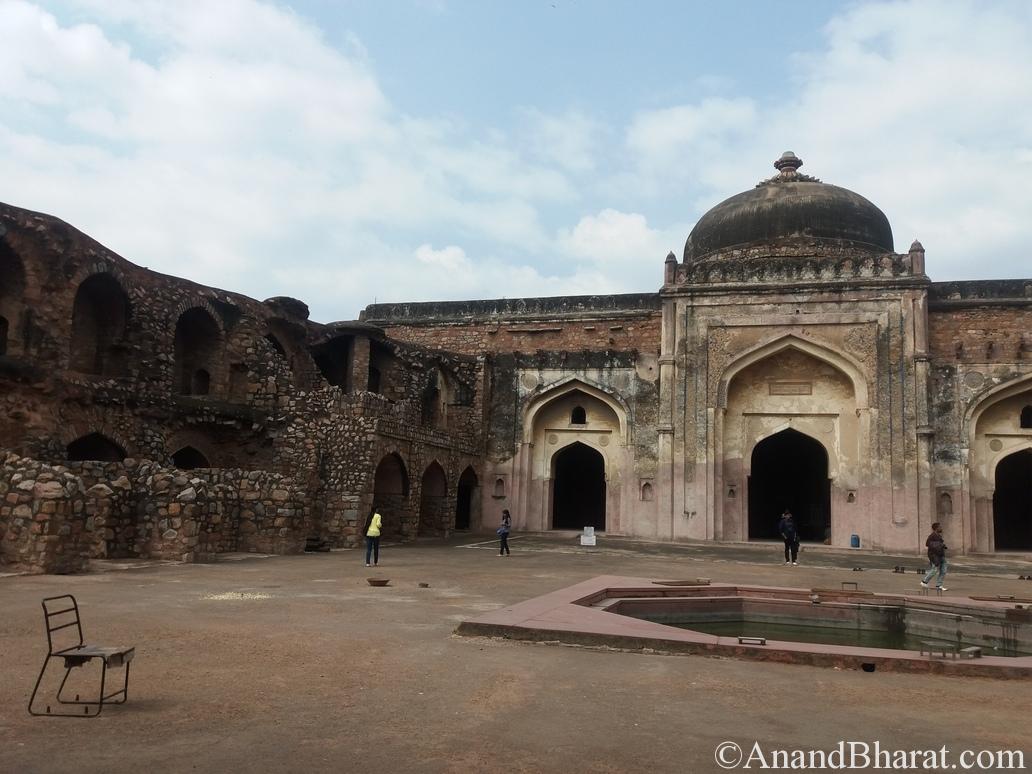 Khairu'l Manazil Mosque and SherSah Gate – Day 3 at Delhi
Location 
Just opposite of Purana Quila, New Delhi, India. After seeing the Purana Quila  on Day 3 I crossed the Mathura Road and reached the Khairu'l Manazil Mosque which is It is just opposite of Purana Quila main entrance gate.
Khairu'l Manazil Mosque
As per inscription over the central arch of the prayer chamber  this mosque was built by  Maham Anga with help of her son Shiha-buddin Ahmad Khan during reign of Akbar.
Lady Maham Anga was wet nurse of Akbar and had considerable influence on him (Like we saw a gate and tomb in Humayun Tomb  constructed on name Bu' Halima, wet nurse of Humayun) and her son Shiha-buddin Ahmad Khan was a general in Akbar's army. He was also once upon a time the governor of Delhi.
The central bay of the mosque has a big dome and other bays are roofed with mehrabs.
On both sides of the main entrance gate there is a double storeyed corridors used as madarsa.
Sher Sah Gate
Just walk along the road and adjacent is Shersah Gate. It seems when I saw a massive renovation was going on
And entrance was locked. It was difficult to enter but somehow I  managed to enter and took some fotos from far.
This gate was built by Sher Sah and uses res stone majorly and therefore also called Lal Darwaza.
Sher Shah was killed on 22 May 1545 during siege of the Kalinjar fort of Rajput Chandel.
Earlier both these structures were inside Purana Quila premises but later as Mathura road is laid so these seem to be out of Purana Quila.
Epilogue
When you visit Purana Quila you can see historical 500 hundred years old Khairu'l Manazil Mosque and Shershah gate which add to grandeur of Purana Quila and are at five minutes walk from main gate.
Hits: 158