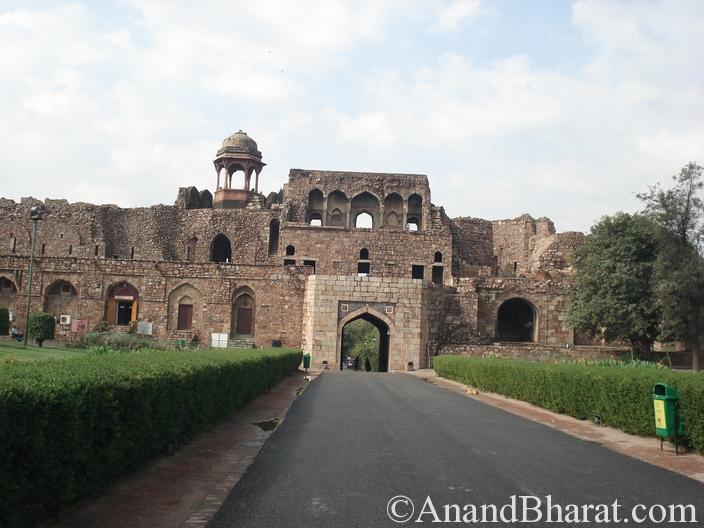 Purana Quila- Day 3 at Delhi
It was my day 3 of travel into Delhi. I was on way back from Uttarakhand and landed at old Delhi Railway station in morning. My flight to Bangalore was at 9 PM so I had full day at my disposal. I planned to visit Purana Quila, Kotla Feruz Shah, Khooni Darwaza and Jantar Mantar today.
In the end of the day I was able to reach T3 Terminal of Airport by 5 PM fully tired but having a proud of visiting such heritages of India.
Purana Quila is sixth city in history of kingdoms of Delhi  and which basically relates to monuments history and architecture of Delhi.
Location
Purana Quila is located in Delhi, India which is capital of India and an international airport. If you come here for few hours then you can keep your luggage in Cloak room in T3 terminal Metro station which is just 5 minutes walk for the T3 airport. From T1 this facility is not there but you can keep the luggage in Metro. You can take auto to reach Purana Quila but better take metro and get down at Shivaji Stadium metro as Purana Quila is nearer from there.
Hotels
There are lot of hotels in Delhi. In fact the monuments like Red Fort, Qutb Minar, Humayun tomb, Purana Quila etc all are within range of 15-20 KM and can be easily accesses from either New Delhi, Old Delhi or Shivaji Stadium. Even autos are reasonable and reliable.
My Three days at Delhi
The following section will be updated with time as and when I get opportunity to travel to Delhi.
Day 1
Took a comfortable and very neat hotel "Athiti Palace" in Daryaganj. Red Fort (3 hrs) with guide, India gate (1 hr).
 Day 2
Qutb Minar (3 hours), Humayun tomb (1.5 hrs). Guides are available.
 Day 3
Purana Quila (3 hrs), Kotla Feruz Shah adjacent to Delhi Zoo, Khooni darwaza, Sher shah gate (4 hrs), Jantar Mantar(2.5 hrs).
Still I have to visit Seventh City, third and fourth cities, Lal Kot, Tomb of Ghari, Lodi Garden, Khushk Mahal, Suraj Kund, Anangpur dam, Ugrasen Baoli , complete Nizzamuddin, Lodi garden some other next time.
1.       Guides were not available at Purana Quila but all ASI boards are very informative, ASI guards were available as very good guides at Kotla Feruz Shah, Jantar Mantar.

2.       If you are short of time you can keep your luggage in cloak room in Airport Terminal-3 metro station. It is costly but still convenient. I paid Rs.400 for 1 luggage for 24 hrs.

3.       You can catch metro for Shivaji Stadium  from Airport and catch auto to go to any places. Surprisingly Autos are friendly and very reasonable.

4.       Better to start journey from Red Fort as there is ASI book stall inside fort which contains cheap and great books about monuments. ASI books are always authentic and informative.
My experience
This is just adjacent to Delhi Zoo. I got down at Shivaji Stadium Metro station and it is just 5 KM from there. It opens at 9 AM. Nearby in front of Delhi zoo there are many good refreshment and breakfast shops.
This fort is very well maintained and the whole fort is like a garden. It will take 3 hours to visit all monuments like
Bada Darwaza,Talaqui darwaza, Qal'a-i-Kuhna-Masjid, Shershah Mandal, Hammam, Humayun Darwaza and museum.
Bada Darwaza
This is western side gate and was built by Humayun as a part of main fortification. It is a 67 feet triple storeyed
structure. On either side of it was bastion wall, arrow gun slits. Artful Kangarus run along top of entire length though now not visible.
Sandstone and marble is used and some stone carvings are still visible. Jharokhas and chhatris are added for decorative purpose
Qal'a-i-Kuhna-Masjid
Built by Sher shah in 1541 AD.
The prayer hall is fronted with 5 openings with horse shoe arches. Central arch is higher than the others and flanked by narrow fluted pilasters. The courtyard in front has a shallow water baoli (well) visible in foto below.
The surface of arch is beautifully decorated with marble and other stones. The 2 side arches also have similar treatment but lesser ornamentation.
The mihrabs inside prayer hall (about 1820 feet X 50 feet) are exquisitely decorated with concentric arches providing it  more splendor.
The rear side corners rise with double storeyed towers and oriel windows. There is a narrow stair case to access 2nd floor of towers.
The central bay of the prayer hall is a dome , with traces of chhatris on either side.
Shaersah Mandal
It is double storeyed octagonal tower made of red stone and relieved by marble.
It is said that this building was planned by Babar who wanted it to make for his son as Observatory and library. But he died after its foundation. Later Sher shah completed it and some say Humayun completed when he recaptured this fort from Sher Shah. But as per ASI Sharshah built this building as he had completely demolished Babar's Deen Panah city here and re-established this place called Sixth City of Delhi.
Shershah had built is just for his pleasure pavilion which Humayun used it as library.
As recorded in Akbarnama in 1555 AD Humayun came to see Venus , which was about to rise in evening. While descending stair he slipped headlong. He could not recover and died after few days.
It was absolutely  thrilling to see the stairs from which Humayun fell and died. Still the part of stair is visible in this picture on 1st floor.
There is no entry in this building and I just took rounds to see this building.
Hammam
These are remains of bricked  bath house. Remains of water pipe and ribbed water pipes. This had provision of hot , cold and even steam bath, This was important part of Mughal culture. This was excavated in 1913-14 AD.
Talaqui Darwaza (gate)
Also called forbidden gate. Why named Talaqui (divorce) is not known. This gate is on North side of Fort and is closed.
Hymayun Darwaza
This gate was actually constructed by Sher shah Suri but it is named so because Humayun tomb is visible from here. Another reason might be that Humayun renovated it. An inscription in ink mentions that it was built by Sher Shah in 1543-44. Daily there is Light and Sound show at 7 PM.
Epilogue
Purana Quila, the sixth city occupies the ancient ruins of Indrapasth the capital of Pandavas which is believed to exist 2500 BC. The architecture of Purana Quila by Afghan Sher Shah probably the the first transition from Fifth city (sand stone)  to mughal style (red stone).
Hits: 98