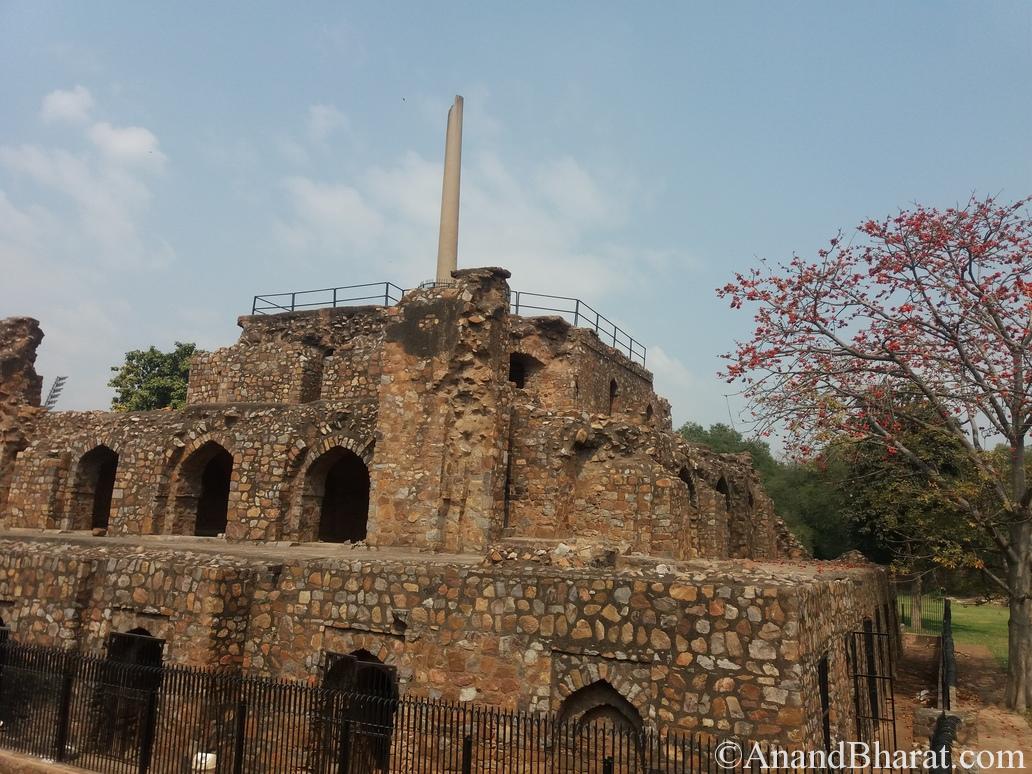 Kotla (Fort) Firuz Shah- Day 3 at Delhi
Kotla Firuz Shah is designated in history as Delhi's fifth City. After seeing Purana Quila I came out and visited Khair-ul- Manazil Mosque (by Akbar)  and Sher Shah gate  in front of Purana Quila (Actully these two were part of Purana Quila).; I asked the auto to head to Kotla Firuz Shah (3 kilometers away) which is a 200 years older than  Purana Quila
It was so pleasing to see that remnants are preserved and maintained by ASI department so meticulously  and I can understand how much efforts and knowledge is required to maintain these 700 year old monuments.
Slight more attention by public is needed to keep the garden clean.
History of Delhi
I have just described the history of kingdoms of Delhi in brief and which basically relates to monuments history and architecture of Delhi.
Location 
Kotla (Fort) Firuz Shah is located in Bahadur Shah Zafar Marg, Delhi, India which is capital of India and  an international airport. If you come here for few hours then you can keep your luggage in Cloak room in T3 terminal Metro station which is just 5 minutes walk for the T3 airport. From T1 this facility is not there but you can keep the luggage in Metro.
Hotels
There are lot of hotels in Delhi. In fact the monuments like Red Fort ,Qutb Minar, Humayun Tomb, Purana Quila etc all are within range of 15-18 KM and can be easily accesses from either New Delhi, Old Delhi or Shivaji Stadium. Even autos are reasonable and reliable.
My Three days Itinerary
The following section will be updated with time as and when I get opportunity to travel to Delhi.
Day 1
Took a comfortable and very neat hotel "Athiti Palace" in Daryaganj. Red Fort (3 hrs) with guide, India gate (1 hr).
 Day 2
Qutb Minar (3 hours), Humayun Tomb (1.5 hrs). Guides are available.
 Day 3
Purana Quila (3 hrs), Kotla Firuz Shah adjacent to Delhi Zoo, Khooni darwaza, Shershah gate (4 hrs), Jantar Mantar(2.5 hrs).
Still I have to visit Seventh City, third and fourth cities, Lal Kot, Tomb of Ghari, Lodi Garden, Khushk Mahal, Suraj Kund, Anangpur dam, Ugrasen Baoli , complete Nizzamuddin, Lodi garden some other next time.
1.       Guides were not available at Purana Quila but all ASI boards are very informative, ASI guards were available as very good guides at Kotla Firuz Shah, Jantar Mantar. Hats off to Janta Mantar ASI guards for their knowledge astrology monuments.

2.       If you are short of time you can keep your luggage in cloak room in Airport Terminal-3 metro station. It is costly but still convenient. I paid Rs.400 for 1 luggage for 8 hrs.

3.       You can catch metro for Shivaji Stadium  from Airport and catch auto to go to any places. Surprisingly Autos are friendly and very reasonable.

4.       Better to start journey from Red Fort as there is ASI book stall inside fort which contains cheap and great books about monuments. ASI books are always authentic and informative.
Introduction to Fort remnants 
As I saw there only a few ASI identified monuments inside the fort. Rest all are not marked yet silently give a good idea of the history of past.
Kotla (Fort) Firuz Shah History
Feroz Shah Tughlaq (1351–88), the Sultan of Delhi, established the fortified city of Firuzabad in 1354 as the new capital of the Delhi Sultanate, which extended from Hauz Khas to Pir Gharib but there are no remnants now to answer such a big size except site of the present Kotla Firuz Shah. But one Asoka pillar at Pir Gharib brought from Kolkata  by Firuz Tuglaq  by river route indicates his fifth city was at least up to this place.
This city is called fifth city of Delhi by historians. Firuz Shah was very fond of history and contributed by raising new buildings and renovated the old ones like Sultan Ghari Tomb, Qutb Minar and Suraj kund, installed and preserved two  of Ashoka pillars at Pir Gharib and one at this palace, built Malcha Mahal, Bhuli Bhatiyari ka mahal and many others.
Remnants of the Fort
I did not get any guide here and like some other place like at Jantar mantar, Purana Quila here.
As per ASI board and guards here there were three palaces inside
Palace of wooden gallary – Court for officials
Palace of Clayey Court – Emperor's court attended by nobles, officials and distinguished literary men
Palace of Public Court – Emperor held court for general public
But there is no further identification board here.
Jami Masjid (Mosque)
Jami Masjid is one of the most ancient and most talked about in its time and it is still in use. Architecturally it was built on a series of underground cells and made of quartzite stone, covered with lime stone. It is surrounded by a large courtyard with cloisters and a Prayer Hall. The Prayer Hall now in complete ruins, was once used by the Royal Ladies. The mosque and its architecture is an example of Tughlaq architecture.
The entrance of Jama Masjid lies on the northern side. It is connected by a causeway to the pyramidal structure of the Ashokan Pillar.
This mosque is also known to be the place where Imad ul Mulk, a Mughal Prime Minister, was murdered by his own Emperor Alamgir Sani in 1759 AD.
Ashoka Pillar
Firuz Tuglaq brought this pillar from Topra, Ambala and installed here in 1356 and a pyramid structure was erected to support this pillar.
Later James Prinsep successfully deciphered it.
Baoli (The well)
This baoli served as a summer retreat for the Royalties, where they spent time cooling off and bathing in the water of this well.The baoli lies locked and in ruins but is still used to water the gardens within the Kotla Firuz Shah complex. Public is not allowed to enter the baoli now.
Epilogue
If we want to know the impact of Islamic culture in India let us see the monuments like Qutb Minar, Kotla Firuz Shah, Purana Quila, Humayun tomb, Red Fort and Nizamuddin. These medieval monuments of Delhi silently speak the history from 1190 till 1857 just we need to read them deeply and deeply.
Hits: 92