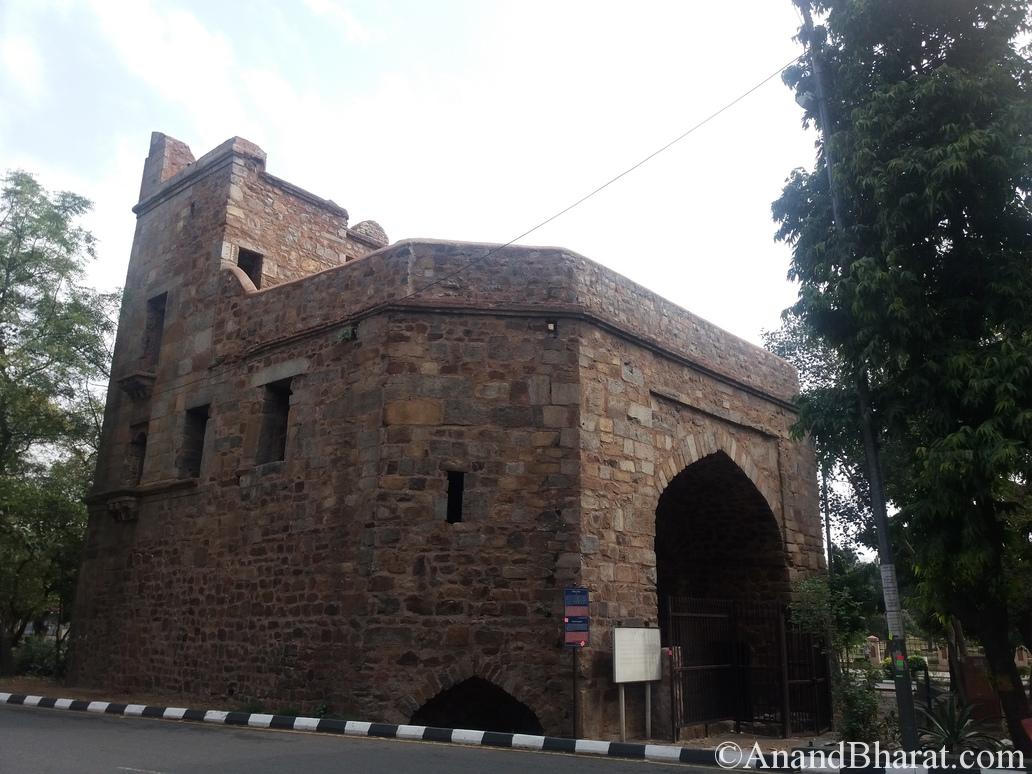 Khooni Darwaza(Red Gate) – Day 3 at Delhi
There are 13 historical gates remaining in Delhi but Khooni Darwaza (Bloody Gate or red gate) seems this gate is most famous among all. Surprising locals identify Kotal Feruz Shah with this gate landmark.
This is a small gate but carries stories of many blood stains on it and continues to be haunted place, jinn den and some illegal activities.
This gate is in front of kotla Firuz Shah (fort). This gate is just in middle of road in front of Maulana Azad Medical College.
This was built by Sher Shah Suri in 1540s and here he used to hang the traitors and corrupt officials. Since then it was famous among later Mughal empires  as "Khooni Darwaza" and they continued the same tradition,
First incident was when Jahangir ordered execution of 2 sons of Abdur Rahim Khan-e-Khanan who was son of Bairam Khan.  Bairam khan a famous figure that he was Akbar's regent and looked after kingdom till Akbar was adult so Bairam Khan was most trusted officer of Akbar and he had appointed Bairam Khan's son Abdur Rahim Khan-e-Khanan as equivalent to Jehagir.
One more interesting fact was that Akbar had married widow of Bairam Khan widow so with this relation Abdur Rahim Khan-e-Khanan was step son of Jahangir. When Akbar died local public was against making Jahangir as heir and being step brother Abdur Rahim Khan-e-Khanan also could be heir. To suppress Abdur Rahim Khan-e-Khanan  Jahagir accused 2 sons of Abdur Rahim Khan-e-Khanan traitor and hanged their bodies at khooni darwaza to be eaten by birds.
Similarly Aurangzeb also hanged his elder brother Dara Shikoh here. Later in 1857 mutiny Captain William Hudson shot dead 2 sons and one grandson of Bahadur Shah Zafar,
Nadir Shah also murdered hundreds of innocents in 1739 at this gate.
Epilogue
You can see this gate while you visit Kotla Feruz Shah fort. This is really a UNIQUE gate with which many interesting, horrifying and tragic stories are associated. You ask any auto walas they may not know Kotla Feroz Shah Fort but they know khooni darwaza for sure.
Hits: 103