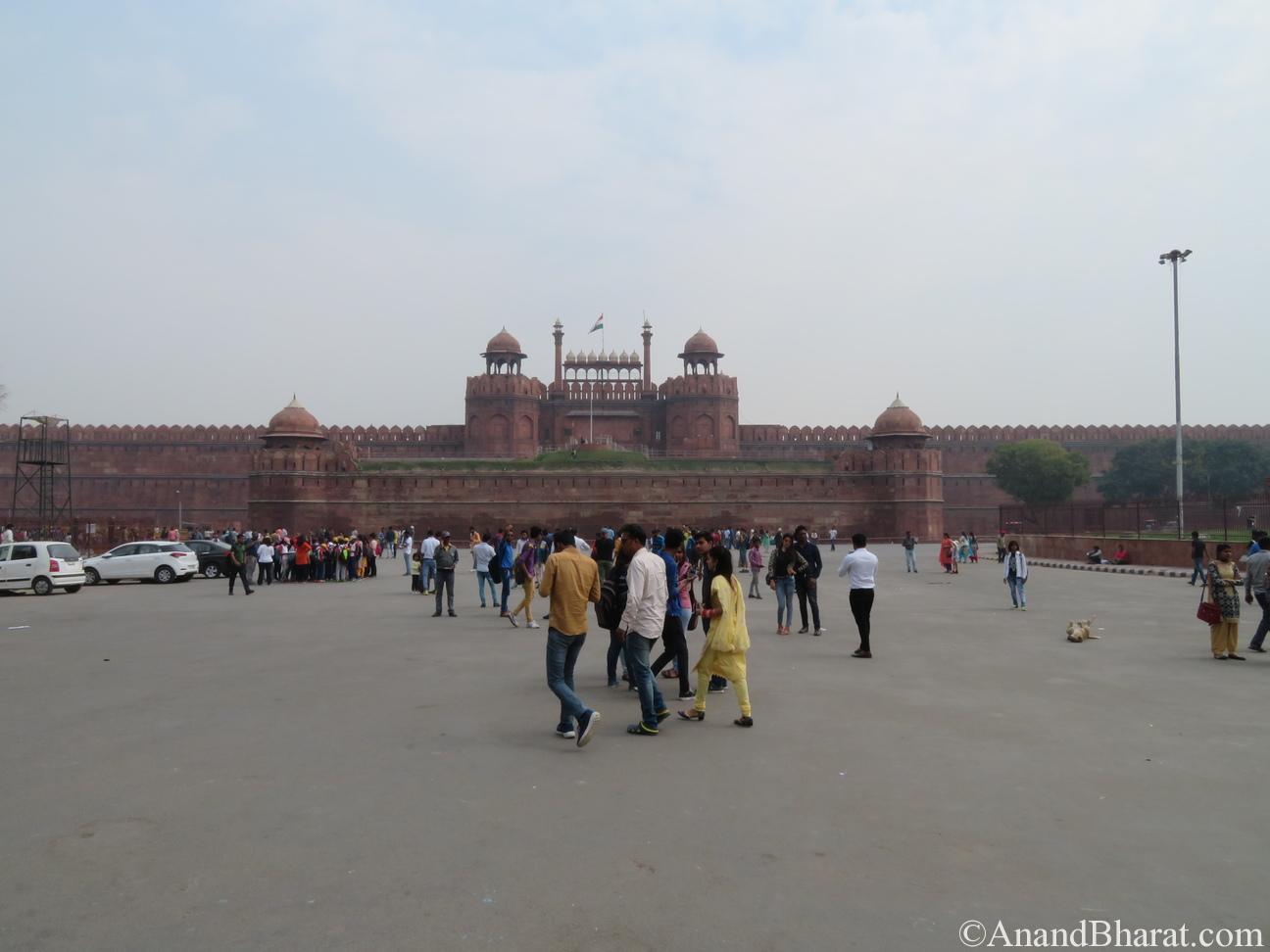 Red Fort – Day 1 at Delhi
Red Fort – Day 1 at Delhi
On first day of my visit to Delhi I had half a day at my disposal and I planned to visit India gate and Red Fort. Red fort was constructed as a capital of seventh city Shah Jahanabad so it may be counted as part of seventh city of Delhi. It could not be defended from British forces and Mughul Sultanate vanished thereafter,
History of Delhi
I have just described the history of kingdoms of Delhi in brief and which basically relates to monuments history and architecture of Delhi.
Location
Red Fort is located in Delhi, capital of India and  an international airport. Well connected with world and almost all domestic flights and net of all transport means. If you come here for few hours and wish to visit a few places then you can keep your luggage in Cloak room in T3 airport terminal Metro station which is just 5 minutes walk. From T1 this facility is not there but you can keep the luggage in Metro.
Hotels
There are lot of hotels in Delhi. In fact the monuments like Red Fort, Qutb Minar, Humayun tomb, Purana Quila etc all are within range of 15-20 KM and can be easily accesses from either New Delhi, Old Delhi or Shivaji Stadium. Even autos are reasonable and reliable.
My Three days at Delhi
The following section will be updated with time as and when I get opportunity to travel to Delhi.
Day 1
Took a comfortable and very neat hotel "Athiti Palace" in Daryaganj. Red Fort (3 hrs) with guide, India gate (1 hr).
 Day 2
Qutub Minar (3 hours), Humayun Tomb (1.5 hrs). Guides are available.
 Day 3
Purana Quila (3 hrs), Kotla Feroz Shah  adjacent to Delhi Zoo, Khooni darwaza, Shershah gate (4 hrs), Jantar Mantar(2.5 hrs).
Still I have to visit Seventh City, third and fourth cities, Lal Kot, Tomb of Ghari, Lodi Garden, Khushk Mahal, Suraj Kund, Anangpur dam, Ugrasen Baoli , complete Nizzamuddin, Lodi garden some other next time.
1.       Guides were not available at Purana Quila but all ASI boards are very informative, ASI guards were available as very good guides at Kotla Feroz Shah, Jantar Mantar.

2.       If you are short of time you can keep your luggage in cloak room in Airport Terminal-3 metro station. It is costly but still convenient. I paid Rs.400 for 1 luggage for 24 hrs.

3.       You can catch metro for Shivaji Stadium  from Airport and catch auto to go to any places. Surprisingly Autos are friendly and very reasonable.

4.       Better to start journey from Red Fort as there is ASI book stall inside fort which contains cheap and great books about monuments. ASI books are always authentic and informative.
Red Fort History
After shifting capital from Agra to Delhi Shah Jahan commenced construction of Red Fort ( Lal Quila) on 16th Apri,1639 and completed in 9 years on 16th April,1648. The master builders were Ahamad and Hamid.
Lahori Gate
The first  gate through which we enter.
Chhatta Bazar
It is a close roofed bazar and it seems the credit to this idea goes to Shah Jahan as it deemed fit for hot summer of Delhi.
Also known as Meena Bazar.
Naubat Khana ( Naquaar Khana or hathipol)
It is entrance to the palace. Daily 5 times drums were played at auspicious moment of the day. Also it was called Hathipol as visitors were supposed to dismount from elephant and walk towards Diwan-i-aam. Only Pricess of royal blood, VIPs were allowed to pass through this without dismount. Even in last days of Empire this tradition was followed. The later Mughal kings Jahandar Shah (1712-13) and Farrukhsiyar (1713-19) were
murdered here. After 1857 this building served as residences of British soldiers. On first floor was the music hall from where the music strained whenever King passed through to welcome a safe journey. Now this is used as museum  along with ASI Office.
Diwan-i-Aam
It is three bays long with multiple arches presenting view of flowing curves. In center a canopy is there where emperor sat during proceeding. At the back of canopy is marbel wall decorated with coloured marble with most exquisite patterns by Austin De Bordeaux who was employed by Shah Jahan for resd
fort as well as Taj Mahal. Also guide told me that there is a marble florentine image which symbolizes the ideal rule of Shah Jahan where a man is sitting with lion and lamb which signifies that oppressed is free from oppresors. I could not see these figures and many others as the canopy is roped to not get closer.
Mumtaz Mahal
It served as apartment for royal prince and princess. Now there is archaelogical museum of Mughul time artifacts.
Rang Mahal
Meaning palace of colours.  East wall had pierced jaali for royal family to overlook the elephant fights and yamuna on bank of river Yamuna.In centre hall there is a beautiful fountain basin on floor. Also a shallow passage of Yamuna water flow is there in
the floor and which flows towards garden. Behind this oil lamps used to glow (nahr-i-bishit). It was used for Royal family and emperor relaxation.
Khas Mahal
It was private palace for royal family. There are three rooms  for worship called "chamber of telling beeds", other one for sleeping called "Khwab Gah" and third one is sitting room to see bull and
elephant and fair on bank of Yamuna. In Khawab gah there used to be a story teller to tell stories to emperor so that he can get good dreams.
Muthamman Burj
It is a dome with balcony.Here emperor appeared daily before public to show that all is well and he is alive. Even if emperor is not well he was brought on cot to this balcony. Also was used to overlook Yamuna by royal family.
Diwan-i-Khas
This was private audience for selected courtiers and visitors. In centre there was a peacock throne which was removed by Nadir Shah in 1739. Below the cornice there is Amir Khusro verse saying" If there be a paradise on earth, it is this,it is this,it is this."
Also a shallow passage of Yamuna water flow is there in the floor and which flows towards garden. Behind this oil lamps used to glow (nahr-i-bishit)
Hammam
Used for royal children for bathing. After Aurangjeb reign this was closed. There was facility for steam bath,cold bath, rose spray, dressing room inside. There is no entry to public in this now.
Moti Masjid
There was no mosque planned by Shah Jahan in Red Fort as he used to go to Jama Masjid. But Aurangjeb constructed a private Masjid for him so that he can attend prayer any time. Even royal family ladies also attended the prayer.
And finally a very historic place marking the end of Mughul Sultanate
As the guide told me : below is the gate below Khas mahal from where Bahadur Shah had escped  to Humayun's tomb by boat through Yamuna in 1857 mutiny. But he was caught and his 2 sons  Mirza Mughal and Mirza Khizr Sultan and grandson Mirza Abu Bekar surrendered  to Captain Hudson. During transporting them upon reaching the Khooni Darwaza, Hudson got surrounded by about 3000 Muslims. Hudson however did not stop and cold blooded  shot dead both sons and removed their clothes and later hanged their bodies in front of Chandni Chowk Kotwali.
Epilogue
Red Fort was the place where Mughul Sultanate rose to its zenith of grandeur after shifting the capital from Agra to Delhi.This is the place which saw the golden age of  mughuls in form of Shahjehan and Akbar.  But this is also the place which saw brutal (brutal) end of Mughul Sultanate in hands of British. This fort speaks history of India from 1638 to 1857.
Hits: 150