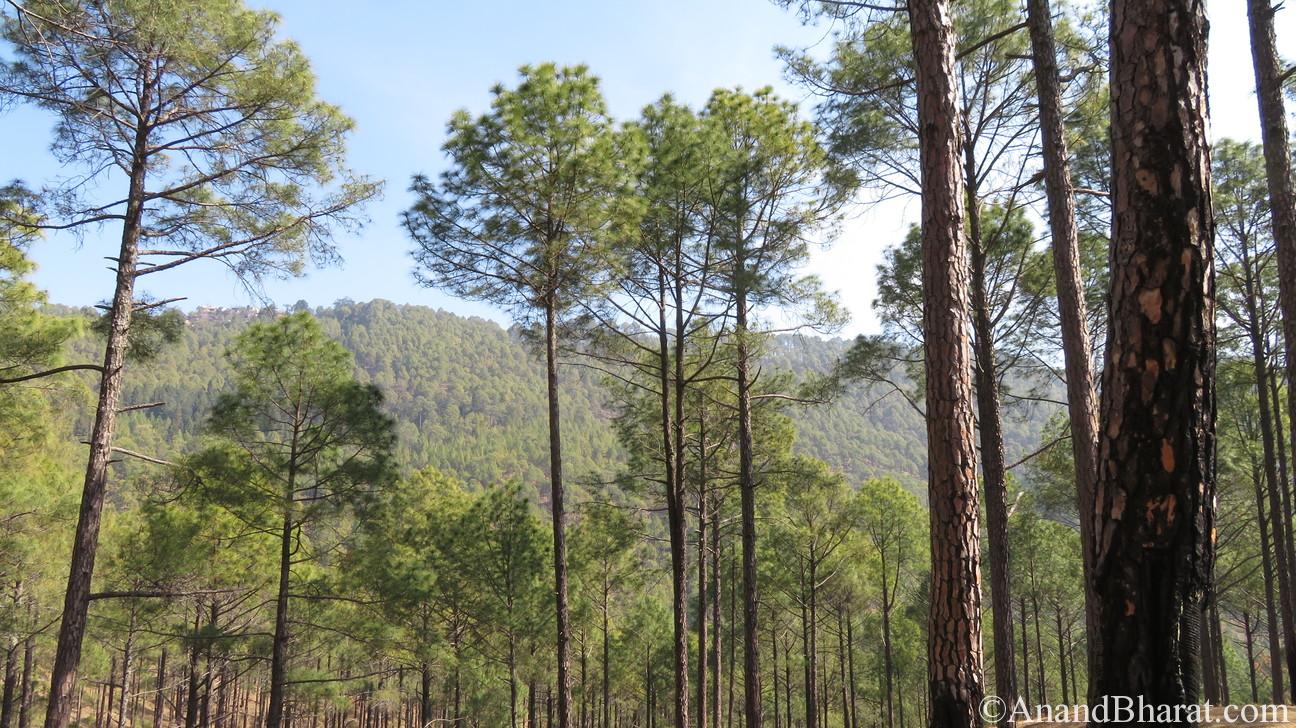 Ranikhet Hills – Uttarakhand's Kumayun Travel Part -1
After my travels I can say Uttarakhand is Switzerland of India. In many parts of world a hill station ends after a few KM but in state Uttarakhand, India you can enjoy scenic nature treasure for hundreds of kilometers. The never ending pine, silver and green oak, bruce, cedar, ancient temples, rivers not ending list. The experience can not be explained in words.
Ranikhet means Meadows of Queen are located in Dist. Almora, state Uttarakhand, India. It is an all season tourist spot and presents the best views of Pine forests, Himalayan views. In 1869, British established Kumaon and Naga regiment here.
Ranikhet is a hill station which has a treasure of natural beauty. It does not boast of parks, famous temples, museums, lakes still it is in line or I will say a bit ahead of the best hill stations in India. If you go a morning stroll on Mall road to West view via Chevron you will not find any one except you amid beautiful silver oak, green oak, pine and bruce jungle. You can exactly imagine then that you are part of poster which you can imagine in a dream. Just sit in front of Jhula Devi temple, walk from Jhula devi to Chaubatia garden, take a taxi drive from sadar bazar to Tarikhet, Heda khan  amid huge huge spread of pine forest I bet this will provide you unforgettable experience.
Location
Located in state Uttarakhand, India. Best way to reach Ranikhet is by air to Delhi, From there several trains are available to take you to last railway station Kathgodam. From there it is 68 KM. Lot of taxis and government buses are available from Kathgodam.
History
A popular folklore is that when Rani Padmini of Raja Sukherdev visited here was so much enchanted by beauty of this place that she decided to make an abode for her. Hence the name Ranikhet.
My 11 Days Itinerary to visit part of Kumaun Hills
Trekking/ Hiking
When we visit the hill stations like Ranikhet which is queen of nature beauty and tops in serenity. Being cantonment this place is saved from unnecessary concrete jungle and so this place still enjoys the greenery all over places. So trekking is a must at Ranikhet.
Chaubatia garden to Holm farm, Hotel Meghdoot to Jhula Devi,
Chaubatia to Bhalu dam, Parwati Inn,Sadar bazar to Mall road are some popular trekking. More enthuiasts also can have a long walks of 10-12 KM to Chiliynaula and Tari khet.
Places to see
Chaubatia garden : 9 KM from Sadar Bazar.
Guides are available here to take you for jungle trekking to Bhaludam which is about 4 KM from Chaubatia garden.
Hedakhan temple : 5 KM from Sadar Bazar.
This is an big ashram of Baba Hedakhan. There are some rooms available in ashram if some one needs to stay. religious books related to baba heda khan are also sold here. The Himalaya view from the temple is marvelous.
Jhuladevi temple : 7 KM from Sadar Bazar.
Thousands of bells in this temple. Bells are installed after the devotee wish is fulfilled. Earlier goat used to be sacrificed here not now the tradition is stopped.
Kalkaji golf ground : 6 KM from Sadar Bazar. It is owned by army but open to public also. It has 9 holes.
Taarikhet : 10 KM from Sadar Bazar.
Chiliyanaula :  6 KM from Sadar Bazar.
Binsar mahadev temple :  16 KM from Sadar Bazar.
There are two Binsar Mahadev temples in Uttarakhand. One is in 34 KM from Almora in Binsar region and  other one here in Ranikhet in Soni village. This temple is less famous then Almora temple. Every year from May,30 a fair is conducted here for 10 days. Childless women pray whole night with oil lamps in their hands with desire to get pregnant. The folklore behind this temple is that in olden days Manihar tribe used to live in this area. One cow used to go to this area and shed its milk. One day a manihar shephard followed the cow and found the cow shedding its milk on a rock and rock was soaking the milk. The shepherd was angry and hit the rock with axe which resulted in stream of blood. Same night shepherd saw a dream in which Lord Shiva asked manihars to leave the village. All manihar tribe then moved to Ramhangar area. Years after a childless 60 years old man saw a dream of a saint saying to find a shivling near kunj river and asked him to construct a temple on this Shivling. THe man constructed the temple and his desire of getting child fulfilled.
Later this temple was further developed bu Baba Mohangiri and this is the temple which we now see in Binsar mahadev.
One British time Common wealth games Cemetery
On way back from Taarikhet driver stopped at a very isolated place and asked me to go off the road and pointed me to a cemetery. For road it was thrilling  to see such 200-250 years old cemetery.
Kainchi Dham Temple
This temple established in 1964 is 38 KM from Ranikhet on way from Nainital. Mark Zukerberg, Steve Jobs, Ram Dass, Larry Brilliants,Yvette Rosser and Daniel are devotees of this temple.
Each year, during the famous June 15th bhandara, reportedly, more than 100,000 people are fed. In Winter, the ashram is closed for 4-5 months, because it becomes very cold.
Staying Inside the Ashram
With letter of introduction from one of the older devotees you need to write to Maharaji-ji's Kainchi Dham Ashram, you must first write to the manager and  request permission for your stay on mail kainchidham@gmail.com.
Epilogue
I suggest this place must be visited by you if you are a nature lover and have 4 days at your disposal for trekking. I am sure you will never forget this place. Never. If you are looking for some entertainment place then this is not the place. Avoid strolling on jungle roads after dark as wild animals may welcome you. Recently tigers are reported to be seen here.
इस ख़ामोशी में छिपे हैं
सेकड़ों अहसास
चाहते हैं बोलना बेहिसाब
सुबकते हैं, चिल्लाते हैं
शोर मचाते हैं
कुछ ना कहकर भी
कितना कुछ बोल जाते हैं.
Hits: 204