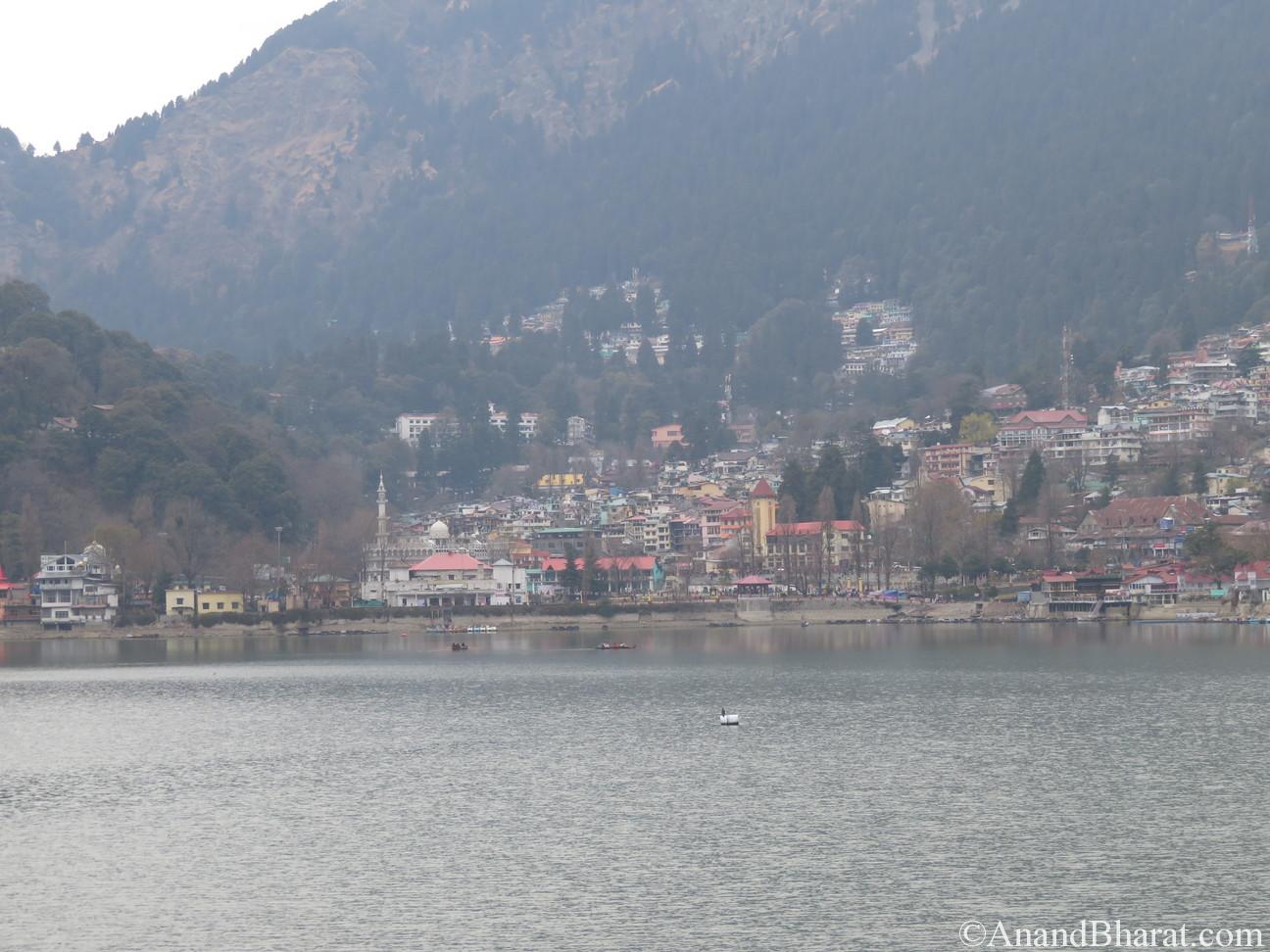 Nainital Hills – Uttarakhand's KumayunTravel Part -1
"After my travels all India and abroad, I can say Uttarakhand is Switzerland of India.
In many parts of world a hill station ends after a few KM but in state
Uttarakhand, India you can enjoy scenic nature treasure for hundreds of kilometers. The never ending pine, silver and green oak, bruce, cedar, ancient temples, rivers not ending list.
The experience can not be explained in words. Before travel forget your office, home, worries and any negative thinking and start this journey to Uttarakhand "- Author
Nainital is the most visited places in Kumaun hills  who love to see crowd as well as attention-grabbing scenery of the Himalayan Mountains a few KM from the town. I can compare this place with Ooty which is a complete hill station though the jungle profile and mountainous profile is different.
I checked in Sterling Holidays Hotel which is 7 KM from Nainital lake. It was a serene location and hotel surrounding and facilities were awesome. I had fixed the taxi for Rs.2200 for local sight seeing for 2 days for local sight seeing and trip to Bhowali (11 KM)and Mukteshwar(50 KM).
Location
Located in state Uttarakhand, India. Best way to reach Nainital is by air to Delhi, From there several trains are available to take you to last railway station Kathgodam. From there it is 23 KM. Lot of taxis and government buses are available.
My Itinirary for complete Uttarakhand's Kumaun trip
Nainital is just 24  KM from last railway station Kathgodam. Lot of taxis and buses are available which take just  75 mins to reach Nainital.
How to visit Nainital
We can visit Nainital in following sequence. Enjoy the amazing natural beauty on the way, fruit gardens laden with flowers if March else in May it will be laden with fruits.
Day 1 : Hanuman garhi-cave garde-,Bara patthar- love-suicide point-Khurpa taal- Tippon top- Himalaya Botanical gerden-Sarita Taal-Himalaya Darshan-Kalbury. Then spend time in Naini Lake.
Day 2 : Golu Devta temple at Bhowali- Tea garden-Bhowali-Mukteshwar-Bheem taal-Hanuman Garhi tallital-Nau kuchia tal-kamal taal-Garun Tal-Saat Taal
Best season to visit
Peak season is March 15 to Sep. But I suggest to visit this place in rainy season when you will really see what Kumaun beauty is. Get yourself drenched in rain, do boating in rain, take pakoda in local shop while raining. If you want to see snow fall you may have to come in Dec end and may wait till feb 1st week. To be sure of snow you can stay at Mukteshwar.
Hanuman Garhi
This was the first stop for the taxi on local sight seeing. It was built by Neem Karoli Baba, a famous local saint, around 1950. It is also famous for sunset view which I could not see as I reached there at 1 PM.
Inside photography is strictly prohibited.
Snow View
Located at an elevation of 2,270 m above sea level, it can be reached only by cable cars or hill ponies. This classic point over the 'Sher-ka-Danda' ridge puts forward attention-grabbing sceneries of the Himalayan Mountains and the Tibetan borders.
Naina Devi (Mata Sati)
Naina Devi is one of the temples built on the remains of Goddess Sati and is considered to be extremely sacred and pristine by the devotees. Two eyes on the roof of temple depict the "Goddess". Maa Naini Devi, in this temple, is shown accompanied with Lord Ganesha, the God of Wisdom, and Kali Ma, the Goddess of Death and Destruction. The city of 'Nainital' got its name from the Naina Devi temple only.
Cave garden
Probably this is new point created. There are 2 big caves and 2 small caves. Basically we can say it is just a park for children and young's entertainment.
Bara Patthar
This is point where they conduct some trekking and mountaineering events and even coaching.
Love point\Suicide point
Interestingly both points are in same location.
Himalaya Darshan at Tippon Top
You can do horse riding here from 30 minutes to 2 hours.
Himalaya Botanical Garden
This is very attractive place and I liked it most among all points. There are large varities of medicinal plants and we have to climb about a KM.
Khurpa Taal
The driver showed it from top and looks like foot nail of a cow.
Sarita Taal
It does not seems to be a tourist spot except that this is another big lake.
Water fall
It is a small water fall. May be in rain it may become more attractive. But saw several tourists here enjoying tea and snacks around.
Himalaya Darshan
It was dense fog here by the time I reached here so could not see mountain range.
Kilbury
This is 7 KM from Nainital lake and is a dense forest and highest point in Nainital.
Came back to hotel by 7 PM.
Bheem Taal
Hanuman Garhi Tallitaal
Kamal Taal
Naukuchia Taal
Naukuchiatal is, perhaps, the most beautiful of all the lakes in Uttarakhand. A famous perception among the locals is that whoever sees all the corners of the lake at the very first shot attains 'Nirvana', Now a days several oxygen plants are implanted by govt. to clean the water. It is believed that this lake was created after hard worship of Brahmaji and a small temple dedicated to Brahmaji exists near the KMVN guesthouse. According to locals anyone performing a parikarma of the lake will be blessed by Brahmaji.
Naukuchiatal is a must-visit for those who love getting lost in the serenity of nature. The enchanting views of meadows and pastures that the lake provides to its visitors make it look more picturesque. This is a perfect place to get away from all the rush of the cities and rejuvenate your body as well as soul. An overview of Naukuchiatal gives an assumption of 'picture-perfect' beauty. The captivating surroundings and varied biodiversity that can be seen in the area within 10 km radius of Naukuchiatal gives it the perception of virtual heaven.
Garud Taal
From far the shape looks like vulture.
Saat Taal
Sat Tal located 23 KM from Naintal ,means 'seven lakes" named as it is interconnected with 7 lakes of Nainital such as
Garud Tal, Nal-Damyanti Tal, Purna Tal, Sita Tal, Ram Tal, Laxman Tal, and Sukha Tal or Khur Tal.
I did not see any board mentioning such information. Location is good and sorrounded by mountains.
Sat Taal also offer adventurers a wide range of trekking, biking, abseiling, mountain biking, rock climbing, night-trekking,
nature trail, backpacking, angling, kayaking, rafting, river-crossing, boating, jungle-safari and night-camping opportunities.
I saw KVMN govt guest house also here.
Epilogue
Nainital is a complete hill station and presents all types of packages for tourists such as high class hotels, trekking and hiking places, mountaineering training, horse riding, jungle trekking, place of about tens of lakes, high peaks, Himalaya views, zoo and snow fall.
Hits: 130