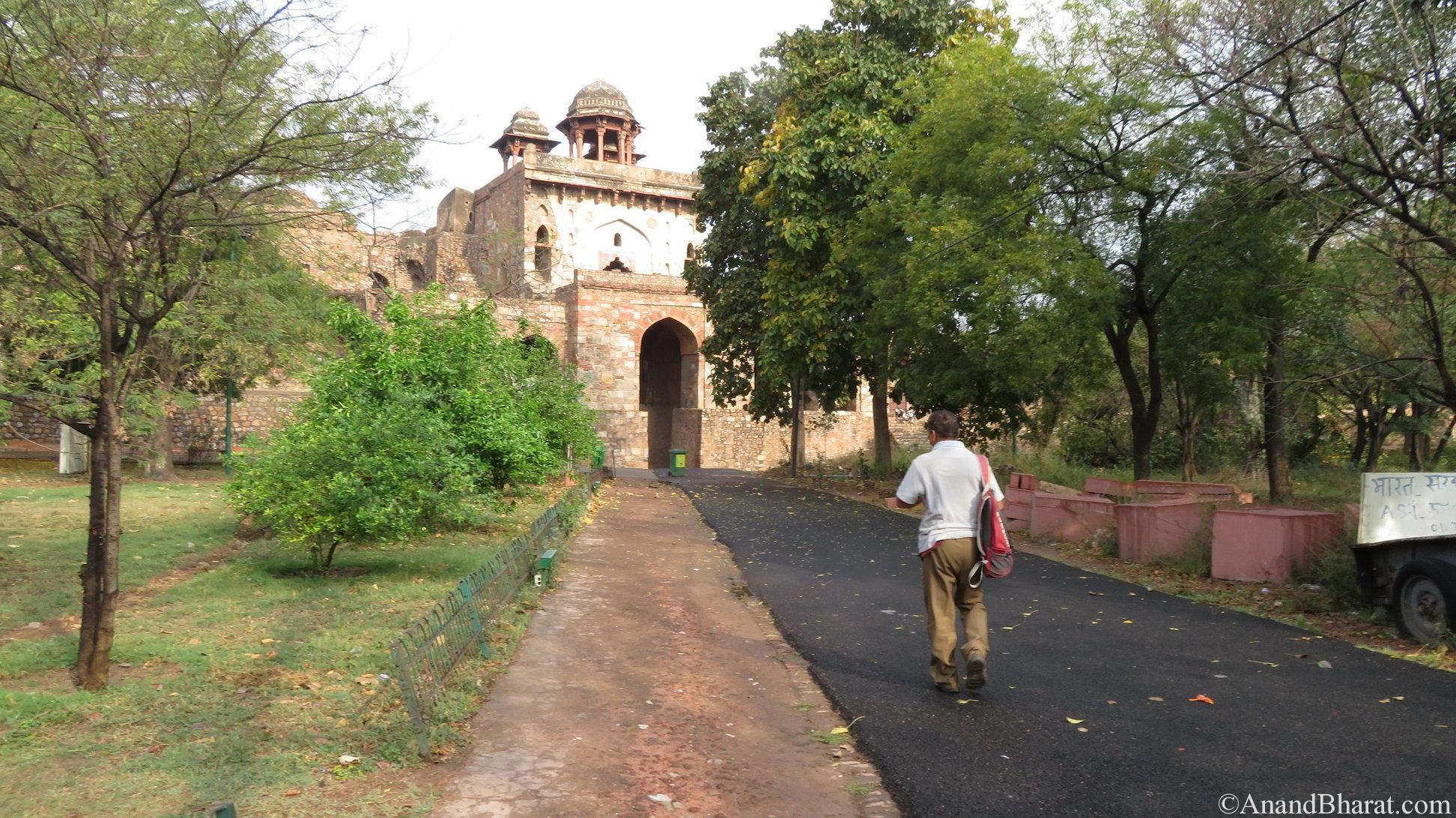 Delhi- A City Of Seven Cities
Understanding and writing  history of Delhi was the toughest among all my other travelogues so far. With huge variegated historical past it is not surprising to me that Delhi has 1300 listed monuments. I think if you want to see all these it will take about 4 months.
I had a lot of questions about Delhi in my mind and I studied lot about it but actually I think I understood Delhi only by 40% after seeing the monuments.
While I was going to Uttarakhand to meet my very old friends I had about 2 days for Delhi while going and 1 day while returning. I utilized these 3 days completely in following way.
My Three days at Delhi
The following section will be updated with time as and when I get opportunity to travel to Delhi.
Day 1
Took a comfortable and very neat hotel "Athiti Palace" in Daryaganj. Red Fort (3 hrs) with guide, India Gate (1 hr).
 Day 2
Qutub Minar (3 hours), Humayun Tomb (1.5 hrs). Guides are available.
 Day 3
Purana Quila (3 hrs), Kotla Feroz Shah  adjacent to Delhi Zoo, Khooni darwaza, Shershah gate (4 hrs), Jantar Mantar(2.5 hrs).
Still I have to visit Seventh City, third and fourth cities, Lal Kot, Tomb of Ghari, Lodi Garden, Khushk Mahal, Suraj Kund, Anangpur dam, Ugrasen Baoli , complete Nizzamuddin, Lodi garden some other next time.
1.       Guides were not available at Purana Quila but all ASI boards are very informative, ASI guards were available as very good guides at Kotla Feroz Shah , Jantar Mantar.

2.       If you are short of time you can keep your luggage in cloak room in Airport Terminal-3 metro station. It is costly but still convenient. I paid Rs.400 for 1 luggage for 24 hrs.

3.       You can catch metro for Shivaji Stadium  from Airport and catch auto to go to any places. Surprisingly Autos are friendly and very reasonable.

4.       Better to start journey from Red Fort as there is ASI book stall inside fort which contains cheap and great books about monuments. ASI books are always authentic and informative.
Seven Cities of Delhi
Order
City Place
Founder
When
Comment
First City
Lal Kot
Vigrah Raj IV
Mid 12th century
Qutub Minar complex
Prithviraj Chauhan/Qutub-uddin Aibak
late 12th century
 About 40% of this complex components are stolen from Hindu temples or made on top of it like Gupta period Iron pillar,several pillars,corridors.
Second City
Siri Fort
Allauddin Khilji
late 12th century
Third City
tughlaqabad
Ghiyasuddin tughlaq
Early 14th century
Fourth City
Jaha panah
Mohammad Bin tughlaq
Early 14th century
Fifth City
Kotla Feroz Shah
Feroz tughlaq
Mid 14th century
Sixth City
Purana Quila
Sher Shah Suri
Mid16th century
Seventh City
Shah jahanabad
Shahjahan
Mid 17th century
Seventh City is scattered
Seventh City exploration is a bit difficult as most of the places are in narrow lanes where we only have to reach by auto riksha or man pulled riksha. Just giving approximate location of places and these can be covered in about 6 hours.
Monument name
Address

This seventh city can be explored from Red Fort (Chandni chowk) by taking either auto riksha or man pulled riksha. Will take abiut 3 hours.

Razia Sultan Tomb
Turkman gate Chandni Chowk-110006
Fatehpuri Masjid
Gadodia Market,Chandni Chowk-110006
Kalan Mehal
Chandni Chowk-110002
Shahi Sunehari Masjid
Chandni Chowk-110002
Jama Masjid
Chandni Chowk-110002
Sis Ganj Guru Dwara
Tiraha Bazar,Chandni Chowk-110006
Mirza Ghalib/s Haveli
Quasimjan street,Baradari,Ballimaran-110006
Zeenat-ul Masjid
Daryaganj, 110002
Zeenat Mehal
??
History Of Delhi Architecture point of view
I saw rich museum in Purana Quila which has the pottery artifacts from 1000 BC. Based on painted grey earth ware found in excavation under Purana Quila it is logically accepted that old Indraprasth (city of Pandavas) existed here.
Slave Dynasty
When we see First city Qutub Minar complex we can confirm what is said in history. We can understand that Qutb-ud-din Aibak was the first Muslim ruler settled in India and obviously he wanted to make the structures like lofty arches,  which were in line with his own homeland but since local craftsmen were not conversant with this the effect can be seen in Qutub complex such as dilapidated arches, hindu styles in mosque, use of Hindu temple pillars in mosque etc.
Later Iltutmish added huge arches to this. Iltutmish appointed Razia Sultan as his successor but courtiers throned Ruknu'd-Din Firuz who ruled for 6 months and again after rebel Razia became sultan. She was murdered by robbers in Kaithal,haryana. Nasiruddin was the last ruler in slave dynasty but he was completely religious and had no interest in architecture. Nasiruddin  was Balban's (one of Iltutmish slave) father-in-law and he ruled till 1290 till he was murdered. There is dilapitated Balban's tomb near qutub minar which is first muslim tomb where true arch was erected.
Khilji Dynasty
The initial experimentation time of architecture by slave dynasty was over and with Allauddin Khilji developed their own methods.
Pointed horse shoe arches, broad dome, decorative moldings, inscription bands,use of red sand stone started. We can see the extention of Qutub Minar complex by Allauddin Khilji. Adding Ala-i-darwaza, adding minar in mosque. He died  in 1316 AD but founded also the second city of Delhi called Siri Fort.
Allauddin Khilji son Khizr Khan built Jama'at-khana-Masjid near Nizamuddin tomb. It is in red stone, low dome and inverted lotus.
Tughlaq Dynasty
The last son of Allauddin Khilji was killed by Muslim converted Hindu Khusraw Khan and there after a Turk named Ghazi Malik of Tuglaq tribe who was very loyal to Khilzi killed Khusraw Khan and since no Khilji survivor was left we took the throne.
Out of 11 Tuglaq rulers only first three had interest in architecture. Ghiyasuddin. Tuglaq, Mohammed Tuglaq and  Feruz Tuglaq. Standard mass of stone structure, selective use of red color, cross vaults over halls, battered bastions, four centered arches,thick walls of mud, erected dams, pyramidal structure to hold ashoka pillar. Established fourth and fifth city mentioned above. Firuz Tuglaq constructed Malcha Mahal, Bhuli Bhatiyari ke mahal, Pir-garib, Kalan-masjid, begum puri masjid etc. All these mosques have sloping minars, chhajjas and low domes.
After Feruz Tuglaq the empire was unstable and Taimur Lame attacked in 1398 and devastated many monuments. Finally Tuglaq dynasty could not recover and ended in 1413.
Sayyid Dynasty
They ruled for about 30 years but there was no patronage to art and culture. Prosperity reduced.
Lodi Dynasty
They started octagonal tombs with all having multiple arch opening as seen in Sikandar Lodi tomb. Further no signifcant addition to structures.
Babar
Babar defeated Ibrahim Lodi in 1526. It seems he was not impressed much by Indian artisans and was more interested in gardens. Still he made some mosques outside Delhi like in Ayodhya.
Humayun
He established Deenpanah city in Purana Quila area which was completely demolished by Shersah Suri and now no remains of Deenpanah are traceable.
Sher Sah Suri
He establised some monuments in Delhi in form today called Purana Quila.
Quila-i-Kuhna Mosue is one of the best of its contemporary.
All the structures I saw in Purana Quila are marvelous be it gates or sher shah gate
He demolished the Deenpanah city and established struct today called Purana Quila which was further augmented by Humayun on his return to throne second time.
Later periods Akbar, Jahangir, Shahjahan came and we know that the architecture revived back to sky glory. We can see these in form of Red Fort, Humayun Tomb. I think no need to mention about this. Later Aurangjeb only made Moti Masjid inside Red Fort as his personal prayer point and its beauty is even today is not tarnished. Bahadur Shah Jafar was more interested in poetry and from here there was not further addition on structures in Delhi worth mentioning.
I think this might be last structure before the Moguls faded.
Epilogue
A very few cities in India can claim the long continuity and capital status that Delhi has faced. It was pride for rulers to rule over Delhi be it from the time of Mohammed bin Qasim in 8th century to British who later changed the capital from Kolkatta to Delhi. A treasure of about 1300 listed monuments I can say this city enjoys entire history of North India and all significant rulers have ruled over Delhi since last 2500 years.
Hits: 231