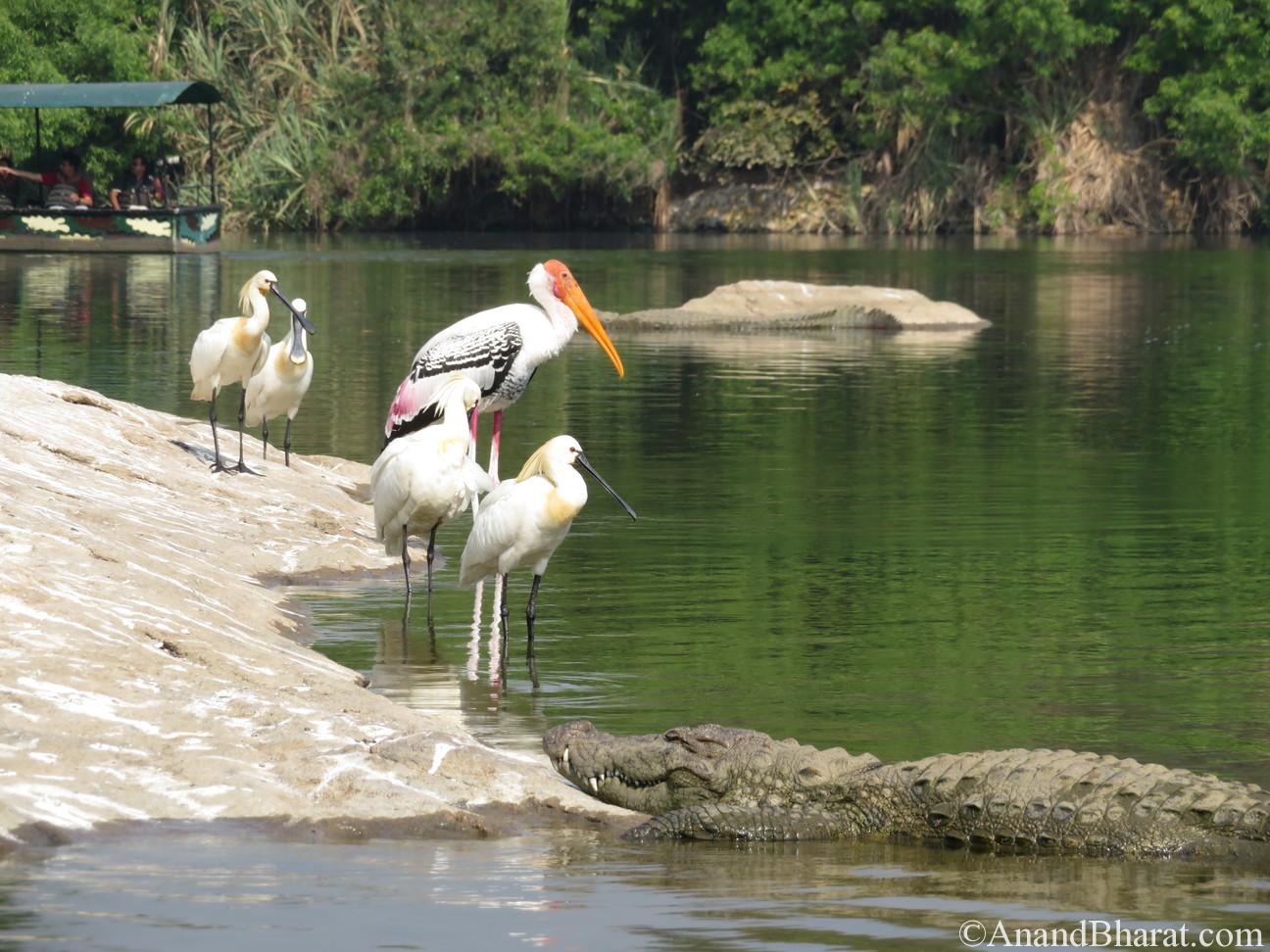 Rangantittu Bird Sanctuary
We had a plan to visit Srirangapatna and Ooty and Somanathapuram and under this itinerary after visiting  Srirangapatna we stayed overnight at Srirangpatna and see Ranganathathittu (popularly called rangantittu) next day and then set off for Ooty.
In KSTDC Mayura Riverside beautiful and very spacious hotel.  My relative had already seen Rangan tittu earlier and she said that Rangan tittu is more or less like this hotel view. Anyway next day we started for Rangantittu by car. It is just 3 KM from main city of Srirangapatna. I felt it is worth visit and we spent about 3 hours at this place.
There are very small lodges very near to Rangantittu sanctuary but I think you can better stay at Mysore (25 KM) or at Srirangapatna (4 KM).
Our Intinarary
From
To
place to visit
Stay
Comments
Bangalore
Srirangpatna
Covered in below sequence : Rangnathaswamy temple- Narsinghswamy temple- Baily-Lal mahal- museum-water gate-tipu death-jumma masjid-daulat daria-gumbaz-sangam
1 night
All monuments are within radius of 4 KM and can be covered in 5 hours
Srirangpatna
Rangan-titu, Balmuri falls
Rangan-titu, Balmuri falls
–
Boating. Visit time 3 hours
Rangan-titu
Ooty
Stay at Ooty 3 nights and 4 days
Followed shorter route Journey 4 hrs as I am slow driver.

We followed shorter route rangan titu-Theppakadu-Masingudi-Ooty

On way passed through Bandipur

Ooty
Somnathapuram
–
Time needed to visit the temple in detail is 3 hrs with guide.
Followed longer route Ooty –Gudalur ( 30 KM longer) to get some scenic forest views and Bandipur.
Somnathapuram
Talakadu
If you are interested go. We did not go here in this trip.
16 KM
Optional visit
Somnathapuram
Bangalore
–
138 KM
Location 
Located 25 KM from Mysore, state Karnataka,India. Nearest airport Mysore, Nearest railway station Mysore. 147 KM from Bangalore.
Here are some fotos taken during boating and knowledge gathering at the sanctuary.
History of Sanctuary establishment
Boating charges and Plan
It is a total of 20 minutes of boating and I think it is enough to sense the place.
Scenes taken while boating
Below are the listed birds which are displayed by Rangantittu administration in open for visitors. The display is really good.
Note : All these frame fotos are taken at Rangan Tittu open gallary meant for Visitors. Thanks for such beautiful display.
Epilogue
A not to miss place when you visit Srirangapatna. A total of 170 species visit here. This is one of the 3 bird sanctuary of Karnataka. It is small yet worth visiting and well maintained. Clean and systematic. Saw many photographers, enthusiasts and student groups, one foreigner on my day of visit. Could really not locate birds except storks and sun bathing crocodiles all around.
Bird sanctuaries are not many in India
1 in J&K
1 in Punjab
3 in UP
2 in Jharkhand
1 in Bengal
1 in Chattisgarh
4 in Maharastra
2 in Gujrat
1 in Kerala
1 in Andhra
5 combined in NE states
Number may slightly vary.
Hits: 374