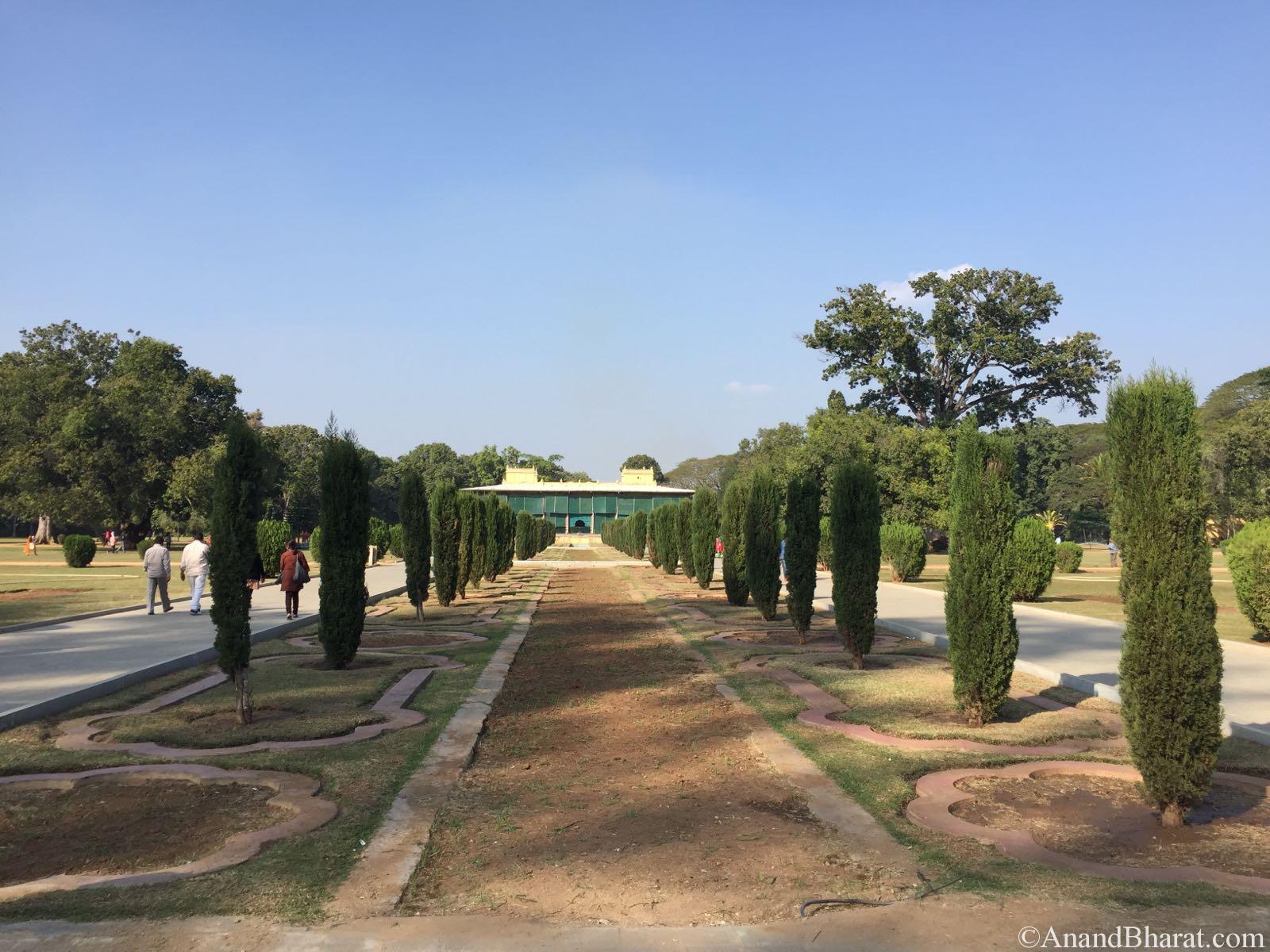 Srirangapatana- A page of Tipu Sultan
                Srirangpatana- A page of Tipu Sultan
We had a plan to club Ooty, Somanathapuram and Srirangapatna in a single trip as all these lie almost in same route. From Bangalore we reached Srirangapata in 3 hours, checked in KSTDC hotel and after getting fresh started visit to the place. Had less time for the day so  skipped breakfast and lunch.
A total of 6 hours are required to see Srirangapatna monuments. It will be better if you stay for a day and cover Rangantittu bird sanctuary also next day.
History
To understand the history of place we need to look into the  Ranganathaswamy  temple and Talakadu.
This place takes the name from  Ranganathaswamy  temple  which dominates the town today. About since 1500 years back Western Ganga Dynasty was ruling in this region and their vassal Tirumalaiah first consecrated this temple in 984 A.D. Later in early 12th century, Hoysala King Vishnuvardhana (1108-1152 AD) granted the village of Srirangapatna to the Vaishnava saint Ramanujacharya as an agraharam (place of learning). An inscription of the great Hoysala King Veera Ballala II (1210 A.D.) confirms that additions and renovations were made to the temple at that time. The tower over the entrance bears features consistent with Vijayanagara architecture. According to historian George Michell, contributions were also made by the Wodeyar kings of the Kingdom of Mysore. The temple is protected by the Archaeological Survey of India as a monument of national importance.
Further we move ahead in history and land at early 17th century (1610).
It is very interesting  that Talakadu (60 KM) has association of annex of Srirangpatam by King of Mysore the Wodyars.
Tirumala-Raja (Rangaraya) a vassal of Vijay nagar (1610 AD) empire suffering from incurable disease came to Talakadu to perform sacrifices in temple Vaidyesvara. His second wife Rani  Alamelamma was left in charge of the Government of Srirangagapattanam but she left Srirangpattanam to Talakadu to see her husband. Before leaving she handed over to Raja Wodeyar of Mysore to look after Srirangpattanam till they return from Talakadu. But Mysore Raja was desirous of her property of jewels and sent army behind to kill Rani who drowned herself in Cauvery and a three-fold curse -"Let Talakad become sand ; let Malangi become a whirlpool ; let the Mysore Rajas fail to beget heirs." The latter part continues to affect the royal family. So in 1620 this place was captured by Mysore Raja and remained with him till 1947. It was given to his vassal Hyder Ali and then to Tipu. Later Tipu made Wodeyar Maharaja as almost captive and started ruling Mysore as defacto ruler till he died in 1799 AD in Fourth Anglo-Mysore War. In this final war British seized Srirangpatana and handed over to Mysore kings but under dictates of British East India Company..
Reference – Wikipaedia
Tipu Character
After I completed the visit, one question rose in mind that if Tipu was communally controversial figure then how so many medieval temples  survived completely untouched in Srirangapatna. Whatever be the case with regard to Coorg or  Malabar regions, image of Tipu in my mind changed to non-communal Tipu after visiting this place.
Tipu was a great warrior and inherited shrewd and astute qualities from his father. He had worked for agriculture prosperity, organised teak plantations, international trade, silk production, abolished system of awarding "jagirs" to officers, mandatory asset declaration and tax reforms. His father Hyder Ali was uneducated and so he arranged all means of education for his son. Tipu could speak several local and foreign languages. Had strong rocket technology. But internal he was also plagued by his own descendants. He  tamed 6 tigers in Seringapatam (old name). His throne was also marked with tiger and his army uniform was also tiger. Tipu was adamant to drive British out at any cost.That was Tipu character.
Fourth Anglo-Mysore War
Tipu was involved in wars right from first Anglo-Mysore war.
Tipu was trying to get help from from Napolean and British feared French invasion and so Britain Gov general Lord Morrington posted in Calcutta ordered his brother Col. Arthur Wellesley to settle accounts with Tipu.
East India Batallion 33 from Madras started in Feb 1799 with soldiers and thousands of baggage like thousands of sheep (for meat) and bullock cart, travelling market for soldiers etc.
British camped and tried to break into the fort but Tipus cannons were stopping them. On May 4 Tipu was told that he had omens were not good for him and he donated ornaments, goat to Hindu priests but nothing could help. The British used bamboo ladders to climb the lime washed walls (see water gate foto below) and in few minutes the fort was captured.
He was found dead among many soldiers and later identified by British and was finally given regal farewell and buried
beside his father Haider Ali.
How to reach
Mysore  (22 KM) , Bengaluru 125 KM. Nearest airport and railway station is Mysore.
Nearby places :Shivasamudram (27 KM) second biggest waterfall in India and the 16th largest in the world. Talakadu : 60 KM,  Mysore :22 KM
Where to stay
I had booked online the KSTDC ( Karnataka State Tourism Dev Corporation) hotel called Mayura Riverside.
It is really at the brink of the river. I felt like staying for a week and finish one novel sitting in open restaurant touching Cauvery river. The rooms are very good and hotel is in few acres with pet ducks and rabbits and children park.
My real experience at Srirangpatna
Initially I was confused about the most time economical sequence of traversing the monuments. I gathered the information from locals and giving the information here.
Sequence to visit : Rangnathaswamy temple- Narsinghswamy temple- Bailey's Dungeon-Lal mahal- museum-water gate-tipu death-jumma masjid-daulat daria-gumbaz-sangam
In total it took 6 hours by car. You can also contact local auto available at Srirangnatha Swamy temple and they may charge Rs.300-500. Guides are available at certain monuments and they will oblige you happily.
In the end we were tired and could not cover Sangam, Lord Harris's House, Scott's Bungalow and Garrison Cemetery.
Temple Sri Ranganathaswamy
This temple is dedicated to Lord Vishnu. As per inscription in temple it was first consecrated in 984 AD. by a local chief called Tirumalaiah, a vassal of the Western Ganga dynasty. Later Hoysala King Vishnuvardhana (1108-1152 AD) granted the village of  Srirangapatna to the Vaishnava saint Ramanujacharya as an agraharam (place of learning).  An inscription of the great Hoysala King Veera Ballala II (1210 A.D.) confirms that additions and renovations were made to the temple at that time.
The tower over the entrance bears features consistent with Vijayanagara architecture.According to historian George Michell, contributions were also made by the Wodeyar kings  of the Kingdom of Mysore. Inside the premises are Balaji temple, Sri Mahalakshmi temple,Lakshmi Narsimha temple, Vishnu (Sudarshan) temple of 14 arms, Garuda temple and Maruthi temple. This is a unique maruthi temple as rarely you will see the Hanuman icon with folded hands. photography not allowed inside.
Note for piligrims for Rangnathaswamy temple
There are 5 sacred temples in India devoted to Sri Ranganatha form of Vishnu  in South India . These are Sri Ranganathaswamy Temple located at Srirangapatna, second at Srirangam near Tiruchirapalli, third at Kumbakonam, fourth at Trichy, and fifth at Mayiladuthurainear Tiruchirapalli. These together are called PancharangaKshetram (Pancha-"five", ranga-"Ranganatha", Kshetram-"sites").
Tradition holds that all the islands formed in the Cauveri River are consecrated to Sri Ranganathaswamy and large temples have been built in very ancient times dedicated to that deity on the three largest islands. These three towns, which constitute the main pilgrimage centers dedicated to Ranganathaswamy, are:
AdiRanga – at Srirangapatna
Madhya Ranga – at Shivanasamudra (65 KM)
AntyaRanga – at Srirangam near Tiruchirapalli (376 KM)
Narsinghswamy temple
Just in front of this Rangnathaswamy temple stands this temple which is dedicated to 10 avtars (incarnation) of Lord Vishnu.
Bailey's Dungeon
This was the place where Tipu Sultan used to imprison all the British officers.  Here also on the spot guide was available. He told that 24 prisioners could be tied along the wall and left like that. By seeing I could not understand how the treatment\death was sentenced to prisioners in this kind of jail. But this jail is totally different than other usual jails.
Tipu Fort (Lal Mahal)
The actual fort was in several acres and inside the fort are the all monuments like this Lal mahal, Daria Daulat, Jumma Masjid, water mark etc. Inside this fort is another building about a KM away from Srirangswamy temple is  Lal Mahal (ASI board names it) that lies in ruins now. Outside the fort is the Gumbaz that contains Tipu's tomb, his father Haider Ali's tomb and his mother's tomb. This Lal mahal also contained a big library that time.
Museum beside  Lal mahal
If you see the fotos and britishers fotos none in illigible. Such a valuable asset does not provide any information to visitors. ASI must act on this.
Water Gate
About half a KM from Lal Mahal is the water gate. The gateway opens to the shallower portion of the river. The residents of the fort used this gate for fetching water for the daily needs, hence the name. This is a shallow archway with guard houses on either sides. You can reach the riverside by passing through this gate.
Though this area appears quite laid-back, it was the location of a deadly battle in 1799. In all probability it is through this gateway on that fateful day of 4 May 1799 the English troops charged into the fort.
Tipu Sultan's Death Place
The body of Tipu Sultan was found a little away from Lal mahal.
A very good and detailed reference to Tipu death episode is available at http://www.ourkarnataka.com/Articles/starofmysore/sadiq07.htm
Jumma Masjid
Got a guide at the spot to briefly explain the mosque. The mosque has stone Arabic inscriptions which mention the 99 different titles given to the Prophet Mohammed, along with the Farsi inscriptions which mentions that the Jamia Masjid called Masjid-E-Ala was built in AD 1782 by Tipu Sultan.
Guide showed us a sun clock structure, 80 feet pond which connects to Cauvery through tunnel and told even today this mosque is majorly used by local muslims to offer prayer. There are some mausoleum of local priests of that time. The ladies mausoleum is also there which has flat top.
Tipu Sultan Gumbaz
The Gumbaz was raised by Tipu Sultan in 1782-84 as a mausoleum for his father Hyder Ali who died in 1782 and his mother Fakr-Un-Nisa. The original carved doors of the mausoleum have been removed and are now displayed at the Victoria and Albert Museum, London. The present door made of ebony, and beautifully decorated with ivory was gifted by Lord Dalhousie Tipu's sister, Tipu's daughters, son-in-law. On the East side is the black grave supposedly of Tipu's foster mother etc. Here also a on the spot guide will explain you about the Gumbaz.
Daria Daulat Bagh
It is a grand piece of monument palace. Tipu Sultan popularly known as the "Tiger of Mysore", built this palace in 1784 and ruled Mysore from here for a short time after his father Hyder Ali wrested power from the Wodeyars in the middle of the 18th century. The exterior lawn of this palace is spread in 22 acres or more and is now used as a museum which carries paintings of Maratha, Nawabs, British  army in uniform.
Also shows painting of traitor Mir Sadik whose face is now erased by locals as he is supposed to be involved in identifying Tipu to British when all Tipu army and Tipu were clad in same uniform. Tipu was a sharp and shrewd Sultan and he came to know of the evil designs of Mir Sadik. He was arrested and kept in prison. But Mir Sadik explained that this was the work of some other soldiers and he was following them to find out the truth. Thus he pleaded his innocence and took an oath to be faithful and obedient to Tipu. Unfortunately Tipu believed him and released him from prison.
The museum also contains Tipus several sons fotos, British officers fotos, Tipu clothes, guns, furniture used by Tipu that time. Photography is not allowed inside the museum.
Sangam
The amalgamation of the three holy streams creating the island. I could not see this so no idea about this.
Epilogue
Not even a single ASI boards are readable at any of the monuments. When so many visitors come, can it not be replaced with new ones? 90% of boards look to be erected in 18th century.
In the museum near Lala Mahal the situation is worse.
Hits: 232