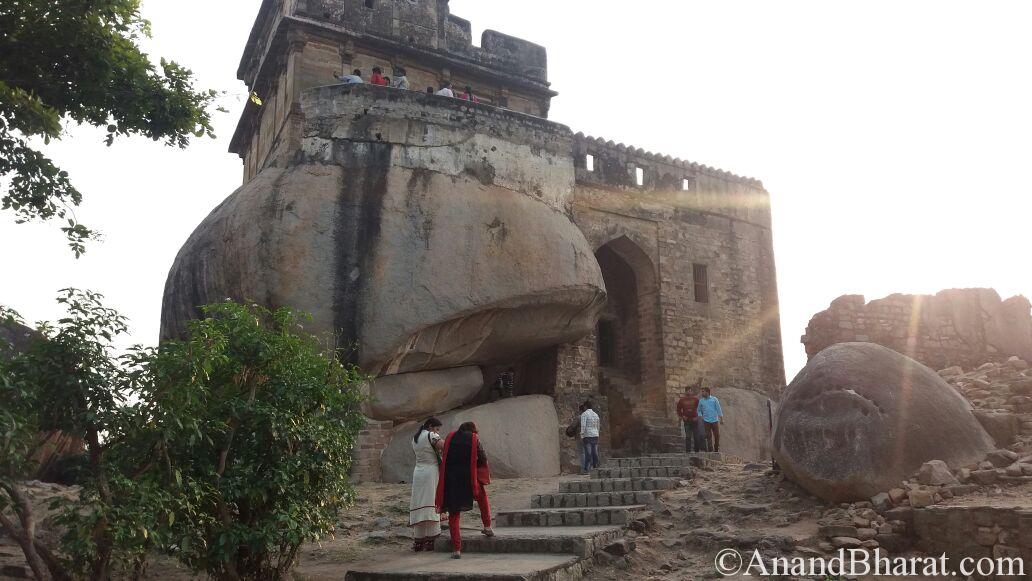 Madan Mahal- Rani Durgavati memory
Madan Mahal- Rani Durgavati memory
वक्त की हो धूप या तेज़ हो आँधियाँ,
कुछ क़दमों के निशाँ कभी नहीँ खोते
I happened to attend a marriage in Jabalpur as habit I stole some time and visited two places, one historical called Madan Mahal  and other scenic Narmda river bank called Bheda ghat and Dhuadhar falls. I took a taxi from the marriage venue which is in outer skirt of Jabalpur, 25 KM from Bhedaghat. After seeing Bheda ghat and Dhuadhar falls I stopped at Madan Mahal.
My experience
We took a taxi for full day (Rs.1400) from the marriage venue which is in outer skirt of Jabalpur, 25 KM from Bhedaghat.  We started at 9 AM and finished this route by 5.30 PM. No breakfast or lunch in between,
Below I included Jain temple in route but we did not cover it as already we were tired and had no courage to climb the temple hill which seemed to be on no less than high 300 steps.
We traversed the tourist spots in below order
Jabalpur city — Dhuadhar – Chausath Yogini temple — Bhedaghat– Pisanhari Jain Temples–Madan Mahal in span of total of 40KM.
If we see Madhya Pradesh, India state we see most of the forts are in Northern and western part as this area is very rock and raw material to build fort and architectural temples ( for example ancient 84 Yogni temple) is easily available.
Location
Jabalpur city, state Madhya Pradesh,India. It is just 3 KM from Jabalpur city. Connected by all major and small cities by train. Fort is 10 KM from main railway station. Nearest airport is Jabalpur (22 KM). It is also 22 KM from Bhedaghat.
You can traverse the tourist spots in below order
Jabalpur city — Dhuadhar – Chausath Yogini temple — Bhedaghat– Pisanhari Jain Temples–Madan Mahal in span of total of 30 KM.
Best time to visit
Since Bhedaghat boating is prohibited from June to Oct so better do not visit this place during this period. May june is peak summer so avoid this season.
History
There was a big ASI board at the bottom of hill but it does not carry historical information but explaind about some structures on fort and its surrounding buildings.
Madan Mahal fort is constructed in 11th century under the rule of 37th Gond ruler Madan Verma and so this fort is famous as Madan Mahal. But it seems later state government named it as Rani Durgavati Palace to give respect to brave queen as in 16th century this palace  was inherited by Rani Durgavati.
Rani Durgavati Palace who was born (October 5, 1524 – June 24, 1564) at Kalinjar Fort to Keerat Rai, a Chandela King. She was married to Gond dynasty prince Dalpat Shah in 1545 and gave birth to son Vir Narayan. Dalpat Shah died after 5 years and Durgavati had t look after Gond kingdom.
In her short life Durgavati with all bravery gave all resistance to Baz bahadur of Malwa) and Akbar(1562) who were attracted by the wealth of Gond Dynasty. It is same Baj Bahadur whose love story with Rani Roopmati of Mandu is famous.
While fighting with Akbar Mogul forces her mahout advised her to leave the battlefield but she refused and took out her dagger and killed herself on June 24, 1564.
In the year 1983, the Government of Madhya Pradesh renamed the University of Jabalpur as Rani Durgavati University and in her memory. Government of India issued a postal-stamp commemorating her death, on 24 June 1988.
Who were Gond
The first historically recorded Gond kingdoms came up in central India's hilly region in the 14th and 15th century AD.   The first Gond king was Jadurai, who deposed the Kalchuri Rajputs, at whose court he had earlier worked, to grab the kingdom of Garha Mandla (modern Mandla and Jabalpur in Madhya Pradesh). Gond kings came to an end in the 18th century when marathas annexed them.
About the Fort
The monument is situated at a height of about five hundred meters on the hill of same name.
It is a small fort. It was mainly used as a manned post and has a stable, war rooms, small reservoir and main pleasure chamber of the rulers.  Not sure why here also no boards are there to indicate the position of structure having rooms, stables, secret passages, ancient scripts, corridors etc.
There are many myths floating about the fort of the Gonds. It is said to harbor gold bricks and Gond treasures hidden somewhere in it in accessible underground folds. An underground tunnel covering a long distance is said to be located somewhere around the precinct – a possible escape route and transportation artery of the Gonds. But as I saw though the fort is neatly maintained but in want to ASI board it is impossible to make out internals of fort, tunnel etc. There were about 100 tourists at this time and just were busy in taking fotos as there was no information available on the fort.
Other places to see
After visiting Madan Mahal fort, tourists have option to visit Balancing rock, Pisanhari Madhiya Ji Jain temples, Gwarighat, Bhedaghat, Chousat Yogini temples, Lamhetaghat etc.
There is a Rani Durgavati Memorial museum also nearby but due to shortage of time we could not visit the same.
At a distance of over 2 km from the fort there is a beautiful Jain Pilgrimage known as Pisanhari Ki Madiya where beautiful temples are situated over the hill. You have to cross not less than 300 steps to reach this temple so we gave a miss to it.
On way to Madan Mahal, one comes across the Balancing rock that rests on another rock with a very narrow nexus. This rock has survived severe earthquakes when everything around it fell and it is wonder.
Note that there is prevalent misconception on internet that Madan Verma was son of Durgavati. But if you explore in depth you will find that Madan Verma existed before Durgavati, fort was inherited to her and Vir Narayan was son of Durgavati. Also this fort is small and in ruins so deserves a sure visit (until and unless you are not history lover) if you visit Jabalpur or nearby place for some work.
Some more information you can get from http://www.madhya-pradesh-tourism.com/heritage/forts/madan-mahal-jabalpur.html which names 12 important forts in state Madhya Pradesh,India.
Epilogue
This is basically not a fort but a unique  example of Military post which was used to have a patrol on nearby activities and as an intermediate for keeping horses, grains ,temporary sojourn for kings. It is a big fort and now in ruins. It was constructed by Chandel kingdom who ruled for 430 years from 850 AD to about 1200 AD. Built by king Madan Singh in 12th century and was inherited by Queen Durgavati (married to Gond Kingdom). This fort is famous in memory of Queen Durgavati who fought bravely with many rulers like Baj bahadur and Asaf Khan and defeted them many times. Finally she killed herself in a battle against Akbar in 1564 AD
मैं रहूँ या न रहूँ, मेरा पता रह जाएगा
शाख़ पर यदि एक भी पत्ता हरा रह जाएगा
Hits: 421