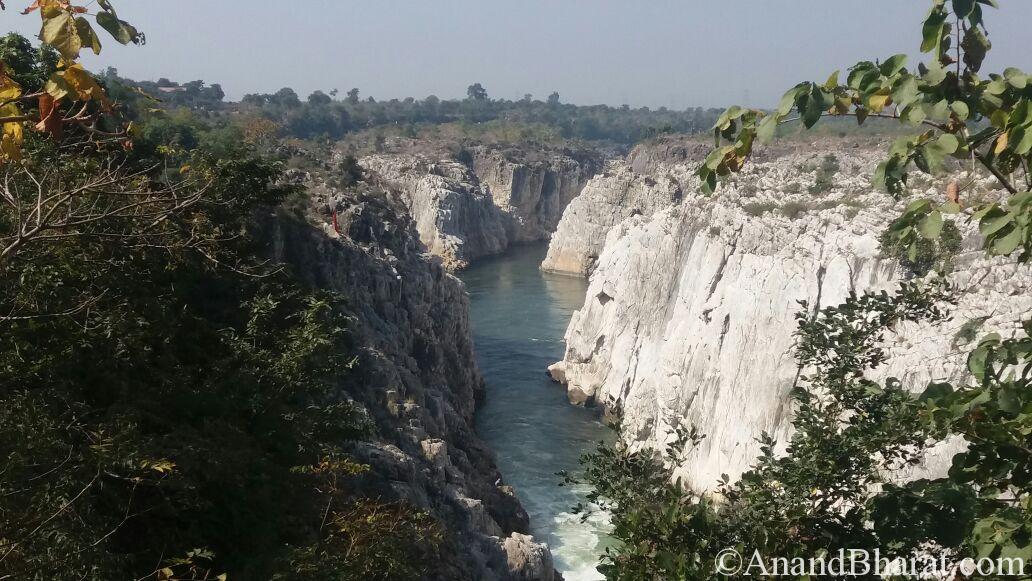 Bhedaghat- The Narmada rocks on marble
Bhedaghat- The Narmada rocks on marble
The Narmada river itself is object of veneration. Narmada originates from Amarkantak and flows into the Arabian Sea. Among the most sacred rivers of India, it is believed a dip in the river washes away sins. According to Hindu mythology, Ganga river became polluted by millions of people taking dip in her waters to wash away their sins. To cleanse herself, Ganga acquired the form of a black cow and took bath in Narmada. Narmada is considered daughter of Lord Shiva.
Location
Jabalpur city, state Madhya Pradesh,India. It is just 20 KM from Jabalpur city. Connected by all major and small cities by train. Nearest airport is Jabalpur (22 KM). Dhuandhar falls and Bhedaghat are 3 KM apart and in between is Chaunsath (64)Yogini temple.
My experience 
I happened to attend a marriage in Jabalpur and as habit my family stole some time and visited a scenic Narmada river bank called Dhuadhar falls and Bheda ghat.
I took a taxi for full day (Rs.1400) from the marriage venue which was in outskirt of Jabalpur, 25 KM from Bhedaghat. Long back I had visited this place in 1993 when I came here on Advanced Telecommunication training center and so had a bleak memory of the place. We started at 9 AM and finished this route by 5.30 PM. No breakfast or lunch in between,
Below I included Jain temple in route but we did not cover it as already we were tired and had no courage to climb the temple hill which seemed to be on no less than 300 steps.
We traversed the tourist spots in below order
Jabalpur city — Dhuadhar – Chausath Yogini temple — Bhedaghat– Pisanhari Jain Temples–Madan Mahal in span of total of 40KM.
Dhuandhar falls
It seems it got its name as Dhuan (smoke) and dhar (flow of water). Narmada which flows placid soon turns turbulent as it plunges to depth of 98 feet at Dhuandhar. The plunge creates a mass of mist and presents an awesome spectacle watery smoke. Its major attraction is a waterfall known as Dhuandhar, which looks like smoke coming out of the river and therefore its name.
Cable Car :   It is not worth taking this car. .  It lands you to they call it "New Dhuandhar" . Here you have to walk about 2 KM and you can
see Narmada and rocks from top view. Also beware here of thugs who ask you to go to New Dhuadhaar by taxi. Just yourself walk 3KM to see bandar kodni and other scenic views yourself. Even if you use taxi you have to walk on foot about a KM.
Bhedaghat
Bhedaghat, it is believed, evolved from the name Bhairav-ghat. There is a big temple and is worth visiting. Bhedaghat is the main center of attraction and Jabalpur is famous for this. Note that Boating is prohibited  to tourists from June to Oct. In a moonlit night boating is open till 11 pm
This place is famous for film shootings and boating in moonlight. The boating charge is Rs.100 ( ticket can be purchased from counter) and duration is about 1 hour 15 minutes. It is worth.
Another major attraction is 'Bandar Kodini', when one travels in between the marble rocks in a boat, the mountains at both the sides at one point come so close that the monkeys are able to jump across them, hence the name "Bandar Kudini".
Mining of marble at Bhedaghat is strictly banned. However, show pieces made of marble and soapstone available at the rural market are worth purchase. I still have 1993 purchase in my house as it is.
Chaunsath Yogini temple
The temple is one of the four major extant temples containing carvings of sixty four yogini, female yoga mystics. It was built in the 10th century under the Kalachuri kingdom. It commands a view of the whole area around and of the river flowing through the marble rocks.
Film Shootings
While boating the boat guide showed us the shooting points which are as follows.
Other movies shot were as
1973: Hindi movie Bobby uses Bhedaghat as the settings of its climactic scene.
1974: Bollywood movie, Pran Jaye Vachan Na Jaye used Bhedaghat as the location of its climax.
2013 : Mahabharata's opening episode features Bhedaghat in an amazingly beautiful way where Shantanu and Satyawati meet.
मैंने समंदर से सीखा है जीने का सलीक़ा,
चुपचाप से बहना और अपनी मौज में रहना ।।
Hits: 211