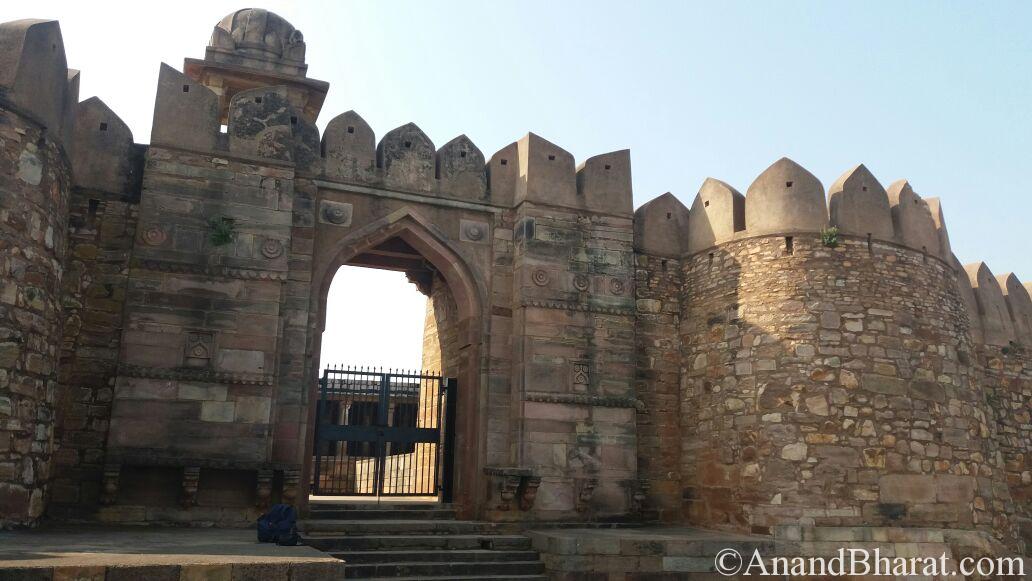 Kalinjar Fort- A glory of Bundelkhand
Kalinjar Fort- A glory of Bundelkhand
Kalinjar means "kal" and "jer"  means destroyer of death. Kalinjar  is a fortress-city in the Bundelkhand region, Banda District  of state of Uttar Pradesh,India.of central India. 129 KM by road from World Heritage Site of Khajuraho. Located in Vindhyachal mountain Range, at an elevation of 244 meters. It served several of Bundelkhand's ruling dynasties, including the Chandela dynasty of Rajputs in the 10th century, and the Solankis of Rewa. The fortress contains neelkanth temple,unique ponds  dating as far back as the Gupta dynasty of the 3rd-5th centuries. This fort is also birth place of Rani Durgavati, daughter of Chandel king Keerat Rai.
My Real Experience about this fort
Strange is that for years I was staying about 200 KM from this place but never heard about.  Recently when planning to visit Khajuraho I read about this 1000 years ancient fort and found that it has a very interesting history behind. I decided to visit this and the irony is that I could see Kalinjar but not Khajuraho. From Kalinjar foot hill if you go by car you can see the fort in 3-4 hours, but if you follow on foot to climb hill then you will take 8 hours and so can not cover Khajuraho same day.
My trip to this fort was a very unique and I will say was quite adventurous. Not much is available in internet about how to reach this fort by road or train and risk involved as this fort is in remote village.
By chance I got call from sister to attend her new house as Lucknow, Uttar Pradesh, "House warming ceremony" and I started exploring the Kalinjar routes.
I started from Bangalore, Karnataka, India  to Lucknow by flight.  Attended  function and started my journey to Kalinjar from Lucknow. I started by Chitrakoot express at 5.30 PM and got down at Atarra rly station at 11.05 PM. Atarra station looked me very  small and there was no retiring room as well. Outside I did not find any hotel  and  I spent whole night on railway platform in temperature of about 12 degrees.
Morning 6 AM I came out of platform to catch some taxi for Kalinjar but there were no taxies readily available. I had to walk about 1 KM to catch bus for Naraini (15 KM) and then another bus would go for Kalinger fron Naraini(18 KM). So by 8.30 I reached Kalinjar.
Lucknow -> Atarra ( 6 hours by train) -> Naraini (30 mins by bus)-Kalinjar  (30 mins by bus)
At Kalinjar I got down at foot hill and could see the fort on top. I inquired about route for fort.
Locals told that there are 2 routes one by road (5-6 KM) and other by climbing the hill on foot. I preferred climbing the hill but I did not find any Guide there. While I was inquiring the locals, a person named Saleem came with woods on his head and offered me to show the hill route. He agreed for Rs.500, kept his woods in his house and came along with me while brushing his teeth. I came to know later that he is barber by profession and runs his "clinic" in village.
To start with first he showed me an old building which he confidently called as "Rathore Mahal". I had never read about this building anywhere when I was collecting info about Kalinjar. No ASI Board here as usual. I was stupefied to see the poorest ever maintenance of this building ever and with some people are using it as goat shed.
Then we started climbing hill and crossed about 50 steps to reach first gate (Alamgir darwaja) of fort. Further we had tough climb of steps and mud kachcha route.  The doors are not very great except that they carry ancient and royal history that many old kingdoms like Mahmud of Ghazni  (11th century),  Prithvi Raj Chauhan(12th century), Babar and Akbar (16th century) would have passed exactly through these routes from which I am passing now.
Again wonderful thing is that no ASI boards are there to indicate door names and therefore you can not find door names in internet also.
7th gate is the most spectular gate out of 7 gates. From this gate only we can enter the fort. Unfortunately this gate was locked and I had to take kachcha route (slippery) to enter the fort. On entering I saw big building structures adjacent to gate 7 but again we can not identify this building as no ASI Board is there also.
Walked  further on right side we saw "Venkat Bihari temple" and "Chaube Mahal".
Further about 200 meters there are 3 ancient buildings called " Rang Mahal".
Further on same road ( tar road) left side is "Imam Sah Mosque" and Shanishari Talab (pond).
Further 200 meters on left side there is a Cemetery of about 20 -30 people. No one knows whose.
Further on same road we come to one more Rang Mahal, Moti Mahal and Zakira Mahal. No boards are provided by ASI to identify the buildings and palaces. Thanks to ASI.
Further ahead about 500 meters is "Koteshwara Pond" and "Aman Singh Palace".
From Aman Singh Palace we returned back on same road and after 300 meters took path to Neelkanth temple. On way to Neelkanth temple we saw "Ram Katora Pond".
Neelkanth temple is the oldest temple here and is said to exist even before this fort was constructed. This temple is referred even in Mahabharata and Vedas. I started down the hill at 3.25 PM and reached down at 4.50 PM. On the way back my guide drove away his 4 goats which were enjoying grass on this fort hill. Very luckily I was at foot of hill at 5 PM and my guide caught some locals to drop me by their motor cycle to bus stand. Oh last bus was waiting and I just escaped being trapped there as after that there was no transport from Kalinjar to Atarra.
Historical importance of Fort
The fort was attached by all tribes and north India kingdoms and finally Akbar only could win it. This is the place where Chandels ruled for 450 years, Sher Sah Suri was killed in near by hill, Rani Durgavati was born here. It has Neelkanth temple dating 3-5 century.
How to reach
The Seven Gates
I was adamant in myself to see the gates so I did not follow motor path but preferred climbing the hill. And I was proud that I passed through gates from which once Mahmud of Ghazni (1023 AD), Qutab-uddin Aibak(1203 AD) and Prithvi raj Chauhan(12 century), Chandels (950 AD to 1350 AD)who built Khajraho,Babar, Humayun (1530 to 1545 AD) Akbar (1569 AD) and Rani Durgavati (16th century)would keep their foot.
The material used in its construction is the large sand stone and granite pieces put over each other with an occasional use of lime mortar as cementing material.
Who built it
It is still debatable. Some agree that it was built by king Nannuka (the founder of Chandel dynasty), whose reign from 831 to 850 AD.
A Witness to Historical Battles
The first King of this family who founded the kingdom is said in this record to be Nannuka, whose reign from 831 to 850 A. D. Nizamuddin and Firista however mentions that the forces of Mahammad of Ghazni encircled the fort in 1023 , but soon there was a treaty of peace between Muhammad and King, when Prithviraj Chauhan defeated the Chandels shifted their capital to Kalinjer fort from Mahoba. Qutubuddin Aibek captured the fort in 1203 . Some time by the end of the 13th century the fort passed into the hands of the Bundelas. Ultimately Humayun from 1530 to 1545 kept continuous attempts to capture the fort.
The fort was subsequently captured by the Suris in a famous battle fought in 1545 in which Sher Shah lost his life. The author of Tarikh-i Daudi describes the efforts of Sher Shah during a period of seven months, to capture Kalinjar. After his accidental death, his son Jalal Khan took the fort and coronated himself and assumed the title of Islam Shah. In the time of the disturbance of the Afghans, Raja Ram Chand, Raja of Panna, bought it from Bijli Khan, the adopted son of Bihar Khan for a large sum. Mughal re-occupation of Kalinjar under Akbar took place in A.D. 1569, under Majnun khan Qaqsaland the area was granted as jagir to Raja Birbal, one of the Nine Jewel's of Akbar. Towards the end of the reign of Aurangzeb, when he was campaigning the Deccan, the Bundela chief Chhatrasal captured Kalinjar in 1700. Finally the fort of Kalinjar passed to the British hands in 1812. Before the capture of Kalinjar fort by the British, the fort was held by the Chaubes.
Mahammad of Ghazni(1023)-> Prithviraj Chauhan-> Qutubuddin Aibek(1203)->Bundels(end of 13th century)->Humayun(1530)->Akbar(1569)-Aurangzeb(17th century)-Chhatrasaal(1700)->Panna Raja Hardev Sah ->Chaube-> British(1812)
Neelkanth Temple and Shivlinga Cave 
There is an interesting fact about neelkanth temple. It is said that it was built by Bardbujjar. It was a brave tribe who believed in "fight or die".
Legend says that after samudra  manthan Hindu God, Lord Shiva, drank the poison and his throat became blue (hence the name Neel (blue) Kantha (throat)) and he came to Kalinjar and overcome the 'Kal' i.e. he achieved victory over death. This is the reason the Shiva temple at Kalinjar is called Neelkanth.
Allows views of a shivalinga through a cave-like opening. Just above the temple is a natural water source that never dries up and water continually drips onto the shivalinga. The priests, who have been Chandela Rajputs since the time of the Chandela kings have pointed out that the neck of the sculpture of Lord Shiva on the shivalinga, though made of solid rock, is always moist to touch. This is a reminder of the "neelkantha" or drinking of poison story from the epic Bhagavata Purana.
Trimurti images
Here are also many Trimurti images showing the faces of Brahma, Vishnu and Mahesh (Shiva). Some distance away is a massive figure of Vishnu lying in the ocean of milk, enclosed within the coils of the Sheshnag. The images depict Lord Shiva, the god of love Kamadeva and Indrani the wife of Indra amongst others and show the influence of diverse cultures and religions. It also indicates that the creation of the Chandela culture was not the handiwork of artists from one region.
The Bargujar princes who ruled before the Chandelas were influenced by the 'Shaiva' cult. Therefore, among the rock-cut and stone images are mostly those of Shiva, Parvati, Nandi and the Shivlinga. Shiva is seen at times in his dancing posture of tandava and at others in a close embrace with goddess Parvati.
Venkat Bihari Temple
Chaube Mahal
Rani Mahal
There are 3 big buildings (palaces or mahal) which can be classified as Rang Mahal, Moti Mahal and Rani Mahal. But since there are no ASI ( Archelogical Survey Of India) Board I could not classify these three.
Pond of million tirthas
said to cure skin ailments along with aquatic features such as the Sita-kund, Pandu-kund, and Patal-ganga. 
Palace of Prince Aman Singh 
Aman Singh was great grand son and  the descendant of King Chhatrasal. A number of legends are associated with this Mahal whose big lawns and walls unfold the long history of Chandela culture. Thousands of broken and decayed images made of granite and sandstone have been collected here in an informal museum.
Other Buildings
चमन की बहारों में था आशियाना,
न जाने कहाँ खो गया वो ज़माना.
Epilogue
When I saw Pratapgarh and Shivneri fort I felt I was seeing a legendary  Shivaji but when I saw Kalinjar I was seeing history: A fort where Alaha-Udal legend was written and still today sung in Bundelkhand, the fort near where Sher Sah Suri died, where brave queen Rani Durgavati was born, the fort which was visited by Qutan-din Aibek, Mahmud of Gazni, Prithviraj Chauhan, Humayun, Babar. A palace where Chatrasal lived, all Chandel kingdom lived. Today this fort is in a remote village and deserted  but you can reach fort directly by car or trek through hill forest if u love trekking.
All the best.
Hits: 465