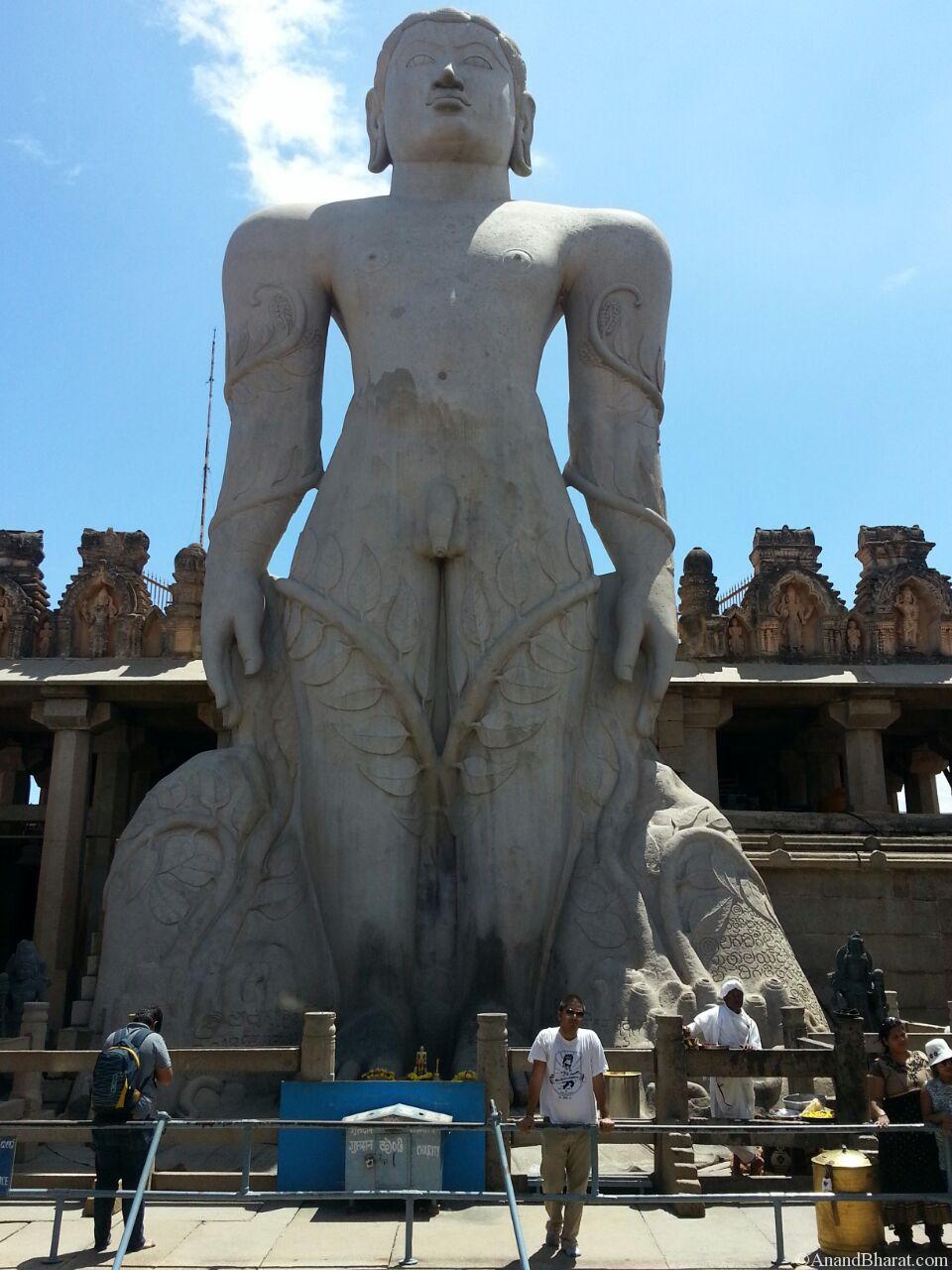 Shravanabelagola- A Unique Destination
                      Shravanabelagola- A Unique Destination
As per the schedule on day 3 we finished Belur temple morning visit ( last evening also we had visited) by 9.45 AM and started for Sravan Belagola which is 78 KM from Belur.
It was non stop journey and we reached Belagola by 11.50 AM. We parked the car on road side and one person came with Belagola Panchayat parking receipt of Rs.30. Walked on foot about 0.5 KM to reach the Vindhyagiri gate.
It is better if I explain the geography of this place.
The all pilgrimage revolves around 2 hills – On right side of main road is Vindhyagiri hill which has main 58 feet deity (Gomteshwara statue as local people call it). The more popular name is Bahubali.
While on left side of road is Chandragiri hill – which carries a few tirthankar temples and temple dedicated to Chandragupta Maurya who died here.
There is just 0.5 KM distance between both hills.
Both hills can be covered in 3.5 hours. Vindhyagiri has 620 steps (not so tough) while Chandragiri has 300 steps ( easy).
Take socks to wear as shoes are not allowed. Do not take umbrella as wind will explode your umbrella.
Location
Shravanabelagola is a Jain pilgrims destination located in the Hassan district of Karnataka state, Southern India. It is at a distance of 52 KM from Hassan and 147 KM from Bangalore.
Our Itinerary
Just note that all roads are awesome and traffic less to drive on. From Bangalore you can choose Neelmangla route if you commence before 8 AM.
From
To
distance
Travel time
Bangalore
Halebeedu
216 KM NH75 via Neelmangla
4Hrs.20 Mins.(I am slow driver)
           Stay at Halebeedu KSTDC Hotel
            Day 2
From
To
distance
Travel time
Halebeedu
Chickmagaluru
36 KM via SH57
50 Mins
Chickmagaluru
Belur
25 KM via SH57
40 Mins
                      Stay at Belur KSTDC Hotel Mayur Vellapuri
                       Day 3
Belur
Shravanbelegola
78 KM
2 Hrs.
Shravanbelegola
Bangalore
147 KM
3 Hr. 20 mins
I think below one day trip will be hectic if you club Halebeedu and Belur as not enough to see details of temple.
KSRTC one day Trip
06.30 am Departure from Bangalore
08.30 am – 09.00 am Breakfast
10.30 am – 11.30 am Visit Shravanabelagola & Darshan of Lord Bahubali (Gomateshwara)
01.30 pm – 01.45 pm Lunch at Karnataka Hotels Belur
02.00 pm – 03.00 pm Visit Hoysala style Chennakeshava temple, Belur
03.45 pm – 04.45 pm Visit Hoysala style Hoysaleshwara Temple, Halebeedu
10.00 pm Tour ends at Bangalore
Where to stay
There is Jain Mutt and accommodation was available( contact 08176-257258). I think it will be just average accommodation seeing the surroundings of the area when I reached here.
My catch
It is a must see place. I think I am one of the fortunate to visit this, a very different place of what ever many many I have seen so far.
Bahubali legend and history
Reference : WikiPaedia
King Rishabhanatha ( later named as Lord Adinatha) of Ayodhya had 99 sons and was a very kind king transforming a tribal society into an orderly one. One day Indra of the first heaven arranged a dance by celestial dancers in the assembly hall of Lord Rishabhanatha. One of the dancers was Nilanjana, whose clock of life had only a few moments left to run. While in the midst of a series of vigorous dance movements, she died. The sudden fatal death of Nilanjana, reminded Rishabhanatha of the world's transitory nature and he developed a desire for renunciation. He gave his kingdom to his hundred sons, of whom Bharata got the city of Vinita (Ayodhya) and Bahubali got the city of Podanapur (Taxila) and became an ascetic on the ninth day of the month of Chaitra Krishna (Hindu calendar). The renunciation is called Diksha Kalyanaka. Rishabhanatha is said to have preached Jainism far and wide.He attained Moksha (liberation from the cycle of births and deaths) at Ashtapada (famously known as Mount Kailash).  Rishabhanatha is said to have lived for 84 lakh (purva) of which 20 lakhpurva were spent as a youth (kumar kala), and 63 lakh purva as the King. His preachings were recorded in fourteen scriptures known as Purvas.
Whose statue is this?
This status is of Jain Teerthankar Lord Bahubali.
King Rishabhanatha had two wives, Sunanda and Sumangala. Sumangala was the mother of ninety-nine (as per legend) sons (including Bharata) and one daughter, Brahmi. Sunanda was the mother of Bahubali and Sundari.
Lord Adinatha had not announced any heir to his kingdom when he took renouncement . There was a big fight between the two brothers, Bahubali and Bharatha, over the kingdom. Bharatha lost this battle, but Bahubali did not feel any happiness on seeing his brother's defeat. He then gave the kingdom to his brother and then attained Kevalagnana. This statue is of  Bahubali (also known as Jain Bhagvan Mahaveer, Parshwanath, Gomateshwara).
The statue was carved during the period of Chamundaraya, a minister of the Ganga King Rajamalla between 982 and 983 CE. Western Ganga was an important ruling dynasty of ancient Karnataka in India which lasted from about 350 to 1000 AD. They are known as 'Western Gangas' to distinguish them from the Eastern Gangas who in later centuries ruled over Kalinga (modern Odisha).
Why it was constructed?
One of the most important thirthas (pilgrimage) for Jainism and this mammoth statue is said to be built under patronage of Western Ganga dynasty.
There is a very interesting story behind this.
Rachamalla of Ganga Dynasty was the King of Talavanapura. Chavundaraya, his Prime Minister, was very intelligent, very brave and heroic, and devoted to God. His mother was Kalaladevi and father Mahabalaiah. One day Kalaladevi heard a discource from a priest about the teachings of lord Bahubali. He told that Lord Bahubali's brother had erected a statue of Lord Bahubali at a place called Paudanapura. She expressed her deep desire to her son Chavundaraya see this statue. Chavundaraya tried all means to locate the place and statue but came to know that there is no such place existing now. But in his search he landed in place called Chandragiri Hill. While sleeping in night he saw a dream.
A supernatural being by the name of Kushmandinidevi appeared to him in the dream. She said to him, "Human beings cannot see again the Bahubali idol got prepared by Bharatha, however hard they may try. Even Paudanapura will not be found. Instead of all this, if you stand just here on the hill and shoot a golden arrow at the peak of the Indragiri hill opposite, you can see Lord Bahubali."
At once Chavundraya did as he was asked to. He picked up his bow and arrow, aimed straight at the top boulder on Indragiri and shot the arrow. With a terrible sound, the huge stone split into two. Between the parts was a magnificent figure of Bahubali. But as Chavundraya woke up he realized it was a dream.
But he saw a big boulder on Indragiri and he determined that his mother's wish should be fulfilled at any cost.
The people around came forward to help, and the work began. The pits and ravines were closed. Stones and shrubs were removed. Thus with great difficulty a path was cut to go up to the top of Indragiri. And then, the statue had to be carved out of that boulder. Hundreds of sculptors from different parts of the country were invited by Chavundaraya. The boulder was piously worshipped by one and all. The work of sculpturing began at an auspicious time. Everyone worked day and night. It was extremely difficult to carry on the work in that jungle and amidst wild rocks. However, God's blessings strengthened human effort and a figure, such as Chavundaraya had seen in his dream, finally took shape.
Religious importance
Every 12th year, there is a big ceremony called Mahamastakabhishek (next is in Feb,2018). In that year, about 2 millions of people visit this place. It usually will take half day to visit all the historical monuments in Shravanabelagola.
Gullekyani Basadi
There is a very strange and astonishing statue of a lady just facing the Mahabali statue. I wondered whose statue it could be and inquired people there. Not got any proper replies. But the story was it self written in ASI Board by side of this statue.This is India.
There are 2 hills Vindhyagiri Hill and Chandragiri Hill..
 
 
Vindhyagiri Hill   (620 steps)

58-feet tall monolithic statue of Gommateshvara , Akkana Basadi, Kattlae Basadi, The main temple of Gomateswara is located on Vindhyagiri hill along with Odegal Basadi, Tyagada Kamba, Siddhara Basadi, Chennanna Basadi, Akhanda Bagilu, etc

Total time taken : 1 hr 45 mins

58-feet tall monolithic statue of Gommateshvara is main attraction. Going up took 50 minues, stay at place 30 mins, coming down 15 mins.

620 steps

            After seeing Vindhyagiri Hill just walk for 6 minutes to reach at Chandragiri Hill gate.
Chandragiri Hill   (300 steps)

Chandragupta Basadi,  memorials to numerous monks and Sravakas who have meditated there since the fifth century AD, famous temple built by Chavundaraya, Parshwanatha Basadi, Chandraprabha Basadi. Chandragiri is home for about 14 shrines among which Chamundaraya Basadi, Chandragupta Basadi, Chandraprabha Basadi, Kattale Basadi and Parshwanatha Basadi are important

Total time taken: 45 Mins. Chandragupta Basadi,  memorials to numerous monks and Sravakas who have meditated there since the fifth century AD.

300 steps.
Note:  For those who can't trek the hill, Dolis are available at the entrance of the temple that charge about Rs. 800 including return.
About Statue
The 58-feet tall monolithic statue of lord Gommateshvara (Lord Bahubali) is located on Vindyagiri Hill. It is considered to be the world's largest monolithic stone statue. The base of the statue has an inscriptions in Prakrutha i.e. devnagari script, dating from 981 AD. The inscription praises the king who funded the effort and his general, Chavundaraya, who erected the statue for his mother. Every twelve years, thousands of devotees congregate here to
perform the Mahamastakabhisheka, a spectacular ceremony in which the statue is anointed with Water, Turmeric, Rice flour, Sugar cane juice, Sandalwood paste, saffron, and gold and silver flowers.The next Mahamastakabhisheka will be held in Feb,2018. The Statue is called as 'Statue of Gommateshvara' by the Kannada people of Karnataka, but the Jains refer to the same as "Bahubali.
Inscriptions
More than 800 inscriptions have been found at this place, dating to various times from 600 AD to 1830 AD. A large number of these are found in the Chandragiri and the rest can be seen in the Vindhyagiri Hill and the town. Most of the inscriptions at the Chandragiri date back before the 10th century. These inscriptions include texts in the Kannada, The second volume of Epigraphia Carnatica, written by B. Lewis Rice, is dedicated to the inscriptions found here. It is said to be the oldest Konkani inscription.The
inscriptions are written in various Halegannada (Old Kannada) and Purvahalagannada (Ancient Kannada) characters. Some of these inscriptions mention the rise and growth in power of the Western Ganga Dynasty, the Rashtrakutas, the Hoysala Empire, the Vijayanagar Empire and the Wodeyar dynasty. These inscriptions have helped modern scholars to understand the nature and development of the Kannada language and its literature.
Kalyani ( Pond)
On the way to Indragiri from the vidyananda Yatri Nivas, the first object that meets the eye of the visitor is the beautiful pond or Kalyani. This is a large beautiful pond situated at the centre of the town. It has steps on all sides and surrounded by a wall with gates surmounted by towers. It was built by Annaiah the officer of Kammata (mint) but he died before its completion. Later his grandson Krishnawodeyar-I completed the gopura, the tank and corridor as mentioned in Anathakavi's Gommateshwara Charite.  In the course of years the construction was also taken over by Chikkadevarajendra Wodeyar, the king who ruled Mysore state from A.D. 1672-1704 and was completed in A.D. 1723 in his memory as he died during the period of its construction.
Surroundings of Vindhyagiri
Sorroundings of Chandragiri
                                  Chandragiri Hill
it is worth mentioning a few Basadis which we can see at Vindtagiri and Chandragiri hills. Though I could not understand much about, just mentioning what ever is mentioned in ASI boards there beside these temples.
Akkana Basadi (On Vindhyagiri)
built in 1181 A.D. Akkana Basadi has twenty-third Jain Tirthankar (saint) Parshwanath as main deity of the temple.
Kattlae Basadi (On Vindhyagiri)
This is situated to the left of Parshwanatha Basadi and in fact this is the biggest of all the Basadis on this hill.Kattlae Basadi has first Jain Tirthankar (saint) Rishabhnatha as main deity of the temple.
Parshwanatha Basadi(On Vindhyagiri)
This is a beautiful structure with decorated outer walls at Chandragiri hill. The image of Parshwanatha is the tallest on the hill which is 18 feet in height. The manastambha (pillar) is sculptured on all four sides which contains the figure of Padmavathi on the south, Yaksha on the east, seated Kushmandini on the north and a galloping horseman on the west. The pillars in the navaranga are of round Ganga type with bell, vase and wheel mouldings.
Chavundaraya Basadi ( On Vindhyagiri )
This Basadi was constructed in 982 by Chavundaraya. It is dedicated to the worship of Neminatha Swamy, the 22nd Thirthankara.This is constructed as the most beautiful of all the Basadis.
Chandraprabha Basadi ( On Chandragiri )
On chnadragiri hill. It is dedicated to the worship of the Eighth Thirthankara, Chandraprabha. The images of Shyama and Jwalamalini, Yaksha and Yakshi are to be found.The basadi is a brick structure raised over a stone base.This temple might be one of the oldest on the hill and its date would be about 800 A.D.
Chandragupta basadi ( On Chandragiri )
Temple #12 established in 9th century.The middle cell of this temple has the figure of Parshvanatha, the one to the right the figure of Padmavathi and the one to the left the figure of Kushmandini, all in a seated posture. Chandragupta Basadi, which was dedicated to Chandragupta Maurya, was originally built there by Ashoka in the third century BC.
Conclusion
This trekking to Vindhyagiri and Chandragiri hill ended our pious visit to Jain temples and legendary history of India of which so far only I had heard and read about in books.
Have a nice trip to this place
Hits: 613