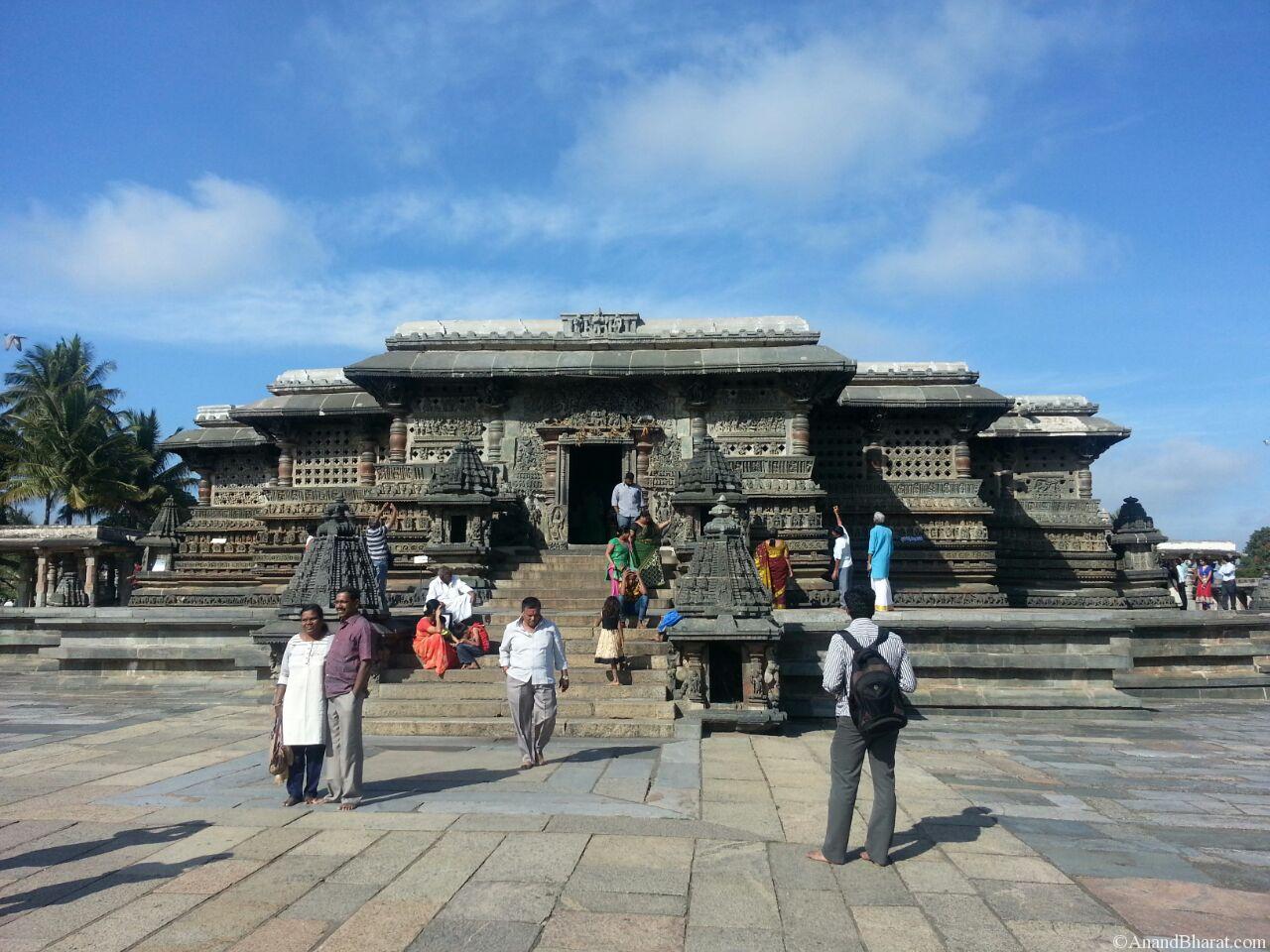 Belur-The Epic of Art of Hindu Culture
                    Belur-The Epic of Art of Hindu Culture
Belur is a  town in Hassan district in the state of Karnataka, India. The town is renowned for its Chennakesava Temple, one of the finest examples of Hoysala  workmanship. It was the early capital of the Hoysala Empire. Belur is located in Hassan district. According to inscriptions discovered here, it was also referred  to as Velapuri.
As per schedule on day 1 we had completed Halebeedu visit and  2nd day  visited Chikmagalur (Chikmagalur took 5 hours) and reached Belur by 3 PM.
We had already booked the KSTDC state government run hotel and checked in here.
Basically it is an average hotel with average service but food was good here. This hotel is just 0.8 KM from main Belur temple.
At 4.15 PM we started for temple on foot and reached in 15 minutes. Hired one Guide (Rs.300) to help us understand the architecture.
Our Itinerary
From
To
distance
Travel time
Bangalore
Halebeedu
216 KM NH75 via Neelmangla
4Hrs.20 Mins.(I am slow driver)
                       Stay at Halebeedu KSTDC Hotel
                      Day 2
From
To
distance
Travel time
Halebeedu
Chickmagaluru
36 KM via SH57
50 Mins
Chickmagaluru
Belur
25 KM via SH57
40 Mins
                        Stay at Belur KSTDC Hotel Mayur Vellapuri
                        Day 3
Belur
Shravanbelegola
78 KM
2 Hrs.
Shravanbelegola
Bangalore
148 KM
3 Hr. 20 mins
I think below one day trip will be hectic and not enough to see details of temple.
KSRTC one day Trip
06.30 am Departure from Bangalore
08.30 am – 09.00 am Breakfast
10.30 am – 11.30 am Visit Shravanabelagola & Darshan of Lord Bahubali (Gomateshwara)
01.30 pm – 01.45 pm Lunch at Karnataka Hotels Belur
02.00 pm – 03.00 pm Visit Hoysala style Chennakeshava temple, Belur
03.45 pm – 04.45 pm Visit Hoysala style Hoysaleshwara Temple, Halebeedu
10.00 pm Tour ends at Bangalore
How to reach
Belur is located in Hassan District, Karnataka, India. Nearest airport is Mangalore (148 KM). Nearest railway station is Banavar which is connected with Bangalore and Hubli, Mangalore and Mysore. Well connected with road nearest big town is Hassan (38 KM).
Where to stay
Belur is a town still scarcity of good hotel here. Better stay in State Government KSTDC hotel. Book online. http://www.karnatakaholidays.net/karnataka_hotels.htm Service is average. Morning tea is available only at 7.30 AM. Food is OK and I had taken Idli in breakfast and it was super taste. Dinner taste was average. Compared to that Halebeedu  KSTDC was far better, splendid service so better can choose to stay at Halebeedu and visit Belur from there.
As soon as I entered the temple complex I was perplexed by seeing many structures and temples so I forced myself to take a guide.
In brief we understood the temple architectural  layout of the whole temple complex as below as told by the learned guide.
These temples were constructed by Hoysala kings around 1000 years back. Only addiiton later to it was Gopuram at entrance of temple constructed in 14th century by Raja krishnadev Raya of Vijaynagar empire.
Left side touching the boundary wall are 12 small  temples of disciples of Ramanujacharya. He was the saint who inspired Hoysala kings to convert from Jains to Hinduism.  Further left is a huge wooden gate followed by temple kitchen. Kitchen is even today used by temple authority on some occasions.
Right side touching the boundary is huge stepped water pond (Kalyani). Touching this wall there is long right side boundary wall having long balcony which was it seems used by sculptors.Touching this wall there is long left side boundary wall having a huge exit door. In center  there is main temple called Chenna Keshav (Good looking Vishnu).
The guide told us about the main gate gopuram architecture and history as to how the main gate was in fire and Vijaynagar kingdom erected a new gopuram in 14th century.
Then he told about the Victory Pillar and told that it stands on 3 corners and 4th corner is having gap with base. He showed us the temples of 12 disciples of Acharya Ramanuj which are adjacent to main gopuram. Showed us the ancient kitchen location, Stepped Water pond on right corner of Gopuram wall.
Behind this temple from left to right are  Kappe Chenna Keshav,  Sridevi (Lakshmi),  Kalyan Mantapa, Veer Narayan temple and Bhudevi  temple.
Then he moved to main temple "Chenna Kehav" and explained the main architecture there where Lord Krishna is standing with Govardhan mountain to save his city Mathura from heavy rains, two dwaar palaks (door sentris) yaksha beside door, sculpture of queen Shantla Devi.
Took us through outer walls of main temple which are not less than 20 feet high and all decorated with carvings of God, sculptures showing human feelings and life. All round wall is in 5 lines – bottom is elephant- stabilit, Lion- power, flower- beauty, Horse- speed. Above that stories of Hindu epic Mahabharat. And on top are the sculptures showing the female beauty such as dancer of Bharat natyam, lady talking to parrot for message, huntress, Arch, samdudra  manthan, Arjun Swayambar and so on so forth. The list will be endless and if you want to understand this temple in detail I think will take an year to study. To just understand  the efforts done by the artists, in bottom row no two elephants are same all round the temple.
I have described a very few sculptures which I could remember after the guide explanation.
By 7.00 PM we finished seeing the temple in detail, attended the temple closing ceremony which was really a ceremony to see. Lot of drums and clarinet were blowing and all the pilgrim tourists were giving an standing tribute to the temple deity. I think it took about 45 minutes for this ceremony.
Came back to hotel and took dinner. The dinner served by KSTDC hotel was good. All vegetarian and non-vegetarian is available.
Next day we took breakfast  (they serve by 8 AM only) and our fellow travelers wanted to see the main temple again in morning. We reached temple by 8.45 AM and took the round again with fotos and videos and started for Shravan Belagola (78 KM) at 9.45 AM. On way we saw the Yagchi river dam.
My experience
I had opportunity to see St. Peter's Basilica (15th century), cologne church (1880) in Germany and a few churches in Austria and in India I saw Hampi (14th century),Pattadakal (8th century) and I think though it will be unfair to compare these as all these were constructed under different conditions and time, yet I can say the monument I rate on top was cologne church and Belur and Halebeedu.
I suggest that when I see many pilgrims visit Kanyakumari, Rameshwaram, Ooty, Kodaikanal why not visit Belur and Halebeedu. These are the piece of architecture which must be visited and enjoyed as the human life will be once and you will not get this opportunity again.
Deity in this temple
Centre is Vishnu who is a Hindu God. When you face the main entrance , left side behind the temple is Sree Devi  and extreme right behind is Bhu Devi. Centre behind are two structures Mantapa (public gathering and discourse) and Veer Narayan Temple. As per guide Veer Narayan Temple is permanently closed.
Who was Vishnuvardhana, Shantala Devi and Veera Ballal II
Vishnuvardhana (1108–1152 AD) who built this temple was a king of the Hoysala Empire in what is today the modern state of Karnataka, India. He ascended the Hoysala throne after the death of his elder brother Veera Ballala I in 1108 AD. Originally a follower of Jainism and known as Bitti Deva, he came under the influence of the Hindu philosopher Ramanujacharya, converted to Hindu Vaishnavism and took the name "Vishnuvardhana". He took the first steps in creating an independent Hoysala Empire in South India through a series of battles against his overlord, the declining Western Chalukya (Kalyani Chalukya ) King Vikramaditya VI, and the Chola Empire to the south. According to historian Coelho, the Hoysalas gained the dignity of a kingdom due to the efforts of Vishnuvardhana, whose rule was packed with "glorious" military campaigns.
Who built it
The temple is one of the finest examples of Hoysala architecture. It was built by king Vishnuvardhana in commemoration of his victory over the Cholas at Talakad in 1117 CE. Legend has it that it took 103 years to complete and Vishnuvardhana's grandson Veera Ballala II completed the task. The main entrance to the complex is crowned by a Rajagopura (superstructure over entrance) built during the days of the Vijayanagar empire while Kappe Chennigraya temple (behind left) built by Shantaladevi, queen of king Vishnuvardhana. Hoysalas started the custom of engraving artist name on sculptures and Mallitamma was the most prolific of all known Hoysala artists and more than forty well-executed sculptures stand in his name. During his reign a baffling 1500 temples were built in 958 locations out of which only 100 survive today.
Who were Hoysalas
They were the strong kings who ruled for 400 years from 10th to 14th century AD. The contemporary kingdoms are shown in map below.
Those days Parmars and Chandels, Afghan rulers were prominent in North India, Cholas, Cheras in south, Yadavas in Maharastra region. During this time span of 300 years Khajuraho temple, Qutub Minar were some of the prominent structures erected.
Description of temple sculpture as told by guide
The guide started by describing the exterior of temple main entrance and then covered description of the all four walls of the temple.
Main temple view
As he said that temple is divided in two sections : front half is Jeev-atma (related to human feelings) and rear part is Paramaatma (related to God). Yes, all the figures in from half of temple were related really to human feelings and life and similarly for rear part.
Description of Jeev-atma part of temple
There are about 500 such sculptures of which a few I am describing which I remember when the guide narrated.
Vish Kanya
Those days the poison infested beauties existed. See the scorpio on bottom of figure and see that lady is smiling seeing at scorpio.
Daasi (Maid servant)
Removing thorn from the foot of master.
Bharat Natyam
This posture is of bharat natyamFlute sundari
Dholak sundari
Just see the fingers of lady how shown behind the drum threads.
Archress
Darpan Sundari
This is the first figure on main entrance of Chenna Keshav temple. Just see the handle of mirror,fingers and the two daasis (maid servants).
Huntress
It seems those days lady hunters were there. See the deer on rifgt bottom of figure.
Arch dance
Dancer dancing on tune of her accomplice.
Violin
Parrot sundari
See how the lady is talking to parrot sitting on fore palm of her left hand.
Pet dog and devi
See that while walking maid servant is holding dog and queen\master is holding the son.Guide told that earlier the things were right. Now it is reverse that is maid servant holds child and master the dog.
Drum sundari
Lady sporting beard and mustache and holding drum.
Hair Styles in 11th century
Many other figures are there such as fortune teller, monkey pulling saree, world bewitching beauty, proud lady, lady who is not admired of her sringaar, falling bangle.
 Description of Param-atma part of temple
Brahma
He is creater of earth.
Narsimha
Vishnu is believed to have taken the avatar to destroy the demon king Hiranyakashipu.
Mahisasur mardan
Mahishasura was a combination of both an Asura and a Mahisha (Water buffalo) with trident. He intended to annihilate all the Devas (semi gods) since they were the arch-enemies of Asuras.
Gajasur mardan
Gajasura (elephant demon) is the name used to refer to demon Nila when he took the form of an elephant and attacked Shiva. He was destroyed by Ganapati.
Varaha Avtar
Vishnu is believed to have taken the avatar to destroy the demon king Hiranyakash. (brother of Hiranyakashipu).
Description Inside the main temple ( Chenna Keshav)
There are 44 pillars and each is of different design.Only two are important pillars- Mohini pillar and Narsimha pillar. I think it is impossible to describe the figures until you see.
Guide told that popular TV Serial "Surabhi" team came here and showed the rotation of the Mohini pillar. But as I saw now the roof of temple is slightly down so rotation has stopped.
There is beautiful deity of Chenna Keshav (Vishnu). We were fortunate enough to see the temple closing ceremony. There was less light in the temple so could not take proper fotos.
Surrounding of Temples and Monuments in complex
The Chennakeshva temple complex is spread in about 70 acres.
Going clockwise around the temple
Garun Flag and statue : Installed recently and the special flag of Eagle, the chariot of Lord Vishnu is foisted here on some occasions.
Ghanta ghar : Now the big bell is removed and kept some where else.
Vijay Stambh: Installed by Raja Kirshnadev Raya
Puja water and kitchen Well
Ramanajuacharya shishya temples : 12 temples of disciples of saint Ramanuj.  He was the Saint who inspired Hoyasala kings to covert to Hindu from Jains.
Kitchen : Even today it is used on some occassions in temple.
Sreedevi temple : Concert of Lord Vishnu.
Natya Mandap : Here public gathering and programs used to be held.
Veery narayan temple : Lakshmi temple. It is permanently closed now.
Bhu devi temple : Another concert of Lord Vishnu
kalyani : It is stepped water pond.
Excursion points
Yagachi dam (3 KM), Mullayanagiri (46 KM), Hebbe Falls (90 KM), Kalathgiri Falls and Z point. Routes to all these except dam are narrow so be ready for traffic jams. You may be stuck there. But roads are narrow for Chikmagalur to Mullayanagiri and Baba Budan so prefer to only in off season. You can skip Hebbe Falls and Kalathgiri.
Hits: 336